Elevate your gifting game in the Windy City with Ode a la Rose's unparalleled floral finesse. Surprise your loved ones in Chicago, IL, with our handcrafted arrangements that radiate the vibrant pulse of this iconic metropolis. Whether you're marking milestones like birthdays and anniversaries or rejoicing in unique Chicago events and festivities - our same-day flower delivery ensures your sentiments reach right on cue.
Our Chicago bestsellers
Browse through our wide selection of mixed bouquets, single variety arrangements, centerpieces, preserved roses and more
Our Chicago Collections
Shop
Same Day Chicago Flower Delivery
Nestled in the heart of the Windy City, you'll find our Chicago boutique at 2010 W Fulton St F108. This artisanal haven is an enchanting destination for all who appreciate nature's artistry. Steps away from the city's rhythmic pulse, our store offers a serene floral escape. For those moments when you want to express your sentiments through blossoms, our Chicago location ensures same-day delivery of meticulously curated arrangements for every special occasion throughout the city. Dive into our world of flowers and let Chicago bloom a little brighter with Ode à la Rose in every Chicago district.
Where do we delivery in Chicago?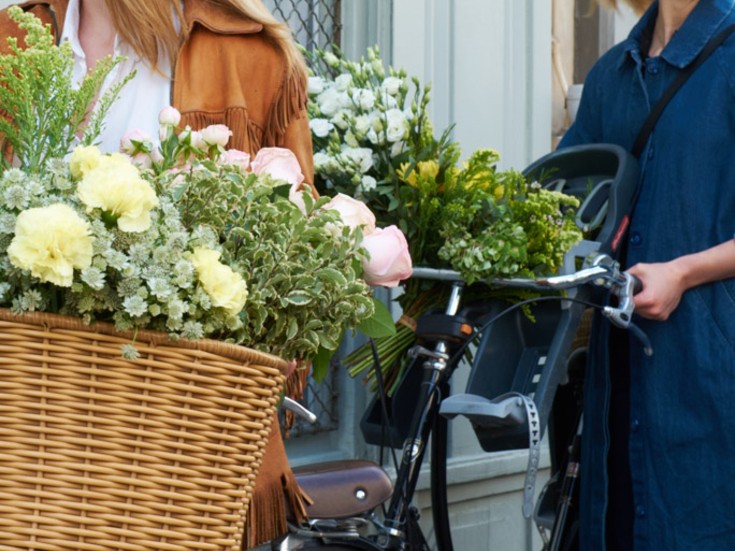 Ode à la Rose Flower Delivery in Chicago and the Surrounding Areas
Ode à la Rose is a unique florist located in Chicago's West Town that brings the timeless beauty of roses right to your doorstep. If you value simple, classic beauty and an original design aesthetic, Ode à la Rose is the ideal flower shop for you. Many flower arrangements sold today focus on fleeting trends. We concentrate on timeless elegance, and the rose typifies our traditional design values. Who needs frills — we let our flowers say it all.
No matter the occasion, a flower arrangement from Ode à la Rose says volumes with one simple gesture. We ensure our flowers stay fresh by packaging and delivering them in water, so the person receiving the bouquet will be able to enjoy them for some time. We're excited to bring our beautiful arrangements to those living in Chicago and throughout Cook County. With same-day delivery, someone you care about could have a gorgeous surprise waiting for them today.
Flowers Delivered Anywhere in Chicago for Any Occasion
There are millions of people living and working in Chicago, yet among all the hustle and bustle, it's easy to feel alone. When you get a flower delivery from Ode à la Rose, it says that among all those people, someone was thinking of you. We offer roses and arrangements for any occasion.
Chicago is home to many top-rated businesses, and every day people go to work downtown or in the outlying areas. How special would it be to have a beautiful arrangement waiting for a friend or family member? Or, maybe you need your own little pick me up. Order yourself a floral arrangement to brighten up your home or workspace. The lovely scent will offer a short reprieve during your busy day.
A delicate beauty of a rose bouquet is the perfect way to cheer up someone who's recovering. Our delivery services extend to area hospitals like Northwestern Memorial Hospital, University of Chicago Medical Center and more. The sweet simplicity and kind gesture of our brightly colored blooms are sure to put a smile on their face.
Or, imagine being one of the millions of visitors that come to Chicago every year and having a unique gift waiting for you when you arrive at your hotel. We can provide flower delivery services to the many area hotels, including the Fairmont, Trump International Hotel and Tower Chicago and the Renaissance Blackstone Hotel, to name a few.
Beautiful Bouquets From an Online Flower Shop With a French Touch!
The florists at Ode à la Rose are well-versed in the simple elegance that defines French bouquets. They specialize in refined arrangements that emphasize the pure beauty of flowers, just like those seen in the floral boutiques of Paris. It's rare to find flower delivery with a "French touch" in Chicago.
All of our flowers are crafted by highly skilled floral designers to ensure what you see on our website is what you get. We then hand-deliver the arrangement in an elegant gift box that is certain to delight any Windy City resident.
Types of Flower Bouquets We Offer in Chicago
If you want to send a beautiful gift to a friend or loved one in Chicago, Ode á la Rose is a premier Chicago florist. Learn more about the bouquets we offer:
Roses: What's more classic or romantic than a gorgeous rose bouquet? At Ode á la Rose, you can choose from a huge variety of colors and types for your rose bouquet.
Tulips: A sure sign of spring, a tulip bouquet can brighten up any room. They come in beautiful bright pastels, including pink and yellow, and look great paired with greens like Cinerea Eucalyptus.
Daffodils: As symbols of birth and renewal, these spring blooms are beautiful all year round. Send a collection of bright daffodils to a friend or loved one to put a smile on their face.
Delphiniums: These summery flowers come in a beautiful blue color that's sure to look breathtaking in a bouquet.
Orchids: Orchids are delicate, elegant flowers perfect for a nontraditional bouquet. Orchids come potted with fresh moss so you can enjoy your flower for a long time with the right care.
Peonies: A pop of color and beautiful elegance, our Chicago peonies are a tasteful addition to any bouquet.
Mixed: If you want variety, a mixed bouquet is a perfect choice. Selections like roses, lisianthus, and daisies create a dreamy bouquet, or you can choose a variety of different colored roses.
Gifts and Notes with Same-Day Flower Delivery Services in Chicago
At Ode a la Rose, every bouquet tells a story, but our thoughtfully curated gifts and personalied notes turn those tales into epics!
We know that the essence of gifting goes beyond just vibrant petals - it's the emotion, the memory, and the shared experience. Dive into a selection of meticulously crafted gifts that speak volumes - from cozy blankets, intricate ceramic glass, and bronze vases, to the delightful aroma of scented candles, and the indulgence of macaroons and mini chocolate bars.
But, what's a heartfelt gift without the right words? Our blank card gives you the chance to express yourself with your own words (or choose some quote by scrolling online). And for those who cherish consistency, our weekly floral subscription accompanied by a gift card of choice offers a continuous wave of special touches to your special someone (or just to yourself!)
Why Should You Choose Ode a la Rose Chicago Flower Delivery?
With Ode à la Rose, every click becomes a journey of floral artistry. Our streamlined website makes selecting the perfect bouquet effortless, but if you prefer a touch of personal connection, our dedicated team is just a dial away at +1 312 600 9994.
Navigate our curated collections, where flowers cater to every sentiment, color preference, or special event. With arrangements spanning from around $60 to nearly $400, we balance affordability with unmatched freshness and quality. And for those spur-of-the-moment surprises? Our same-day delivery ensures your feelings arrive timely and vividly. In Chicago, let Ode à la Rose transform your stories into blooms.
Common Questions About Chicago Flower Delivery
Our delivery fee for typical bouquets is $18 while certain smaller bouquets are only $8 and a select number of very large bouquets are $25.
We accept MasterCard, Visa, American Express, and Discover. We also accept online payments with PayPal.
We take great care packaging bouquets to ensure they arrive in good condition. We ship bouquets in anti-spill vases to keep them hydrated and store them in our signature gift box to protect them.


After you select the size bouquet you'd like, you can choose a vase to be delivered with your bouquet. We offer a number of different vases, from classic glass to understated and stylish ceramic vases. You can also choose from other luxury additions to accompany your bouquet delivery, such as macrons, chocolate, candies, and an at-home spa kit.
We provide order tracking for all flower deliveries and send a photo of your exact arrangement so you know when it's on the way.
The longevity of flowers depends on a variety of factors, like water, temperature, and freshness, At Ode á la Rose, you can trust that whatever flowers you get delivered in Chicago will be fresh. To help your flowers last longer, follow our recommended care guidance.
To ensure our customers receive the freshest roses and flowers, we source our flowers from suppliers around the world. Since Ecuador and Columbia offer the most favorable growing and shipping considerations, we source many flowers from those areas. We also find flowers from areas like Holland, France, Italy, and several other countries depending on the particular variety of rose.
Yes! You can get same-day delivery when you order flowers in Chicago. For anywhere in the city, place your order by 2pm to ensure same-day delivery. We also offer same-day delivery in New York, Los Angeles, Washington D.C., Philadelphia, Austin, and Miami. You can also get next-day delivery nationwide.