Flower Delivery

Washington D.C.
Celebrate every moment in the heart of the nation with Ode à la Rose's exquisite floral arrangements. In Washington, D.C., where history intertwines with modernity, let your sentiments bloom vibrantly for your loved ones. Our roses, tulips, and peonies perfectly encapsulate the city's grandeur and cherry blossom-filled springs. Whether honoring significant moments, paying homage to the numerous memorials, or celebrating successes in the corridors of power, our tailored bouquets ensure your feelings stand out. With same-day delivery flower delivery, Ode à la Rose captures Washington's timeless elegance.
OUR DC BEST SELLERS
Browse through our wide selection of mixed bouquets, single variety arrangements, centerpieces, preserved roses and more
Washington, D.C. Collection
Shop our
Same Day Washington D.C. Flower Delivery from Ode à la Rose
Positioned amidst the historic charm of Washington D.C., our artisan boutique at 2412 Douglas St. NE stands as a beacon for flower enthusiasts and those who gift flowers just in special moments. This floral oasis, a stone's throw from the capital's bustling avenues, offers a momentary retreat into nature's exquisite tapestry. When time is of the essence, and you seek to convey your feelings through petals, our Washington, D.C. location pledges same-day delivery of our handcrafted bouquets to every nook and corner of the city. Immerse yourself in our floral universe and elevate your events with Ode à la Rose. We offer same-day delivery across Washington's bustling and more tranquil neighborhoods.
Where do we deliver in Washington D.C.?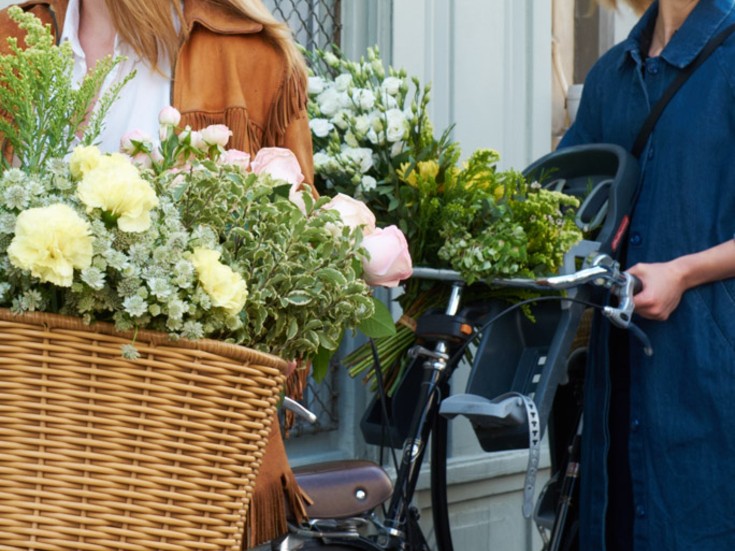 Flower Delivery in Washington, D.C. by Ode à la Rose
In 2020, nestled amidst the buzzing avenues of Washington D.C., Ode à la Rose began its journey as a personalized flower gift shop. Our humble beginnings were rooted in the simple joy of hand-picking the perfect blooms to brighten someone's day. As the city evolved, so did we, but our foundational love for flowers remained unchanged.
Over the years, while many things in the bustling capital transformed, our commitment to delighting our customers only intensified. Today, the name 'Ode à la Rose' doesn't just signify a flower shop; it's a cherished tradition on its own.
A testament to our history, dedication, and the trust that the city has bestowed upon us, we stand proud as Washington D.C.'s floral emblem, weaving stories and emotions into every bouquet.
What Type of Flowers Do We Deliver in Washington, D.C.?
At Ode à la Rose, our bouquets featuring regal lilies, dazzling peonies, classic roses, or vibrant orchids encapsulate the city's diversity.
Let our floral arrangements mirror the capital's unique blend of history and future, making every occasion in D.C. unforgettable. If you're unsure what to bring to an event or what type of flower suits your beloved person - our collection of bestsellers is never wrong!
What Type of Bouquets do we Make?
At Ode à la Rose, we believe that every sentiment, big or small, must be communicated with grace and beauty. That's why our range of bouquets caters to every possible occasion and emotion.
Our big occasion bouquets are curated to make a statement for those grand gestures and monumental events. At the other end of the spectrum, our smaller, intimate arrangements encapsulate delicate emotions, perfect for whispering a soft 'thank you' or 'just because.' When words fall short, our sympathy flowers offer comfort.
Crafted with gentleness and empathy, they convey your heartfelt condolences. Celebrations call for our exquisite centerpieces and tailored wedding and event decorations, each designed meticulously in the classic Parisian style, ensuring your events shimmer with elegance.
Our signature bouquets, consisting of seasonal flowers, aren't just arrangements but an experience. They capture the current season's essence, spotlighting nature's beauty and diversity in full bloom.
And when you wish to extend your support or apologize, our 'get well' and 'I'm sorry' flowers communicate your sentiments in the gentlest way possible. At Ode à la Rose, every bouquet isn't just flowers arranged together; it's an emotion, a message, a story waiting to be shared.
Which Flowers Should I Choose?
Choosing the right flowers is like picking the perfect words for a heartfelt letter. Every bloom has its language, its sentiment. Here, we delve into some of the most loved flowers and the ideal occasions or personalities they suit.
Peonies
Soft and voluminous, peonies have an old-world charm that speaks of romance and luxury. They're the perfect choice for anniversaries or for someone who appreciates timeless elegance. Their lush, full petals can instantly elevate any bouquet, making it a centerpiece of conversation.
Preserved Roses
Preserved roses symbolize enduring love and memories that stand the test of time. Excellent for milestone celebrations like a golden anniversary or for gifting someone who values longevity and tradition. These roses, with their preserved beauty, remind us of the timeless nature of affection.
Tulips
Playful and vibrant tulips are the embodiment of spring's freshness. Ideal for birthdays or congratulating someone on a new beginning, like a new job or home. Their variety of colors offers a bouquet for every mood, ensuring a tulip for every joyous occasion.
Warm Pastels
Warm pastels exude softness, warmth, and a touch of nostalgia. These are perfect for baby showers, young brides, or simply to bring a touch of coziness to any room. They resonate with those with a soft spot for vintage charm and subtle elegance.
Cold Blues, Whites, and Greens
This palette evokes feelings of serenity, peace, and rejuvenation. It is a fitting choice for sympathies, moments of reflection, or for someone who loves the tranquility of winter landscapes. These colors provide solace in moments of grief and inspire hope during times of healing.
Orchids
Exotic and mesmerizing, orchids are the epitome of grace and charisma. They're a top pick for those with a taste for the unique, making them great for corporate gifts or for someone who stands out in a crowd. Orchids represent admiration and respect, so they are ideal for expressing gratitude.
In the vast world of flora, each flower tells its tale. When you pick a flower, you're not just choosing a bloom but a message, an emotion. With this guide, may your choices echo your sentiments perfectly, ensuring that the eloquence of nature accentuates every occasion.
Why Choose Ode à la Rose Washington D.C. Flower Delivery?
When expressing sentiments through flowers, choosing a florist becomes paramount. At Ode à la Rose, our commitment goes beyond arranging flowers; it's about curating emotions. Here are a few reasons why we stand apart in the world of floral expressions:
Handcrafted with Love
Each bouquet at Ode à la Rose is not merely assembled but handcrafted. Our artisans pour their heart and soul into every arrangement, ensuring that each flower tells its part of the story, making every bouquet a personal and heartfelt expression.
More than Just Flowers
At Ode à la Rose, we understand that sometimes, flowers need companions to convey the full spectrum of emotions. Our gifts and accessories include delectable macaroons, indulgent mini chocolate bars, cozy blankets, and customized scented candles. And, of course, each order is complemented by our signature box, adding an extra touch of elegance and making your gift truly memorable.
Swift and Sure Deliveries
We recognize the importance of timely expressions. That's why we offer same-day delivery throughout Washington D.C., ensuring your sentiments reach on time, every time. For those outside the capital, fret not! We also provide next-day delivery country-wide, ensuring no distance is too great for your feelings to traverse.
A Bouquet for Every Budget
Everyone deserves the joy of flowers, irrespective of their budget. At Ode à la Rose, our diverse range ensures something for everyone. With offerings that range from an accessible $60 to a lavish $400, we ensure that quality and beauty are constants across the board, giving everyone a chance to revel in the magic of flora.
Choosing Ode à la Rose is not just about flowers. It's about the experience, the sentiment, and the unwavering commitment to making every occasion unforgettable. Let us be your messenger; you'll see the difference in every petal.
Common Questions About Flower Delivery in Washington, D.C.
In D.C., when choosing Ode à la Rose for your floral delivery needs, the delivery fee is primarily determined by the size of your selected bouquet.
For most arrangements, you can anticipate a delivery charge of $18. However, if you opt for one of our petite bouquets available for same-day delivery in the city, the fee is a mere $8. On the other hand, for those grand gestures using our huge bouquets or our exquisite preserved rose collections, the delivery cost is set at $25. Whatever your choice, know that each delivery encapsulates the elegance and care that defines Ode à la Rose.
In the bustling streets of D.C., we understand that sometimes recipients might not be home. Our process has been refined for such scenarios. Our couriers are not bound to obtain a signature for delivery. Instead, they're trained to identify safe spots to leave the bouquet, ensuring its safety until the recipient returns.
The courier will attempt another delivery later if a secure location isn't evident. So, with Ode à la Rose, your heartfelt gesture is always in safe hands, even if the intended recipient isn't immediately available.
Choosing Ode à la Rose in Washington D.C. guarantees beautiful blooms and a seamless transaction process. We proudly cater to various payment preferences, accepting all major credit cards—MasterCard, Visa, American Express, or Discover.
And for those who lean towards digital transaction platforms, we're pleased to offer the option of PayPal payments. At Ode à la Rose, every step, from picking the perfect bouquet to finalizing the payment, is designed with your convenience in mind.
When you order with Ode à la Rose, rest assured that your flowers are in the best hands. We offer swift and reliable same-day delivery across key cities: D.C., Miami, Austin, L.A., Chicago, and NYC. For our valued customers outside these locations, our next-day delivery service, catered through FedEx, ensures your blooms reach the rest of the States with equal care.
Safety and satisfaction are paramount to us. However, in the rare instance where you might question the quality of the received arrangement, our refund policy has you covered.
If your order is on time but doesn't meet your expectations, we stand ready to replace the bouquet. We require that you contact us within 24 hours of the delivery. It's essential to note, though, that flowers, by nature, are perishable items, and their longevity can be maximized with the proper care.