Tulip Bouquets
Choose from our selection of tulips and send a beautiful tulip bouquet today. Our exquisite range of tulip bouquets is perfect for any occasion – whether you're celebrating a special event or want to brighten someone's day. Experience the convenience and joy of our Tulip bouquet delivery service and send a burst of color to your loved ones, no matter where they are.
Our centerpeices are only available for delivery in NYC, Chicago, Los Angeles, Austin and Miami.
Tulips delivered by Ode à la Rose
No matter the occasion, reason, or message you wish to convey, tulips make a bright and stunning gift guaranteed to bring smiles. At Ode à la Rose, we'll help surprise your recipient with colorful tulips they'll remember forever. Explore our selection of tulips and send a beautiful bouquet to a loved one today!
As with roses, tulips have different meanings depending on their various colors. For instance, yellow tulips send a message of cheerfulness. White flowers symbolize forgiveness, while purple stands for royalty.
Ode à la Rose carries a variety of tulip colors each spring. If you're looking for gorgeous tulips with affordable delivery, keep an eye out for different tulip bouquets to pop up on our website each spring.
FAQ about Tulips
You may have various questions about Ode à la Rose's tulips — whether they're regarding the flowers themselves or our tulip delivery process. We hope the answers to some of our most frequently asked questions below will provide some clarity — of course, you can always contact us with any other queries.
How long do tulips last?
In most cases, the lifespan of a tulip depends largely upon the temperature. Outdoors, tulips growing in cooler temperatures (between 40 and 55 degrees Fahrenheit) can last for as long as two weeks. In hotter weather, though, the tulip life cycle speeds up, and the flowers only last for a few days. In other words, how long your tulips last will depend in part upon the temperature of your home (or wherever else you might be keeping them).
When are tulips available?
Tulips are perennials that only bloom naturally in the spring. The exact bloom times depend on the species of the tulip bulbs. Some florists can prompt tulip bulbs to bloom in winter. For the most part, though, the tulip is firmly a springtime blossom.
How do you care for tulips?
To ensure you're getting the freshest flowers possible, you'll want tulips with tightly closed buds rather than blooms that have opened already. This way, you get more time to enjoy the full tulip lifecycle. At Ode à la Rose, we always provide fresh tulips that haven't completely opened up yet.
Once you get your tulips, cut about a quarter inch off the bottom of the stems and remove any residual leaves from the stem area. Next, put your tulips in a vase tall enough to support their height and weight. Fill the vase with cold water, as tulips stay crisper and more beautiful in cold water. Finally, keep the flowers away from sunny windows. The sun will overheat your tulips and cause them to wilt.
Can I Include Something With the Flowers?
Yes! We have multiple add-on items to include with your flower order for an extra special touch. If you'd like to give your recipient something sweet to snack on, our bento boxes and dark chocolate bars add a lovely finishing touch to any birthday, graduation, or anniversary gift.
A luxury at-home spa kit is the perfect add-on to help your loved one recover and relax after a stressful life event. Meanwhile, our teddy bear security blanket makes an adorable gift for any couple that recently had a baby.
You can also add a vase to your bouquet to enhance the presentation. From simple glass or ceramic to fun textures and stripes, we have multiple decorative vases to choose from. Finally, feel free to upload a photo or personalized note to your order, and we'll print and attach it for you! At Ode à la Rose, we offer limitless ways to create memorable tulip arrangements.
When Can the Tulips Be Delivered?
When sending flowers to one of the following U.S. cities, you or a loved one can receive them on the same day you place your order:
New York City
Chicago
Los Angeles
Austin
Miami
Washington, D.C.
Our same-day order deadline is 2:30 p.m. Next-day delivery is available nearly everywhere else in the U.S. — just be sure to place your order by 4:30 p.m. to receive the flowers in time. Check our flower delivery zones to see how soon we can deliver to your city!
Can I Pick a Delivery Time?
If you're having blooms delivered to one of our same-day cities, you may be able to choose between city-specific time slots. All next-day deliveries are made between 9 a.m. and 7 p.m. However, most of these deliveries are made before 5 p.m.
How Will I Know if My Order Has Been Delivered?
Upon completion of the flower arrangement, we'll send you a photo of the tulip bouquet you ordered as it leaves our shop. That way, you'll be notified that your flowers are out for delivery, and you'll get to see the arrangement beforehand!
Send a Tulip Bouquet to Someone Special Today
Whether you're surprising someone on their birthday, looking for a romantic gift, or just need a lovely gesture to show someone you care, a bright tulip arrangement from Ode à la Rose adds a lovely pop of color to any space. A picturesque addition to any mantle, table, or desk, fresh tulips are a special gift your loved one will surely treasure for life.
Browse our gorgeous selection of tulip bouquets and surprise a loved one today! Contact us anytime with questions about our flower arrangements or delivery services.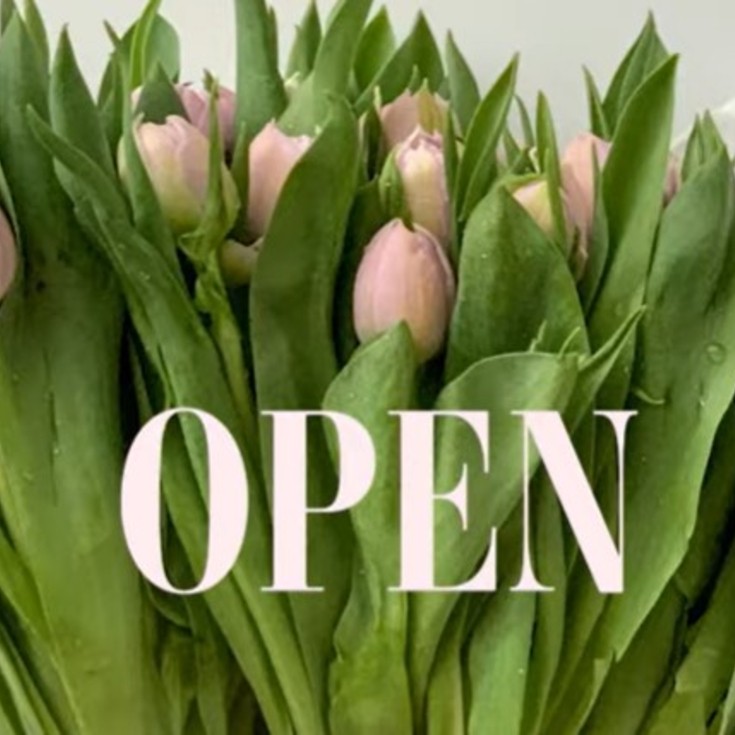 How to Make a Bouquet with Tulips