Gold Coast Flower Delivery
No Gold Coast flower shop will provide the quality you will receive when your send flowers with Ode à la Rose, the florist with a French touch.
Send a Message with Flowers: A Centuries-Old Tradition Continued on Chicago's Gold Coast
These days the Gold Coast of Chicago is the heart of the windy city, centrally located, and the preferred address of businesses and some of Chicago's most affluent homes. The area boasts properties with stunning lakefront views, and it's well-known for its high-end shopping area. However, that wasn't always the case. Until the early twentieth century when the Michigan Avenue Bridge (now called the DuSable Bridge) was constructed, the Gold Coast was a secluded enclave and home to some of Chicago's most distinguished and infamous residents.
John Jacob Astor, Potter Palmer, and Hugh Heffner of Playboy fame all owned properties on the Gold Coast between 1920 and the 1970's. The gangster Dean O'Banion used his flower shop in the area as a front for criminal activities, and a rival mob assassinated him while he was trimming flowers. Probably the most famous Gold Coast resident of all time was Al Capone, part owner of the Green Mill Gardens Club.
Floral Tributes have a Colorful History
Capone once ordered O'Banion to send an $8 000 rose flower delivery to the funeral of an arch-enemy after he had the man killed, but the use of flowers (and particularly roses), as the conveyors of a message, has an origin in history that reaches all the way back to mythology.
Aphrodite presented her son Eros, the god of love, with a rose, and it became the flower of love and desire. Eros gifted a rose to Harpocrates, the god of silence, begging him not to gossip about his mother's indiscretions. In this way, the rose also became the emblem of silence and secrecy. In the middle ages, a rose suspended from the ceiling when a council meeting was held pledged everyone present to secrecy 'under the rose', or sub-Rosa.
We hope when you order a flower delivery from Ode à la ROSE it will be with love and friendship in mind, but whatever the message, from a birthday to an anniversary or new baby, we have the perfect rose bouquet for you.
Send Fresh Flowers for a Lasting Message
Rose plants date back 200 million years and to send flowers is a centuries-old tradition. While the roses you buy from a local florist might soon look ancient, the roses at Ode à la ROSE are always fresh. Our roses come from farms at high altitudes ensuring that the plants benefit from long sunlight hours and ideal temperatures so that the flowers are strong and healthy. We have a highly developed shipping logistic which enables us to get roses from the farm to our flower shop and your flower delivery to your door, as quickly as possible. Roses from Ode à la ROSE will last a week, and with proper care, a bouquet can last even longer.
Get Your Message Across with Flowers from Ode à la ROSE
At Ode à la ROSE we offer the widest variety of roses of any online florist. We have a broad range of colors from dashing red, bright orange, and soft yellow to delicate white. Not sure which color to choose? Any color of flowers will brighten someone's day, but if you want to send a bouquet with a specific meaning, find out about the significance of rose colors.
When you order a flower delivery from Ode à la ROSE before 3 p.m., we will deliver your flowers on the Gold Coast, zip code 60610, on the same day and we can even deliver on Sundays. Whatever color bouquet you choose, our signature purple box containing a bouquet wrapped in tissue paper and sprinkled with rose petals are a clear sign of luxury and indulgence.
Please note that we offer same day flower delivery to many Chicago neighborhoods, from North Side to South Side and everything in between. We deliver to River North, Old Town, the Loop, South Loop, West Loop, West Town, Wicker Park, Lincoln Park & Lakeview, Uptown, Wrigleyville and many more.
Where do we delivery in Chicago?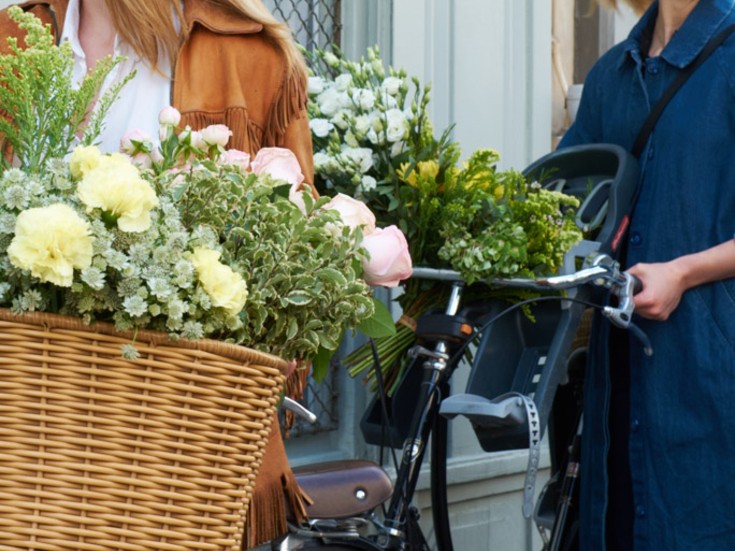 Same Day Delivery

In NYC, Chicago, Los Angeles, Washington DC, Austin and Miami. Next day delivery throughout the US.

Know-How

All of our flower arrangements are made with the French savoir-faire of bouquet making using carefully chosen flowers.

Signature Gift Box

Most of our arrangements are delivered in our signature pink box to maximize the impact of your thoughtful gift and protect your flowers.

Upload a Photo

Upload a photo with your arrangement to give it that special touch. Or not, it's optional (and free!).