Flower Delivery

Los Angeles
Capture the essence of Los Angeles with Ode à la Rose's stunning floral designs. Let our roses and tulips reflect your sentiments in a city where glamour meets natural beauty. Perfect for red-carpet moments or serene Malibu sunsets, our curated bouquets make every occasion memorable. Experience the LA magic with same-day delivery by Ode à la Rose.
Our L.A. Best Sellers
Our selection of best selling bouquets by Ode à la Rose. Send a beautiful bouquet today In LA.
Los Angeles Collections
Shop our
The Best Flower Delivery Service in LA!
Nestled in the vibrant landscape of Los Angeles, our artisan boutique at 4700 W Jefferson Blvd Unit #104 serves as a sanctuary for both—flower enthusiasts and those who reserve blooms for special occasions. Conveniently opening at 9 AM, our floral haven provides an immediate escape into nature's finest artistry amid the city's iconic backdrop. Offering in-store pickup for those who prefer to take their arrangements in hand, we ensure your orders are promptly addressed and delivered, allowing you to infuse your life's moments with the elegance of Ode à la Rose. Whether you choose to drop by or order online, our Los Angeles location is committed to same-day delivery throughout the city.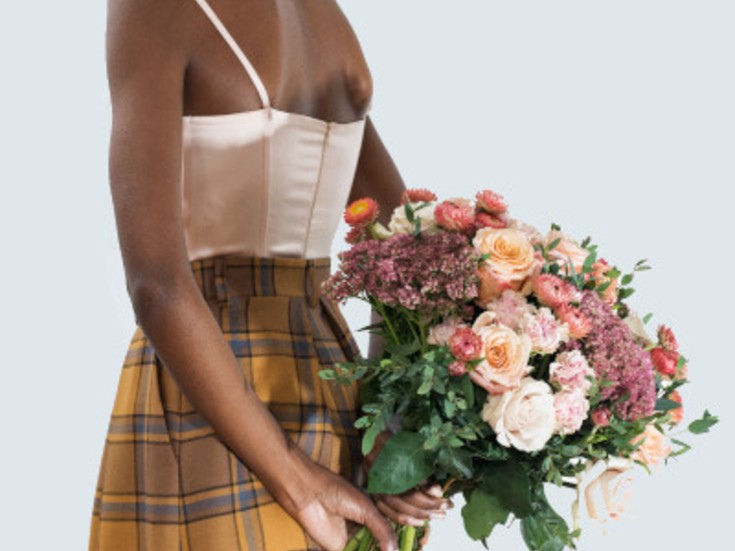 A unique flower delivery service serving the Los Angeles Area
In 2021, Ode à la Rose planted its roots in the dynamic landscape of Los Angeles, a city as multifaceted as the blooms we offer. We started as a boutique flower shop, deeply committed to the craft of curating personalized floral gifts. Adding cards, unique gifts, and curating signature bouquets is what we stand for.
But, like the city itself, we've embraced change and innovation through the digital evolutionary landscape, offering multiple-city deliveries. Yet our core passion for flowers has never wavered. Today, Ode à la Rose has become more than just a flower shop in Los Angeles—a symbol of elegance and heartfelt expression. With our unwavering commitment to customer satisfaction and quality, we stand as LA's floral signature, meticulously crafting stories and emotions into every hand-picked bouquet.
What Kind of Flowers Do We Deliver in LA?
Ode à la Rose offers something for everyone, regardless of preference, location, or budget. We have options in every price range and can deliver everything from a small, simple bouquet to a lavish, luxurious arrangement. Our vast selection of flowers and our flower delivery service in Los Angeles make it easy to find the perfect gift for anyone on your list and any occasion – or "just because."
If you're on a budget, we have plenty of less expensive options that are still perfectly gorgeous, arranged with the same meticulous care, and capable of putting a smile on your recipient's face. Why not go all out with a stunning display of 100 flawless roses designed to render your special someone speechless? We never sacrifice quality regardless of price range or occasion.
Speaking of occasion, we offer ideal flower arrangements for any day of the year. Send someone you know a unique bouquet of birthday flowers or wish them a happy anniversary the French way – with flowers! Help someone celebrate their new baby, say congratulations on a job promotion, or express your sympathy or "get well" wishes with one of our lovely arrangements designed to suit the occasion at hand. Are you getting married and looking for a florist? We can help – we provide unparalleled service with meticulous attention to every luxurious detail.
Are you looking for a specific color? We have you covered. Choose red roses for someone you love, white roses for a wedding or graduation, or pink roses to say "thank you" – or throw convention out the window and go with what you like best.
Why Choose Ode à la Rose Los Angeles Flowers?
Choosing the right florist is essential to convey emotions through floral arrangements. Ode à la Rose distinguishes itself in many ways, providing more than just flowers but a whole sensory experience.
Handmade with Care
Each bouquet at Ode à la Rose is a labor of love, meticulously handcrafted by our skilled artisans. We invest the time and care to ensure each arrangement looks beautiful and carries a unique emotional resonance. Every bloom is thoughtfully placed to tell its part of your story.
Unique Gifts and Notes
We believe that flowers sometimes need companions to express the full range of feelings. That's why we offer a curated selection of gifts and accessories, from indulgent chocolates to customized scented candles. Your floral gift is made even more memorable with a personal note and our signature box, adding a layer of sophistication.
Same-Day Delivery
Time-sensitive? Our Los Angeles location prides itself on prompt same-day delivery and country-wide next-day deliveries. Whether you're sending a last-minute gift or planning in advance, your order will be delivered promptly, ensuring that your special moment is celebrated on time and in style.
Which Flowers Should I Send?
Navigating the world of floral expression is like choosing the perfect playlist for every life event—each flower, like a song, sets a mood. Here's your guide to deciphering the language of some of our most beloved blooms and their perfect occasions.
Peonies
Think of peonies as the Oscars red-carpet stars of the flower world—opulent, head-turning, and glamorous. They are ideal for anniversaries or someone with a penchant for classic luxury—trust peonies to steal the show and turn any event into a grand affair.
Tulips
The "new kid on the block" in the floral family, tulips bring youthful exuberance and a pop of color. Perfect for birthdays or marking fresh starts like new jobs or homes. If roses are the love ballads, tulips are the upbeat pop songs of flower arrangements—there's one for every mood.
Roses and Preserved Roses
Roses are the Shakespearean sonnets of flowers—timeless and filled with emotion. And for a love meant to stand the test of time, go for preserved roses. Think of them as the "Director's Cut" edition of your favorite film—classic yet enduring.
Orchids
Orchids are the James Bonds of the floral world—sophisticated, exotic, and mysterious. Perfect for corporate settings or to gift someone whose taste veers toward the extraordinary. When you send orchids, you're sending a message of admiration with a side of intrigue.
Whites and Greens
Consider this combo as the spa day of floral arrangements. Ideal for sympathy bouquets or meditative spaces, these colors whisper calmness and provide a sanctuary of peace in turbulent times. They're the acoustic set that helps you pause and reflect.
Big Bouquets or Small Attentions
Size matters, but the thought counts most in the case of flowers. Our grand bouquets are the floral equivalent of a Broadway musical—show-stopping and unforgettable.
Meanwhile, our smaller arrangements are like handwritten notes: simple, heartfelt, and just as impactful.
So there you have it. Whether you're penning a love letter or writing a tweet, there's a floral language that fits. With this guide, may your choices be as inspired as they are inspiring, making every LA occasion a standing ovation.
Common Questions About Ode à la Rose Los Angeles Flower Delivery
In the City of Angels, Ode à la Rose offers a variety of delivery options that accommodate every budget and sentiment. The size and grandeur of your chosen arrangement mainly influence the delivery fee.

You can expect a standard delivery fee of $18 for most of our bouquets. If you're in the mood for a smaller gesture and choose one of our petite bouquets eligible for same-day delivery within LA, the delivery cost is a modest $8. For those who wish to make a statement with our lavish larger arrangements or the premium preserved rose collections, a delivery fee of $25 applies.
When you choose Ode à la Rose in Los Angeles, you choose an elegant floral experience and a hassle-free payment process. We gladly accept all major credit cards, including MasterCard, Visa, American Express, and Discover.

For those who prefer digital transaction platforms, we're also delighted to offer PayPal as an additional payment option. We strive to make every step, from selecting your perfect bouquet to completing your purchase, as smooth as possible.
When you entrust your floral needs to Ode à la Rose, you can be confident that your bouquet is in excellent hands. We offer reliable same-day delivery in key cities, including Los Angeles, ensuring your flowers arrive pristine. For our valued customers outside these core areas, we provide next-day delivery through FedEx to maintain the same level of care and quality.
Your satisfaction is our priority. If your floral arrangement doesn't meet your standards, our refund policy is in place to assist you. We are committed to replacing the arrangement if the flowers arrive on time but don't meet your expectations. Simply contact us within 24 hours of the delivery.