Chinatown Flower Delivery
Ode à la Rose delivers to Chinatown in Philadelphia! Select your arrangement and order today for a quick delivery.
How to Choose Flowers That Send the Perfect Message in Chinatown
Chinatown in Philadelphia is a hustling bustling miniature metropolis overflowing with Chinese, Thai, Vietnamese, and Korean culture. It's impossible to walk through this area and not be drawn in by the variety of colors, smells, and divine food experiences. If you're lucky enough to be in Chinatown for Chinese New Year, you are almost guaranteed to be pulled into a crazy party that you will never forget. It can be challenging to choose flowers that will stand out in such a colorful location, but we are available to help you. Here are a few lovely flowers and reasons to send them to the people you care for in Chinatown.
Flower Meanings
Here are a few of our all-time favorite flowers with significant and special meanings for noteworthy moments in your life.
The Solidago. This stunning yellow flower which features prominently in our Helene bouquet is also known as the Goldenrod. The meaning behind this particular bloom is quite beautiful. They symbolize growth and encouragement and are often sent to people when a loved one has passed away. It is thought that these flowers can reduce the effects of depression, making life just a little bit brighter for those dealing with painful emotions.
The Peony. The shared meanings for the Peony are romance, good fortune, happy marriages, and compassion, but what not many people know about the Peony is that it can also represent feeling bashful or shy. So, these may be the perfect flowers for when you have a secret crush, and you're too embarrassed to say something face to face. If you have a crush on a gorgeous girl and you want to send her something beautiful, then the Sarah bouquet with a personal note can send a beautiful message.
Light Pink Roses. These lovely flowers are extremely popular for many occasions and events. They symbolize admiration, tenderness, and even sympathy. These roses are often used in wedding bouquets and congratulatory bouquets. The Brigitte bouquet can be perfect for Valentine's Day, Mother's day, or as a way to say congratulations on the birth of a baby. Their feminine quality means that they are usually gifted to women, but they can also be arranged with other flowers to bring a smile to even the most masculine man's face.
The Alstroemerias. These long-lasting blooms were discovered by Baron Claus von Alstomer in 1753, and over time their meaning has evolved into a symbol of prosperity, wealth, and good fortune. These can be an excellent housewarming gift for friends who have just bought their first house or loved ones who have just moved into a new apartment. The colorful Madeleine bouquet is fantastic for bringing some life into a new home and bringing good money energy into a space.
About Ode à la Rose
Ode à la Rose was founded by friends Louis and Olivier who moved to New York City from France and were met with a cultural difference that they couldn't resist. In France, when you send flowers, they tell a story, send a message, and portray your feelings without saying a word. We started Ode à la Rose as a way to share this fantastic part of French culture with New York, and over the years we have grown to be able to send flowers across New York City, Chicago, Philadelphia and the Northeast so you can share your feelings with a stunning bouquet.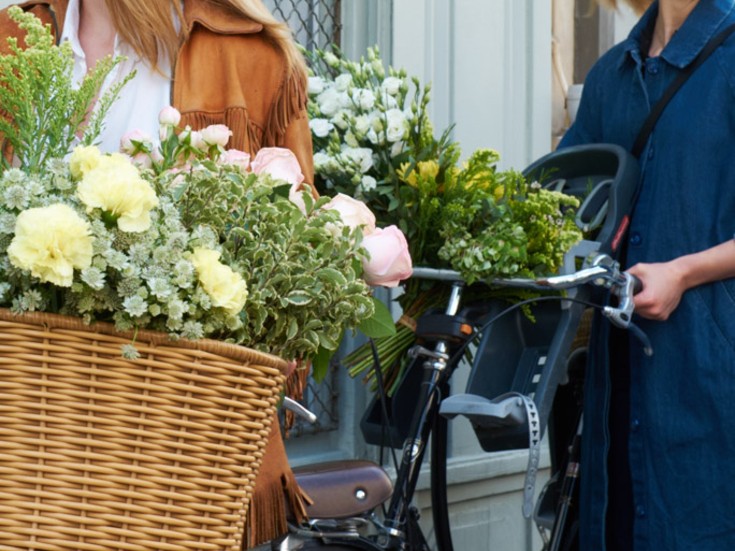 Same Day Delivery

In NYC, Chicago, Los Angeles, Washington DC, Austin and Miami. Next day delivery throughout the US.

Know-How

All of our flower arrangements are made with the French savoir-faire of bouquet making using carefully chosen flowers.

Signature Gift Box

Most of our arrangements are delivered in our signature pink box to maximize the impact of your thoughtful gift and protect your flowers.

Upload a Photo

Upload a photo with your arrangement to give it that special touch. Or not, it's optional (and free!).