East Passyunk Flower Delivery
Send flowers to East Passyunk, Philadelphia today. We offer the most elegant selection of flower bouquets available for delivery in Philly.
Ode à la Rose – Your East Passyunk Flower Delivery Service
East Passyunk is one of those neighborhoods that has always stood out from the crowd. One of the few diagonal streets that cuts through the city's grid design, Passyunk Avenue is the highly walkable thoroughfare for which this area is named. East Passyunk boasts a mix of old-school charm and hip new energy, from its traditional red gravy Italian eateries and world-famous cheese steak spots to its many other highly-acclaimed restaurants, bars, boutiques, and more.
This unique Philadelphia neighborhood offers plenty of things to see and do whether you are a local, have just moved here, or are just passing through. Visitors can shop for one-of-a-kind gifts at the independently-owned shops and boutiques, sip tea or coffee at local cafes, or voice their opinion in the great debate over whose cheesesteaks are better: upstart Geno's Steaks or cheesesteak pioneer Pat's King of Steaks. You'll find both of these irresistible eateries at "Cheesesteak Corner," where South 9th Street crosses East Passyunk Avenue.
Things to Do in East Passyunk
When it comes to food, it's hard not to love the cheesesteaks – but they're far from the only option. This neighborhood has become a global diner's delight offering traditional Italian fare alongside Mexican, Spanish, Dutch, Japanese, and French cuisine. When you're done with dinner or need to take a break from walking, you can sit a spell at the Singing Fountain, the neighborhood's centerpiece and a good place to relax and hear some tunes from yesterday and today.
If you're looking for something exciting to do such as wine tastings, bar crawls, intimate art openings or big street festivals, you've come to the right place. All fun-seekers can find something here to keep them entertained. Only a few options – depending on the time of year – include the East Passyunk Car Show and Street Festival, Restaurant Week, Flavors on the Avenue, or even a giant Easter Egg Hunt, craft beer crawls, gallery exhibitions, and more. Or pay a visit to the Farmers Market at the Fountain each Wednesday afternoon.
Flower Delivery in East Passyunk
At Ode à la Rose, we are proud to offer our exceptional brand of flower delivery to all East Passyunk. We are a one-of-a-kind florist for a one-of-a-kind neighborhood in a great city. Locals know that when you want to send a beautiful bouquet to a special person, you call Ode à la Rose. We offer a wide selection of flower arrangements so that everyone can find the perfect blooms. You'll find bouquets here to suit any budget, style, and occasion.
We create every bouquet with only the freshest flowers, and each delivery arrives in a unique gift box that not only looks great but also keeps your flowers fresh and beautiful during transport. We also offer free same-day delivery or next-day delivery depending on what time you place your order. We deliver to all Philly neighborhoods so whether you want to say "I love you" to an East Passyunk significant other, "congratulations" to a coworker in Callowhill, or "have a wonderful day" to a friend in Midtown Village, we have you covered. Let Ode à la Rose handle your flower delivery today.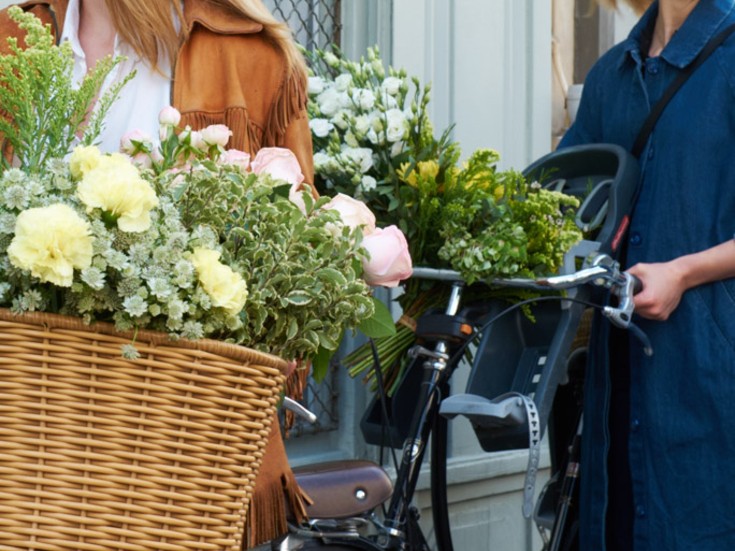 Same Day Delivery

In NYC, Chicago, Los Angeles, Washington DC, Austin and Miami. Next day delivery throughout the US.

Know-How

All of our flower arrangements are made with the French savoir-faire of bouquet making using carefully chosen flowers.

Signature Gift Box

Most of our arrangements are delivered in our signature pink box to maximize the impact of your thoughtful gift and protect your flowers.

Upload a Photo

Upload a photo with your arrangement to give it that special touch. Or not, it's optional (and free!).