Powelton Village Flower Delivery
Need flowers delivered to Powelton Village residents in Philadelphia?
How to Make Your Flower Delivery in Powelton Village Special
Sending flowers to someone you care about is often an opportunity that many people take for granted or don't take advantage of at all. Gone are the days of a handwritten letter, and with it the tradition of giving flowers to the special people in your life. These days it is so much easier to send an emoji or GIF to someone on social media than a beautiful bouquet of stunning flowers that truly mean something. Think for a minute how special you would feel if a delivery man or woman walked into your office and handed you a bouquet with a handwritten note professing just how much the sender loves you. If this is something that you think you might enjoy then imagine how much your significant other would love to receive a thoughtful delivery.
Much like the vintage feel of Powelton Village with its rows of Victorian homes and artistic community, why not bring back the days of old?
At Ode à la Rose, we create eye-catching bouquets that would make anyone swoon; you can easily select online and add an address, a name, and an optional add-on that will, we guarantee, make someone's day. You girlfriend, boyfriend, mother, father, aunt, cousin, grandmother, or teacher will be blown away by the effort you put into making them feel important and loved. Pick flowers that you know that person will love and show you've taken it one step further to demonstrate to your loved one just how much you care about their happiness. Whether it's for a birthday, anniversary, or just because you know they're having a bad day, a surprise flower delivery can completely turn anyone's day around.
Add-Ons for Your Philly Flower Bouquet Delivery
Printed Photos. If you want to take your girlfriend's breath away why not wait for your next anniversary to roll around, wait for her to go to work, and have her absolute favorite flowers delivered with a sweet photo from your first date, first trip, or a special occasion that meant a lot to both of you in your relationship. Take some time to pick out a distinctive bouquet and find a lovely photo that will jog memories of an extraordinary time in both of your lives. Everyone in a relationship, no matter how long you've been together, enjoys being reminded that they are loved and appreciated. Making an effort to send a thoughtful gift can show your significant other how much you truly value the relationship, even if you've been married for 20 years.
Handwritten Notes. Another way to make your flower delivery special is to send a note along with it. Maybe the lyrics to your couple's song, a favored poem, or just some words of love or encouragement can make a world of difference. We will send you updates about the delivery the entire time to let you know where we are in the process. We even send you a final photo just before the flowers go out on delivery to make sure that the entire order is just right.
About Ode à La Rose
At Ode à La Rose, we design and put together striking bouquets inspired by our founders' roots. They moved to New York from Paris and decided to share the romance and story that flowers have with New York City. Since then we have spread our delivery services to over 1400 cities so you can share the love with almost anyone you know in the North East.
Contact us today to find out more about the delivery services we offer and the cities where we deliver. Take some time out of your day today to share the love with someone you truly care for and fill their hearts with traditional flowers.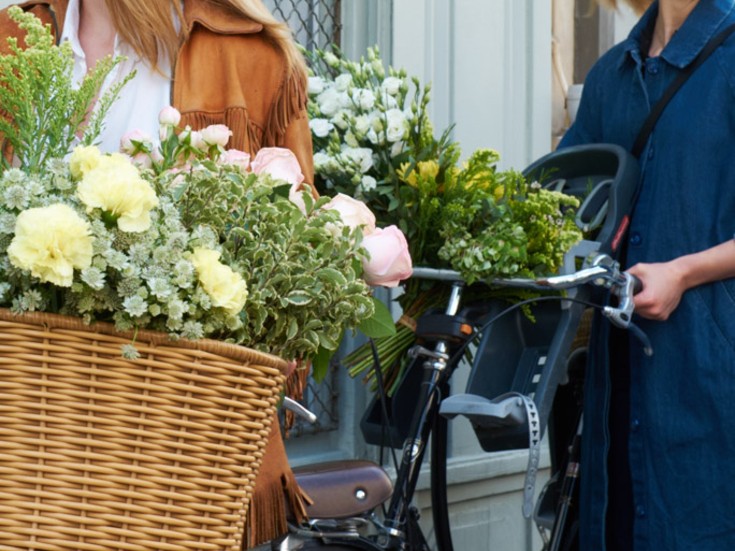 Same Day Delivery

In NYC, Chicago, Los Angeles, Washington DC, Austin and Miami. Next day delivery throughout the US.

Know-How

All of our flower arrangements are made with the French savoir-faire of bouquet making using carefully chosen flowers.

Signature Gift Box

Most of our arrangements are delivered in our signature pink box to maximize the impact of your thoughtful gift and protect your flowers.

Upload a Photo

Upload a photo with your arrangement to give it that special touch. Or not, it's optional (and free!).