Spruce Hill Flower Delivery
Need to send flowers to Spruce Hill, Philadelphia? Order today for a unique flower delivery.
Flowers as Diverse as Spruce Hill
This neighborhood, with its more than 16 000 inhabitants, rich cultural and ethnic diversity is a historical architecture gem. One of the developers of Spruce Hill was Clarence Howard Clark Sr. Besides donating land for the Free Library of Philadelphia's Walnut Street, West Branch, he also founded Clark Park. The public elementary school, Penn Alexander, is situated where his mansion used to be.
Floral arrangements from Ode à la Rose are just as diverse and are available in an assortment of styles, size and colors, which all display a touch of French flair. Our founders started Ode à la Rose as they could not find a florist in New York City whose flowers made a statement, the way the floral arrangements in France do. Consequently, we passionately source flowers across the globe, from countries such as Ecuador, Brazil, Italy, France and Amsterdam to ensure longevity and freshness.
Rose farmers who supply us, have their farms at an elevation of 8000 feet or more above sea level to provide optimal growing conditions for long-lasting life and fragrance. There are numerous varieties which enable us to select flowers based on head size, color and scent.
Specially trained florists prepare floral bouquets at our various ateliers, to a high standard which ensures the longevity of the flowers and contributes to an exceptional experience for the recipient.
Flowers are our passion, and we have an affinity for roses, yet, we supply bouquets containing various types of flowers and greenery. We place some arrangements in vases and hand-tie the others. If the arrangement does not include a vase, we place them in a water-filled container to ensure a constant supply of water until delivery.
Fast Flower Delivery
We deliver to most cities in the Northeast daily. To confirm if your delivery area is within our delivery zone, locate the zip code or name on our easy to use locator. Place your order before 4:30 pm on the day you require delivery to Spruce Hill, to qualify for our Monday to Friday deliveries, which take place between 9 am and 7 pm. Once you have placed your order, you can keep track of its progress. Remember to include the recipient's phone number to enable us to contact them and avoid leaving the delivery on the front porch.
Why Should You Consider Ode à La Rose?
Being such an influential man, Clarence Howard Clark Sr also built a multitude of rowhouses, all similar in appearance. Add flowers to your home or business to add a personal or unique touch, and sending flowers to someone, whether an individual or a company, is always a welcome gesture. You wouldn't want to spoil the experience with inferior flowers or service. Our specially trained team of florists prepare your order by using superior quality flowers and designing unique bouquets. Dedicated customer service team members continuously exceed your expectations with outstanding levels of service.
With both the University of Pennsylvania and the University of the Sciences campus in Spruce Hill, and one of the two known statues of Charles Dickens in Clark Park, the neighborhood has a vibrant student life among its traditional buildings and statues. Enquire about a traditional or modern twist floral option to brighten your life and experience the French flair with which we prepare all our arrangements.
Taking Care of Your Arrangements
When receiving a bouquet from Ode à La Rose, you will want to preserve its beauty for as long as possible. Once you have received your beautifully packaged bouquet, follow our easy four-step plan to ensure that you maximize the vase life of your roses and other flowers.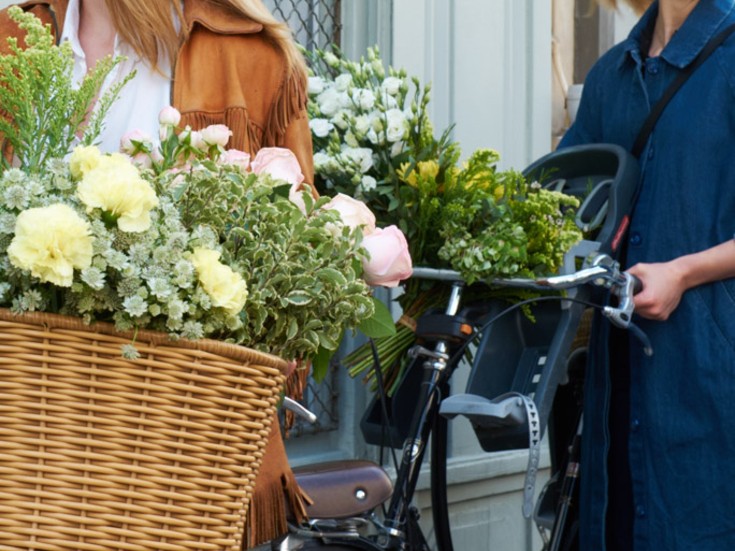 Same Day Delivery

In NYC, Chicago, Los Angeles, Washington DC, Austin and Miami. Next day delivery throughout the US.

Know-How

All of our flower arrangements are made with the French savoir-faire of bouquet making using carefully chosen flowers.

Signature Gift Box

Most of our arrangements are delivered in our signature pink box to maximize the impact of your thoughtful gift and protect your flowers.

Upload a Photo

Upload a photo with your arrangement to give it that special touch. Or not, it's optional (and free!).