Logan Square Flower Delivery
Send flowers to someone residing in Logan Square, Philadelphia! We offer the most elegant selection of flower arrangements of all Philadelphia!
Don't Wait for an Occasion to Send Flowers in Logan Square, Create One
We may create magical bouquets with a French twist, yet the process is not mundane. In France, flowers are not inanimate objects, rather a form of communication. They convey your thoughts and feelings to the person you send them to. Regardless of the message you wish to express, we assure you that the process of creating a special message is simple and will add value to the experience, which will ensure receiving flowers from you, a memorable occasion.
Receiving Flowers from Ode à la Rose is an Experience
The exquisite bouquets on offer, for delivery in Logan Square, boast beautiful seasonal flowers, ranging from roses to tulips, mixed blooms to peonies with beautiful foliage to round them off. To ensure that all the blooms used in our arrangements are fresh and of the highest, lasting quality, we source blooms and foliage from eco-friendly farms in various countries around the world, such as France, Italy, Ecuador, Holland and Columbia. We collect our flowers and foliage from JFK Airport.
Select the Perfect Flowers and Bouquet Style
If you are aiming at sending the perfect bouquet, to a friend, family member, colleague or special person in Logan, ensure you choose flowers your recipient adores. If you are unsure which flowers are their favorite, perhaps you should find out what flower the recipient is, based on the Meyers-Briggs personality type. Depending on the season and type of flower, the bouquet may induce hay fever. Circumvent this by finding out which flowers you should avoid sending to allergy sufferers. Once you have determined which flowers to include in the bouquet, decide on a style. Is this for a special occasion or an important moment in your life? In the online shop, we have grouped bouquets according to occasion and styles for easier selection.
Add a Message… or Not
Some of us are not good with words, and that is ok. Let the flowers convey your message. Choosing the correct color and quantity of roses in the bouquet will intensify the message and communicate your intentions. Pick a bouquet to match your budget. For those who have a flair with the written word, or if you would prefer using a phrase or poem from our top 10 list, you merely type it in on the form when ordering online, and we'll print it out on our distinctively designed message card, to which you could also add a photo. Upload the picture, and we will print it on glossy paper and include it with the message card.
Placing the Order Online and Delivery
Once you have chosen the flowers and bouquet, add the zip code of the delivery area. To avoid disappointment, glance at our areas list to ensure you order the flowers in time for delivery to Logan Square. We will send you a photo of the bouquet before it goes out on delivery. Preparing bouquets for delivery entails placing them in anti-spill vases to maintain hydration, where after we place the arrangement in our signature gift box to keep the flowers steady during transport, and to maximize the surprise for the recipient.
At this stage, you could choose an add-on or two to personalize the experience further. Complete the form with the recipient's details and include the preferred date and time for delivery. If the delivery is at a hotel, and you don't wish to spoil the surprise by asking for a room number, try our Hotel delivery tips & tricks for a solution.
Our bouquets enable you to say it with flowers, every time.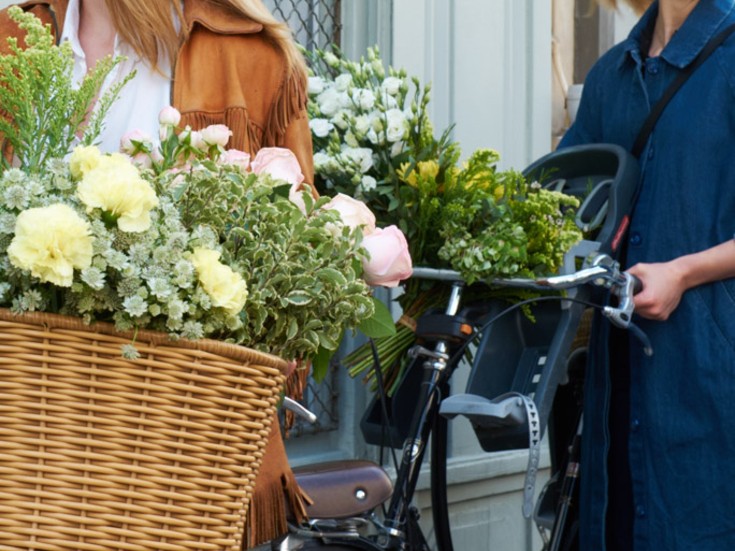 Same Day Delivery

In NYC, Chicago, Los Angeles, Washington DC, Austin and Miami. Next day delivery throughout the US.

Know-How

All of our flower arrangements are made with the French savoir-faire of bouquet making using carefully chosen flowers.

Signature Gift Box

Most of our arrangements are delivered in our signature pink box to maximize the impact of your thoughtful gift and protect your flowers.

Upload a Photo

Upload a photo with your arrangement to give it that special touch. Or not, it's optional (and free!).