Washington Square West Flower Delivery
Send flowers to Washington Square West from the most unique Philly florist.
Ode à la Rose Provides Flower Delivery to Washington Square West
The best way we can think of to describe Washington Square West is "three neighborhoods in one." This thriving enclave also includes Midtown Village and the Gayborhood within its borders, and while each maintains its own personality, the three blend into one unique area.
Midtown Village has set itself apart with its small-business boom, concentrated on 13th Street, where power couple Valerie Safran and Marcie Turney preside over a handful of fashionable shops and restaurants. The Gayborhood has made a name for itself with rainbow street signs, LGBTQ-focused bars and restaurants, and an inclusive, open-minded population. One of the five original public squares in the city, Washington Square itself ties the entire area together, offering a wonderful, open space for residents, families, picnickers, and more to enjoy.
Getting Around Washington Square West
Jefferson Station – just a block away from the borders of the neighborhood – serves as a transportation hub for SEPTA's regional line, serving Philadelphia International Airport as well as the surrounding suburbs. Called the "El" by locals, the Market-Frankford line makes stops along Market Street at 8th, 11th, and 13th streets. Various New Jersey Transit and SEPTA routes also traverse the numbered streets along Market and Chestnut and between 8th and Broad.
What to Do in Washington Square West
Historic Antique Row and Jewelers' Row are long-established commerce hubs known for their respective offerings. Today, however, there are also many other businesses in the area competing for shoppers' attention (and dollars), providing a wide range of products, styles, and price points. From high-end furniture outlets to stationery stores to designer fashion boutiques, you can find it all in one convenient area.
If it's eating and drinking you'd like to do, you'll find no shortage of restaurants and bars serving up a wide variety of menu items and cocktails. Visit Alpen Rose for a mouthwatering steak cooked over a wood-burning hearth or Barbuzzo for its sumptuous budino dessert, a pudding cup of chocolate and salted caramel perfection. Bud & Marilyn's does American comfort food right, while Charlie Was a Sinner features an all-vegan menu of small plates and cocktails. Patrons of Chatayee Thai enjoy traditional Thai cuisine while those seeking high-end Japanese dishes head to Double Knot – and these are just a few of the possibilities.
Each summer, more than 25,000 participants show up for the annual LGBT Pride Parade and Festival. The parade leaves from the heart of the Gayborhood and winds through Midtown Village and Old City before concluding at Penn's Landing festival grounds. Here, guests will discover vendors, dancing, food and drinks, and fun for all ages.
Flower Delivery in Washington Square West
At Ode à la Rose, we love the vibrant energy of Washington Square West and are very happy to offer our services in this unique neighborhood. Whether you want to send flowers to a loved one to let them know you care, a family member welcoming a new baby, a coworker enjoying a business-related success, or even a new neighbor to say, "welcome to the neighborhood," we can help. We offer the freshest blooms sourced from the best farms in the world, arranged artfully with our trademark French flavor and delivered for free all over Philly. Don't hesitate to contact us to place your order.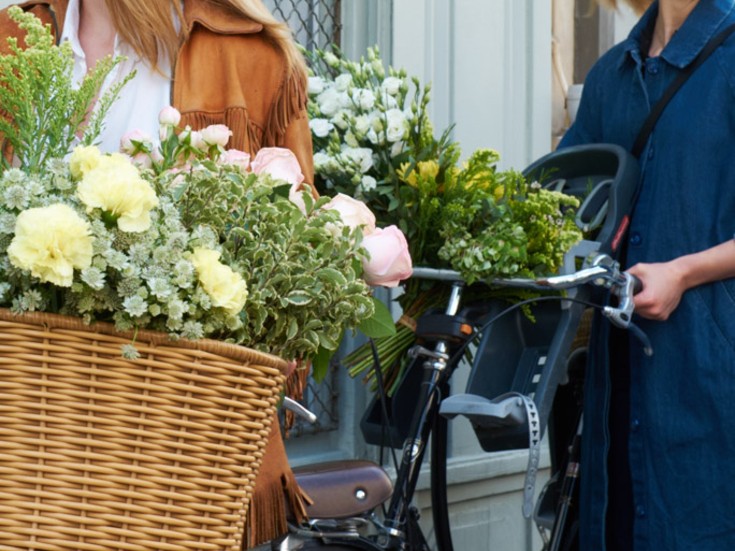 Same Day Delivery

In NYC, Chicago, Los Angeles, Washington DC, Austin and Miami. Next day delivery throughout the US.

Know-How

All of our flower arrangements are made with the French savoir-faire of bouquet making using carefully chosen flowers.

Signature Gift Box

Most of our arrangements are delivered in our signature pink box to maximize the impact of your thoughtful gift and protect your flowers.

Upload a Photo

Upload a photo with your arrangement to give it that special touch. Or not, it's optional (and free!).