Beverly Hills Flower Delivery
Send a beautiful flower bouquet to someone in Beverly Hills! Browse our selection and order today for same day delivery.
Say 'Je t'Adore, Mon Amour' with Fresh, Eco-Friendly Flowers
Few places around the world are as iconic as Beverley Hills in California. Home to celebrities, Santa Monica Boulevard, and of course, the high street of your shopping dreams, Rodeo Drive. The city offers a delectable array of high-end eateries, accommodation, and retail, hosting high-profile events such as premieres, concerts, shows, and expos for residents and visitors.
In addition to limousines and red carpets, essential for public events and private celebrations is having the best Beverley Hills florist – a shop of floral delights, along with a convenient, fast, and reliable Beverley Hills flower delivery service.
How Beverly Hills Flowers Create a Paradise of Petals
No venue is complete without the beauty and glamour of flowers, whether in standing arrangements or centerpieces. Incorporating flowers into your event design raises the tone of the room and occasion to luxurious and opulent; in addition to impressing, the presence of glorious blooms and their heady scent will leave your guests feeling happy and relaxed.
Beyond organized events, residents and those with loved ones in Beverley Hills know that giving and sending flowers is one of the most direct, easily understood, and appreciated ways to share love, affection, admiration, or sympathy. And when it comes to love, who better than the French to show you the way? And what better flower to speak the language of devotion than the unfailingly exquisite rose?
Our French Beverly Hills Flower Shop is Just a Click Away
We are a passionate and dedicated florist providing 'the world's best' roses, as well as many other magnificent blooms. Being owned and run by two true-blue Frenchmen, we arrange our gorgeous flowers with love - the French way. Our insightful and sensitive in-house artisans combine Parisienne flair with a decidedly Beverly Hills emphasis on eco-friendliness, sourcing blooms according to the seasons.
What is this 'French way' I hear you ask? Creating bouquets 'a la Parisienne' typically means combining no more than three different flower types, a tonal color palette – different tints and tones of a single hue, and an arrangement not too studied – a little messy, but also not too cluttered. A French bouquet further welcomes a little greenery, but not too much.
Much like Parisienne panache in general, your French-style flower posy has that indefinable something. A purposeful yet seemingly casual naturalness, appearing effortlessly 'thrown' together in a simple, elegant flourish. With perfection considered 'the opposite of chic', the French way is about pleasure; it's authentic and a little rebellious, light yet textured, soft yet confident. Our philosophy means 'less is more'; a minimum of fuss plus a 'sprinkling' of foliage. Above all, we provide blissful balance; we bring the 'City of light' to the 'Garden spot of the world'.
About Ode à la Rose
You can always count on flowers to bring joy, loveliness, and comfort, and you can always count on us to bring you flowers that are:
Fresh and eco-friendly: Your order of farm-fresh flowers is seasonal and sent directly from the farm to your home or office. Our producers in Colombia, the Netherlands, Ecuador, and elsewhere are carefully sourced, with plants grown at ideal temperatures, longer days, and increased sunlight. These perfect conditions provide not only the freshest and finest blooms but also the longest-lasting, meaning your bouquets and arrangements will last for about seven days. In addition, all orders come with flower food and home-care instructions.
Handpicked, handmade, and hand-delivered: Each of our bouquets and arrangements is hand-crafted and hand-delivered. We keep your flowers hydrated in a special travel container or hydrating paper, with tissue top bloom protectors. This care ensures they reach you as fresh and fabulous as when they left the farm and our shop in Los Angeles.
Uniquely personal: Our individualized signature service accompanies every order and includes a note with your special message, an optional free picture of your choice printed in glossy color, our chic packaging, and speedy delivery. You can personalize your order further by adding a gift such as a vase, macarons, a dark chocolate selection, an Ode scented candle, or even an At-Home Luxury Spa Kit.
We provide flowers for all occasions and events and to suit all pockets. Our service may be exclusive, but just as nature intended, our flowers are for everyone. So, whether you're in Beverley Hills, Brooklyn, or Philadelphia, order your bunch or bouquet online today or get in touch with us for more information.
Where do we deliver in Los Angeles?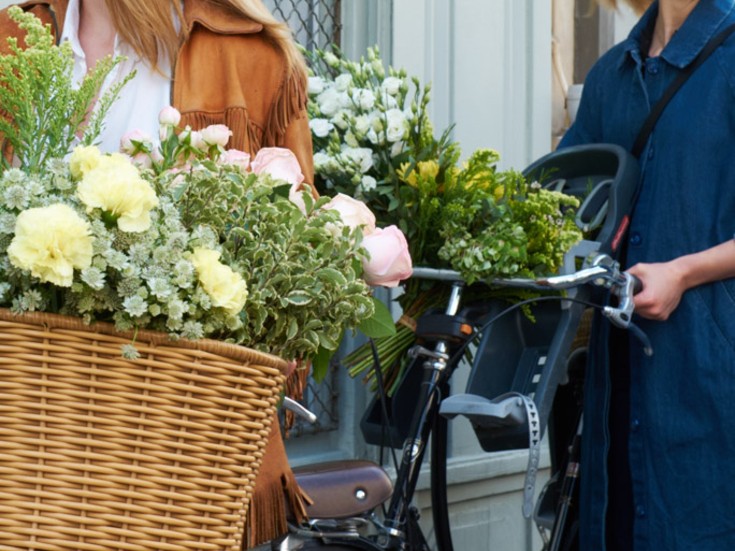 Same Day Delivery

In NYC, Chicago, Los Angeles, Washington DC, Austin and Miami. Next day delivery throughout the US.

Know-How

All of our flower arrangements are made with the French savoir-faire of bouquet making using carefully chosen flowers.

Signature Gift Box

Most of our arrangements are delivered in our signature pink box to maximize the impact of your thoughtful gift and protect your flowers.

Upload a Photo

Upload a photo with your arrangement to give it that special touch. Or not, it's optional (and free!).