We've all had that moment of panic when you realize it's almost your anniversary, Valentine's Day or Mother's Day and you still haven't gotten a gift. That's where these options for flower delivery in Stamford come in. Many flower shops in Stamford, CT offer easy ordering, speedy delivery and some seriously stunning arrangements can be a total lifesaver. With our list, you can find top local flower shops when you want to send flowers in Stamford.
Ode à la ROSE (website: https://www.odealarose.com/)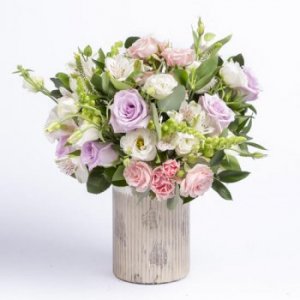 When Olivier and Louis, the founders of Ode à la ROSE, couldn't find the same high-quality rose bouquets in the US that they used to buy in Paris, they solved the problem for themselves and the neighborhood by opening their own florist shop. These days, if you want a premium rose bouquet or other flowers in Stanford for a birthday, anniversary, new baby, or any other special occasion, you need look no further than Ode à la ROSE. You won't find a more alluring choice of locally farmed roses and flowers, and they deliver every bouquet in a vase. Another thing Ode à la ROSE does perfectly is to exceed customers' expectations by enfolding every flower delivery in packaging that's almost as beautiful as the flowers inside. They'll also send you a photograph of your blooms before they go out, so you can make sure they're exactly what you imagined. Want to add an extra touch of personalization? Ode à la Rose will also print a photo of your choice for free to send with your gift.
Stamford Florist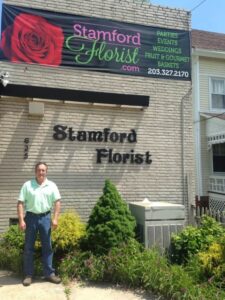 In 1974, when teenaged James Ferraro started working at Stamford Florist as a delivery boy, he never dreamed that a few years later he would become the owner of the shop. Now more than 40 years in business, Ferraro calls himself a real local florist and still delights in delivering a smile to every customer who receives one of his bouquets. Stamford Florist is known for quality floral arrangements and excellent service, and over the years the business has grown to include corporate plant installations and gift deliveries such as balloon bouquets, gift baskets, and handmade chocolates.
Address: 625 Bedford St, Stamford, CT 06901
Tel: (203) 327-2170
Peter Rogers Florist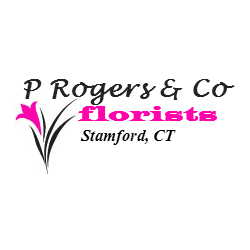 Flower designers at Peter Rogers Florist believe in hand-crafting every order so that nature's beauty can enhance your special moment. The Stamford florist has done same-day local flower deliveries for more than four decades, and you can choose anything from a simple bouquet to an exotic arrangement. Renowned for their florist's choice bouquet, an easy way to order a flower delivery in Stamford is to decide how much you want to spend and let the flower designer arrange a bouquet of the day's freshest flowers in a vase, ready to enjoy. Peter Rogers Florist offers floral arrangements for weddings, funerals, corporate functions, and any occasion where flowers help to strengthen personal relationships.
Address:12 Pine Hill Ave, Stamford, CT 06906
Tel: (203) 327-4170
Gary'Z of Stamford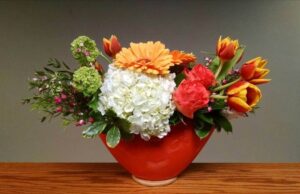 Gary Zinsmeyer is a Cornell University-trained horticulturalist and has designed arrangements for Stamford flower deliveries for more than three decades. An attractive feature of this florist's creations is the gorgeous fresh flowers he imports from Amsterdam every week, allowing for floral presentations that combine unusual flowers and foliage for great visual impact. The staff at Gary'Z of Stamford listen carefully to every clients' description of their planned celebration before they go ahead to create arrangements that add memorable touches to the event. Gary's specialty is made-to-order floral arrangements for Stanford churches, synagogues, hotels, restaurants, offices, and homes. The florist collaborates with vendors for event hire so if you are planning a big celebration and would like to lower your stress levels and save time, talk to them about ways to easily arrange for every aspect of your event.
Website: http://garyzofstamford.com/
85 Old Long Ridge Rd Suite A7, Stamford, CT 06903
Tel: (203) 975-9500
Verde Galerie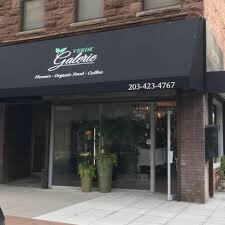 Verde Galerie on Atlantic Street is a feast of flowers, organic food, and coffee. The cuisine at Verde Galerie is made with care, and fresh ingredients and the same is true of their flowers. Whether you need a bouquet for a wedding, baby shower, or another special occasion, this florist in Stamford will collaborate with you to create a beautiful, tailor-made flower arrangement to express your heartfelt emotions. Verde Galerie's floral arrangements have the same wonderful ambiance as their shop. Their services include floral arrangements and plants for décor; with them, you can set up a weekly or monthly appointment for a flower delivery to your home or office.
Website: https://www.verdegalerie.com/
Address: 79 Atlantic St, Stamford, CT 06901
Phone: (203) 428-4767
Exquisite Environments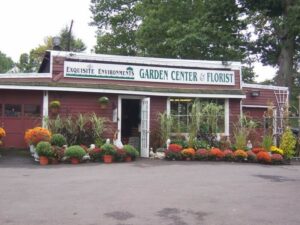 Exquisite Environments combines a full-service flower shop with a garden center and landscape design. When you visit the Stamford florists on Stillwater Avenue, you can pick out cut-flowers and browse for a knickknack to go with your floral gift. Their rustic gift shop is full of character and crammed with gift options, and if you don't want to send flowers, you can even opt for a houseplant or tree instead. Exquisite Environments can supply floral arrangements for any event, large or small, and with daily service, you can order your Stamford flower delivery with confidence.
Website: http://www.exquisiteenvironments.com/
Address:1351 Stillwater Rd, Stamford, CT 06902
Phone: (203) 323-7444
NOBU Florist & Events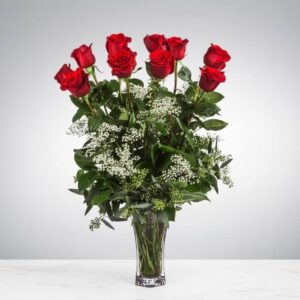 NOBU Florist & Events has been delivering high-quality local flower arrangements for more than 35 years. As a premier florist on BloomNation, they are the go-to florist in Stamford when you need a perfect bouquet delivered to the office or home. You can choose flowers by occasion or ask for a custom arrangement, and with pricing ranging from low-end to extravagant, if you're not sure what to order you can simply select a price and let the florist put together a beautiful bouquet on your behalf. NOBU Florist & Events' specialty is to create flower tributes; they can also deliver sympathy flowers to local hospitals, funeral homes, and cemeteries.
Website: https://nobuflorist.com/
Address: 105 Broad St, Stamford, CT 06901
Phone: (203) 324-4370