Have you ever found yourself standing amidst an enchanting array of flowers, wondering whether it would be a suitable choice to gift some to a man?
You're not alone…  In a world where floral expressions are often deemed feminine, choosing a flower for a man can seem like an intricate puzzle. But what if we told you that the world of masculine florals is just as diverse and expressive as any other?
Welcome to the comprehensive guide from Ode à la Rose, your trusted florist that understands the unique language of flowers. We are here to demystify the art of gifting flowers to men, unraveling the best choices and the profound symbolism behind each bloom.
Whether you're in a rush and need a quick, easy-to-understand list, or you're seeking an immersive journey through the botanical realm, we've got it all. Together, we will uncover the unspoken eloquence of masculine florals and learn how to stylishly present them, whether for romance, friendship or 'just because'!
Let's redefine the art of floral gifting, showing you why Ode à la Rose is your one-stop-shop for all your floral needs.
Should You Give Flowers to a Man?
Absolutely! 
Burst through those old-fashioned norms like a sunflower to the sun! Men, like anyone else, can appreciate the beauty, fragrance, and thoughtfulness of a bouquet. 
Just like the way a rose isn't conscious of its gender, neither should our appreciation for flowers be. So go ahead, gallop to the nearest florist like a proud peacock in full bloom! 
Tailor your bouquet to the man's tastes, and maybe even include some unique, bold blooms. Besides, it's the 21st century, a thrilling era of breaking stereotypes. This isn't just about flowers, my friend; it's about expressing your feelings in the most colorful way possible!
What Occasions Are Suitable for Giving Flowers to a Guy?
Before you even imagine men casting wary glances at you for giving them flowers, let us paint a different picture. 
Picture a celebratory occasion, a man in a smart suit, and in your hand –  a stunning floral arrangement. His face breaks into a grin, pleasantly surprised and genuinely touched by this gesture.
Sounds unrealistic? Not in the least. So, ladies and gentlemen, get ready to revolutionize your gifting game. 
Let's dive into those occasions when you can — and absolutely should — gift a man flowers!
Business Success
"Money may make the world go 'round, but a bouquet surely spins it faster."
Has a colleague just nailed a major deal? 
Maybe your best friend has taken the big leap of starting his own business? Toss out the bottle of champagne! 
Instead, convey your hearty congratulations with an elegant arrangement from Ode à la Rose. The right flowers can say "well done" and "here's to even more success" in a way that's both classy and original. Historically, Romans used to decorate their celebrations and victories with flowers, symbolizing abundance and prosperity. 
Who says we can't carry forward the tradition with a modern twist?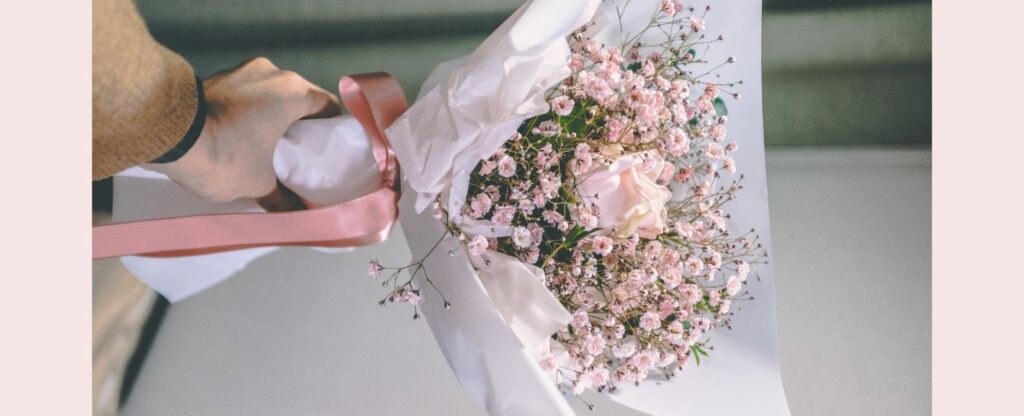 Housewarming
"Who needs another set of cutlery when you can have a vibrant, life-affirming bouquet?"
A man moving into a new home may not need another toaster. 
But a bouquet of fresh flowers to brighten up the space? Now that's a thoughtful housewarming gift. 
Remember, the Victorians gave flowers to promote positivity in a new home, and we see no reason not to do the same. An elegantly chosen floral arrangement breathes life and warmth into an otherwise barren environment, subtly saying, "Here's to a home filled with love, laughter, and a lot of good memories."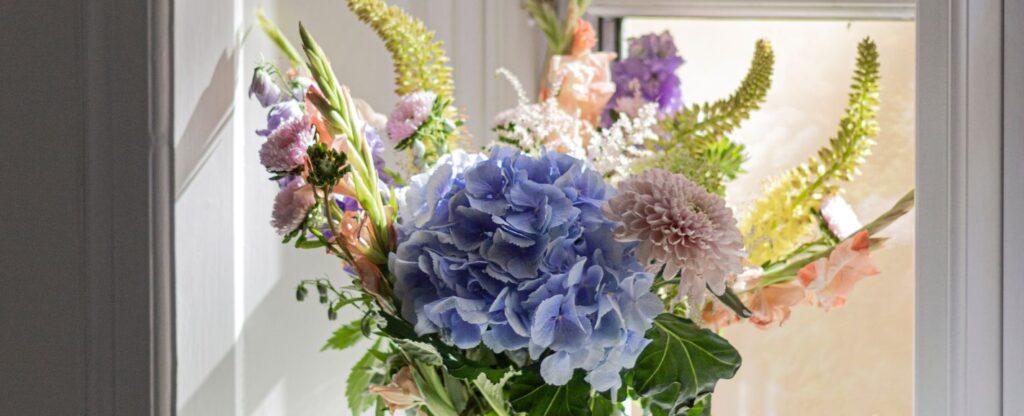 First Date
"Sure, chocolates are sweet, but flowers? Now they have stories."
Who said only women should receive flowers on a first date? Turn the tables and make a lasting impression with a unique bouquet for your man. It's unexpected, charming, and undeniably memorable. 
In the 17th century, the Turkish "language of flowers" was used to convey messages where words might fail, and men are not the only ones left speechless and shy, right? 
Use it to your advantage — choose blooms that express genuine interest and admiration, and your date will certainly appreciate the thoughtful and romantic gesture. And who knows where this might lead you?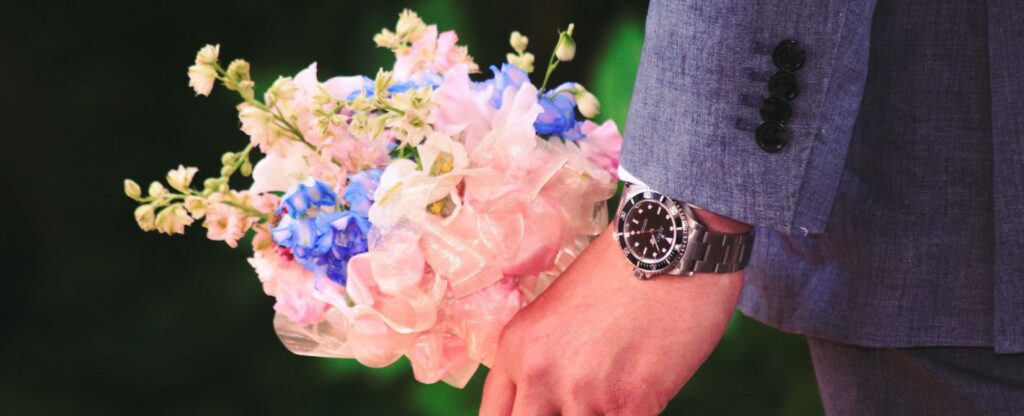 Anniversary
"Love may age like wine, but it blooms like a flower."
You're probably thinking, "Not another tie!" Your significant other might be thinking the same.
So, ditch the predictable presents and go for something that symbolizes your blooming love. A tastefully crafted anniversary floral arrangement from Ode à la Rose speaks volumes about your journey together. 
After all, the Greeks associated flowers with the gods, seeing them as symbols of the divine beauty and power of love. Why shouldn't we take a page out of their book?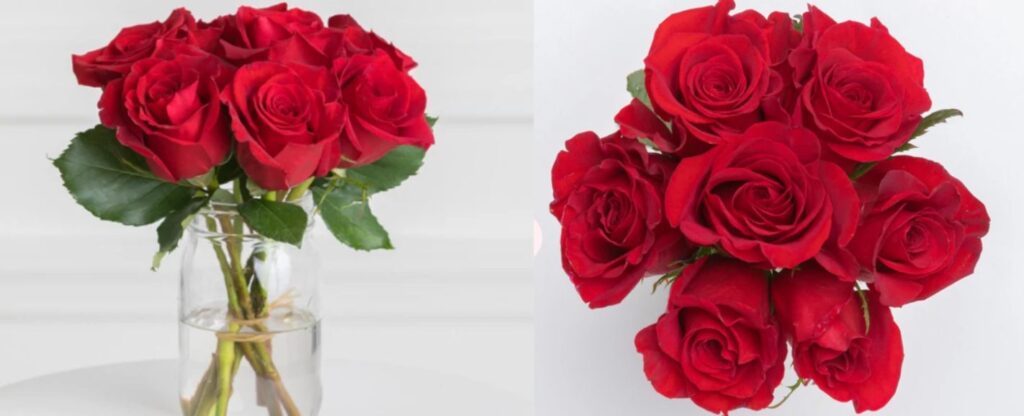 Announcing Your Pregnancy
"Why say it with words when you can express it with flowers?"
Surprise the soon-to-be-dad with a special floral arrangement that screams 'surprise' and 'joy'!
 Breaking such wonderful news accompanied by an explosion of color and fragrance will make the moment even more unforgettable. 
And, it's not just about the surprise — historically, flowers have been used across cultures to celebrate new life and fertility. In this case, both the news and the bouquet are blooming!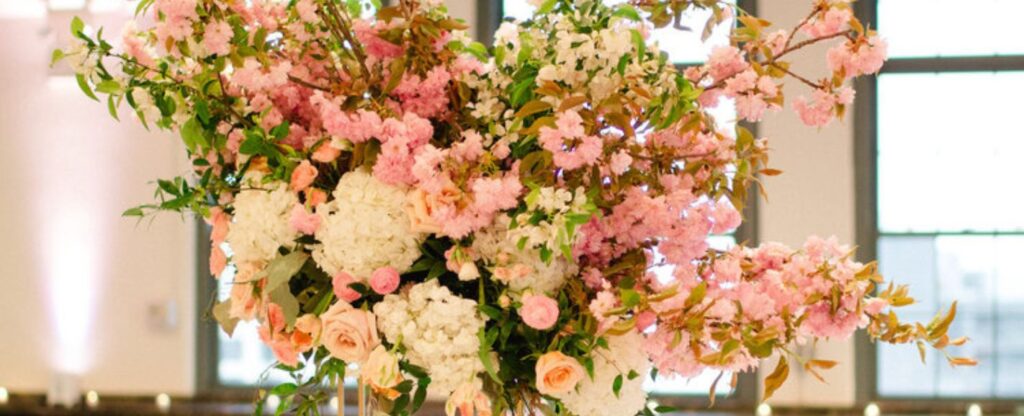 Valentine's Day
"Ditch the clichés; it's time for roses to rule."
Why should women have all the fun on Valentine's Day? Flip the script this year by gifting your man an array of red roses, symbolizing your passionate love. Trust us; he won't be expecting it! 
And hey, a bouquet from Ode à la Rose might just be your ticket to outdoing Cupid himself!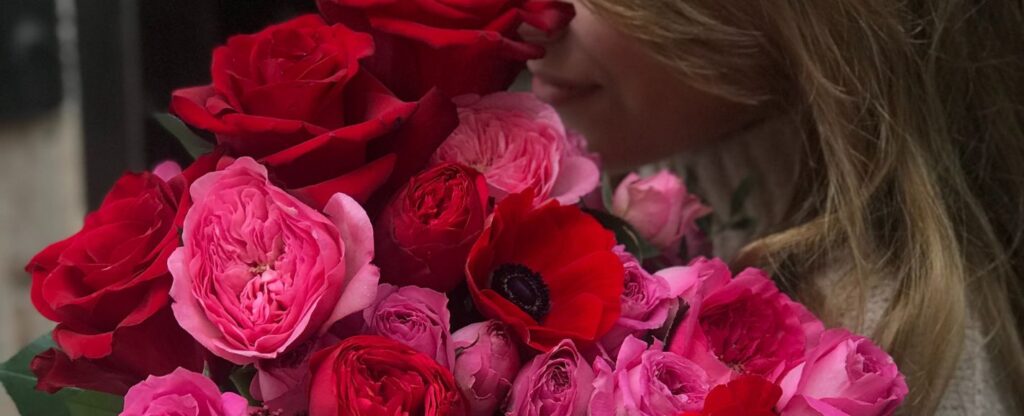 Birthday
"Another year older, another reason to bloom."
Maybe he has all the gadgets he wants, and that shirt you always loved might not be what he had in mind. So why not make his birthday brighter with a vibrant bouquet? 
As a sign of good fortune and happiness, flowers have been given as birthday gifts since the Roman era. Gift him a slice of floral cheer, along with a slice of sweet floral cake, and a promise of many more blooming years to come!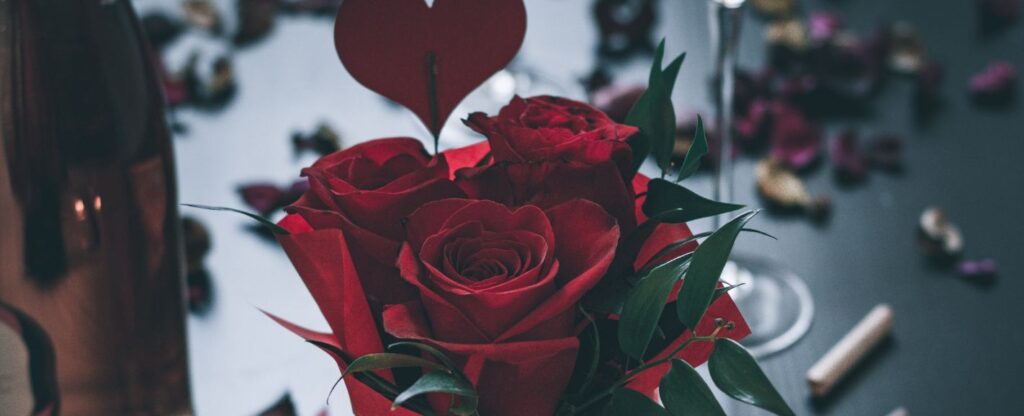 Retirement
"Because not every man dreams of fishing once retired."
Retirement gifts are tricky. You don't know whether to go for something practical or something symbolic. But what if you could do both? 
A sophisticated arrangement from Ode à la Rose not only serves as a beautiful decorative piece but also as a symbol of well-earned leisure and time for personal growth — much like a flower, wouldn't you agree?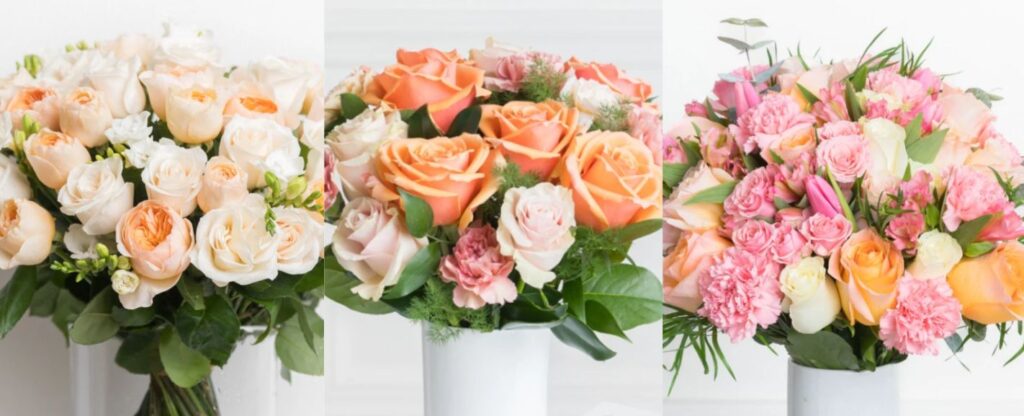 Sweetest Day Holiday
"Because who wouldn't like their day made a little sweeter?"
Sweetest Day is often viewed as a "second Valentine's Day," and this time, why not use it to show your man just how much he means to you? An exotic bouquet full of his favorite flowers from Ode à la Rose is sure to make his day even sweeter. After all, the holiday did originate with candy workers giving out sweets — so let's keep the sweetness flowing, but with a fragrant, colorful twist.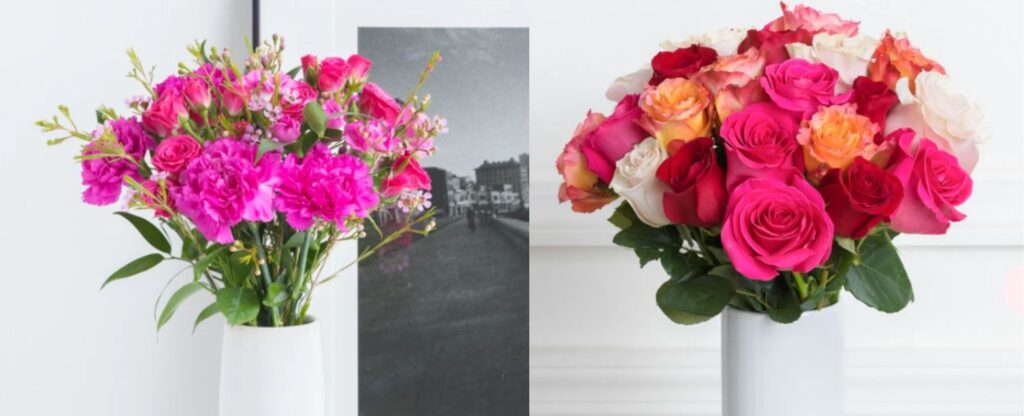 What Flower Color Should You Choose?
Picture this: you're standing in the middle of a florist shop, surrounded by an explosion of colors. You want to find the perfect bouquet for a man but you're unsure of what color to choose.
Should it be bold and vibrant, or more understated and serene? Here's a quick hint: men can and do appreciate the delicate, beautiful artistry of nature's blooms, just as much as anyone. Don't fall into the trap of societal norms—floral gifts are not just a feminine thing!
Absolutely, let's dive deeper into the symbolism and potential of each color!
Whites and Greens
When it comes to classically understated elegance, you can't beat the white and green combo. White, the color of snow-capped mountain peaks and fluffy clouds, signifies peace, purity, and innocence. Imagine a bouquet of white roses or lilies – they're like a breath of fresh mountain air, bringing a soothing presence. 
Paired with green, the color of lush meadows, and thick forests, the symbolism deepens. Green signifies freshness, good luck, and renewal. It's a nod to Mother Nature herself, hinting at resilience and growth. An arrangement in these hues is like a whisper of encouragement, a perfect message for someone starting a new venture or moving into a new home.
For example, our Amelia arrangement is a delicate yet masculine combination of pristine white and lush cream flowers including roses, lisanthus, and daisy astors – a blend of difference that truly will make a difference!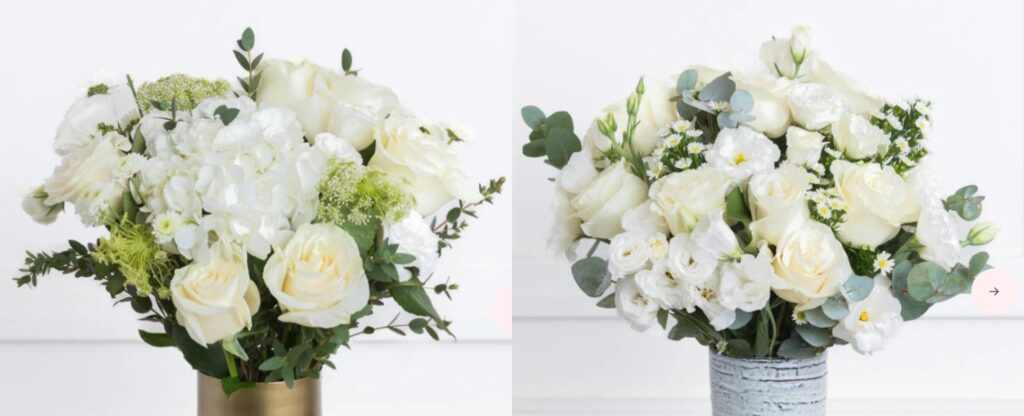 Purples
In the realm of colors, purple reigns supreme. In ancient times, this color was so difficult and costly to produce that only the noble could afford it. It's a color that whispers tales of ambition, dignity, and power. Deep, mysterious, and intriguing, purple is the color of midnight dreams and starry skies. Imagine a bouquet of purple orchids or irises, standing bold and beautiful. It's the ideal color for celebrating a promotion, an achievement, or simply a job well done.
For example, our Paulinne bouquet is a perfect blend of various shades of purple and violet, including the following flowers:
Ocean song roses

Calla lily 

Anemone

Delphinium

Thistle

Eucalyptus
Cool Tones
Imagine the calm, serene beauty of a moonlit lake or a vast, clear sky. These are the feelings evoked by cool tones like blue and silver. 
Blue is a universally loved color, and for good reason. It signifies trust, loyalty, wisdom, and confidence. Now pair this with silver, the color of cool sophistication and modernity. It speaks of old-world charm mixed with futuristic vibes. Picture a bouquet of blue delphiniums, or silver-dusted eucalyptus.
It's a calming, peaceful gift, perfect for someone who enjoys tranquility over a round of golf.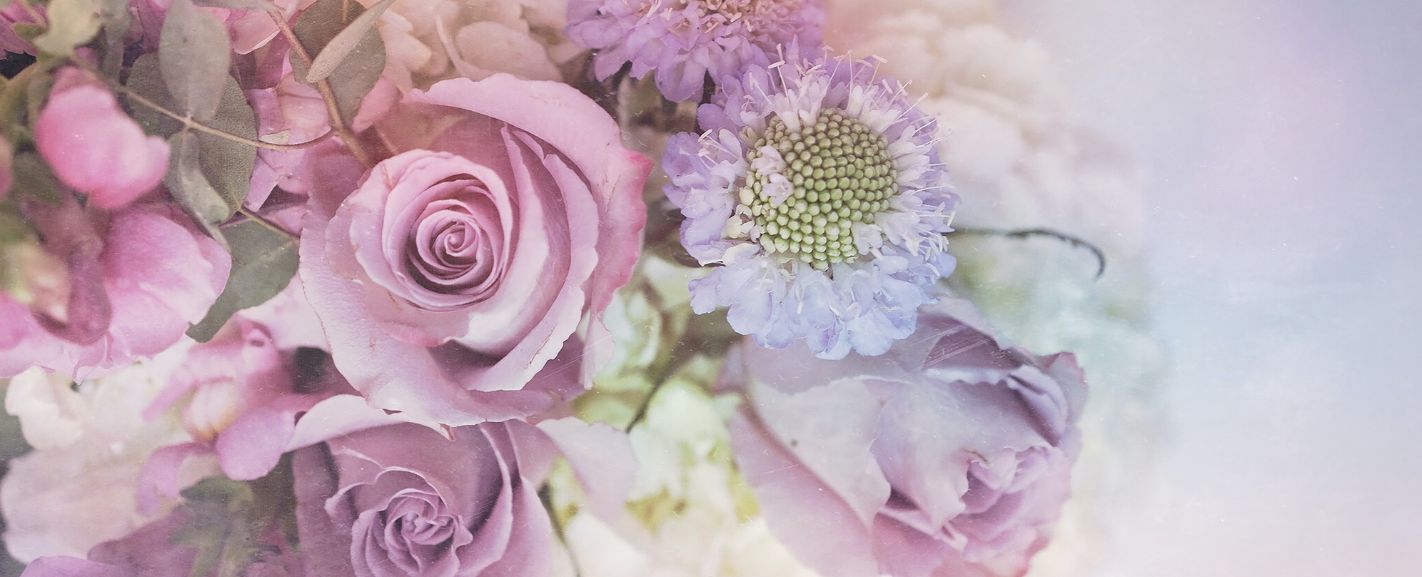 Energetic Orange
Finally, let's talk about orange, the color of setting suns, ripe pumpkins, and warm, crackling fires. Orange speaks of energy, warmth, and enthusiasm. 
It's a color that bursts with vibrancy, a celebration of life and positivity. Imagine a bouquet of bright orange gerberas or tulips. It's like sending a box of sunshine, an instant mood lifter. This color is perfect for a birthday, an anniversary, or any day that needs an extra pop of joy.
Check out our Cami selection that brings joy with a single look at all the vibrant hues of gold, orange, yellow and green, including tulips, varnations, freesia, waxflower, roses, ferns and Italian ruscus.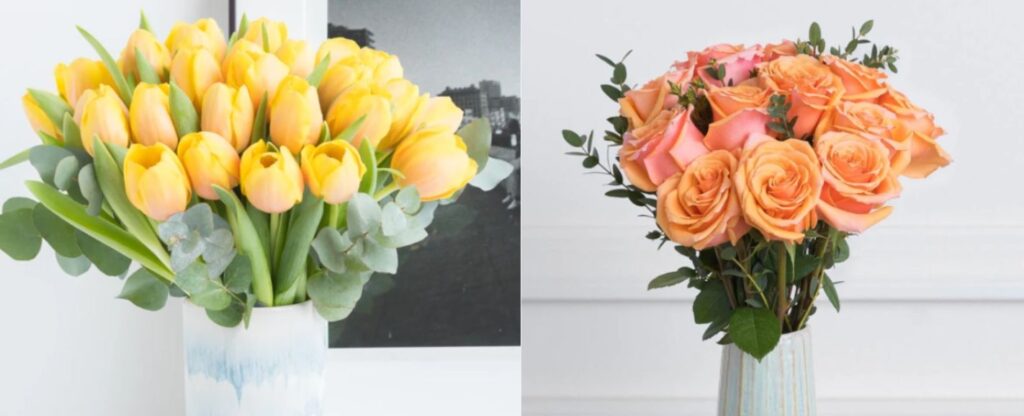 What Are the Best Flowers For a Man?
We already agreed that floral finery is not exclusive to women, despite the fact that the majority of women are definitely enchanted by flowers. But let's get the men's courage and go beyond the gift-giving convention with a twist of green and vibrant colors. 
It's time to explore the world of masculine-friendly flowers because, after all, why should girls have all the blooming fun? Remember, when you choose a flower from Ode a la Rose, you're not just picking a pretty bloom; you're sending a message encoded in the language of petals and leaves.
Peace Lily
Is the man in your life a calm force, a silent brooder who carries an air of enigmatic tranquility? The peace lily, in all its pristine white and emerald green glory, mirrors this quiet elegance. No need to worry about him forgetting to water it regularly, because, at Ode a la Rose, we also include special flower food that will make the arrangement last up to 7 days (then, he's on his own).
The peace lily is more forgiving than you'd think, making it the ideal gift for the busy man, or the one who thinks plant care is more complicated than rocket science.
Orchids
For the man who doesn't shy away from a challenge and cherishes the unconventional, orchids are his floral alter ego. With an array of colors to choose from, each orchid speaks of strength, luxury, and undying love. Even more, in our rich selection of floral arrangements, we also include potted orchids, so you can teach your man how caring of flowers can have a deeper meaning in everyday life!
Fun fact: In ancient Greece, orchids were associated with virility. So, next time you gift him an Orchid, remember you're upholding a millennia-old tradition!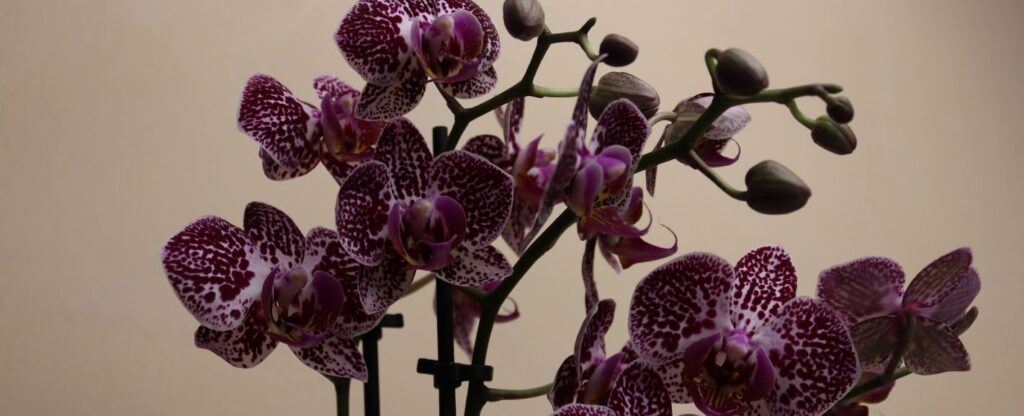 Preserved Roses
"A rose by any other name would smell as sweet," but does it stay that way forever? Well, preserved roses do! These are the gifts that refuse to fade away. Our special selection of preserved roses curates to each specific need – from small to big occasions, where you can either choose a grandiose selection of numerous roses, or a single rose, preserved in a carefully-curated glass box with golden edges. 
Each glimpse at these eternal blooms would be a reminder of a special moment, and every whiff will transport him back to the day he received it. What's more romantic than a love story forever encapsulated in preserved roses?
Dried Flowers
If the man of your dreams loves all things rustic and vintage, or if he's just not gifted with plant-tending skills, dried flowers will fit his bill. With their antique charm and enduring elegance, these blooms don't just survive, they thrive – without the slightest care! They're like that perfect aged wine or a well-maintained classic car, all the better as the years roll by.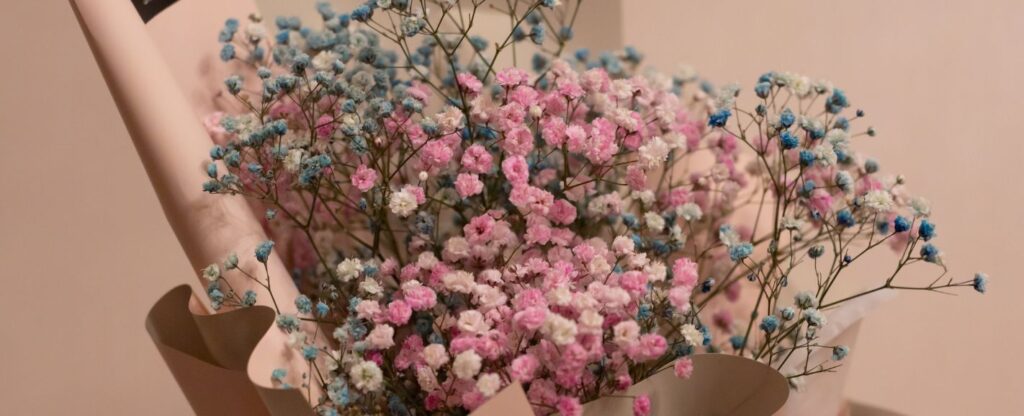 Lavender
Enthralling fragrance, calming hues, and therapeutic properties – lavender is the trifecta of floral goodness. 
Ideal for a man who deserves some 'me-time' in his whirlwind of a day. And hey, lavender's sleep-inducing scent might just help him ditch that late-night scrolling habit. But remember, real men don't just accept Lavender; they embrace it.
Tulips
What's not to love about tulips? They're charming, colorful, and they're the floral equivalent of a belly laugh. A symbol of perfect love, they're the ideal choice for birthdays, anniversaries, or just a random Tuesday. 
Did you know that Tulips were once more valuable than gold in Holland? Yep, that's how much of a superstar this flower is.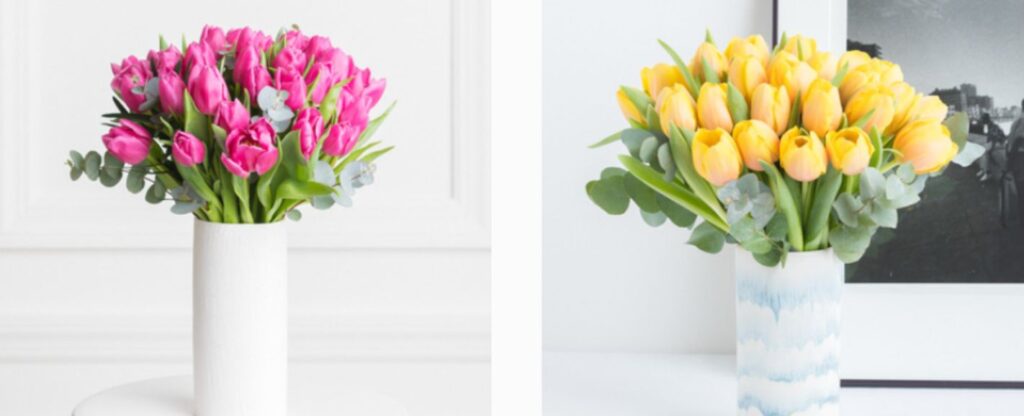 Violets
Violets, small yet striking, are the epitome of 'less is more.' Known for symbolizing loyalty, devotion, and deep admiration, gifting him a pot of violets is like whispering a vow into his ears. Just as the Romans used to do back in the day, shower him with these purple wonders to express your undying affection.
Why Choose Ode a la Rose As Your Go-To Flower Delivery Service?
Flowers are not just for women, they're for everyone. They're a unique and timeless way to express sentiments that can't always be put into words.
And remember, gifting a man flowers isn't just about breaking stereotypes; it's about embracing the art of giving something beautiful, thoughtful, and memorable. 
And who better to help you with that than Ode a la Rose, the expert in crafting exquisite floral arrangements with flair and finesse? So, forget the necktie or cufflinks; step into the world of color, beauty, and sentiment with flowers.