Every day, it seems like someone's come up with a new holiday for us to remember. Whether it's a company using a holiday to sell us something new or an internet troll trying to go viral, there seems to be no end to the list of unique holidays.
It's important to remember what we're supposed to be thankful for or what to have pride in as the years pass. Holidays can be religious or patriotic, universal or niche, serious or fun — but they all started somewhere. Reminding ourselves why we celebrate these holidays is all about getting back to the roots.
One little-known holiday ⁠called Sweetest Day with roots of charity and kindness ⁠is gaining traction all over the United States ⁠— and for all the right reasons.
What Is Sweetest Day?
Sweetest Day is an American holiday in October that is most prominent in the Midwest, mostly in the Great Lakes area. However, it's also common in parts of Texas, upstate New York, California, Florida, and Pennsylvania.
Sweetest Day has no religious affiliation. Most people celebrate by giving sweets, gifts, or appreciation to their significant other. Some also use the holiday to show appreciation to all loved ones, including friends and family. Since the holiday's inception, some candy manufacturers have tried to popularize the holiday, but it never caught on nationally.
What's the Origin of Sweetest Day?
In 1916, candy manufacturers decided that sales were down in the months leading up to Christmas. To increase sales, the National Confectioners Association officially dubbed the second Saturday in October, "Candy Day." The candy manufacturers advertised Candy Day as a day to give and receive candy as well as a day to promote appreciation and goodwill. However, make no mistake about it — the National Confectioners Association created Candy Day to sell more candy.
Candy Day gained some popularity but failed to get national attention. Certain sectors of the population likely began to see it for what it was — a ploy to sell candy. To get ahead of the suspicions, the candy manufacturers launched a high-profile giveaway of candy to people who were disabled or less fortunate.
In 1921, the candy manufacturers officially changed "Candy Day" to "Sweetest Day." Then, they began spreading the narrative that a man named Herbert Birch Kingston of Cleveland, Ohio, invented Sweetest Day. They told people that Kingston was an employee at a candy factory and that he distributed candy to orphans, people who were homeless, and people confined to their homes.
In the early 1930s, they got some movie stars to participate in the fallacy of Sweetest Day. Actresses like Ann Pennington and Theda Bara distributed candy to Cleveland newsboys and hospital patients.
Throughout the 1930s and 1940s, midwesterners continued celebrating Sweetest Day on either the second or third Saturday in October. The candy manufacturers continued their promotions of Sweetest Day, with more of an emphasis on charity and generosity than candy. Somewhere along the line, the legend of Sweetest Day emerged and history began to take the Kingston narrative as fact.
Today, sources from Bustle to Retail Confectioners International all claim that Kingston started Sweetest Day. However, according to The Atlantic, 1920 census data lists Kingston's occupation as "advertiser."
While it's unsurprisingly most popular in its birth state of Ohio, it has not gained much popularity or traction in other parts of the country. However, fans of the holiday seem to take it with them when they move, as people buy Sweetest Day cards in far corners of the country.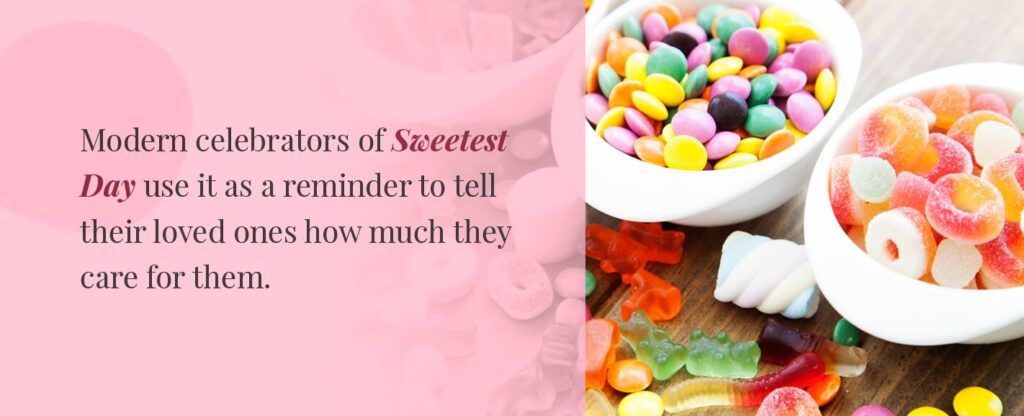 While Sweetest Day might not have the most righteous past, modern celebrators use it as a reminder to tell their loved ones how much they care for them.
When Is Sweetest Day 2019?
Today, we celebrate Sweetest day on the third Saturday in October. This year Sweetest day is on October 19, 2019.
How to Celebrate Sweetest Day
Since its creation in 1921, the traditions of Sweetest Day have changed. Instead of giving out candy to the less fortunate, most people opt for giving sweets or other gifts to their loved ones. If you're new to Sweetest Day, you can decide which type of celebration is best for you. You can choose to give to the less fortunate, shower your loved ones with candies and love, or a combination of the two. Just like any other holiday, you're free to put your spin on it and celebrate your loved ones in a way that's meaningful to you.
Since Sweetest Day is a little-known holiday in most of the country, some people have trouble figuring out how to celebrate. To get started, here are some Sweetest Day ideas to help:
Give candy: Of course, a holiday called Sweetest Day is going to involve sweets. One great way to honor the original intention of Sweetest Day is to give candy to those you love most. Whether you give them candy directly or hide some around for them to find throughout the day, giving candy is a delicious way to say, "I love you." Plus, with Halloween right around the corner, stores will be well-stocked.
Give homemade sweets: When it comes to sweets, the only thing better than candy is homemade cakes, pastries, and desserts. If you can't afford to buy something for Sweetest Day or want to do something more personal, baking some homemade sweets is a great alternative. Breaking out the recipe book and baking something tasty from scratch is always a fantastic gift. Sweetest Day is also a great time to break out the seasonal recipes. Try making a pumpkin pie or an apple cider doughnut cake.
Give flowers: You can still celebrate Sweetest Day even if your loved one doesn't have much of a sweet tooth. Flowers are another lovely way to remind someone of how much you care for them, especially when they come with a thoughtful card. Flowers are an easy, unique Sweetest Day gift, especially when Ode à la Rose makes it so easy to buy such lovely bouquets.
Give a card: It might seem simple, but a well-picked card can mean a lot. If you're not one for flowers or sweets, a card is a simple way to remind that special someone of your affection. Instead of impressing your loved ones with your baking skills or taste in flowers, writing a heartfelt note in a card can be just as meaningful.
Plan a night out: Sweetest Day always falls on a Saturday, so it poses an excellent opportunity to plan a special night out. If your loved one would rather have an experience than a material gift, this is a wonderful way to spend Sweetest Day. Best of all, it's not a major holiday like Valentine's Day or Mother's Day, so you won't have any trouble booking a dinner reservation at the fanciest restaurant in town.
Plan a night in: Going out is great, but sometimes, staying in is even better. You can still have a romantic Sweetest Day from the comfort of your own home. Cooking a meal, opening a bottle of wine, and watching a movie can be just as sweet as flowers or candy. If you want an intimate experience without the extra cost or noise, this is the best choice for you. Plus, you can do it all in your pajamas.
Do something kind: When you love someone, it's good to do at least one nice thing for them every day. Of course, between our daily lives, jobs, and stressors, we can sometimes forget. If you don't have the time to make plans or buy candy, try to do something kind for your loved one on Sweetest Day. Whether it's leaving them a quick note or making them breakfast, a simple deed can easily make their Sweetest Day special.
Best Gifts for Her on Sweetest Day
Figuring out what to buy for Sweetest Day can be a daunting task. When it comes to gifts, knowing your significant other is your strongest asset. Knowing her likes, wants, and needs will be critical in picking out the best Sweetest Day gifts for your wife or girlfriend.
Also, consider the "how" and "when" you're going to give these gifts. If you're giving her flowers, will they be waiting on her desk at the office or on the kitchen table when she gets home? If you're writing her a card, will you hand it to her directly or leave it somewhere as a surprise?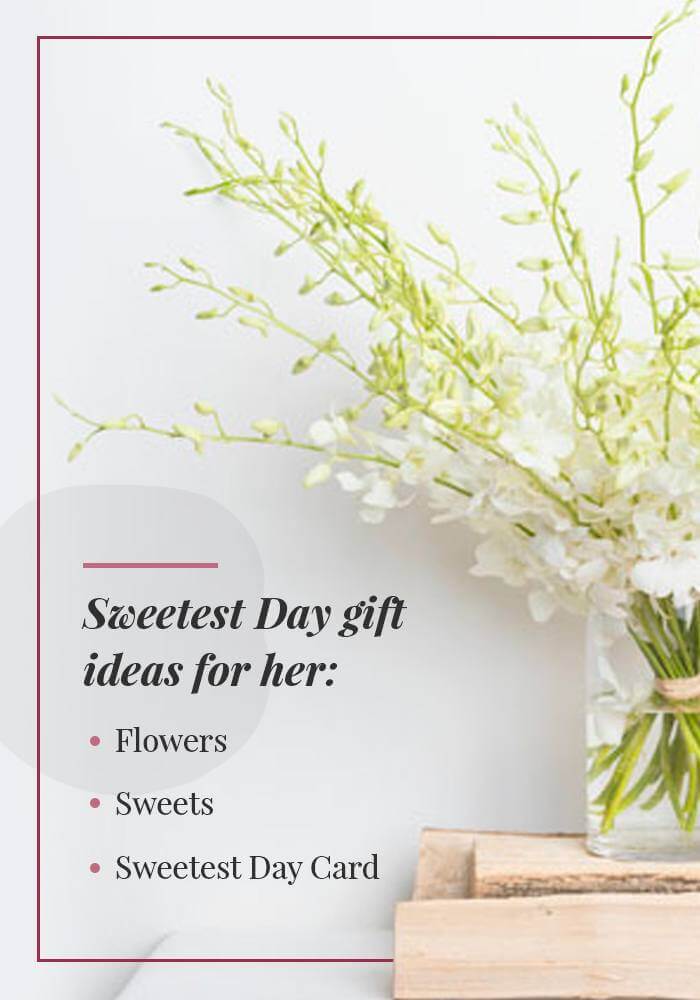 To help guide you, here are some Sweetest Day gift ideas for her:
Flowers: You can't go wrong with flowers. They are a perfect gift for Sweetest Day since they add beauty, class, and fragrance to any room in the house. You can also send flowers to her office for an added surprise. For a beautiful, chic bouquet, be sure to order from Ode à la Rose this Sweetest Day.
Sweets: Candies, chocolates, and sweets are all fantastic Sweetest Day gifts for your girlfriend or wife. Every time she reaches for one of those sweets throughout the day, she'll remember how much you love her.
Sweetest Day Card: Hallmark started selling Sweetest Day cards in the 1960s and still do today. Whether you get a card specific to Sweetest Day or just a generic one to tell her how much you love her, a card is always a thoughtful gift. It's simple, affordable, and personalized — a sweet way to let her know how much you care.
Best Gifts for Him on Sweetest Day
Women aren't the only people who want to feel loved on Sweetest Day — men like to feel appreciated as much as they like sweets and candies. Whether you're looking to show appreciation for a friend, husband, father, or boyfriend, a Sweetest Day gift is the ideal to way spread some love.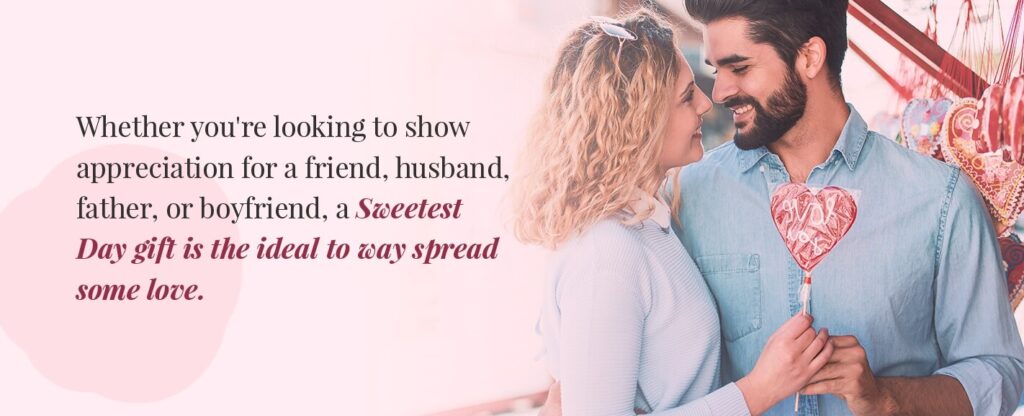 It's sometimes challenging to pick out gifts for men. Just like women, the key to buying your boyfriend or husband a great gift is knowing what he likes. Does he appreciate material things or experiences? Does he have a sweet tooth? Does he appreciate the simple things?
If you're looking for some Sweetest Day gifts for your boyfriend or husband, here's a list to help get you started:
Flowers: Who says men don't like flowers? While it's more common to give women flowers on special occasions, men also like getting flowers — whether it's a holiday or not. Flowers are a beautiful way to show the man you love how much you appreciate him.
Homemade sweets: What's a better way to say "I love you," than with homemade goodies? The best Sweetest Day gifts for your husband or boyfriend are the ones you make yourself. Making sweets on Sweetest Day is a perfect way to get the house smelling great and to show him how much you care.
Sweetest Day Card: Cards are a great way to make your boyfriend or husband smile. You can include a note about how much you love him or a joke to make him laugh. Man or woman, cards are always a thoughtful gift for Sweetest Day.
How Ode à la Rose Can Make Your Sweetest Day a Success
Even if you love celebrating holidays, planning the perfect day or gift can be stressful. When it comes to purchasing flowers, Ode à la Rose can make sure everything goes right this Sweetest Day.
Our greatest strength is the quality of our arrangements. Our highly-skilled floral designers make the most unique, high-end arrangements. We make sure each bouquet looks precisely like the photo on our website. To ensure your expectations match the reality of the product, we'll send you a picture of your actual arrangement.
We pride ourselves in using the highest quality flowers, which we source from the best farms in the world. We use a strict control process to ensure you get the best possible product. To create our stunning arrangements, we use roses, orchids, goldenrods, chrysanthemums, and many more beautiful blooms.
We deliver each bouquet in a chic gift box that complements the bouquet. We also deliver our flowers in water, ensuring peak freshness — something our competitors don't do. Whether you're looking for a small bouquet to make someone smile or a large one to fill up a room, you'll be able to find the perfect selection for any occasion. With our comprehensive website, you can search for the perfect arrangement by size, color, occasion, or price, making it easy to find the piece you're looking for.
During the checkout process, we offer the option to personalize your order. You can upload a photo that we will print and deliver with the bouquet. Some bouquets come with special add-ons, like candles or macarons. If yours doesn't already come with them, you can select more add-ons during the checkout process.
Send Your Sweetheart Flowers This Sweetest Day
With so many corporate and silly holidays crowding your calendar, celebrate one that cherishes what matters most. When our lives get busy and filled with stress, it's easy to forget the people closest to us. Sweetest Day is the perfect occasion to remember. Whether Sweetest Day 2019 is your first or fiftieth, celebrate in style with a bouquet from Ode à la Rose.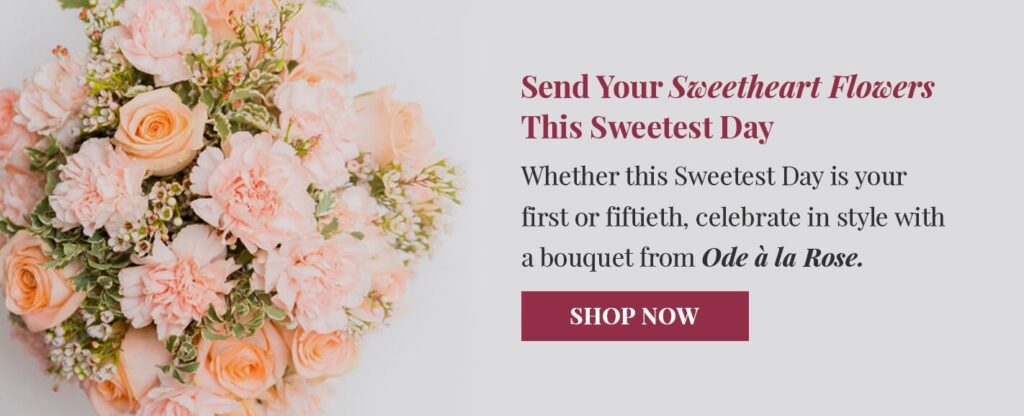 If you want to surprise a special person in your life, order a gorgeous bouquet from Ode à la Rose today.