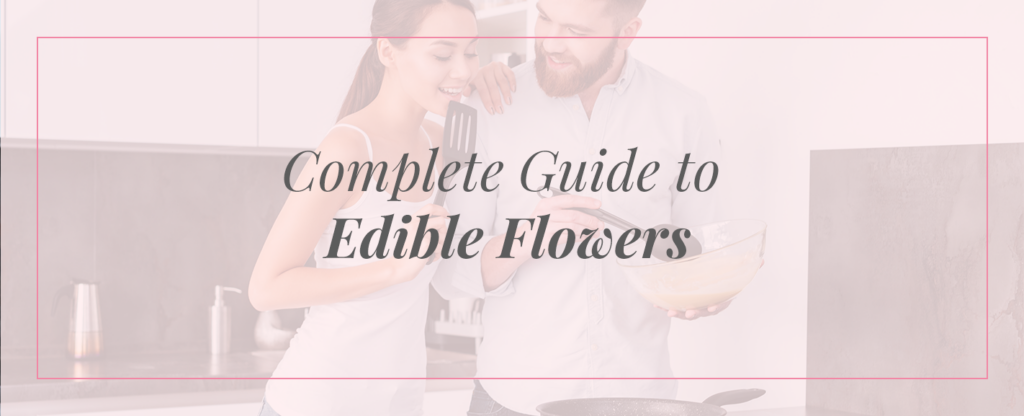 Disclaimer: Ode à la Rose is a one-of-a-kind florist that offers same-day delivery to select cities and next–day delivery nationwide. Anyone consuming flowers, plants, or any derivatives listed here does so entirely at their own risk. We always recommend following good hygiene practices. However, Ode à la Rose cannot be held responsible for any adverse reaction to the flowers. In case of doubt, please consult your doctor.
We all love the look and smell of flowers. Their beautiful appearance and pleasant smell bring a simple joy to our lives. While flowers are an excellent way to add color and fragrance to your home, another way we can enjoy the elegance of some of our favorite blooms is through taste.
Using flowers in dishes and beverages allows you to experience your favorite blossoms in an entirely new way. Read through our guides on the following edible flowers, or continue reading here for tips and FAQs!
How You Can Use Edible Flowers
You can use edible flowers in the following dishes and concoctions:
Dishes: Certain flowers make wonderful ingredients in dishes like cookies, roasted vegetables, soups, chocolate truffles, and pudding. One flower works in all of these versatile dishes — lavender! Other dishes you can create using edible flowers include safflower rice, rose granola, rose butter, and jam.
Syrups and sauces: With edible flowers, you can create syrups and sauces like violet syrup and rose simple syrup. You can also use flowers to create salad dressing.
Garnishes: A classic and elegant way to use all edible flowers is as a garnish. You can use dried flowers or make candied flower petals to act as garnishes for your favorite dishes. You can also use edible flowers to garnish delicious drinks and cocktails. Garnishes add sophistication to whatever you pair them with, making even the newest cook's dishes look beautiful.
Teas: If you're a tea lover, you can use edible flowers to personalize your own brew. To prepare jasmine tea, brew a strong green tea and let jasmine flowers steep in the liquid. Cover the tea and let it cool for a few days before straining and refrigerating it for later serving.
Tips for Cooking With Flowers
Consider these tips when cooking and eating flowers: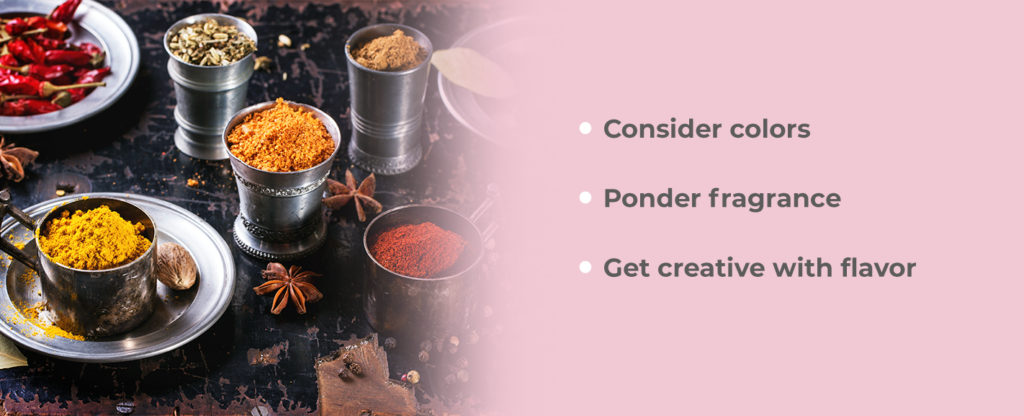 Consider colors: When using flowers as a garnish, consider the colors of your plate and your blossoms. For example, you may not want to pair a pink flower with a pink dish like salmon. Instead, choose a blue or purple flower for better contrast.
Ponder fragrance: Some flowers are highly fragrant, while others don't have a distinct scent. Keep their smells in mind when you pair edible flowers with food.
Get creative with flavor: Some flowers taste sweet, while others add a savory, peppery flavor to dishes. Experiment with different varieties to find your favorite flavor combinations.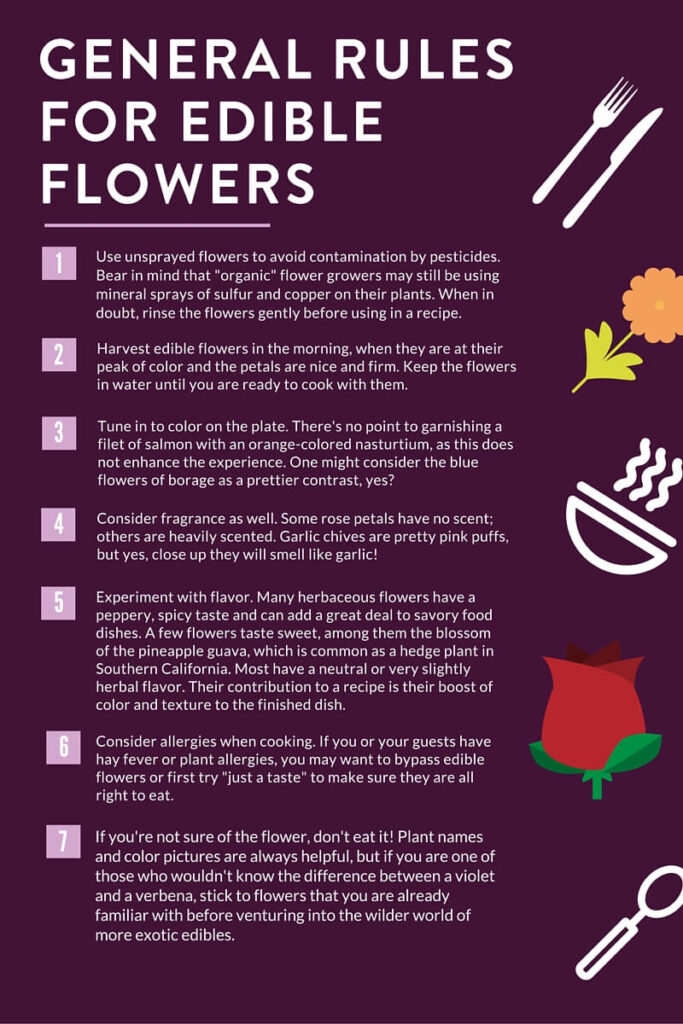 Are Flowers Edible? And Other FAQs
If you still have questions about edible flowers, browse these common questions:
1. Are Flowers Edible?
While many flowers are edible, not every type can be eaten. Many flowers from herb plants are edible, including garlic, rosemary, cilantro, dill, chives, basil, and sage. Some of the plants in your garden may also be edible, like violets, dandelions, honeysuckle blooms, and pansies. However, always check to ensure flowers are not poisonous before using them in your kitchen.
2. Do You Have to Cook Flowers Before Eating Them?
Most flowers can be enjoyed raw without cooking. However, do some research before preparing your flowers for consumption.
3. What if I'm Not Sure if a Certain Type of Flower Is Edible?
If you're not sure about the flower, don't eat it. Stick to flowers you're familiar with before venturing into new territory.
4. Can I Serve Edible Flowers if My Guests Have Allergies?
If you or your guests have allergies, be wary of cooking with edible flowers. You may want to avoid the blossoms altogether or do a small taste test first.
5. Should I Rinse My Edible Flowers Before Using Them?
Using unsprayed flowers keeps you safe from contamination by pesticides. Even organic flowers might have been sprayed using mineral sprays, so rinsing your flowers gently before using them is recommended when in doubt.
6. When Should I Harvest Edible Flowers if Growing Them Myself?
Flowers are at their most colorful and petals are at their firmest during the morning. You'll also want to keep flowers in water until you're ready to use them in your recipe.
Shop Bouquets at Ode à La Rose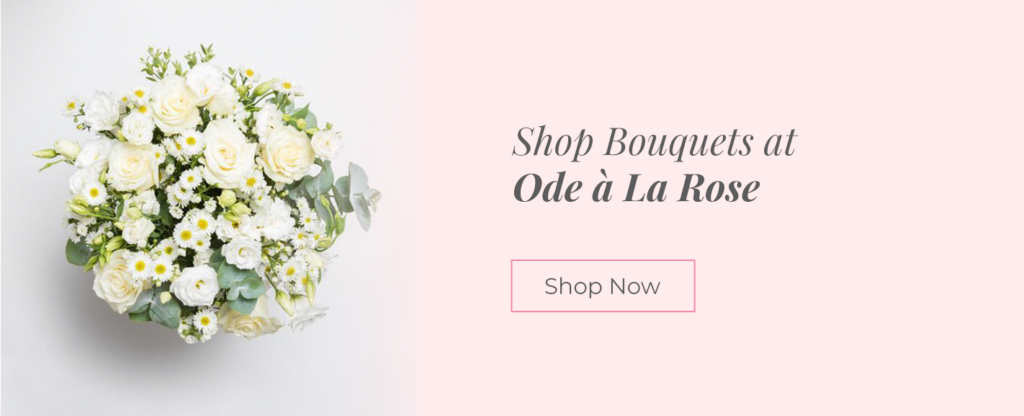 If you want to fill your home with fragrant blooms to enhance the atmosphere in which you enjoy your edible flowers, look no further than Ode à La Rose. Find your next recipe on the Ode blog, then shop our bouquets to get same-day or next-day delivery on your beautiful flowers!