Is a loved one graduating from high school, college, technical school, or a graduate program? They worked hard for their degree, and their graduation day will be one of the most memorable days of their lives. As a family member, significant other, or friend, you likely want to show them how proud you are with a meaningful graduation gift. The gift of flowers is a thoughtful way to show you care and congratulate your loved one for their life-changing accomplishment.
Flowers have long held symbolic importance to humans. For example, the ancient Romans connected myrtle to Venus, the goddess of love, and flowers appear in coats of arms as family symbols. In the early 19th century, many writers translated the "language of flowers" to give meaning to the different types and colors of flowers.
If you're wondering if you should surprise your loved one with fresh, colorful flowers on graduation day, we say yes. Flowers add joy and life to any celebration, and are the perfect companion for a blossoming grad. In this post, we'll explore different types of graduation flowers to help you choose blooms that say it all.
Best Flowers for Graduation
You can feel free to get creative when it comes to choosing graduation flowers. You might select flowers in your loved one's favorite color or flowers to convey a special message. Consider pairing a bright bouquet with balloons, chocolates, and a piece of jewelry to make your graduate feel deeply appreciated. Here are flower ideas to help you get started.
1. Roses
Roses have been potent symbols for thousands of years. In ancient Rome, people used roses as confetti during celebrations and as a source of perfume. During the 17th century, roses were so valuable that royalty used them as legal tender.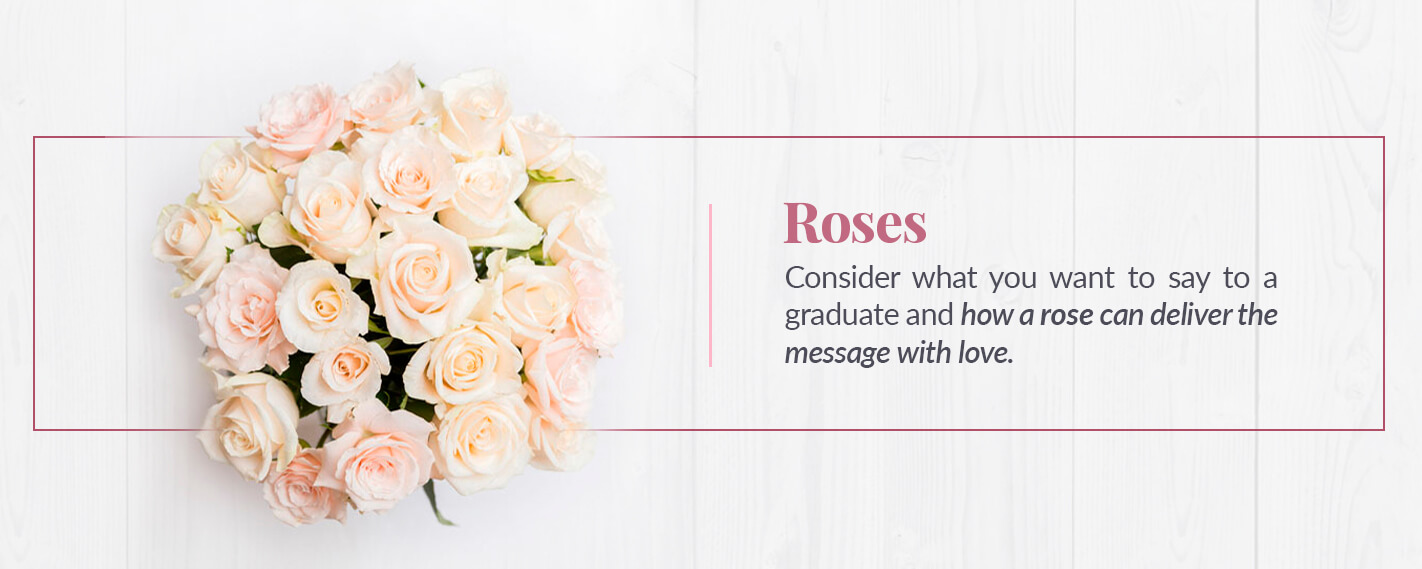 Roses are an iconic flower and a symbol of love, beauty, and romance. Although people often give red roses to significant others, friends and family members can also give roses to a graduate to show their affection and admiration. If you're not sure what type of flower to get a graduate, you can't go wrong with roses.
Various colors of roses carry unique meanings. Consider what you want to say to a graduate and how a rose can deliver the message with love. Here are different rose colors and their corresponding meanings.
Some schools have made roses part of their graduation ceremony. For example, at the College of Charleston, male graduates traditionally wear a red rose boutonnière, and women carry six red roses. To add elegance to your graduate's attire, consider supplying them with red roses before the ceremony.
2. Peonies
Peonies are popular springtime flowers, often found in joyous occasions from weddings to baby showers. Peonies play a significant symbolic role in China, where a peony is known as the "king of flowers." In Chinese culture, the peony symbolizes wealth and honor. According to the Victorian language of flowers, peonies symbolize a bashful, happy life.
These full, luscious flowers are available in a range of colors to complement a graduate's attire or complexion. Wish a shy graduate luck by presenting them a lush bouquet of peonies.
3. Hydrangeas
Hydrangeas are soft, ball-like blooms often available in soothing shades of purple, pink, blue, or white. According to the language of flowers, hydrangeas symbolize gratitude for being understood. If your best friend or significant other is graduating soon, show them you appreciate the relationship with sweet hydrangeas.
4. Carnations
Carnations are a favorite and highly versatile flower with a ruffled shape and spicy floral scent. The carnation means "flower of gods," and Greeks and Romans used them in garlands. You might give a graduate a carnation to wear as a boutonnière or corsage or incorporate carnations in a colorful bouquet. Consider the following carnation colors and meanings.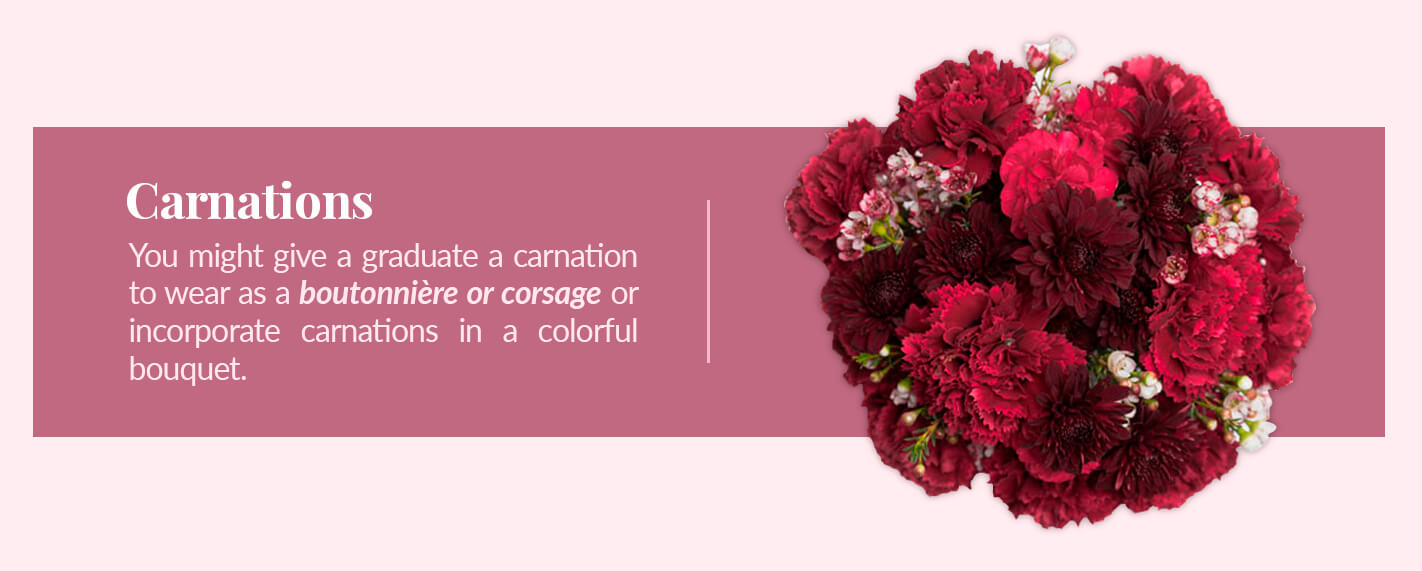 Red: Give a graduate red carnations to show your admiration.
Pink: A bouquet of pink carnations is perfect for anyone who wants to tell a graduate they will never forget them.
White: Give a graduate white carnations if your love for them is pure.
Carnations offer you a ton of flexibility when it comes to finding a flower to match your graduate's school color or favorite hue. Although carnations are available in a range of colors, you can easily dye carnations to get the exact color you want. To dye a carnation, all you to do is add a few drops of food coloring to a glass of water and add the blooms so they can absorb the color.
5. Chrysanthemums
Bursting with bold color, chrysanthemums are attention-grabbing flowers perfect for a free-spirited grad. The Victorians believed white chrysanthemums meant truth and red chrysanthemums symbolized love. In Chinese culture, chrysanthemums are a symbol of longevity and taken as tea for good health. If your boyfriend or girlfriend is graduating soon, consider a bouquet of red and white chrysanthemums to represent true love.
6. Tulips
Most people associate tulips with the Netherlands. Even though the Netherlands is a top tulip-producing country, tulips are not native to the land, and believed to be from central Asia. Tulips were once the most expensive flower in the world, and during the 17th century, cost more than 10 times the average worker's salary. These unique, brightly colored flowers are synonymous with spring and rebirth. To the Victorians, a tulip symbolizes fame. Red tulips are a declaration of love, and multicolored tulips symbolize beautiful eyes.
7. Orchids
Orchids are one of the oldest flowering plants in the world. The ancient Greeks sought certain types of orchids for aphrodisiac qualities, and the Aztecs used orchids for flavorings. Orchids rose in popularity as Victorian orchid hunters sought these gorgeous exotic plants. Orchids are fragrant, enchanting, and available in stunning shapes and sizes — perfect for any graduate's bedside table.
Orchids symbolize love and beauty and are a way to tell a graduate they're one of a kind. Give a graduate orchids, and you'll make them feel adored on their special day.
8. Ranunculuses
Ranunculuses feature tight bowl-shaped blooms that open into beautiful layers. The name comes from the Latin word rana, meaning frog, because of the plant's tendency to grow in damp places. According to the language of flowers, a ranunculus symbolizes charm, so you should consider giving them to a graduate who stole your heart.
9. Leis
A lei is a garland of flowers commonly associated with Hawaiian culture. You'll often see leis worn as part of a celebration. They may be given as a symbol of affection, to show one's support, or to wish a loved one luck as they enter a new stage in life.
Popular lei flowers include colorful carnations and orchids. Leis have become part of the graduation tradition in some regions, particularly in California, where they adorn graduates across the state.
10. Corsages or Boutonnières
A corsage is a small bundle of flowers a woman might pin to her gown or wear around her wrist. A boutonnière is a single flower or a small group of flowers a man may attach to the left lapel of a formal jacket or graduation gown. If you're considering getting a graduate a corsage or boutonnière to wear for the ceremony, you might try to match the flower to the school colors or the graduate's attire. Roses, orchids, and carnations are popular choices and available in an array of colors. If you can't find the color you need, consider a white bloom or classy red rose.
When to Give Graduation Flowers
Your graduate will likely be in a whirl on graduation day and experiencing all kinds of emotions. It can be hard to choose a time to give them flowers because you know they'll be busy saying goodbye to friends, receiving many congratulations from others, and preparing for the stage. Nevertheless, a gift of flowers adds to the excitement and makes a graduate feel loved and special as they cross the threshold into adulthood. Consider your loved one's personality, and how they will handle the joy of a bouquet. Here are a few ideas about when to give graduation flowers.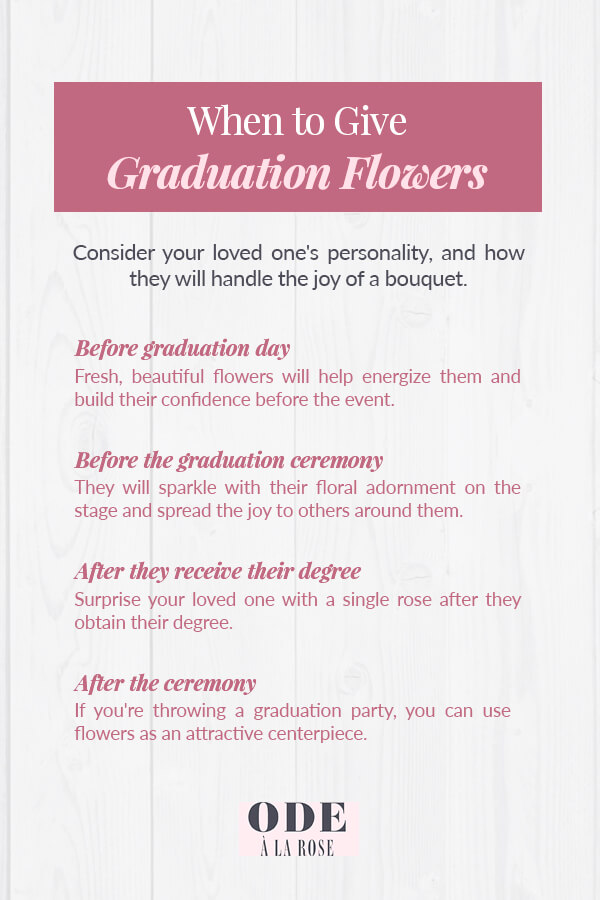 Before graduation day: Consider sending a vibrant bouquet for graduation before the big day. Fresh, beautiful flowers will help energize them and build their confidence before the event. Make sure to include a heartfelt note with the flowers to express your love and congratulations.
Before the graduation ceremony: If you choose to give flowers a graduate can wear, such as a lei or corsage, give the gift before the ceremony. They will sparkle with their floral adornment on the stage and spread the joy to others around them.
After they receive their degree: Surprise your loved one with a single rose after they obtain their degree, or place a colorful lei around their neck to punctuate the moment. If your boyfriend or girlfriend is graduating, hand them a romantic bouquet of roses to melt their heart. Family members or parents might give a graduate a bouquet of fresh spring flowers in the graduate's favorite color.
After the ceremony: If you're throwing a graduation party, you can use flowers as an attractive centerpiece. Consider a bouquet of sunny yellow flowers to symbolize a new stage in your loved one's life, or orchids to fill a room with beauty. Tulips and roses make elegant choices and are available in gorgeous colors. Regardless of the type of graduation flowers you choose, aim to match the overall color scheme. Your loved one will never forget your thoughtfulness when they enter a party filled with flowers.
Do Guys Get Flowers for Graduation?
If your graduate is a man, you can certainly surprise him with a cheerful bouquet. Men love thoughtful gifts, and flowers abound with meaning and affection. Consider white roses to represent your admiration and respect for your graduate. You might also opt for bold, bright flowers like carnations or colorful orchids to brighten his mood.
What If You Can't Make It to the Ceremony?
If you're unable to make it to the ceremony, you can arrange to send flowers to your loved one to show them they're in your thoughts and congratulate them for their accomplishments. Flowers tend to evoke emotion in the receiver because they represent life, love, and joy. Send your flowers with a special note to make the gift more personal. Your loved one will know you care when flowers arrive at their door, and they'll never forget your gesture.
Order Graduation Flowers From Ode à la Rose
If you're looking for exquisite graduation flowers to make your loved one feel adored, reach out to us as Ode à la Rose. We design our chic bouquets to impress the receiver and add an elegant touch to any room. Our artisans use carefully selected flowers to design unique, French-style bouquets, and we strive to make every experience personal and meaningful. We offer showstopping budget-friendly options as well as exceptional bouquets to celebrate life's big moments. We never skimp on quality or passion, regardless of the bouquet style.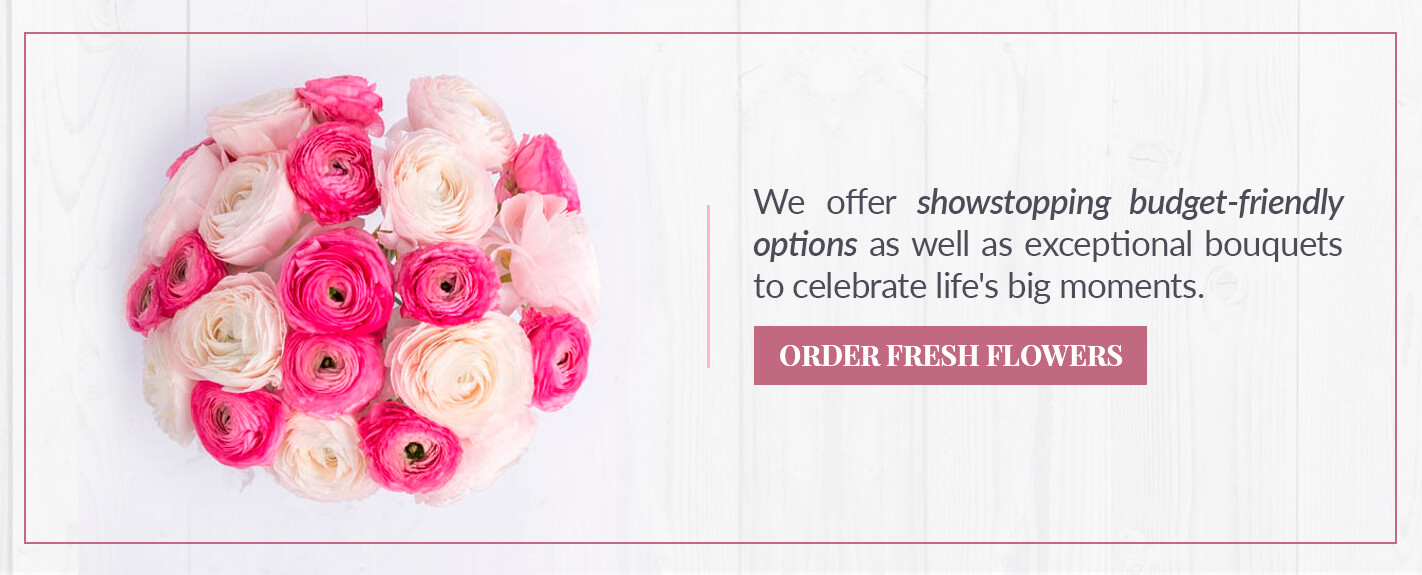 We also care that your loved one receives their flowers on time. For this reason, we offer same-day delivery in New York City, Chicago, Philadelphia, Los Angeles, Washington DC, and next-day delivery in over 1,500 cities throughout the Northeast and part of the Midwest. We deliver our flowers in water to ensure they arrive bright and beautiful, and we secure each arrangement in our signature pink gift box to make an unforgettable statement. To enhance the joy of graduation day and express your love, order fresh flowers from Ode à la Rose.