After long months of struggling along icy sidewalks, digging cars out of snowy driveways, and cranking up the heat to warm your frozen toes, it's finally starting to feel like spring is just around the corner. The temperatures are climbing, slowly but surely. On very fine days, we might cautiously crack open our windows for a few hours to let some fresh air in. And when we go out for a walk, we might even substitute that heavy winter coat for a light sweatshirt or jacket.
Of course, all these weather changes are happening outside, meaning that when you step out your front door, the world immediately starts to feel more spring-like. But how can you take those outdoor changes and bring them into your house for a little indoor spring cheer?
As it turns out, there are plenty of easy ways to freshen up your home for spring, and today, we want to bring your attention to just a few of them. Follow these tips, and you'll be able to get your home ready for spring in no time.
How to Make Your Home Feel Like Spring
Ready to start spreading those light and carefree spring vibes inside your home? Brighten up your home for spring by working your way through this list of ideas.
1. Wash Your Windows and Doors
Cleaning may not be a task most of us look forward to, but there's something about spring that gives many of us that itch to clean and get things looking sparkly again. While this might be the perfect time to clean your entire house and give it a fresh face for spring, we think there's particular merit in focusing on your doors and windows, even if you clean nothing else.
Clean windows mean a clearer view of the outside world as it bursts into spring. This includes the traditional windows in your home as well as any windows you may have in your doors. Clean the glass, but also don't forget to open the windows and clean out the interior. Be sure to wipe away any of the dirt that may have collected there over the winter. This way, when it comes time to pop those windows open for the summer, you'll be ready.
2. Open Those Windows
If there's one single action that has the greatest effect on refreshing the feel of your home, it would be opening the windows. We know that spring arrives slowly, and sometimes in a two-steps-forward, one-step-back manner, meaning that it's often too cold to open the windows. But try to be vigilant and watch for the days when it is warm. Take advantage of these days by switching off the heat and throwing open windows, and opening heavy doors to leave just the screen door between you and the outdoors. This action lets in the spring breezes and does wonders to freshen up the air inside your home.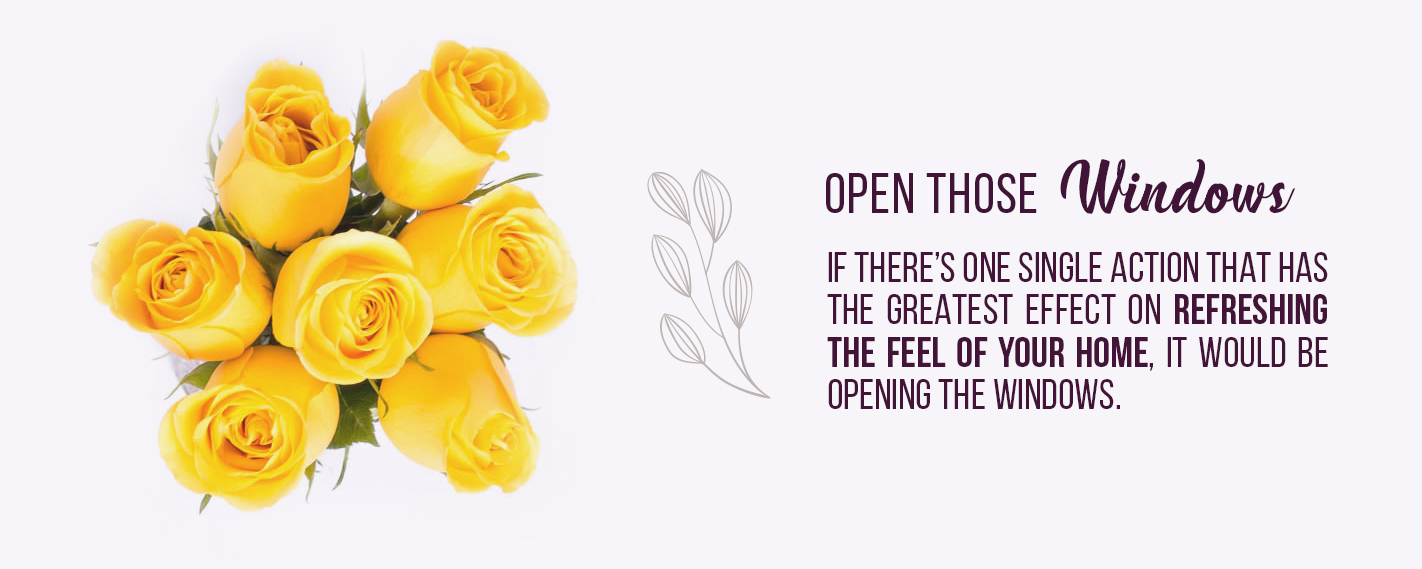 If it's too cold to open the windows, at least open the blinds and curtains. This way, the sun can still stream into your home and add a little bit of light to your dark winter space.
3. De-Clutter Your Home
Just as spring is the perfect season to grab a mop and a feather duster and begin cleaning, it's also the ideal time to breathe new life into your home by tossing out the old. Go through your closet and donate those pieces you never wear or that no longer fit. Reach into the back of your kitchen cupboards and pull out everything expired. Clean up the small décor items that have cluttered your surfaces, and even go into the garage to clear out larger items that are broken or no longer necessary.
This de-cluttering serves two purposes. Firstly, it's great for getting you energized for a new season. When you're no longer bogged down by old things you don't need, you'll be amazed how revitalized you feel. Additionally, most of us love going out and shopping the spring sales. By clearing away old items, you make room for these new items.
4. Get Organized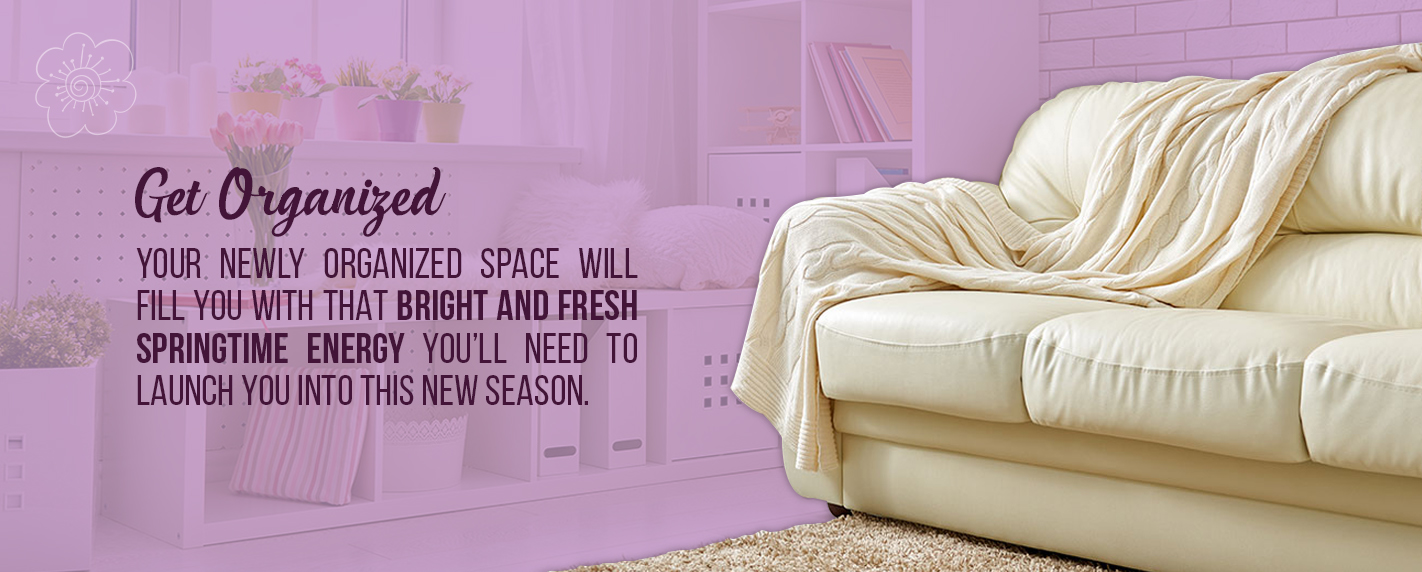 Once you've cleared out all those old things you no longer need, this is the perfect opportunity to organize the treasures you have kept. With the extra space you gained from donating or throwing away items, you should now have more space to spread out your belongings. Take this time to group similar items together so you can quickly find them and place things in simple, easy to access spots. Your newly organized space will fill you with that bright and fresh springtime energy you'll need to launch you into this new season.
5. Spruce up Your Porch
Your porch may not technically be a part of your indoors, but it is a space that all guests will pass through when they enter your house. If your goal is to greet your visitors with a burst of spring and sunshine, this starts by decorating your porch. We recommend starting with a nice cleaning, sweeping away any dead leaves and dirt that have collected over the winter, and freshening up any patio furniture you have.
Once these bare bones are clean and ready to go, it's time to add some finishing touches. Why not add a spring wreath to the door, some cut flowers, or even a splash of bright color in the form of a new pillow or tablecloth? Even something as simple as a new rug or doormat can make just the difference you're looking for.
6. Freshen up Your Home With Spring Décor
This is an extremely broad category that you could choose to take in any number of directions. It could mean packing away your dark throw pillows for the winter and bringing out some bright floral alternatives. It could mean swapping heavy curtains for light, billowy ones. It could even mean switching up your winter-themed accessories with spring-themed ones.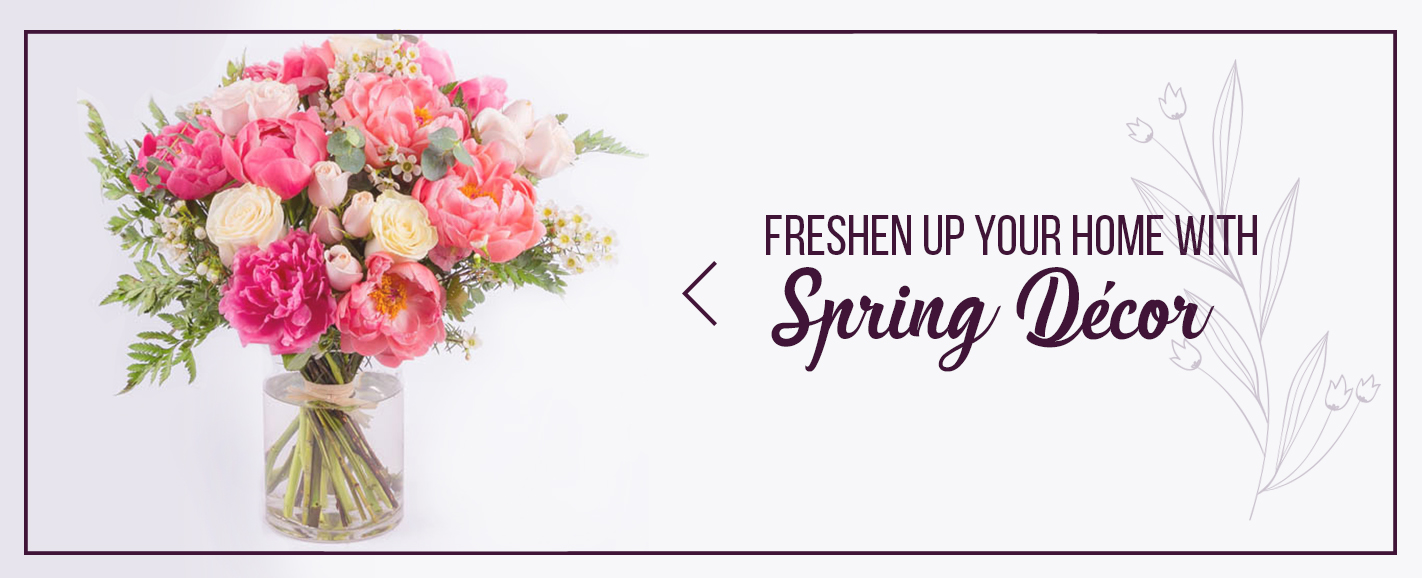 If you already have a set of springtime decorations and décor that you keep packed away for the rest of the year, this step is simple. Just pull these items out and place them around the house. If these aren't things you have on hand, however, there may be a shopping trip in your future.
7. Lose the Dark, Heavy Items
Nothing makes your home feel more winter-like than dark colors and heavy fabrics. Heavy drapes, dark throw pillows, hand towels, and blankets can all work together to give your home a warm, cozy feeling that's ideal for winter, but feels out of place once spring starts to show its face. Combat this by choosing lighter fabrics and colors inspired by the natural world during springtime.
8. Pops of Color Are Your Friend
Decorating your home for spring is easy when you remember that all it takes is a simple pop of color. And with so many possible places to incorporate these small bits of color into your home, you have all the options in the world. These pieces of color can be as simple as a single flower blossom in a vase, a new colored throw blanket over the back of the couch, or even a colored towel at the sink. If you aren't sure where to add a little color, try taking a quick walk through your house and note which corners seem dark or even dismal. While you can add color anywhere, these dark corners should be your highest priority.
9. Choose Light Neutrals
As wonderful as a bit of color is, it would be impractical to decorate your entire home in a pastel rainbow. Every house needs neutrals to balance out the colors, but this is no reason to retreat back to the dark colors that many of us are comfortable with. Whenever you have the chance to choose with any of your décor, select light neutrals over dark ones. Think white, cream, beige, and light gray instead of black, navy, or charcoal, and try to incorporate these lighter shades wherever possible.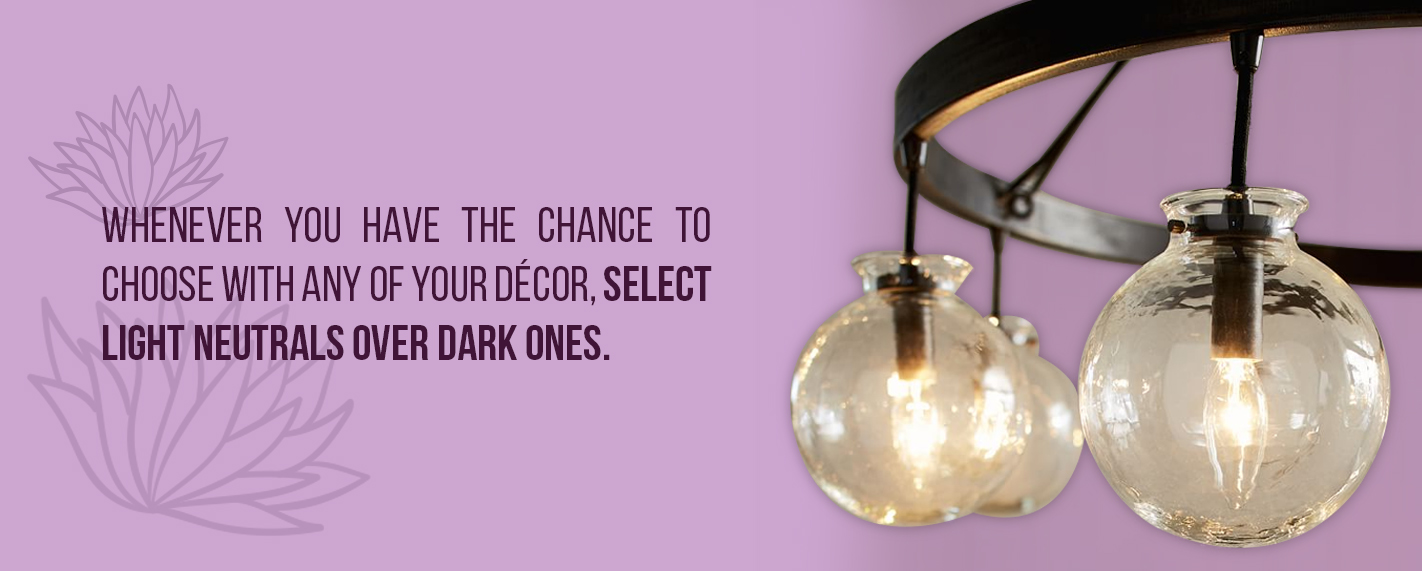 10. Get Rid of Those Harsh Lights
Springtime is a season of celebrating natural beauty, and many of the artificial lights we use in our homes every day can be harsh and at odds with nature. While these are sometimes necessary to brighten your home during the dark winter months, why not swap them out now that spring is here? Try a salt lamp, strings of fairy lights, or full-spectrum light bulbs designed to more closely mimic natural light.
11. Put Away the Winter Gear
During the winter months, many of us have coats, heavy boots, gloves, and knit scarves filling up our entryways and mudrooms. This protective gear can become a bit of a mess, but it's somewhat necessary as we need to grab these items right before we head out the door. But now that spring is approaching, we can safely pack these items away. This clears up some space and gives you extra elbow room in your entryway as well as takes those reminders of winter and puts them out of sight, thus helping your mindset along on the road towards spring.
12. Swap out Your Linens
Your linens are just one of the areas of your home where you can make an easy change in the name of achieving a more spring-like feel. While you're already in the process of spring cleaning, grab bed-sheets, towels, blankets, and any other linens you might have around your house. Wash them, but instead of putting them back out, substitute them for lighter and brighter varieties. For example, you could switch out those flannel sheets with a white cotton set. Or maybe you might swap out that checked towel for a white one with some pastel detailing.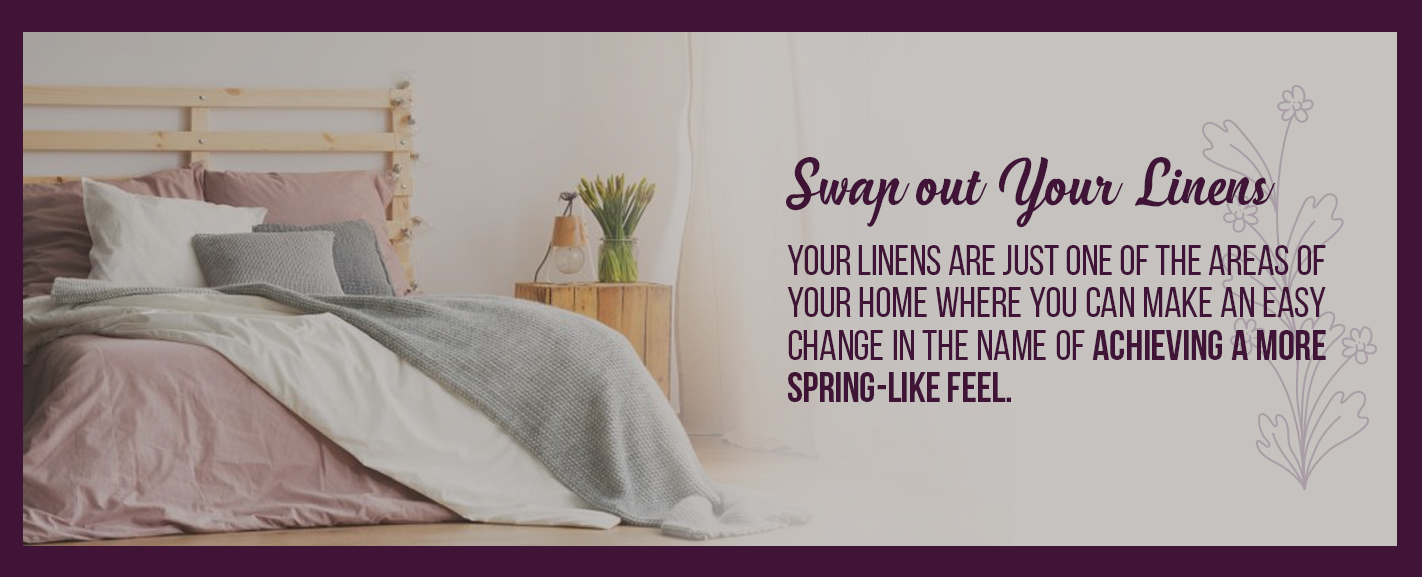 These details are small enough that they might even pass unnoticed by everyone but you, but your friends and family will surely notice the slight change in your home's atmosphere even if they can't quite figure out what to attribute it to.
13. Hang Your Linens Outside
You'll need to play this one by ear, as the spring weather is often too fickle to hang the wash outside to dry every day. By keeping a sharp eye out, however, you can usually find one or two days warm enough to hang your wash outside on the clothesline instead of throwing it in the dryer.
While this outdoor all-natural drying works for any type of wash, it's especially pleasant for linens like towels and sheets, as it fills these items with a gorgeous natural scent that can't be replicated or imitated. So the next time a nice day rolls around, try throwing your sheets on a clothesline and see what a difference it makes to have that fresh springy smell filling your home.
14. Break out the Essential Oils
Get your home smelling like a garden, a forest, or even the seaside by splurging on a collection of fragrant essential oil scents. There are many different ways you can use these oils to freshen your home, and you can try them all or just choose the one that works best for you.
If you have a diffuser, drop just a few drops into it and let the scent gradually disperse itself throughout your home, filling the air with the fragrance of lilacs, rain, or pine-forest. This practice can be particularly effective in the morning when you first get up, as these fresh scents can give you an energy boost that will help carry you throughout the day. Another idea is to add a few drops of your favorite oil to the laundry along with your soap next time you wash your sheets, towels or blankets. You'll find these linens come out of the laundry smelling extra-fresh and spring-like. If drying your sheets on a clothesline isn't an option for you, this is an excellent alternative.
15. Light Candles
If you don't have an essential oil diffuser, or if you want to give it a break, try lighting a few candles in the freshest and most uplifting scents you can find. Place these strategically around your home, allowing the scents to mingle throughout the rooms and elevate the atmosphere. Remember to be careful where you place these candles if you have young children or pets who might try to reach for them.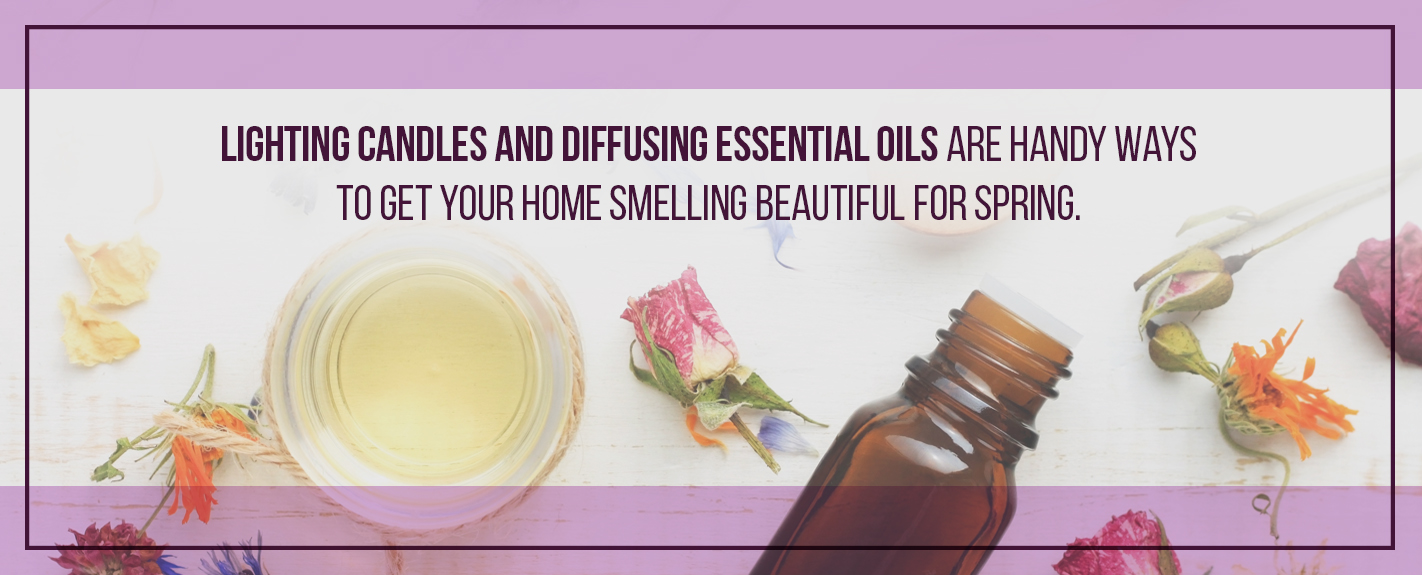 16. Change up Your Own Fragrances for Spring
Lighting candles and diffusing essential oils are handy ways to get your home smelling beautiful for spring. The next step, however, is to incorporate some spring scents into your personal life. You can do this easily by trading out your winter perfume for a more floral spring scent, or by choosing a body wash with a slightly more long-lasting fragrance for yourself.
The effects of this are twofold. Firstly, if you walk around your house smelling like spring, you help spread these fresh scents throughout the entire house. Secondly, if you feel light, breezy and spring-like, then you'll be more inspired to create spring throughout your home. In this way, a little change in your personal life can lead to ripple effects throughout your entire house.
17. Create a Winning Table Display
Every home is laid out differently, but many houses are designed in such a way that the dining room is one of the first major rooms people see when they enter. Because of this, the dining room is the perfect place to create an extra spring-like look. Lay the table with pastel place-mats or a tablecloth with a delicate floral edge, and set up cheerful place settings. Craft a beautiful centerpiece involving flowers, such as a gorgeously springy yellow rose bouquet. Little touches like this can go a long way towards bringing that bright springtime feeling into your home.
18. Grow Some Herbs
Nothing makes people feel more like spring than a bit of gardening. And while it might still be too chilly to dig in your garden outside, there's no reason you can't do a little gardening inside your home. Do you have a large windowsill that gets plenty of sun every day? If so, this is a perfect place for your new herb garden.
Simply head to your local nursery or garden center, pick out a few herb seed packets or seedlings, and get these started in little pots of the windowsill. Water them diligently and make sure they're getting enough sun. Before you know it, you'll have fresh herbs to use in your cooking. Some lovely choices for your herb garden include thyme, basil, and mint.
19. Freshen up With a Few Flowers

Nothing says spring like flowers, and there's no better way to bring the spring weather from outside into your home than by decorating with cut flowers. Something like small violets or tulips can go miles towards transforming your home into a bright and spring-like paradise.
When it comes to thinking of creative places to add these flowers around your home, the only limit is your imagination. For example, they look great as a table centerpiece or on your kitchen island, or they might add a bit of cheer to your morning set on your nightstand. Flowers are always a winner when tucked onto bookshelves or mantelpieces, and who can resist a charming bouquet perfectly placed on a windowsill or above the kitchen sink?
You also have options in terms of the vase you display them in. Opt for a traditional cut glass vase, or lean into the rustic and natural vibes of springtime by choosing a mason jar or an antique bottle. You could also repurpose a jar from your fridge that you've emptied and cleaned out. Whether you decide to go elegant or natural, flowers will surely make everyone in your home start thinking about spring.
20. Decorate With Some Flowering Branches
Sometimes, you don't even need the full force of a colorful bouquet to bring the feeling of spring into your home. In these cases, all it takes is a small branch covered in tiny flower buds to remind you that spring is on its way. Try taking a little clipping from a flowering tree, bush, or shrub in your yard and displaying it in a vase in your home. These make for great centerpieces and can also be a lovely decoration on the mantle or bookshelf.
21. Decorate With Fruit
Flowers make a gorgeous centerpiece for your table, but they aren't your only option. If you're looking for a centerpiece that's beautiful, springy, and colorful, consider filling a bowl with fruit. Lemons are a perfect choice, although they're far from the only one. Simply grab a pretty glass bowl, fill it up with your fruit of choice, and set it in the middle of the table for a simple yet show-stopping centerpiece that gives your table just that splash of color it needs.
Order Flowers From Ode á la Rose to Freshen up Your Home for Spring Today
With spring still just around the corner, it's too soon for most of us to start going out into the garden to snip some fresh blooms for our home. Where, then, is the savvy decorator to get their flowers? Just place an order with Ode á la Rose. Our gorgeous and chic fresh flower arrangements will brighten up any home, adding both color and fragrance to your interior this spring.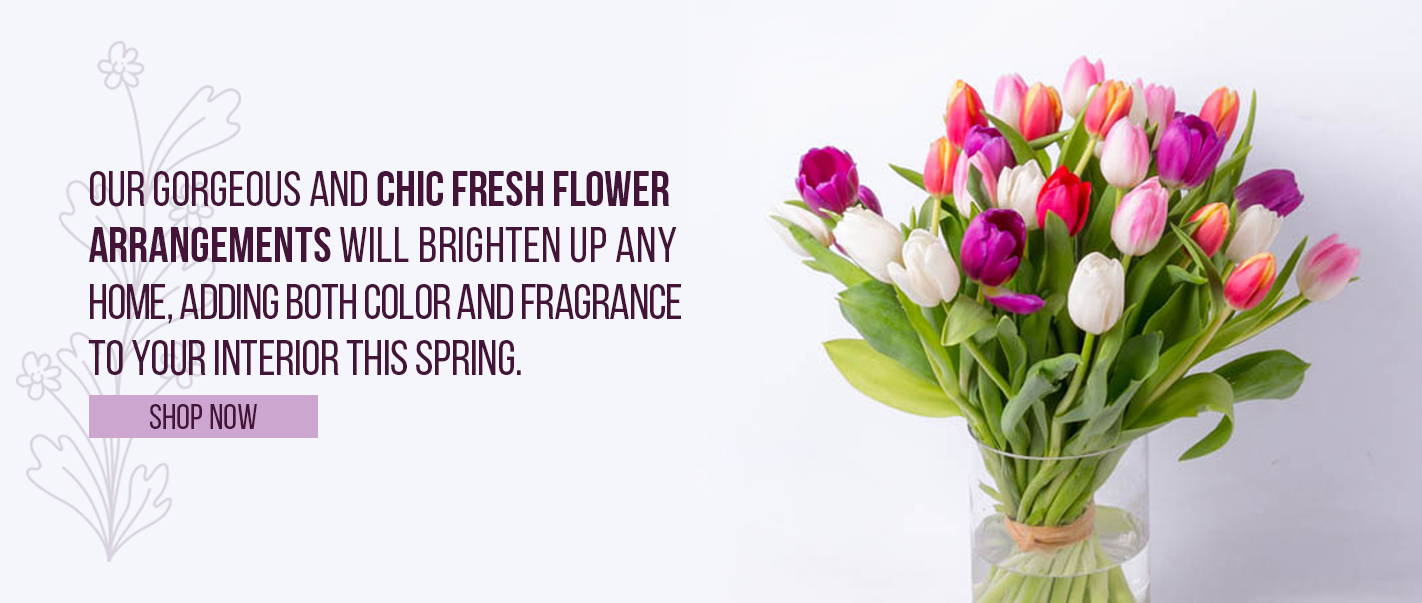 We deliver all throughout the Northeast US, and if you live in New York, Chicago, or Philadelphia, we even offer same-day delivery on your orders. To get started ordering your springtime blooms, browse some of our most popular bouquets for the one that will look perfect in your home.