Mother's Day is the perfect day of the year to express your love, appreciation, and gratitude for your mom in the most thoughtful way possible. How can you plan a fun and creative Mother's Day filled with activities she'll love? If you live in or near Los Angeles, there are endless opportunities to make this possible. Read on for recommendations to help you decide what to do for Mother's Day in LA!
10 Things to Do in LA for Mother's Day
Whether it's a meal at her favorite restaurant, a trip to the beach, or a shopping day, there are many ways to celebrate Mother's Day. Here are 10 great Mother's Day ideas for inspiration.
1. Have Breakfast or Brunch
A special Mother's Day breakfast is the perfect way to express love and appreciation for your mom. You can wake up extra early to whip up her favorite breakfast foods — serve this meal to her in bed for an even sweeter gesture she won't forget.
Another option is taking her to breakfast or brunch at her favorite restaurant. There are plenty of staple breakfast spots in the Los Angeles area — Blu Jam Café offers a delicious breakfast menu complete with omelets, pancakes, French toast, coffee, and more. Plan a special Mother's Day breakfast or brunch the two of you will treasure forever!
2. Visit a Local Park
A local park offers a variety of activities the two of you can enjoy together. You can take a walk, go for a bike ride, or even plan a special Mother's Day picnic lunch. Grab a basket to fill with sandwiches, snacks, drinks, or her favorite foods. Find a nice patch of grass or a picnic table at a local park and set up your spread.
There are multiple parks in LA you can visit. Griffith Park is a popular attraction in the area that offers multiple activities — walking trails, bike rentals, golfing, swimming, and plenty of picnicking spots.
3. Plan a Spa Day
Your mom deserves to be pampered to the fullest on Mother's Day, which is why a relaxing afternoon at the spa is a wonderful way to show her how much you care. You can schedule an appointment at a local spa — the Ritz-Carlton Spa located in the heart of Los Angeles features a complete hair and nail salon, a spa boutique, and private relaxation areas.
You can also plan an at-home spa day with her favorite scents, facials, candles, mani-pedis, and comfy robes. Taking the time and effort to plan an at-home spa day is a great way to go the extra mile for her, and she will surely appreciate this gesture.
4. Eat Some Desserts
Indulge your mom's sweet tooth with her favorite treats and desserts for Mother's Day. Whether it's enjoying a scoop of ice cream, a slice of pie or cake, or a dozen of her favorite doughnuts, there are many ways to plan an afternoon filled with sweet treats. Los Angeles offers various delightful dessert spots such as The Dolly Llama, The Pie Hole, and Millet Crepe. You can also find some fun dessert recipes online and make them together at home.
5. Treat Her to Dinner
A great way to show your love on Mother's Day is by treating her to a special dinner at her favorite restaurant. Reserve a table at a local eatery — LA offers an array of popular dinner spots, including The Factory Kitchen, Gusto Green, and Craft LA.
Another option is spending the evening at home and cooking your mom's favorite dinner recipe. You can shop for ingredients and cook on your own ahead of time to surprise her, or you can prepare the meal together.
6. Hit the Beach
What could be better than a relaxing trip to the beach on Mother's Day? Pack your towels and sunscreen and take your pick of a nearby beach. Whether it's cooling off in the ocean waves or basking in the sunshine and warm sand, you can easily plan an enjoyable beach day that neither of you will forget.
If you live in or near the LA area, you know there's a variety of surrounding beaches to visit — El Matador Beach, Paradise Cove, Santa Monica State Beach, and more. Have your mom pick her favorite beach or try visiting a new one together.
7. Plan a Shopping Trip
If your mom needs some retail therapy, consider planning a fun afternoon shopping trip for Mother's Day. Visit the mall, a thrift shop, or her favorite local retailer and have her pick out a few items on you. This is a wonderful way to spend quality time together and show her how much she means to you. With a unique variety of large and small clothing stores in Los Angeles, you can easily plan a Mother's Day shopping trip she'll always remember.
8. Go to a Winery
If your mom enjoys a nice glass of wine, consider going to a cocktail bar, local winery, or wine railroad for a tour or tasting. Have her pick out a bottle of wine and purchase it for her as a keepsake from your special day together. Another option is trying out some fun cocktail recipes together at home.
If you're searching for a local winery in LA, San Antonio Winery features a variety of sparkling whites, dark reds, a gorgeous tasting room, and daily winery tours. There's an extensive selection of activities to enjoy, so you can easily plan an afternoon filled with special memories you'll cherish for years to come.
9. Catch a Movie
Going to the movies is another great way to spend quality time together this Mother's Day — catch a film at the New Beverly Cinema or another local theater.
Another option is ordering a pizza, making popcorn, and having a complete Mother's Day movie marathon. Spend a fun, relaxing evening at home watching your mom's all-time favorite films. With her favorite snacks, movies, and pride-and-joy by her side, this is bound to be an experience she'll never forget.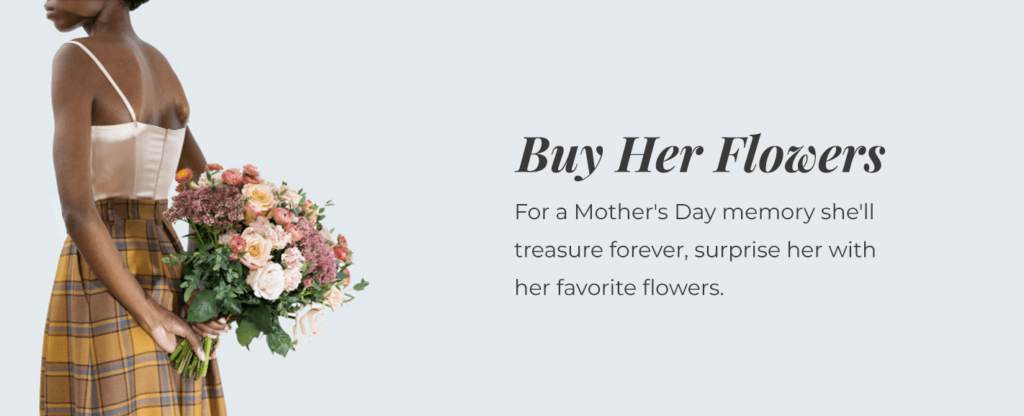 10. Buy Her Flowers
What better way to tell your mom "I love you" on Mother's Day than with a personalized note and a gorgeous bouquet of flowers? For a Mother's Day memory she'll treasure forever, surprise her with her favorite flowers. If you aren't sure what blooms your mom would enjoy, consider a lovely pink bouquet that expresses your love and appreciation. You can even combine this gift with any of the above ideas for an unforgettable celebration.
If you can't be in the same place on Mother's Day, send your mom a beautiful arrangement. Same-day delivery from a Los Angeles florist will arrive fresh and beautiful — the perfect display of your adoration.
Order Mother's Day Flowers With Ode à la Rose
Your mom deserves to be celebrated in the most special way possible this Mother's Day. For a beautiful gesture she'll absolutely adore, send her a gift of Mother's Day flowers from Ode à la Rose. We have a variety of springtime blooms available — roses, orchids, tulips, and more. Whether your mom lives right down the road or states away, we can deliver her a fresh bouquet she'll love. Order your Mother's Day flowers today!