Gifting flowers to a friend or loved one is a heartwarming way to show you care. Sometimes, you can't always bring someone a floral arrangement in person. When you live far from a loved one, you aren't out of options. It's possible to order flowers in another state through online delivery.
Check out these related topics:
How to Send Flowers to a Different State
Online flower delivery is easy if you know the steps to take and your recipient's address. With a few extra selections, you can set up flower delivery to another state for any occasion. Impress a friend, surprise a loved one, and make someone's day when you learn how to send flowers to another state.
Check Delivery Zones and Schedules
Your first step in ordering flowers is to check the delivery zones of the local florists you'd like to order from. Many online florists list their delivery zones and allow you to see if they deliver to your recipient's zip code.
You also need to plan your order around delivery schedules. Some florists offer same-day or one-day delivery, depending on the day of the week and time you order. You may consider ordering a week in advance or at least checking in with a florist during that time to guarantee you'll be able to place your order. Sometimes, you can choose a time frame for your delivery depending on the florist. Specific delivery can be useful if you know your recipient will only be home during certain hours.
Oda á la Rose offers same-day and next-day delivery in different delivery zones. Residents in Washington, D.C., Miami, Austin, Philadelphia, Los Angeles, Chicago, and New York City can receive same-day deliveries. We offer next-day national flower delivery services to every other state in the country.
Our same-day deliveries arrive in water to keep the flowers fresh, while nationwide deliveries are hand-tied and delivered in secure pink boxes.
Contact the Florist and Choose the Blooms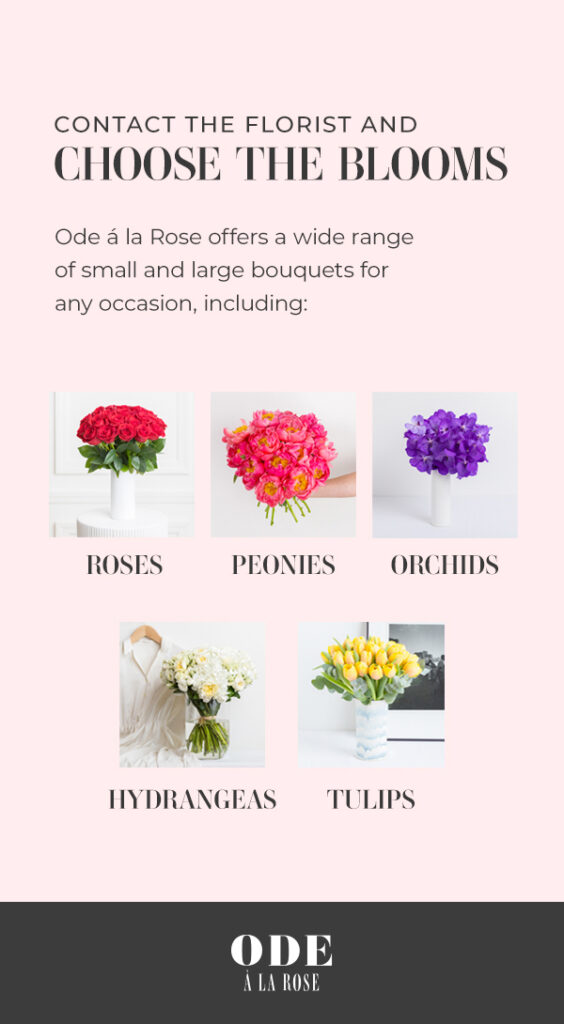 Your next step is to contact the florist and choose your favorite flowers. Flowers can vary based on your location and the season. If you aren't quite sure what floral arrangement to choose, a florist can provide professional opinions and advice to guide your decision.
Once you get input from the florist, or if you already have an idea, it's time to browse. Explore the shop's site and select a bouquet to send. Think about the reason for sending flowers and what types of blooms your recipient would enjoy.
You want to choose the best arrangement, and you may consider the recipient's favorite color, occasion, flower meaning, available space, and the flower availability or season. Ode á la Rose offers a wide range of small and large bouquets for any occasion, including:
Roses: A bouquet of roses is a romantic and sophisticated choice. Available in a range of colors from red to white and everything in between, roses are perfect for weddings, anniversaries, and all things love.
Peonies: Give the gift of prosperity with an arrangement of peonies. Celebrate new beginnings, such as welcoming a new child or heading to college, and wish someone luck with an arrangement of these flowers.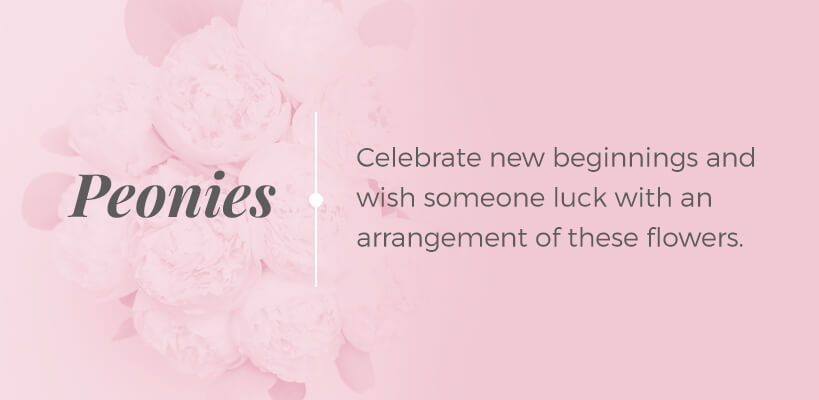 Orchids: Choose an orchid for a unique floral gift. An orchid is a modern and elegant option that can also last longer than other bouquets. With a vase life of a few months, the long-lasting orchid will remind your recipient that you thought of them for weeks and months to come. These blooms are great for sympathy or apology sentiments your recipient can cherish for months.
Hydrangeas: Send an arrangement and thank you card that includes hydrangeas, especially white ones, for a sophisticated symbol of gratitude. The blooms come in a variety of other colors, as well, giving you options for any recipient.
Tulips: The classic symbol of spring and rebirth makes a great gift, especially on Mother's Day. Give your mom the gift of flowers that remind you of her grace and beauty with a bouquet of tulips.
Include Your Gifts and Check Out
Don't stop with your gorgeous bouquet. Consider adding a personal touch to your meaningful gift. On your way to check out, add a personalized note, candle, photo, vase, or macarons to let your loved one know just how much you care.
After making your selections, submit your phone number and email with the order so the florist can contact you with any questions. Then, ensure you provide your recipient's address so they can receive your lovely gift.
Make Sure the Recipient Received Their Flowers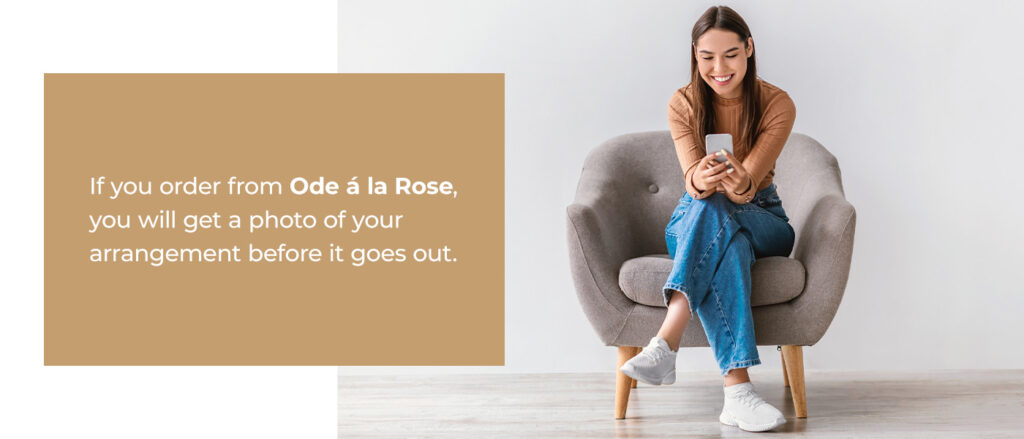 Chances are, your friend or loved one will contact you to say thanks for the beautiful arrangement. If they don't, reach out to check that they received the flowers. You can then congratulate them or wish them the sentiment the flowers are for when you call.
If you order from Ode á la Rose, you will get a photo of your arrangement before it goes out. This way, you know what your recipient is getting and feel confident the order is on its way.
Frequently Asked Questions
Even with our simple steps, we understand you might still have some questions. Check out the list we've made here to answer some of the most common questions about flower arrangements and deliveries.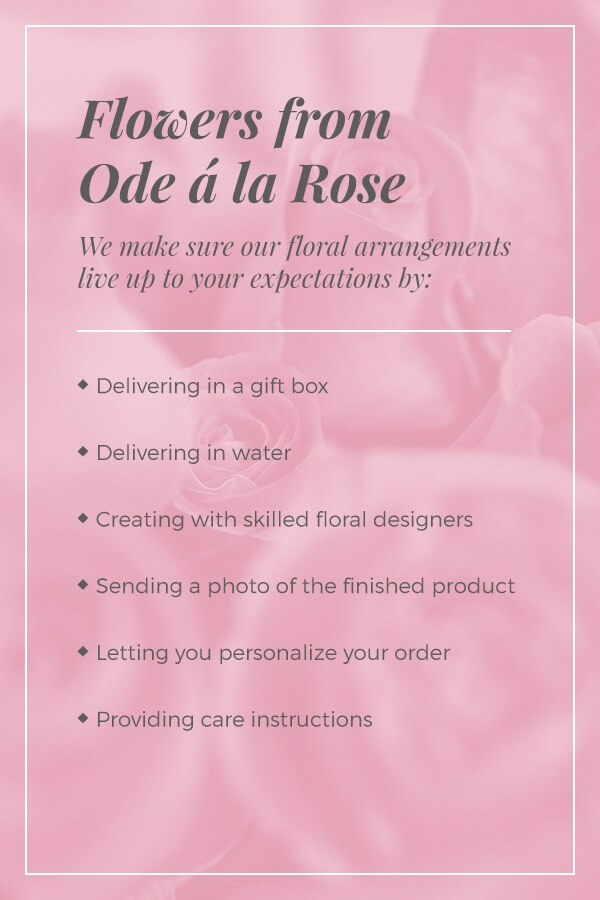 How Far in Advance Should I Order?
You typically want to give the florist at least two days before ordering. This helps ensure they can prepare your bouquet and send it out on time. Check delivery zones and schedules to ensure your recipient will receive the flowers when you want them to. For busy holidays, consider calling one week ahead of delivery.
Which States Does Ode à la Rose Deliver To?
Ode á la Rose offers nationwide delivery services. Some locations qualify for same-day delivery, all others receive next-day delivery.
How Will I Know When the Flowers Have Arrived?
Generally, your loved one will reach out to thank you for the kind gift. If you don't hear from them, call and confirm they have received their bouquet.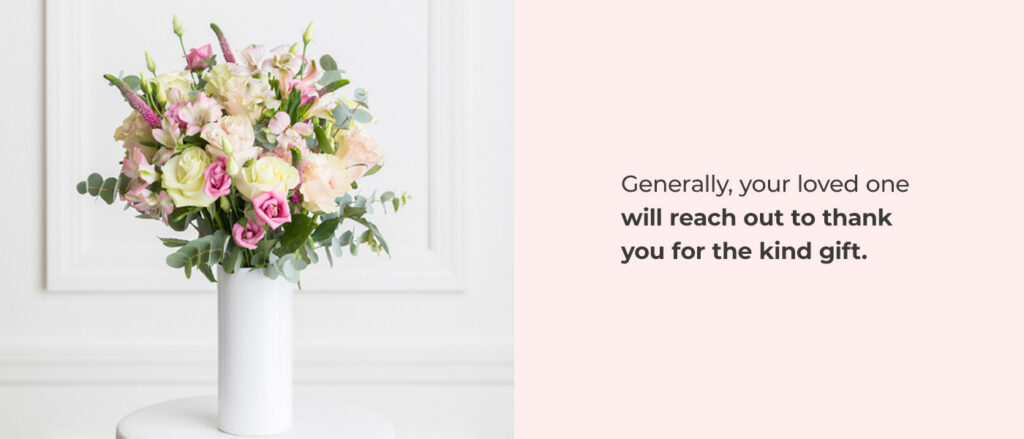 Can I See the Flowers Before They're Sent?
Ode á la Rose will send a photo of the completed arrangements, so you will see how your order has come to life. You'll know your bouquet is on its way to your recipient and how it will look when it arrives. Take the stress out of online flower delivery by knowing what's headed to your recipient's door.
Will the Recipient Know the Flowers Are From Me?
You can choose to add a personalized note to your arrangement. Your recipient will know who the flowers are from and enjoy the sweet little sentiment you included.
Can I Send Other Gifts Along With the Flowers?
Add a note, a meaningful photo, or other gifts we offer, such as stunning vases to store the arrangements. Little touches like that will show your friend or loved one that you genuinely care and put thought into the gift.
Is Shipping to Another State Expensive?
Ode á la Rose provides complimentary delivery and free shipping on discount flowers. For other bouquets, our shipping and delivery costs are affordable and consistent.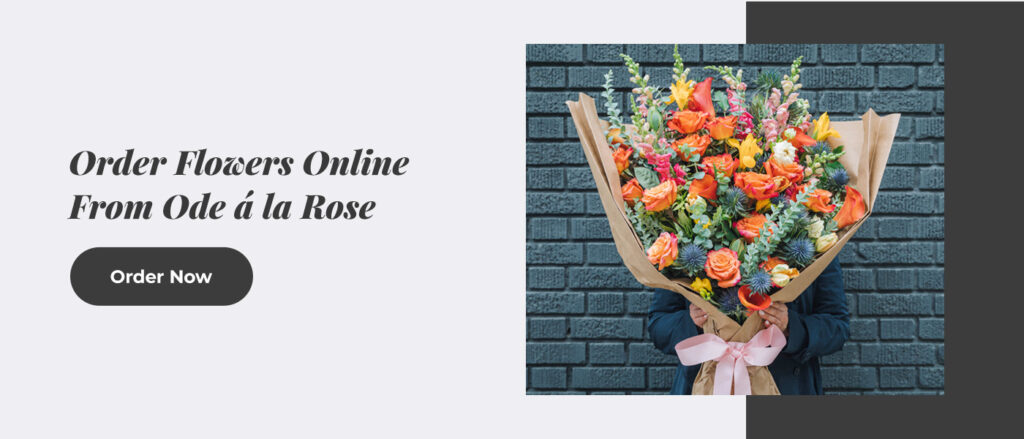 Order Flowers to Send to Another State Online From Ode á la Rose
Now that you know how to send flowers to someone in another state, place an order today. At Ode á la Rose, we ensure the quality of our unique, high-end arrangements. No matter what event you want to send flowers out of state for, we want to help you get the perfect gift.
We'll prepare your bouquet and ensure proper delivery by securing your blooms in a chic box with elegant wrapping. Our flowers arrive fresh in water, so your recipient can open the box to a healthy bouquet.
Browse our selection of bouquets today, and contact us with any delivery questions you have. Say congratulations, thank you, and more with a bouquet of elegant flowers! Our talented team will use high-quality flowers from our worldwide sources to create a floral gift for that special someone.