Gifting flowers to a friend or loved one is a heartwarming way to show you care. Sometimes, you can't always bring someone a floral arrangement in person. When you live far from a loved one, you aren't out of options. It's possible to send flowers to someone in a different state through online delivery.
Online flower delivery isn't difficult if you know the steps to take and your recipient's address. With a few extra selections, you can set up out of state flower delivery for any occasion. Impress a friend, surprise a loved one, and make someone's day when you learn how to send flowers to another state.
Steps to Sending Flowers to Someone in a Different State
You'll want to order bouquets for everyone you care about once you know how to send flowers out of state. Online flower delivery is a straightforward process if you follow these simple steps:
Be sure the florist delivers to your recipient: Check the delivery zones of the florist you'd like to order from before you choose a floral arrangement. Many online florists list their delivery zones and allow you to see if they deliver to your recipient's zip code.
Plan your order based on delivery schedules: Some florists offer same-day or one-day delivery, depending on the day of the week and time you order. You may consider ordering a week in advance or at least checking in with a florist during that time to guarantee you'll be able to place your order. Sometimes, you can choose a time frame for your delivery depending on the florist. Specific delivery can be useful if you know your recipient will only be home during certain hours.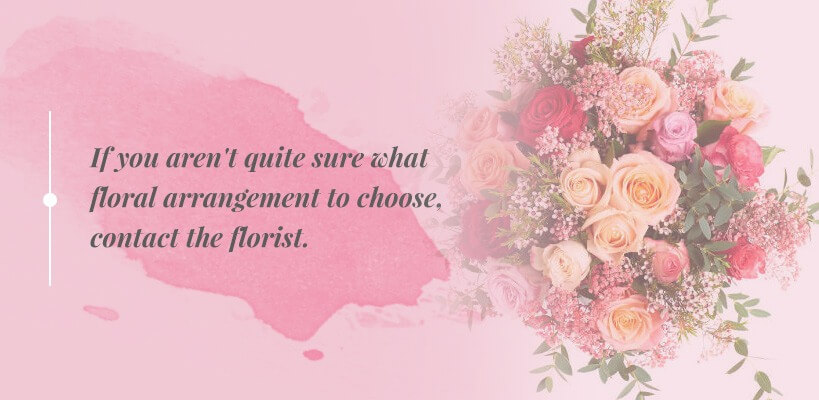 Contact the florist if you aren't sure what flowers are best: We'll explain different bouquet options in a bit, but the best flowers can vary based on your location and the season. If you aren't quite sure what floral arrangement to choose, contact the florist. They'll provide professional opinions and advice to guide your decision.
Select a bouquet: Once you get input from the florist, or if you already have an idea, it's time to browse. Explore the shop's site and select a bouquet to send. Think about the reason for sending flowers and what types of blooms your recipient would enjoy.
Include a note or other gifts: Before you check out, see what your options are for add-ons. Include a note or other gifts for a special touch. Personalizing your flower delivery makes it all the more special.
Check out and provide the recipient's address: While you should submit your phone number and email with the order so the florist can contact you with any questions, be sure you provide your recipient's address so they can receive your lovely gift.
Make sure your recipient received the flowers: Chances are, your friend or loved one will contact you to say thanks for the beautiful arrangement. If they don't, reach out to check that they received the flowers. You can then congratulate them or wish them the sentiment that the flowers are for when you call.
If you want the flowers to be a surprise, try to figure out if the recipient will be home to receive the gift without giving away your plan. You won't want to send flowers to someone in another state if they aren't going to be home to receive them.
Once you know that your friend or loved one can receive their gift and care for their flowers, you're ready to order an arrangement following the above steps. Selecting a bouquet will be the most challenging step, considering all the options you'll have.
Best Flower Arrangements to Order Online
As you plan your online flower delivery, you want to choose the best arrangement. The best flowers to send to someone in another state depend on:
Recipient's favorite flowers or colors
Occasion or reason for sending
Meaning of the flowers
How much space the recipient has for an arrangement
The season or availability of flowers
The arrangement you choose through online flower delivery can vary, but many florists offer bouquets that suit a variety of needs since they come in several sizes. Small bouquets are charming and delicate. They're great for many events and budgets. Choose a small bouquet if your recipient lives in a smaller home or apartment and doesn't have space for a grand bouquet. Delicate bouquets make beautiful "thank you" arrangements and are also a thoughtful choice for a "get well" since the recipient may not have a lot of room for a larger vase if they received many bouquets.
For special occasions and if your recipient has ample room in their home, select a bouquet as large as the milestone. Big bouquets often come with a variety of blooms in one arrangement, making them an excellent choice for someone you care for deeply.
Regardless of the bouquet's size, you can consider floral arrangements that feature flowers like: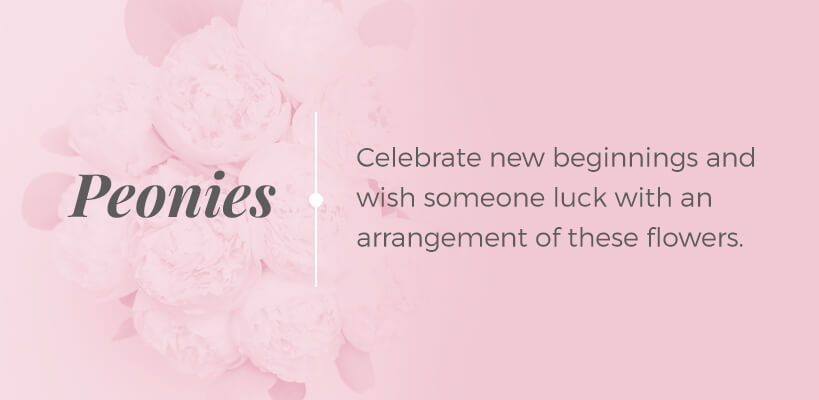 Whether or not you know your recipient's favorite flower, there are gorgeous options out there. No matter what flowers you select for your recipient, they are sure to appreciate such a thoughtful and stunning gift on any occasion.
Reasons to Send Someone in Another State Flowers
Since you've decided on out of state flower delivery, you most likely have an occasion in mind. If you aren't sure why you could send flowers to someone in a different state, consider these events and occasions: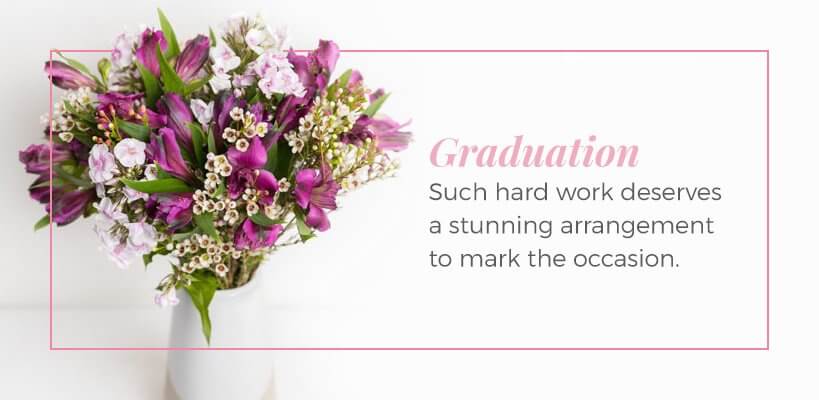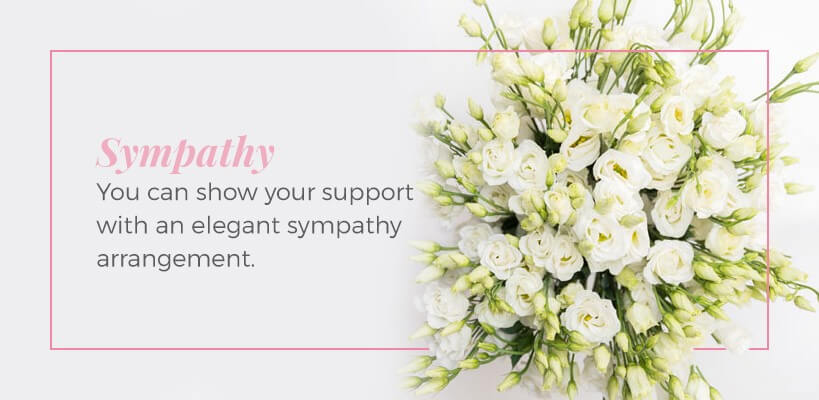 Sympathy: Comfort those in your life who have suffered a recent loss with sentimental flowers. As the ones we care about cope with losing someone, you can show your support with an elegant sympathy arrangement.
Cheer up: Sometimes, the little things in life just don't seem to go right. For those moments, send someone a cheer up bouquet. Bright colors, floral fragrances, and the thoughtful gift itself are sure to put a smile on a friend or loved one's face.
Just because: If birthdays and other celebrations have come and gone, you can still send flowers to a friend or loved one. Send a bouquet of just because flowers simply because you think someone would enjoy them. Brighten their day or help them add color to their home.
When you live in a different state, getting gifts to someone you care about doesn't have to be complicated. You can show someone that you're thinking of them through times worth celebrating or when they need comfort. If you cannot make it to an event, sending flowers is a meaningful way to apologize for your absence and wish everyone well.
A colorful flower arrangement makes a remarkable gift, but you can elevate it even more when florists offer add-ons. Include items like these with the floral bouquet you choose:
A vase
A candle
A photo
A selection of treats like macarons
Make your floral gift even more personal and special with add-ons. A heartfelt note is one of the best inclusions with a bouquet. Tell the recipient that you're thinking of them, when you hope to see them again, and why you're sending them flowers.
How Ode á la Rose Can Help You Send Flowers to Another State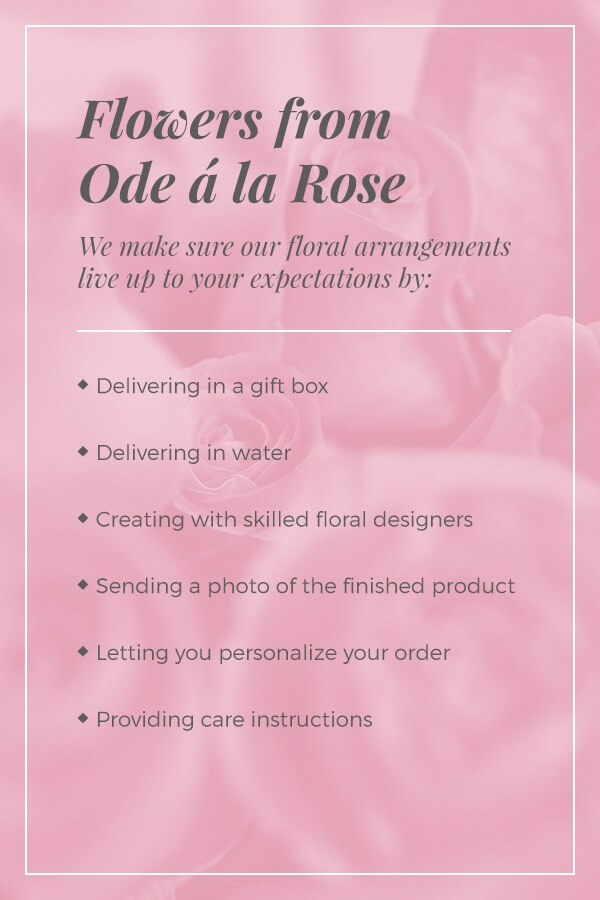 Since you aren't delivering the flowers yourself, you may worry that the arrangement won't arrive as you'd hope. At Ode á la Rose, we want to create a quality arrangement for that special person in your life who deserves a beautiful gift. We make sure our floral arrangements live up to your expectations by:
Delivering in a gift box: Our chic gift box provides a stylish touch to your blooms while also protecting the arrangement. Surprise a loved one with an elegant delivery wrapped up in an equally elegant package.
Delivering in water: Say goodbye to dry flower arrangements. At Ode á la Rose, we keep flowers as fresh as possible by delivering them in water. Your recipient will open the box to reveal a fresh and healthy bouquet.
Creating with skilled floral designers: Make your floral gift dreams a reality with the help of our experienced designers. Our talented team will use high-quality flowers from our worldwide sources to create a floral gift for that special someone.
Sending a photo of the finished product: We send a photo of completed arrangements so you will see how your order has come to life. You'll know your bouquet is on its way to your recipient and how it will look when it arrives. Take the stress out of online flower delivery by knowing what's headed to your recipient's door.
Letting you personalize your order: Add on a note, a meaningful photo, or other gifts that we offer such as stunning vases to store the arrangements. Little touches like that will show your friend or loved one that you truly care and put thought into the gift.
Providing care instructions: You want your recipient's blooms to last as long as possible. We include care instructions and flower food that help the floral arrangement last.
We understand how important a flower delivery can be for different events. You want to treat someone in your life to a gift as special as they are, and an online flower delivery will provide friends and loved ones with a stunning and meaningful display.
Order Flowers Online From Ode á la Rose
Now that you know how to send flowers to someone in another state, place an order today. At Ode á la Rose, we ensure the quality of our unique, high-end arrangements. No matter what event you want to send flowers out of state for, we want to help you get the perfect gift.
Browse our selection of bouquets today, and contact us with any delivery questions you have. Say congratulations, thank you, and more with a bouquet of elegant flowers!