Have you ever wondered why flowers are so often the gift of choice for birthdays? 
Picture this: you're walking into a room filled with the vibrant scent of fresh blossoms, their colors like confetti splashed against a backdrop of cheerful celebration -and you don't need to clean them off the carpet after the party is over! Could there be a more perfect ambiance to celebrate another year of life?
Indeed, flowers have an uncanny power to transform an entire place and every event, serving as a feast for all of our human senses and sentiments. Take roses, for example. Can you pick something better to accompany your birthday gift for your beloved, sparking joy and romance at the same time?  
Choosing a gift, especially for someone's birthday, is more than a simple act of giving. It's a way of saying, "I see you, I appreciate you, and I'm celebrating your unique presence in this world."
And in this endeavor, Ode à la Rose stands as a true ally.
Renowned for their Parisian-style bouquets, Ode à la Rose is a testament to the magic that can be woven when artistry meets nature. Each arrangement is thoughtfully designed to reflect the recipient's taste and emotion. 
But what about the convenience of finding that perfect gift?
Whether you wish to shower a friend in LA with sunflowers as radiant as their smile, or soothe a relative in Washington DC with the purity of white lilies, Ode à la Rose ensures that your perfect floral expression is only a few clicks away, delivered fresh and vibrant to the doorstep.
And let us refresh your party with another thoughtful idea – cocktails! A birthday is not even close to a celebration without the proper cocktails, and flowers can add up to that perfect cocktail photo to look even better! There are many edible plants that can aromatize and level up your cocktail party experience – so why not give them a try?
Are Flowers a Good Birthday Gift?
There's an unwritten charm that resides in the heart of flowers, an innate language that whispers to the soul in a way few gifts can. 
Flowers are not just gifts, they're an expression of sentiment, a radiant testament to the myriad facets of the human experience. 
When presented as a birthday gift, they serve as the perfect vessel to encapsulate the celebratory spirit. They mirror life's beautiful transience, reminding us to savor every moment, just as we appreciate the fleeting bloom of petals.
With every shade comes a distinct emotion – fiery reds symbolizing passion, delicate pinks embodying affection, royal purples hinting at the enigmatic, and yellows radiating with joy. Just as the individual has grown another year older, wiser, and more unique, so too has the bouquet been crafted, each stems personally chosen to mirror the birthday person's evolution.
In an era marked by fleeting digital wishes and generic gift cards, the act of giving flowers stands as a testament to a more thoughtful approach. It is the bridge between nostalgia and novelty, combining old-world charm with contemporary sentiments. 
Their scent, color, and transient beauty make flowers not just a birthday gift, but a heartfelt gesture, an intimate expression of affection and celebration. 
Yes, indeed, flowers do make a perfectly suitable, innovative, and captivating birthday gift.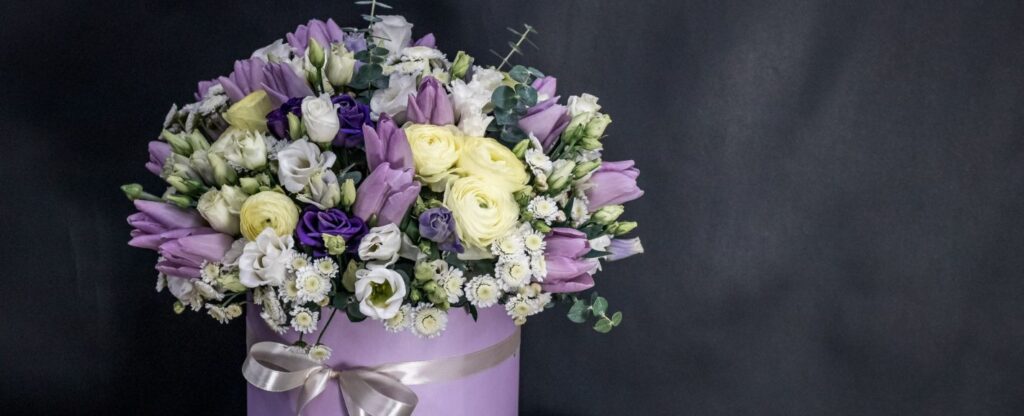 Why Do We Give Flowers on Birthdays?
Once upon a time, a gentle whisper of petals rustled through the wind, wafting a scent so sweet it caught the attention of a young man named Theophrastus.
Fascinated by the beguiling flora, he embarked on a journey that cemented him as the "father of botany", a quest that delved into the secrets of plants. 
His works in the 3rd century BC gave us the earliest known system of plant classification, but also revealed the symbology attached to various flowers, which was later expanded in the Victorian era's "language of flowers". 
Now, picture yourself as the young Theophrastus, as we take a tour through the reasons why we gift flowers on birthdays.
Symbolism

: Just as Theophrastus discovered, flowers carry a multitude of meanings. They are a visual and sensory experience, expressing emotions when words fall short. A rose might signify love, a daisy innocence, or an orchid strength. Choosing a flower based on its symbolism makes a birthday gift not just beautiful, but deeply personal.

Celebration of Life:

A flower's bloom is a testament to the miracle of life, which is why they're always inlcluded in baby showers and the celebration of new life and welcoming

a new baby

to this world! Gifting flowers on birthdays mirrors this renewal, marking the passage of another successful year in one's life journey.

Aesthetic Appeal:

Few can resist the charm of a

tastefully arranged bouquet

. The vibrant colors, delightful shapes, and intoxicating scents add beauty to any setting, and serve as a visual reminder of the birthday celebration and the person who gifted them.

Tradition:

From ancient Rome's Floralia, a festival to honor Flora, the goddess of flowers and spring, to today's customs, flowers have long been associated with celebrations. Birthdays, marking personal 'renewals' and 'springs', have naturally become

occasions for gifting flowers

.

Emotional Wellbeing

: Research suggests that flowers have an immediate impact on happiness and a long-term positive effect on moods. A study by Rutgers University found that recipients of flowers demonstrated true happiness upon receiving them, leading to enhanced connections between individuals.

A birthday bouquet

can therefore boost happiness, making the day more memorable.

Flowers' Transience as a Reminder

: Flowers, in their fleeting beauty, remind us to appreciate the present, a lesson particularly apt on birthdays. They encourage us to celebrate

the now

,

the present moment,

 while the bloom is at its fullest.

Versatility

: Flowers are suitable for everyone, regardless of age, gender, or personal taste. From

exotic orchids

for the adventurous to classic roses for the romantics, there's a flower to suit every individual.
While Theophrastus unlocked the symbolic world of flowers, it was an equally curious scientist in the 17th century who revealed another aspect of these captivating organisms – their intriguing relationship with time.
Carl Linnaeus, known as the "father of modern taxonomy", constructed the first floral clock using certain species of flowers that open and close at specific times of the day, acting as nature's timekeepers. Now, imagine if a birthday gift could not only symbolize heartfelt emotions, celebrate life, enhance well-being, and mark a time-honored tradition, but also tell the time of day!
This leads us to ponder, how would our birthday celebrations change if we brought back Linnaeus's floral clocks into practice. Would the symbolism of our floral gifts deepen, connecting us even more intimately to the natural world around us and the passage of time we celebrate on birthdays? Most definitely, yes! 
Even more, if you consider the deep aspects of the person's character you're gifting flowers to – what are they like, if you think about them, which color comes in mind? Are they steady and persistent, or energetical, and even often unpredictable? 
A person's character can tell a lot about the floral arrangement you should go for – like, for example, yellows and radiant orange designs are definitely meant for the moody spirits and the energetic friends in your life.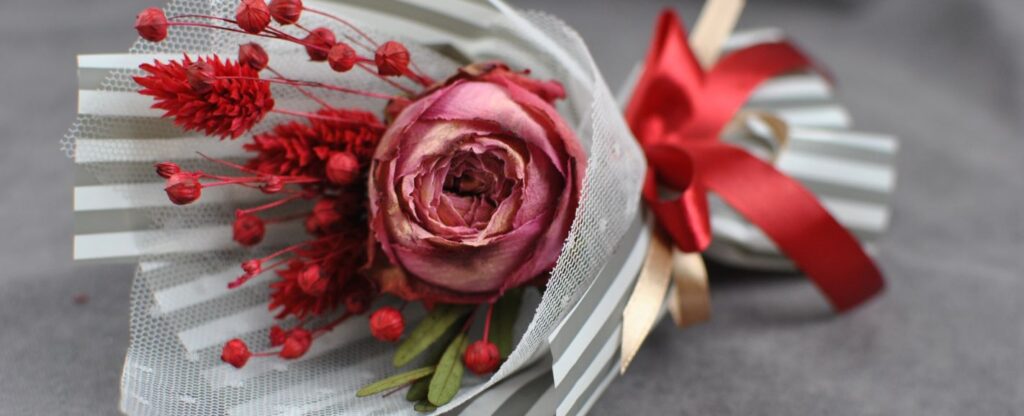 Do Flowers Count as Gifts?
You can ask that again! If you think that flowers will quickly whiter and the gift will be ungiven – you are far from wrong. Aside from the fact you can easily dry out almost every existing flower in nature, let me tell you something a bit more psychological. The endorphins and serotonin – the hormones of thrill, happiness, and wholesome, are NOT interconnected with material stuff, but with memories.
Even if you are not there – the sole act of sending someone flowers for their birthday online and delivering them through a third person is even more thoughtful than buying them expensive gifts!
Thus, not only do flowers count as one of the most thoughtful and gentle gifts ever – the sole act of giving flowers and the scenery around should be perfectly planned and set to leave an everlasting moment – a fragment of history to forever enchant your significant person by your action, not only your bouquet.
The Best Flowers for a Man's Birthday
Think flowers are only for the ladies? 
Think again! 
Long gone are the days when floral gifts were reserved solely for women. Today, gifting flowers is a universal gesture of appreciation, one that transcends traditional gender roles. After all, who doesn't appreciate the vibrant hues, intricate details, and intoxicating scent of a well-arranged bouquet?
Cool Tone Bouquets
Much like a well-tailored suit or a tastefully decorated room, certain color palettes just seem to resonate with men. Cool tones, ranging from deep blues to soft lilacs, are a top choice, infusing an arrangement with a sense of calm and sophistication. The perfect embodiment of this palette is the Adrienne bouquet from Ode à la Rose.
Just like the name 'Adrienne' that has both masculine and feminine versions, the Adrienne bouquet beautifully transcends gender stereotypes. It's an arrangement that carries a certain air of mystery and royalty, much like its featured Ocean Song roses. Known for their soft lavender hue and intricately ruffled petals, these roses create an arresting visual that is as appropriate for celebrating a special occasion as it is for an unexpected 'just because' moment.
Flowers Included: Ocean Song Roses.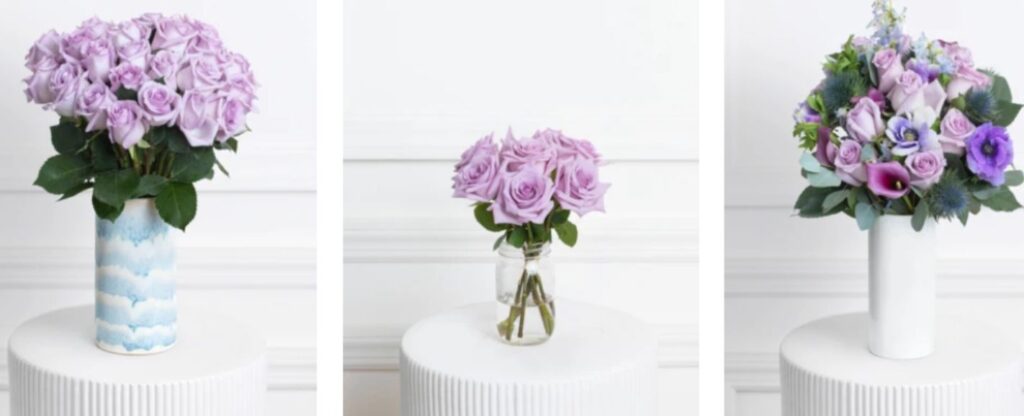 White Flowers
Moving on to another classic option, white flowers symbolize purity, innocence, and elegance. They effortlessly transcend gender norms and are a fitting choice for anyone who appreciates understated beauty. This is where the Grand Patience bouquet shines.
As the name suggests, the Grand Patience bouquet is a study of elegance and grace. It features a luxurious mix of seasonal flowers including garden roses, ranunculus, hydrangeas, and more, all in pristine white. 
The bouquet may vary slightly, depending on the availability of flowers, but rest assured, each arrangement will be equally beautiful and crafted with the utmost care.
Flowers: White Hydrangea, White Mondial Roses, White Ranunculus, White Spray Rose, Lisianthus, White Garden Roses.
Moreover, with Ode à la Rose, every bouquet comes with flower food to ensure your arrangement lasts longer. It's a testament to the company's commitment to not just delivering beautiful bouquets, but also ensuring that they continue to bring joy for as long as possible.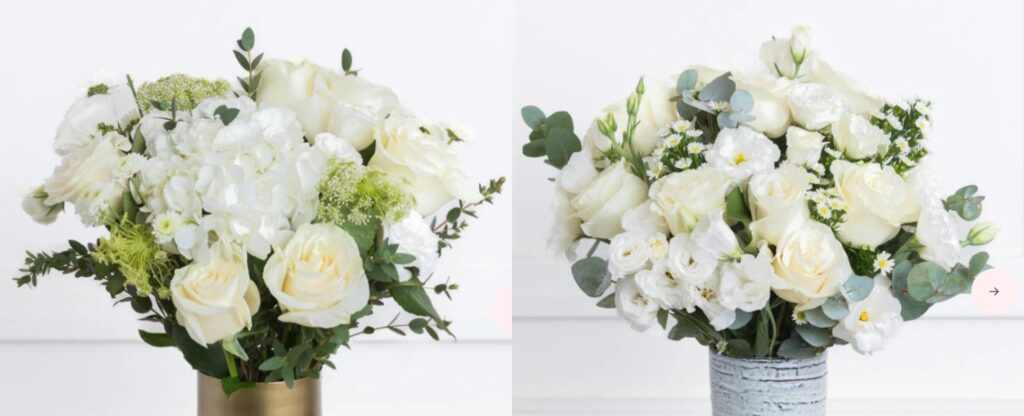 Preserved Roses
If you're looking for a floral gift that defies time, preserved roses are a splendid choice. They retain all the beauty and elegance of a fresh flower while lasting exponentially longer. It's as if they've captured a perfect moment in time, and have the power to rekindle the emotions of that moment, every time one gazes upon them.
Embodying this timeless charm is the Solo Renee from Ode à la Rose. This exquisite single red rose, now preserved to perfection, sits elegantly inside a stunning glass square box, the mirror bottom and beveled edge detailing enhancing its captivating beauty. 
The Solo Renee is a living testament to a moment captured in full bloom, treated specially to last an entire year.
Imagine the joy on your loved one's face as they unwrap this precious, lasting memory. Each time they look at the rose, they'll be reminded of your thoughtfulness, your care, and the special occasion that brought this timeless piece into their life. The Solo Renee is not just a gift, it's an experience of enduring love and affection.
The full year that it lasts not only allows the recipient to appreciate its beauty and sentiment for 365 days but also affords you ample time to contemplate what thoughtful gift you could present next year. The gift that keeps on giving, isn't it?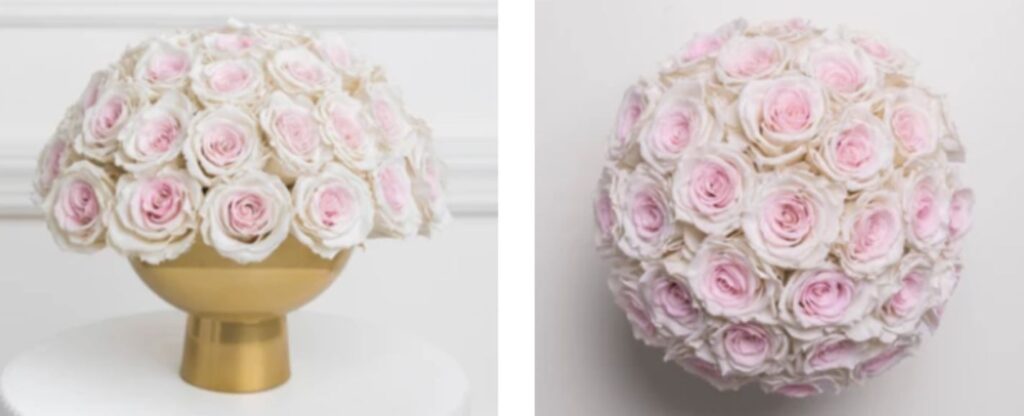 The Best Flowers for a Woman's Birthday
Just like a well-penned poem or a timeless piece of jewelry, flowers have long been synonymous with expressions of affection, love, and admiration. For women, the allure of receiving flowers on their birthdays is enduring and universal. There's something undeniably special about being presented with a bouquet of blooming beauties, each petal holding the promise of another wonderful year.
Pink Flowers
When it comes to femininity, charm, and sweetness, pink flowers reign supreme. Their soft hues carry messages of admiration, joy, and gratitude, perfect for celebrating a birthday. Consider the Anastasie bouquet from Ode à la Rose. 
This dreamlike collection brings together some of the best flower varieties that spring has to offer.
Rice flowers, roses, snapdragons, wax flowers, carnations, tulips, and more blend seamlessly to create a bouquet that personifies elegance and charm.
Flowers: Pink and White Mondial Roses, Carnations, Waxflower, Spray Roses, Snapdragons, Tulips, Rice Flower with Lemon Leaf.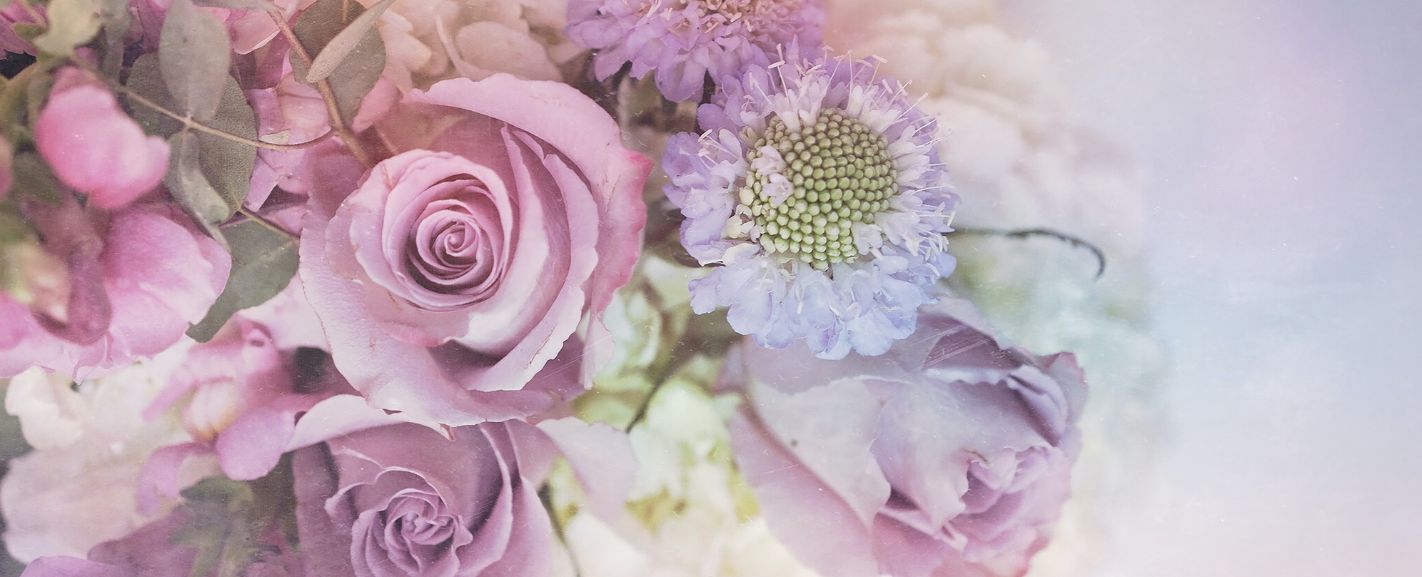 The Grand Lucille
For those in search of a gift that extends beyond the traditional lifespan of fresh flowers, the design of the Grand Lucille offers a perfect solution. This classic preserved rose composition is as stunning as it is enduring.
Encased in a decorative white ceramic vase, the roses – once fresh and now preserved to last an entire year – create a design that is both modern and classic. Such a memorable gift is sure to leave an impression that lasts as long as the roses themselves.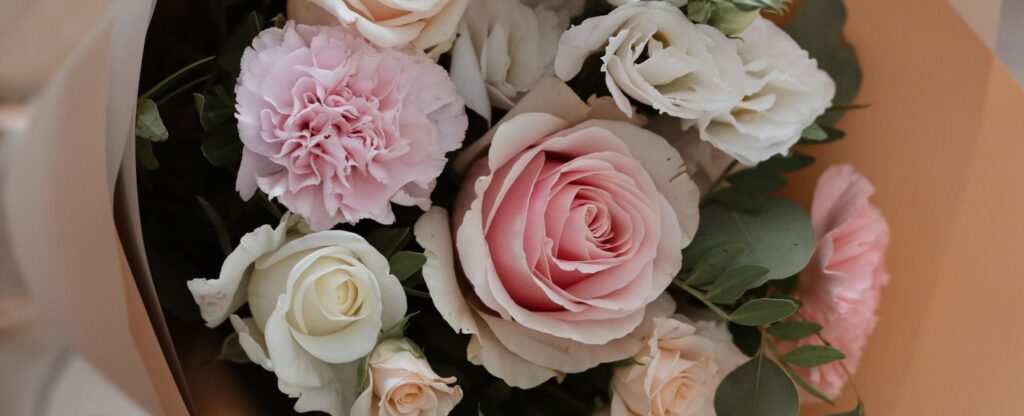 Peonies
Peonies are cherished for their voluminous blooms and soft, romantic hues. They evoke images of warm, sunny days, making them a perfect birthday gift. 
Our Penelope bouquet perfectly captures this essence, with its blend of pale pink peonies and Free Spirit roses set against pops of hot pink and yellow. It's like receiving a sweet summertime sunset in a bouquet.
Flowers: Pink Peonies, Free Spirit Roses, Hot Pink Spray Carnation, Pink Veronica, Craspedia, and Eucalyptus.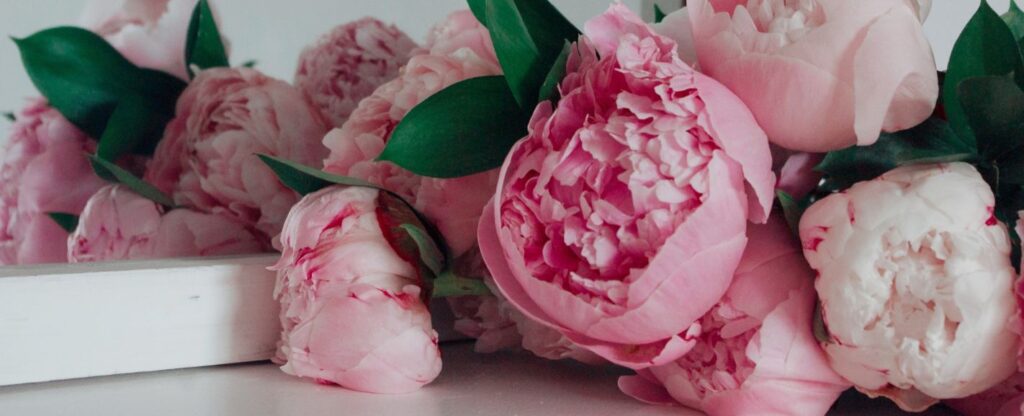 The Felice Bouquet
Last but not least, we present the Felice bouquet. Its name, 'Felice,' derives from the Italian for 'happy' or 'joyful,' and is often used in the birthday greeting, 'Felice Compleanno,' or 'Happy Birthday.' What could be more fitting for a birthday bouquet?
The Felice bouquet is a delightful mix of white and pink roses, pink alstroemeria and lisianthus, pink veronica, and baby blue eucalyptus. 
These flowers combine to create a blush arrangement that can transport anyone into a sweet, soft daydream, symbolizing another year filled with happiness and peace.
Flowers: White Mondial Roses, Pink Mondial Roses, Pink Alstroemeria, Pink Lisianthus, Veronica, Eucalyptus.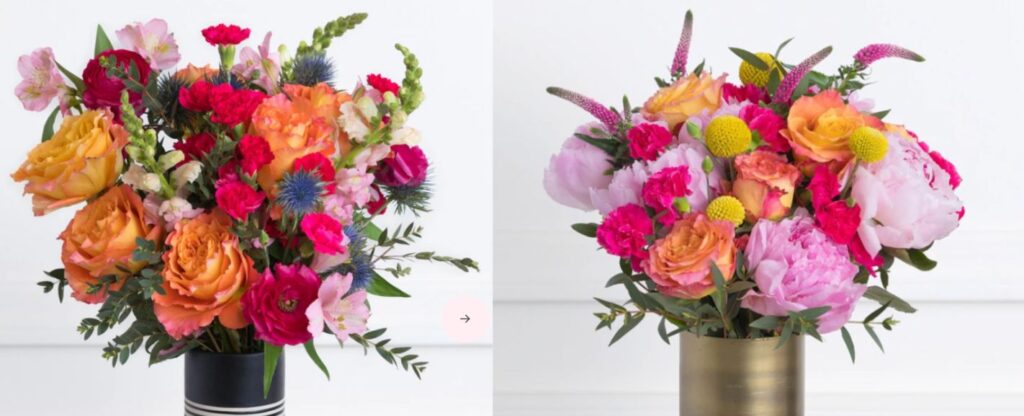 Why Choose Ode à la Rose for Your Birthday Floral Arrangement Gifts?
Selecting a birthday gift can often be a delicate process, and choosing flowers only amplifies this, given the myriad of options available. This is where Ode à la Rose steps in, offering a floral gifting experience that is truly unparalleled. But why exactly should you choose Ode à la Rose for your birthday floral arrangement gifts?
Firstly, Ode à la Rose is distinguished by its unwavering commitment to quality. Whether you're ordering a simple bouquet or a grand floral arrangement, every flower is selected meticulously and handled with the utmost care to ensure it arrives at its destination in the best possible condition.
Secondly, Ode à la Rose boasts an expansive selection of both fresh and preserved flowers. From peonies to roses, in hues ranging from the most subtle pastels to the most vibrant of colors, there is an arrangement to suit every taste and occasion.
Next, Ode à la Rose's artful approach to flower arrangement is deeply rooted in French floristry tradition, combined with an effortless touch of modernity. Each bouquet is thoughtfully crafted to resonate not just aesthetically, but emotionally as well.
Moreover, the company takes customer service to heart. Their flower delivery service spans multiple cities across the U.S., ensuring that your thoughtful gift can reach your loved ones no matter where they are. On top of this, the option for same-day delivery means you can count on Ode à la Rose to come through, even when you're pressed for time.
Finally, Ode à la Rose has set itself apart with its innovative preserved flower offerings. These one-of-a-kind gifts encapsulate the beauty of flowers in full bloom for an entire year, serving as a constant reminder of a special birthday.
In conclusion, whether you're looking to celebrate a man or woman's birthday, Ode à la Rose offers a wealth of choices, each crafted with precision, love, and a dash of French elegance.
With an unwavering commitment to quality, a broad selection of offerings, and top-notch customer service, Ode à la Rose continues to redefine floral gifting, making it an ideal choice for your birthday floral arrangement gifts.