Peony Bouquets
It's peony season! Browse our selection of peony bouquets arranged by our florists.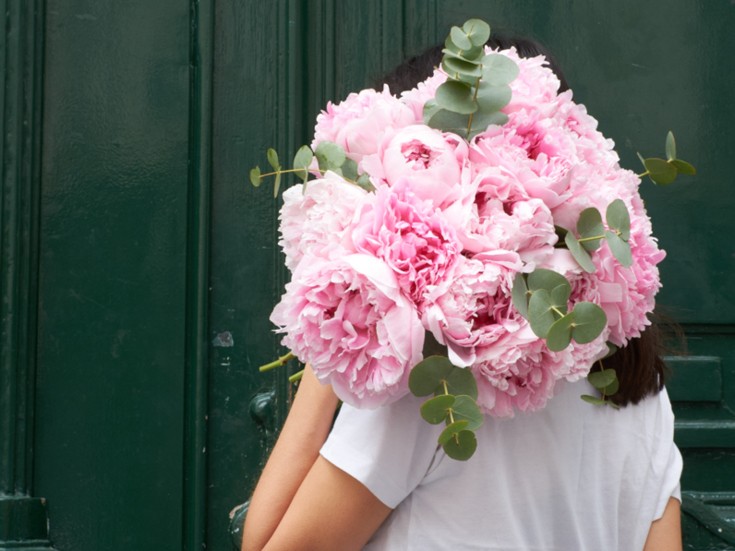 Our centerpeices are only available for delivery in NYC, Chicago, Los Angeles, Austin and Miami.
Peonies delivered by Ode à la Rose
Lush, beautiful, and full of life, peonies are popular for their subtle pale hues and their round, full-bodied ruffles. Indeed, the popularity of the peoniy is global. The flower is both the state flower of Indiana and the floral symbol of China. Peonies are considered to be a symbol of prosperity and honor, making them a fitting gift for anything from wedding anniversaries to birthdays to Admin Day.
At Ode à la Rose, we can help you find the perfect peonies for any occasion. If you're shopping for anniversary flowers, know that peonies are considered the "traditional" flower of the 12th wedding anniversary. Even if you aren't going by tradition, any of our white or pink peonies bouquets will mark your special day with elegance and beauty.
Our commitment to excellence means we offer next-day delivery across the states, ensuring no one misses out on the magic of peonies. And for those residing in our designated zones, we offer same-day delivery, so the bloom you send is as fresh as the moment it was picked.
Why Should You Send Peonies?
Gifting specific flowers, like opting for peony flower delivery, has its multiple benefits.
In ancient myths, peonies were said to result from the moon's undying love for the earth, a token of her affection each spring. Every petal is a love letter, each fragrance notes an intimate whisper.
Sending peonies is like sharing a timeless tale, a narrative of love, passion, and undying affection. Their luxurious fullness, coupled with the delicate intricacies of their petals, makes them the bloom of choice for those wanting to make a bold statement.
So, when you're looking to send not just a flower but an emotion, a memory, a story wrapped in petals – peonies from Ode à la Rose are your answer.
Which Occasions Are Peonies For?
Peonies are versatile, making them a favorite for a myriad of occasions.
Graduation: As a symbol of a bright future and new beginnings, peonies perfectly capture the essence of stepping into a new phase of life.
Proposal: Their luxurious bloom symbolizes romance, love, and commitment – an ideal companion for that life-changing question.
Anniversary: Celebrating years of togetherness and the promise of many more to come, peonies encapsulate love's enduring nature.
Birthday: Mark the joy, hopes, and dreams of another year with peonies' vibrant and cheerful presence.
Wishing Someone to Get Well Soon: The refreshing bloom of peonies can be a source of comfort and a wish for a speedy recovery.
Apologizing: When words aren't enough, let the gentle petals of peonies convey your sincere remorse.
Retirement: Celebrating years of dedication and the start of a relaxed phase, peonies stand for appreciation and new adventures.
Just Because: Sometimes, no reason is the best reason. Send peonies to make someone's day, reminding them they're cherished.**
Order Peonies Online Today
Peony flower delivery is a breeze with Ode à la Rose. Browse our stunning selection and send peonies to a loved one today! Please reach out to us with any questions about arrangements, peony availability, or our delivery process.
FAQ about Peonies
The answer to this question will vary depending on the variety you buy and the level of care you can give to them. Our pink peonies tend to last longer than our coral peonies. Overall, peonies don't last as long as roses but you can expect them to last 4-5 days with proper care.
Peonies are traditionally seen as spring/early summertime flowers in the United States. In the months of May and June, they can grow and blossom in virtually any part of the U.S. To find out about our peonies' availability at Ode à la Rose, contact us directly.
Whether you're buying pink peonies or white peonies, it's important to take steps to maximize their health and lifespan the moment they arrive. Most experts recommend trimming an inch or half-inch off the stem of each flower at a diagonal, then placing your peonies in a glass vase with about four inches worth of water.

Since peonies will often arrive looking rather limp, it's a good idea to wrap the flowers in paper — the paper wrapping they come in at delivery is fine — for their first few hours of hydration. After that, keep an eye on the water and replenish it to make sure your peonies are getting plenty of water. Every two or three days, trim another half inch off the stems and clean or replace the vase. You should also trim any foliage that falls beneath the water line in the vase, to make sure no water is going to waste.
To ensure the highest-quality peonies for our customers, we obtain our flowers during their peak growing seasons from some of the best eco-friendly farms in Holland, Chile, and the U.S. Which country we source our peonies from depends on the time of year as there are different growing seasons and we go based on what will give us the highest quality flowers.
We have multiple types of peonies available at Ode à la Rose, ranging in hues from cream to soft pink to brilliant orange or coral. Our arrangements feature varieties like Sarah Bernhardt, Coral Charm, and more. Peonies only tend to be in season for a short period, about late April to mid-June, so there's more limited availability for this type of bloom compared to others.

However, we're working on sourcing some Alaskan peonies to extend our selection and availability. Alaska supplies fresh-cut peonies from July into early September. Once again, you can contact us directly to find out exactly what peonies are available and when you can order them.
When you send peony bouquets through Ode à la Rose, you can enjoy quick, flexible, and affordable flower delivery. See our answers to some FAQs below regarding our fees, delivery process, and more.
We pride ourselves on prompt delivery at Ode à la Rose, offering same-day and next-day flower delivery to a wide variety of locations across the U.S. When sending peonies to one of the seven cities below, you can receive them on the same day you place your order: New York City, Chicago, Los Angeles, Miami, Austin, and Washington DC

We provide next-day delivery to nearly every other nationwide city. Feel free to check out our flower delivery zones to see how soon we can deliver to your location.
Absolutely — we believe a note is one of the best ways to make your arrangement more personal to the recipient! Once you've selected the perfect peony arrangement, you'll have the option of writing any message you desire on one of our specially designed Ode à la Rose cards. You can also upload a photo, which we'll print on glossy paper and attach with your note and bouquet.

We also have a variety of add-on items to include with your order, such as a vase, scented candle, blanket, spa kit, or chocolate bar!
Once we've finished putting together your peony arrangement, we'll send you a photo of the exact bouquet you ordered before it leaves our shop. This lets you see the arrangement before it gets delivered!