Valentine's Day — it's a season of romance and beauty. A season for sweeping your loved one off their feet with gestures of affection and appreciation. During such a season as this, what could be more romantic than a gorgeous display of fresh blooms? From red roses to purple irises, and bright daisies to orange lilies, there is no end to the wide array of flowers you can use to express your devotion this season.
Related Posts:
While all of us would love to have planned ahead and purchased this gift well ahead of time, the truth is that we don't always lay our plans far enough in advance. If you've ever found yourself scrambling for a gift at the last moment, you know how frustrating this can be.
If you find yourself in this situation this year, don't despair. There are plenty of same-day delivery options near you, and one of them may be just the solution you're looking for. If you live in Chicago, then we invite you to consider one of these beautiful flower bouquets for your significant other this Valentine's Day.
FAQ About Valentine's Day Flowers
Do you have a few questions before you're ready to dive right into the purchasing process? Then we've got the answers. Here are a few of the common questions you might be pondering as you prepare for this occasion.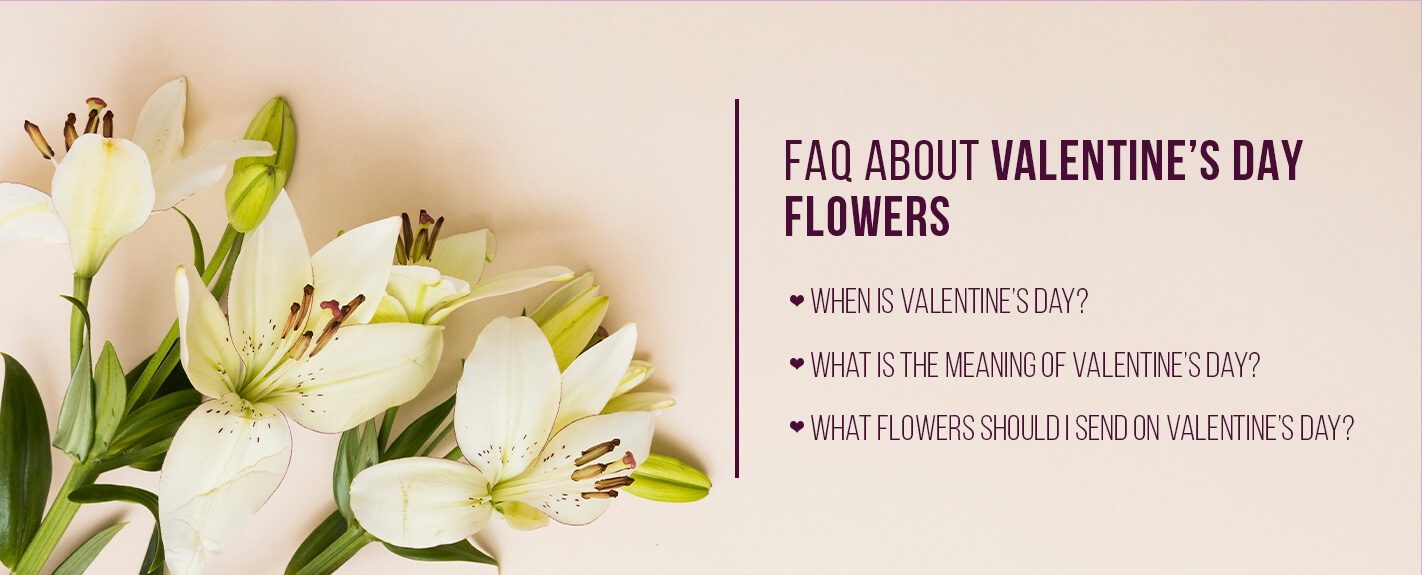 1. When Is Valentine's Day?
Unlike holidays such as Easter or Thanksgiving, which change every year, Valentine's Day stays consistent. Valentine's Day falls on February 14 every year.
2. What Is the Meaning of Valentine's Day?
No one can say with 100 percent accuracy where our modern holiday of Valentine's Day comes from. The day is commonly associated with St. Valentine and derives its name from him, but no one is entirely sure who this person was or what he did. Because of this, the history of Valentine's Day is a little foggy.
However, there is evidence that points to Valentine's Day being an evolution of Lupercalia. This was an ancient Roman festival where young men would draw the names of young women from an urn. Once they received a name, those two would become romantic companions for a year.
As Rome eventually became the center of the Christian world, the Pope changed the rules. Now, young men and women alike would draw the names of saints that they were called upon to emulate as role models. This seems to be when St. Valentine became the patron saint of the entire event. During the 18th century, the tradition of sending love notes to a sweetheart developed, and young people would often use this day as an opportunity to send gifts and letters to the person they were trying to woo. These notes would eventually be known as Valentines, and the day as Valentine's Day.
3. What Flowers Should I Send on Valentine's Day?
Roses are the flower most commonly associated with romance and Valentine's Day. While these can be purchased in any shade, pink and particularly red are the colors that most seem to most evoke romance and love. If you're looking to express affection and enchantment, then we think there's no better flower to help you achieve this goal.
[slide-anything id="1831″]
However, everyone is different. Maybe you know for a fact that the person you're buying for adores sunflowers or lilies. In cases like these, you will surely earn special favor in their eyes by remembering this and purchasing a different type of flower. After all, there's no truly right or wrong flower for Valentine's Day. If, however, you're buying for someone whose preferences you aren't certain of, we think you can rarely go wrong with a classic bouquet of roses.
Valentine's Day Flowers in Chicago
If you live in Chicago, Valentine's Day flowers are easy to come by. There are likely hundreds of places you could buy from. If you're looking to get your flowers delivered, there are still plenty of options, although your choices will likely narrow slightly. However, many of these delivery services operate based on the assumption that you'll place your order well in advance. As much as many of us would like to be that organized, sometimes things fall through the cracks, and we don't get around to ordering flowers until the day of.
When this happens, where can you order flowers to be delivered on the same day? It's simple. Order from Ode á la Rose, and we can have your flowers delivered on the same day your order them — even if that day is Valentine's Day. With something as important as love on the line, we know how essential it is to get it right. That's why we work hard to go the extra mile for you and get your flowers delivered when it's most important.
Where Do You Deliver?
We offer our same-day delivery to any location in Chicago or the surrounding suburbs. Since we know life takes you to all different kinds of places, we're willing to meet you and your loved ones there. Whether you need delivery to a townhouse or a traditional house, an apartment, a college, a workplace or more, we can get your flowers there. Be sure to provide us with any specifics necessary to make sure the flowers get directly where they're supposed to go — particularly if the location is large, and we'll make sure your flowers arrive safely.
Not sure if your location is someplace we deliver to? Input the appropriate zip code and find out for sure.
How Does Same-Day Delivery Work?
Our goal is to make sure everyone gets to give the gift of flowers on Valentine's Day. That's why we try to have as few restrictions and regulations as possible — so everyone can have the chance to show their love during this beautiful season. Due to the distance of some deliveries as well as the volume of orders, we ask that you provide us with your order details as early as possible on Valentine's Day. As long as we have your information, then we will make sure the flowers reach their intended recipient before the day's end. It's that simple.
And to make absolutely sure your loved one is receiving exactly what you ordered, we even take a photo. Before the arrangement is sent out of our workshop, we'll send you the photograph, so that you can feel confident that the order is correct and everything you imagined it would be.
Is There a Gift Box Option?
A simple bouquet of flowers is lovely, timeless, and classic. It will never be out of place. However, it also can be a tad on the simple side — when you're pursuing love, sometimes simple isn't enough to express the true depths of your affection. For occasions such as Valentine's Day, sometimes you need something with a bit more je ne sais quoi. For occasions such as this, our gift box delivery option might be just the thing.
When you order our gift box option, here's what you'll receive:
The Arrangement:

 Inside the box, you'll find your choice of bouquet or flower arrangement. This arrangement has been carefully hand-wrapped with raffia and secured in a travel container — a small water-filled bucket designed to both protect and hydrate the flowers so that they'll look fresh, beautiful, and undamaged upon arrival.

The Signature Gift Box:

The entire arrangement, wrapped and secured, is then placed into our signature gift box. If you've chosen to add a vase or other add-on to your gift, this will also be wrapped and packed neatly inside the box. This way, your loved one will have an easy and convenient place to display the flowers.

The Finishing Touches:

Before the box is closed, your arrangement will be covered in a neat layer of tissue paper to ensure a gift experience like no other. Once everything in your box is set, and it's sealed, we send it off for delivery after sending you a photo of the bouquet before it leaves our workshop. 
What Can I Add to My Delivery?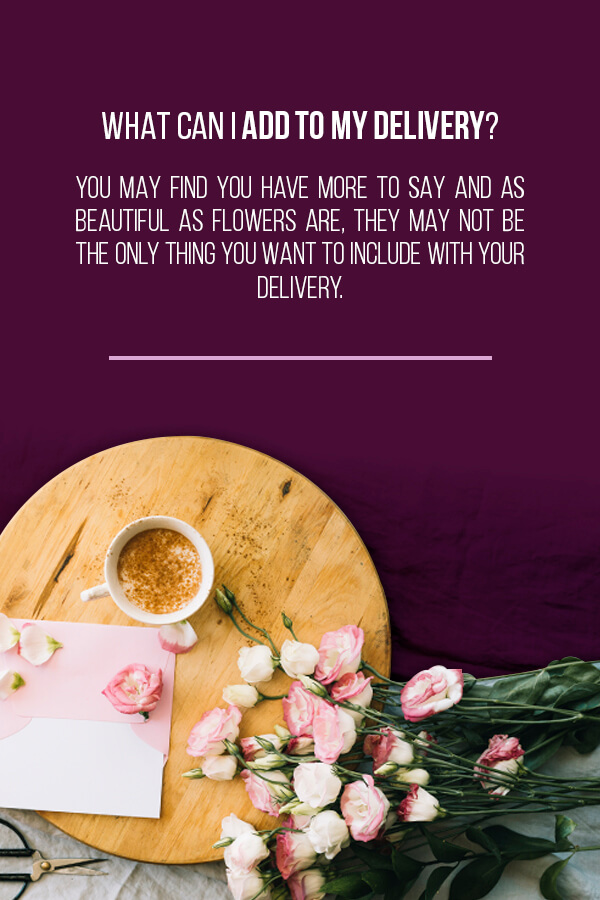 There's a reason that the Victorians had an entire language of flowers — the gorgeous blossoms are capable of expressing so much without using a single word. However, you may find you have more to say and as beautiful as flowers are, they may not be the only thing you want to include with your delivery. Sometimes, an extra personal touch may be in order.
Wondering what add-ons and additions you can have delivered along with your same-day delivery or gift box? Here are the options we offer this Valentine's Day:
1. Personalization
Depending on the stage your relationship is in, sometimes it can be perfect if the box is anonymous. In cases like these, no note of any kind is required, and the recipient will still surely know who the gift is from. In other cases, however, a touch of personalization can be nice. For times like these, we make sure to accommodate.
For no extra charge, you can add this touch of personalization to your gift box. Simply write the note you would like to include with your gift, and we'll pack it into the box along with the arrangement. If there is a personalized photograph you would like to include, send this to us along with your order specifications, and we will add this in with the note as well.
2. Vases and Jars
As beautiful as flowers are, they're difficult to display if you don't have a vase to place them in. And if you're sending them to someone such as a new romantic partner, you may be unsure of whether or not they have a vase to use.
Skip the uncertainty and just send them a vase along with the flowers. If they don't have one, now they will. If they did, now they'll have another beautiful one. We offer three options for you to choose from that you can add to your gift order:
The Glass Vase:

 This is a simple and classic glass cylinder, perfect for displaying flowers while not competing for visual dominance.

The Flower Jar:

 For a more rustic and quaint look, this Mason jar-style might be just the display vase you're looking for.

Ceramic Vase:

This vase offers a more stylized appearance, and is a classic cylinder shape that's set apart by a crackle finish.
3. Chocolates
While you're already in the process of gifting beautifully scented roses, why not add another romantic item? Not only will these chocolates taste lovely, but they're also perfect for setting a romantic tone.
Add on a chocolate bar from Le chocolate des Francais. These chocolates are 100% made in France by the best French artisans. With a delicious and sophisticated flavor, chocolate is the perfect addition to your Valentine's Day flower bouquet.
4. Macarons
We've all heard the advice — the best Valentine's Day gifts are the timeless traditions of flowers and chocolate. We agree that you can't go wrong with flowers, but when it comes to chocolate, we think there may be other options available. If you're looking for a delicious treat to send to your sweetheart this Valentine's Day, we think there's nothing quite as sophisticated and stylish as a macaron.
As you're ordering your gift box, we now give you the option to add a box of six assorted macarons from Macaron Café — try pairing them with a rainbow of roses! They come in a variety of colors and flavors so that your loved one can enjoy a range of tastes on this special day.
5. Mix-and-Match
Can't decide which of these add-ons to choose? Then don't decide at all. Instead of limiting yourself to one single add-on, feel free to choose as many of these options as you like, in whatever combination is right for you and your love story. Choose the glass vase and macarons, or the chocolate and the zinc vase. In this way, you can truly personalize your order so that it's exactly right for you and your special someone.
Place Your Same-Day Valentine's Flower Delivery Order in Chicago With Ode à la Rose
Whether it's Valentine's Day, an anniversary, a birthday, or any other occasion, our same-day delivery service is our guarantee to you that your flowers will reach the recipient when it matters most. By placing your order before 3 p.m. on the specified day, you ensure the order will be completed as specified.
To get started placing your order, we encourage you to start by browsing the selected bouquets shown here, or by browsing through our full catalog of arrangements to find the perfect gift for your Valentine. Once you've chosen an arrangement, be sure to specify whether you'd like same-day delivery, or which day you'd like the gift delivered. And of course, don't forget to add any additional surprises into the gift, such as a personalized note or a vase.
We know Valentine's Day is important to you. When you shop with us here at Ode á la Rose, we promise to help you make this day just a little bit more special. And if you're ordering from the Chicago area, we can do it all in one day.
[slide-anything id="1822″]