Bridal showers are a long-standing tradition that honor the bride and help set up her new home by "showering" her with gifts. A shower is a chic and enjoyable way to commemorate the future bride by gathering her friends and family for a final get-together before her big day.
Check out these related topics:
A flower-themed bridal shower offers a timeless and elegant approach to your pre-wedding bridal celebration. Fresh flowers are beautiful and provide a sophisticated backdrop to celebrate the end of singledom for the bride-to-be.
Choosing a theme for a bridal shower is a great way to eliminate some of the guess-work involved in planning this event. A floral theme is easy to execute as flowers can be incorporated into all aspects of the shower — from invitations to table centerpieces to activities and entertainment.
A floral-themed bridal shower is sure to wow guests and impress the bride-to-be with sophistication and color.
How to Plan a Flower-Themed Bridal Shower
Our comprehensive guide will help you plan — and decorate — for your fabulous flower bridal shower theme.
1. Find the Right Venue
The planning process for your floral bridal shower begins with finding the perfect venue. You'll want a blank canvas with good light that you can fill with flowers to showcase your decor and creativity.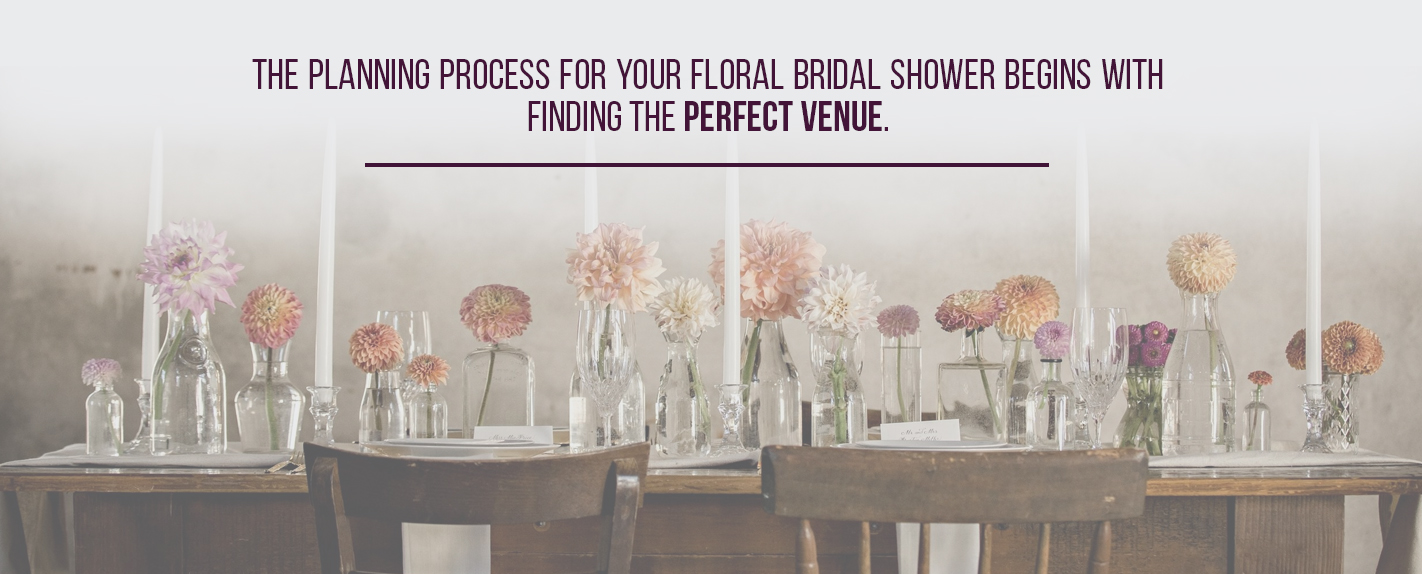 If you have space, hosting in your own home is a great option and will give you plenty of time to plan, set up, and decorate before the big event. You can also opt for a restaurant or dining hall. Or, if hosting a spring or summer event, a botanical garden will provide the perfect backdrop for your flower-themed party.
If your guest list is small enough, a quaint picnic garden party, surrounded by naturally growing flowers blooming in season, is another way to throw a shower that utilizes the outdoors tastefully and elegantly while sticking close to your floral theme.
2. Draw Up the Guest List
Consult the bride when making your list — it's essential that you only invite guests who are invited to the wedding itself. Also consider how many people you'd like to host, as this will determine many things, such as how big of a venue you'll need, how much food and drink will be required, and how many party favors to prepare.
Once you have a date for the event — which can be any time from a week to six months before the big day — send out invitations six to eight weeks before the shower, especially if you're expecting out-of-town guests.
Floral-printed invitations will hint at the theme. You can order invitations, or if you are crafty or design-inclined, save on your invitation budget and make or print them yourself. Look for beautifully designed and tasteful flower-themed invitation templates that you can easily personalize to make them uniquely yours. Or save paper and opt for emailed invites, with fully customizable animations, backgrounds, music, and text. If you choose to use physical invites, order or purchase extra copies, supplies, and envelopes for any potential last-minute invites.
Include all the wedding shower details, including date, time, location, and information about the gift registry and how to RSVP. Include specifics about the dress code, too. You can even ask guests to dress in colors that coordinate with your floral palette, which will make photos even more amazing and Instagram-friendly.
And speaking of social media, create a hashtag (#flowerpowerbridalshower, perhaps — bonus points for cheeky or rhyming tags) that guests can use to make sure all of the photos of the event are easily searchable for the bride to enjoy seeing after her big event. Print the hashtag on your invitations so guests know in advance, and have a sign up at the shower itself as a reminder for guests.
3. Pick the Perfect Flowers
Selecting fresh flowers for your bridal shower is the perfect place to start when planning your decorations. This process can be as simple or as complex as you'd like.

If the bride has already picked and ordered flowers for her big day, contact the florist to order a few similar garlands and bouquets. This will offer guests a preview of the style of the wedding day. If she doesn't want to reveal the flowers that will be used in the actual wedding, you can alternatively ask the bride to make a list of some of her favorite flowers.
When it comes to decorating your bridal shower with flowers, you can select the flower of her birth month and coordinating blooms, pick flowers based around a selected color palette, or talk to your florist about what flowers are appropriate — and available — based on the season.
Selecting the perfect color palette will also help you choose the right flowers for the occasion. Colors can be used to evoke a specific mood, reflect the season, or convey a message.
Think about the bride. Would she appreciate a bright and colorful palette or more subdued and neutral tones? Ask the bride for her favorite colors, choose a palette that reflects the season, or pick classic, feminine colors like white, pink, red, or purple.
4. Choose Flowers Based on Their Meanings
Another idea is to choose flowers based on their meanings. This ancient art, which became popular in Europe and America during the 19th century, is known as floriography. The practice of sending bouquets with hidden meanings was a popular practice during the Victorian Era, and several books were published on the unspoken language of flowers during this period.
The meanings of each flower found in these Victorian reference books were derived from popular myths and stories as well as from the author's imagination. The flowers' colors also affect their message. Red traditionally symbolizes deep, passionate love. Pink signifies femininity and unconditional love. White is a symbol of purity, perfection, and spirituality.
Make sure your bridal shower is sending the right message with these flower suggestions. Consider placing cards or small signs with each flower that explains its meaning, or give out floriography dictionaries as unique, vintage, and on-theme party favors.
Gold Rose: The meaning of a rose is primarily determined by its color. Gold symbolizes passion and excitement — very appropriate for a celebration leading up to the bride's big day.
Carnation: Ruffly carnations also have different meanings depending on their color. White symbolizes pure love and luck, while peach flowers indicate a fun, energetic mood. Carnations belong to the genus Dianthus, which literally means "flower of the gods."
Orchid: These timeless and sophisticated flowers are an elegant staple and a perfect way to signify the many happy anniversaries to come.
Chrysanthemum: Getting married is an exciting way to start a new life chapter. Though the word itself means "golden flower" in Greek, chrysanthemums are symbols of optimism and joy.
Freesia: Since the bridal shower is a gathering of friends, consider adding freesias to your floral palette. Named by German botanist Christian P. Ecklon after a close friend, freesias will forevermore be a sign of friendship.
Mondial Rose: Also known as the bridal rose, Mondial roses represent unity and the bond between new lovers — perfect for any wedding-centric event.
5. Select Centerpieces That Are Sure to Wow
Since flowers are the basic elements for this floral-themed get-together, selecting the perfect flower centerpieces for your bridal shower celebration will set the tone for the entire event.
Your decorations should start with flowers for the bridal shower tables. This includes not only the dining tables for guests, but also the card and gift table, buffet or food service table, the bar or beverage table, and the cake table.
Smaller bouquets spread around the dining tables will allow guests to see and talk to each other, while spreading color and decorate around the space. For this purpose, roses in small bunches, which come in many colors to match your palette, are a great option.

For other displays, such as the gift table, a large, well-arranged bouquet is sure to make a statement. A bouquet in bridal white, filled with roses, hydrangeas, and ranunculus, will do the trick for the bride's table, if guests are seated at separate tables, or for the cake table. Dendrobiums are another great option for a freshly cut look.
In addition to flower centerpieces for your bridal shower, spread rose petals on the tables to add another thoughtful and subtle touch to your décor.
As you're planning your centerpieces, many factors should be considered when choosing the perfect centerpiece for your bridal shower.
Color: Select your arrangements based around your color scheme.
Season: Check with your florist to determine if the flowers you want are obtainable, since not all flowers will be readily available all year round.
Budget: Once you know how many tables you'll need you can calculate your floral budget. Take your total flower budget and divide by the number of tables. Depending on your desired aesthetic and budget, you might prefer several smaller bunches around the room instead of large statement bouquets.
Venue Restrictions: Check with your venue before you start making too many decisions related to your centerpieces and other decor. Some will not allow glass vases that could break. Still others may limit which vendors you can use.
Tables: When planning your centerpieces, consider the number of tables needed along with their shape, size, and capacity. Besides the bouquet, what else will be on each table, such as gifts, food, place settings, and other decor? All of these factors will dictate the size and style of the bouquet that will best serve your needs.
Lighting: If the room is dimly lit, add a little light in the form of candles (use electric candles if the venue has policies against open flames) or tasteful twinkly lights. In bright and sunny rooms or rooms lit by fluorescent lights, colors will pop but may be better as accents to a more neutral palette.
How Can You Use Flowers for a Bridal Shower?
You can use flowers in every aspect of the shower, from drinks and desserts to crowns and games. Have fun decorating and planning for your flower-themed bridal shower. This is your chance to be creative and see how many ways you can incorporate flowers into the event.

1. Use Flowers as Edible Accents to Drinks and Desserts
Adding edible flowers to your desserts and on the cake is just one way you can incorporate your flower theme into your bridal shower menu.
Consider serving a delicate salad of fruit and flowers, or sprinkle some flowers on top of a more traditional salad. If you're hosting your shower in the height of summer heat, you can make your own champagne-and-flower popsicles that are almost too pretty eat.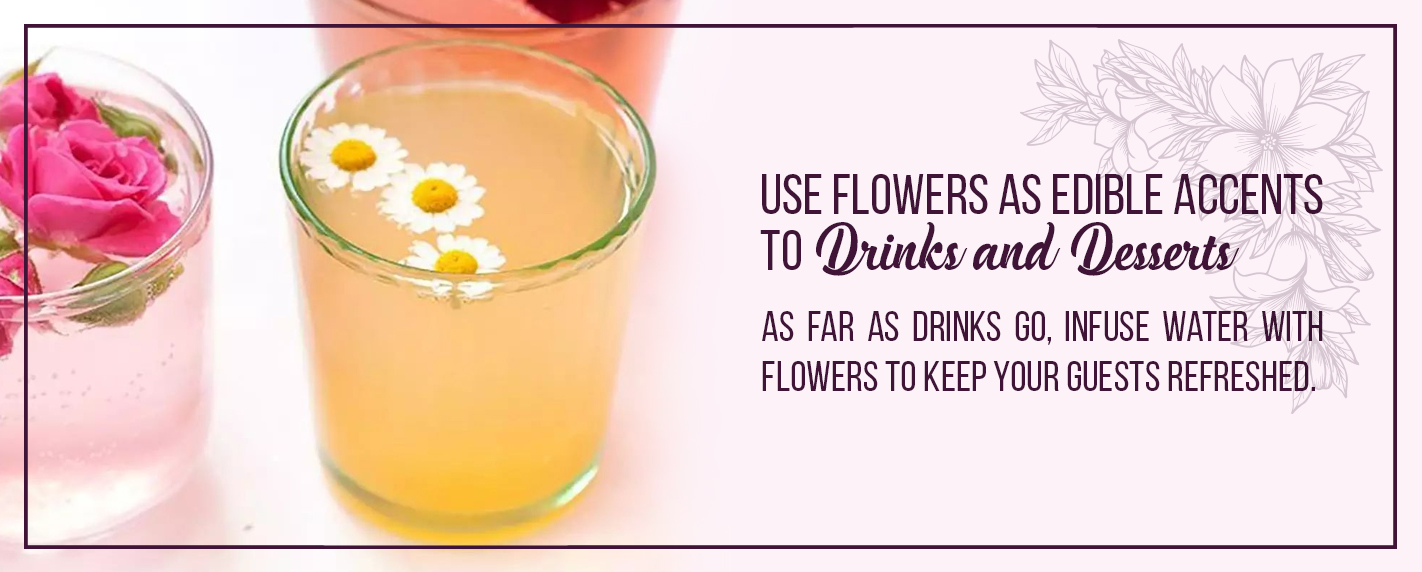 As far as drinks go, infuse water with flowers to keep your guests refreshed. A popular and simple adult beverage option, especially for a brunch wedding shower, is a mimosa bar, complete with a variety of juices for mixing and fruit and flowers for extra flavor and garnish. You can also freeze buds or petals into ice cubes and use them to keep your champagne cool.
If your future bride is a budding mixologist, consider mixing up flower-inspired cocktails that are sure to wow your guest-of-honor.
2. Create a Flower Crown for the Bride-To-Be
The bridal shower is all about the soon-to-be bride, so incorporate some floral elements to make her feel extra special on the day of her shower.
Place a flower crown on the bride's head to make her stand out and feel beautiful. A flower crown is a perfect way for the bride to wear fresh flowers without needing to re-do her 'do. She can wear it for the entire shower or take it off whenever she pleases, depending on her style and preference.
You can also attach small bunches of flowers or single stems to a chair to create a floral throne for the bride-to-be.
3. Play Games With Floral Prizes
Besides the food, drinks, and flowered decor, don't forget to plan some games and activities for your bridal shower entertainment.
No bridal shower is complete with a silly game or two to break the ice and allow guests to get to know the bride — and each other — even better. There are a ton of fun and free templates for printable games, such as "How Well Do You Know The Bride" and "He Said/She Said." First kiss stories, bridal pictionary, or telling tall tales are also just a few ideas of games you can play or plan for the shower. You can even take the traditional toilet paper wedding dress game and make it floral-themed by requiring guests to include a toilet paper bouquet.
Remember to award the winner. Send her home with a small bouquet or one of the centerpiece displays.
4. Plan Ways for Guests to Interact
A shy bride might not feel comfortable opening gifts in front of all her guests, and some brides might want to forgo receiving gifts altogether or ask guests to donate to a charitable cause in lieu of presents.
As an alternative to watching the bride open gifts, ask guests to go around and introduce themselves, reveal their favorite flower, and tell a sweet story about the bride or offer some advice on what makes a happy marriage.
5. Set Up a Build-Your-Own-Bouquet Station

One idea that we love is to set up a build-your-own bouquet station. Fill vases with bunches of fresh blooms and let your guests be their own flower arrangers. Provide ribbon to tie the bouquets and scissors to trim the stems and cut the ribbon.
The best part? Not only will this activity provide a way for your guests to show off their creativity, these arrangements also double as party favors for your guests to take home.
6. Take Photos to Commemorate the Day
Another popular trend in weddings and wedding showers is to designate an area to take photos. Use washi tape to attach single stems to a wall or stagger bouquets and small bunches of flowers to create a colorful backdrop. You can opt to use this area as a selfie-station for guests to snap their own shots — don't forget to display your wedding shower hashtag — or go for a more traditional photo booth, with a photographer ready to capture and print photos of your guests.
7. Send Your Guests Home With Gifts
Your party favors can easily perform double-duty at the bridal shower — use them as decoration, then send them home with your guests at the end of the event. This is a great way to host a beautiful event and let your decorations serve a dual purpose.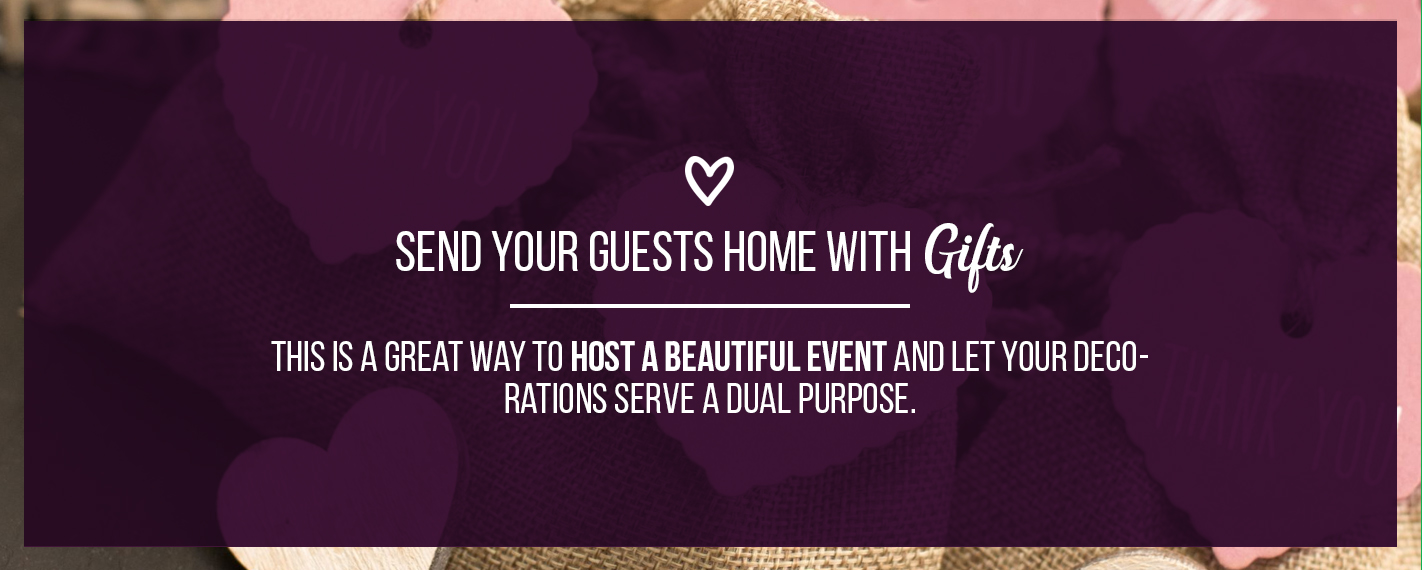 Place single stems in a large vase for guests to retrieve as they leave. Or tie name tags to each flower and use it as a place card to assign each guest's seat, which can be taken home at the end of the party.
You can even allow guests to take home the table centerpieces and other arrangements, which make great gifts and will serve as a nice reminder of the shower.
Another idea is to give each guest a live-flower hair comb or barrette. You can make them before the shower and place on at each guest's place setting or in a gift bag. Or you can let guests make their own hair accessories as part of the build-your-own bouquet station. These won't outshine the bride's flower crown but will allow your guests to add a flowered touch to their own outfits.
Ways to Add Even More Flowers to Your Bridal Shower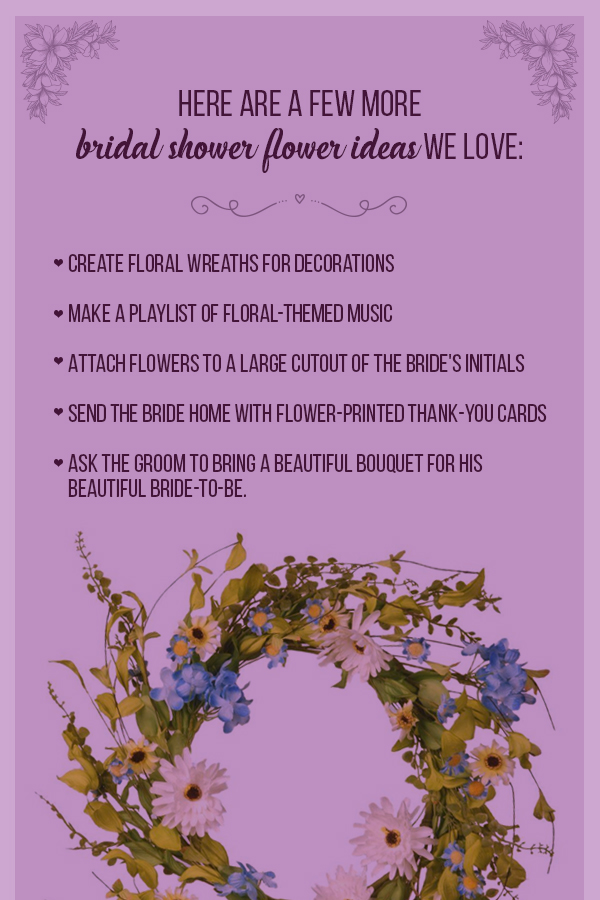 Here are a few more bridal shower flower ideas we love:
Create floral wreaths for decorations, or hang them from the ceiling as flower chandeliers.
Make a playlist of floral-themed music and songs to play during the shower.
Attach flowers to a large cutout of the bride's initials for a bride-centric decoration that can be displayed on her gift table or used as a photo backdrop.
Send the bride home with flower-printed thank-you cards to match the floral invitations so she can send thank yous
It's traditional for the groom to make an appearance toward the end of the shower. Invite him to come at a designated time, and ask him to bring a beautiful bouquet for his beautiful bride-to-be.
Ode à la Rose Is at Your Service
Ode à la Rose, the florist with the French touch, is here to help with all of your bridal shower floral needs. With a wide array of flowers and arrangements to choose from, our florists can help you decide what flowers are right for your event and your budget.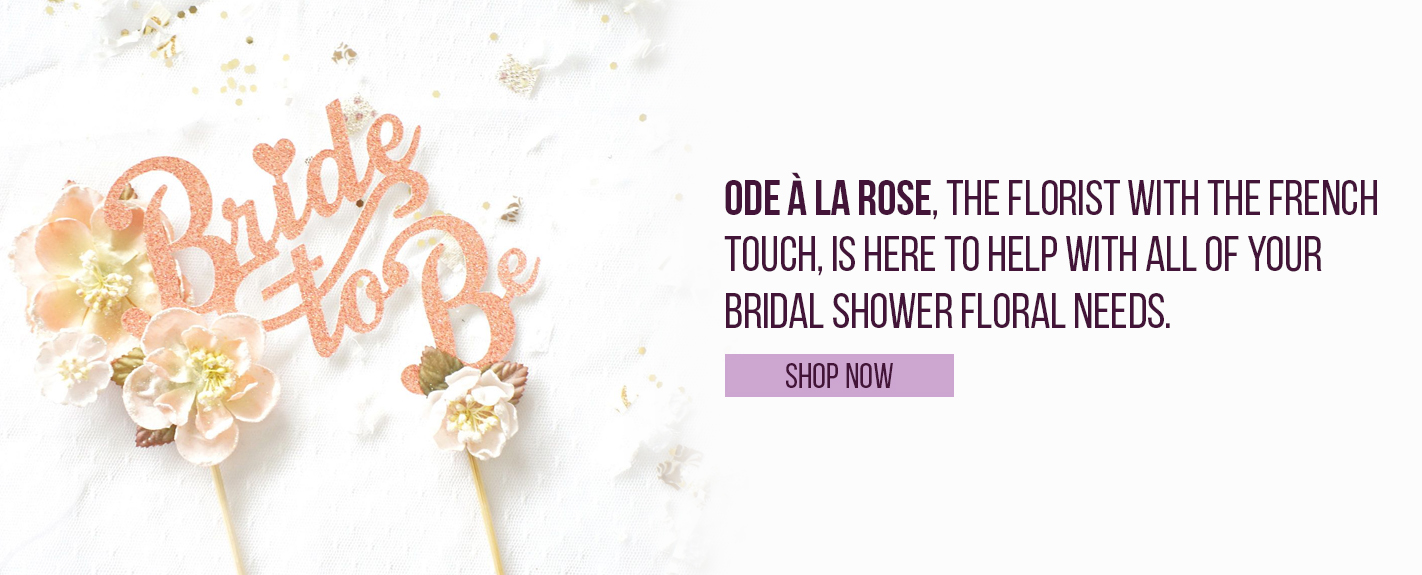 We offer same-day delivery in New York City, Chicago, Philadelphia, Los Angeles, Austin, Miami, Washington D.C. and next-day delivery to more than 1,400 cities throughout the Northeast.
Let us know how we can help you plan the perfect flower bridal shower. Please contact us for more information.