February 14th is right around the corner again, and you know what that means — love and expectations are lingering on the horizon. As the second week of February draws nearer, you're surrounded by constant reminders of romance — pink heart streamers in coffee shops, red roses in store windows, heart balloons dotting the checkout aisles of the grocery store, and chocolate truffle advertisements filling every commercial break. With all this love in the air, you can't help but think of the love in your life — and the woman who deserves something special to show her how much she means to you. What gift will you get her this Valentine's Day?
Related Posts:
When it comes to Valentine's Day, we take our gift-giving pretty seriously. Did you know that more than 151 million Americans spend on Valentine's gifts and gestures each year? While it can't compare to the holiday season, February 14th is no small occasion. In fact, we'll cumulatively spend around $30.0 billion annually on flowers, chocolates, jewelry, and other goodies for that special day — that's more than $200 per person. And it's not just our significant others we want to show our love to on Valentine's Day — a sizeable portion of the annual Valentine's budget is dedicated to gifts for friends and family.
This Valentine's Day, make sure you're spending your money on a meaningful gift for that special woman in your life — whether she's your wife, girlfriend, mother, daughter, or friend. Instead of calorie-stuffed chocolate truffles or other gifting guesswork, send her something straight from the heart. When it comes to a sweet or romantic gesture that shows her just how much she means, nothing says "I love you" like a chic, elegant bouquet of Valentine's Day roses — that's why 57 percent of the population chooses flowers over other options. As floral experts, here's our advice for picking the perfect floral arrangement for the woman you love this February.
Valentine's Day Flowers for Your Wife
Your wife is your rock, your true love, your best friend, and your partner. On Valentine's Day, nothing is more important than showing her your feelings have never changed since the day you met her — except to grow stronger. For someone as special as your wife, you want the most meaningful, romantic gesture you can find — and what could be more appropriate than the rich, passionate beauty of red roses?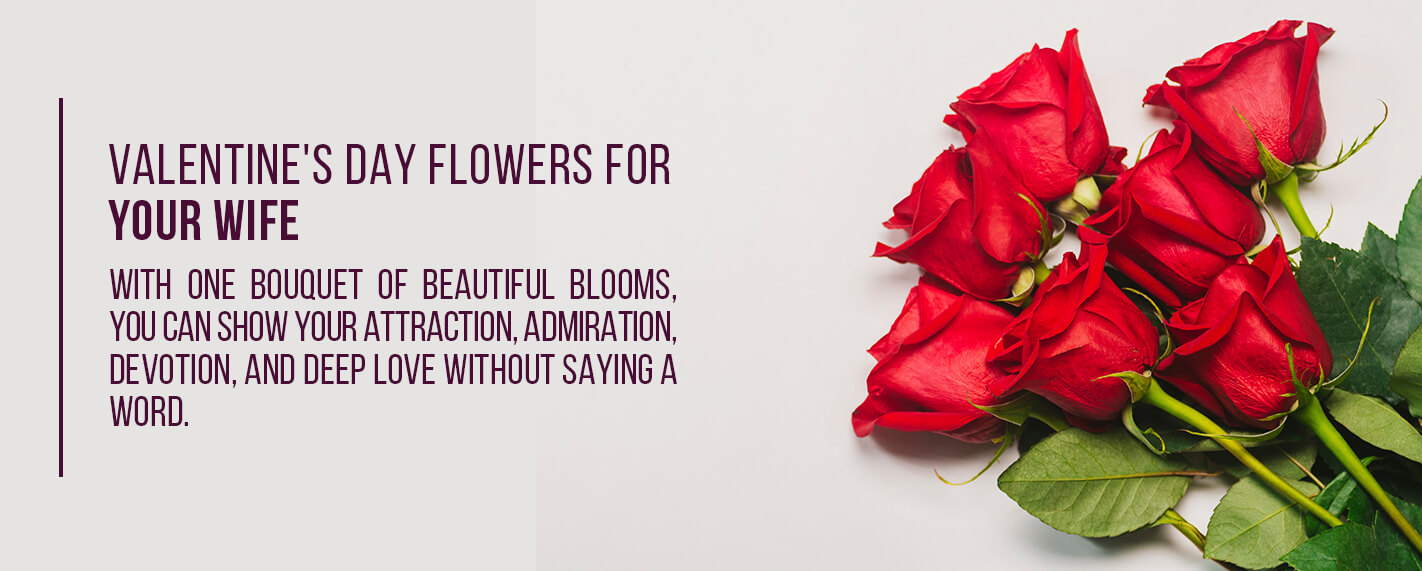 As a centuries-old expression of unwavering love and passion, red roses signify deep, fervent emotions. They can be used to express desire and passion, to convey admiration and respect, or to show deep, long-lasting love and eternal devotion. What better emotional messages could you send your spouse? With one bouquet of beautiful blooms, you can show your attraction, admiration, devotion, and deep love without saying a word. When you want to take her breath away on Valentine's Day, choose one of these charming flower arrangement options:
One dozen red roses: As a classic romantic gesture, gifting her with a beautiful bouquet of one dozen red roses says "be mine forever" in a simple but chic way she won't be able to resist. If you really want to impress her, go beyond delivering a bunch of dry stems. When you order Ode à la Rose's Dozen Red Roses Bouquet, for example, you receive a stunning hand-placed arrangement of twelve fresh, luscious roses tied in raffia and delivered in a crystal clear glass vase — complete with water to keep them colorful and fresh for days after delivery. A dozen roses is an ideal arrangement if you know your wife likes things simple or if your marriage is new.
Two dozen red roses: As a step above a bouquet of a dozen red roses, a bouquet of two dozen is an even more meaningful and romantic gesture than twelve roses — but it's still simple and classy. With 24 red roses, you can say "you're always on my mind" and "I'll always love you" to your wife. Give her the gift of our classic Two Dozen Red Rose Bouquet for a Valentine's Day gift she won't forget. This grander gesture is perfect for a long marriage or when you want to reinforce your feelings without a doubt.
[slide-anything id='1831′]
Red mixed roses: If you're looking for some variety in your Valentine's Day gift or you're not sure your wife would want only red roses, spice up your Valentine's floral gift with a mixed bouquet of red and another color. Here at Ode à la Rose, we offer beautiful multicolored rose bouquet in arrangements of 12, 18, 24, 30, or 36 to suit your preferences. If you know your wife loves a little feminine touch, show her some sweet romance with a Red and Pink Rose Bouquet — the perfect colors for Valentine's Day. If she has simpler tastes and appreciates a classic aesthetic, surprise her with a chic, lighthearted Red and White Rose Bouquet.
100 red roses: When a grand, breathtaking romantic gesture is what you're aiming for, nothing will touch her heart, take her breath away, and express your neverending love like a stunning bouquet of 100 fresh red roses. As the ultimate symbol of undying devotion, passion, and romance, a 100-rose bouquet will be the most memorable Valentine's Day gift she's ever received. Make your romantic flower arrangement even more special by choosing our Red Amour bouquet, complete with 100 perfectly placed blooms, hand-tied with raffia, and delivered in a gorgeous glass vase wrapped in tissue paper.
Garden roses: For a woman with a modern sensibility, a bouquet of enchanting garden roses is just the thing. Charming and unusual, a mixed bouquet of garden roses shows her how unique she is, melting her heart and lifting her spirits. Our Juliet Bouquet, a refreshing combination of garden, spray and standard roses in pink, peach, and ivory, is available in arrangements of 12, 24, or 36. The Juliet roses have a rare scent and the greenery brings a brightness that will show your wife just how special she is.
Valentine's Day Flowers for Your Girlfriend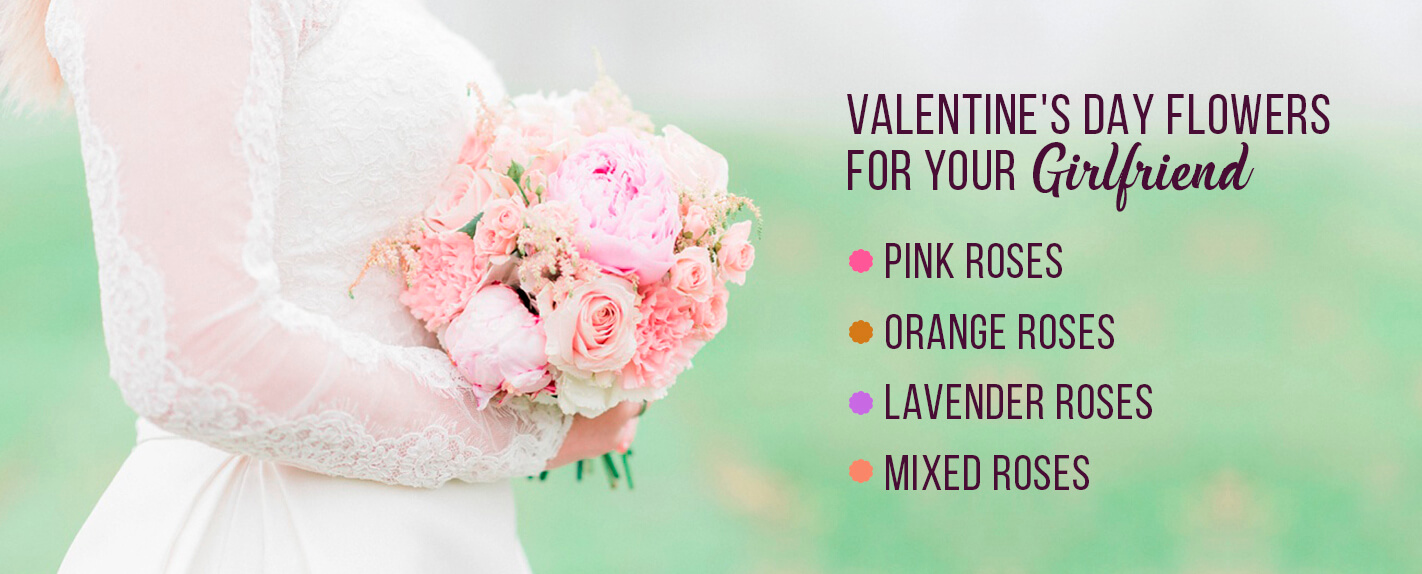 Even when you haven't tied the knot yet, you want to give your significant other something meaningful to show her how special she is on Valentine's Day. Whether you're looking for Valentine's Day flowers for a new girlfriend or someone you've shared a relationship with for years, roses are a sweet and simple but elegant and classy way to express your affection, confess your love, or remind her how much she means. Not sure what kind of flowers to give as a gift to your girlfriend? When it comes to a bouquet on Valentine's Day, you have a variety of beautiful color options to choose from. Try one of these classy bouquet shades:
Pink roses: Sweet, soft, and gentle, a bouquet of pink roses is perfect for expressing equally gentle emotions. This color of rose usually conveys feelings like sweetness, joy, elegance, and admiration. For new relationships with a fluttering of new feelings or long-lasting relationships where you feel the sweetest but strongest love, our Pink Rose Bouquets of two dozen blooms are a perfect choice. With a sweet raffia-tied finish in water, this charming bouquet will show her your heart is hers. You can also choose arrangements of 12, 18, 30, or 36 roses according to what you feel is appropriate. Choose pink roses for someone with a personality as sweet as these delicate blooms.
Orange roses: Like red roses, orange or golden roses are used to signify a strong sense of passion and emotional energy — like a blaze of fire. In addition to their intense expression of desire and passion, gold or orange roses express fascination, infatuation, and fervor in a romantic pursuit. For this reason, orange roses are an ideal choice for someone you've recently started seeing, someone you're confessing your love to, or someone you're still pursuing. They're also a perfect match for a woman with a fiery, strong personality. If this sounds like what you're looking for, our multi-toned Gold Roses are a dazzling fit. With yellow centers and red edges that come together to make blazing golden blooms, this bouquet will be a beautiful choice for Valentine's Day.

Lavender roses: When you want something sweet and soft but more unique and enchanting than a simple pink, why not send an ethereal bouquet of beautiful lavender blooms to the woman you love? Light purple is a color choice with a refreshing, elegant, unobtrusive touch — and it's also symbolic of love at first sight. When you feel the same way now as you did the moment you laid eyes on her, a lavender bouquet is a lovely way to let her know this Valentine's Day. Express your adoration, fascination, and enchantment with our Purple Rose Bouquet in your choice of 12, 18, 24, 30, or 36 blooms.
Mixed roses: If you can't decide on one shade, a bouquet of mixed colors is a meaningful and classy choice. With an array of bright or subdued colors in your preferred combinations, a mixed bouquet can express a variety of emotions and sentiments all in one arrangement. For example, a Pink and White Rose Bouquet can express love and pure intentions at once, while a Red and Pink Rose Bouquet combines passion and adoration. An Assorted Rose Bouquet offers the most variety of all with a bright mix of red, yellow, pink, lavender, gold, and white in an assortment of 12, 18, 24, 30, or 36. Brighten her Valentine's Day with a bouquet of mixed roses.
Valentine's Day Flowers for Your Mom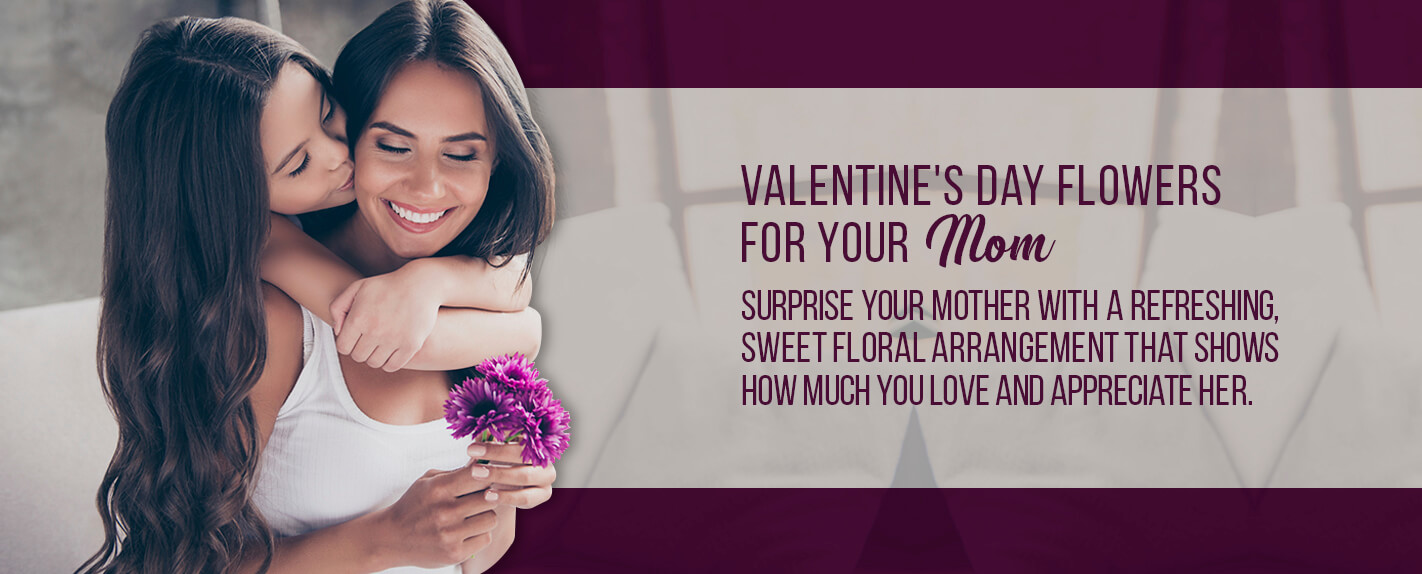 On a day dedicated to expressing love to the people that matter most in your life, what could be more important than remembering to send your love to the first woman you ever loved? Valentine's Day is about more than romance, and we know nothing would be more meaningful to your mom on February 14th than receiving a beautiful bouquet from you. Flowers can mean more than romance, too — in fact, they can express every kind of love and amicable emotion. This Valentine's Day, surprise your mother with a refreshing, sweet floral arrangement that shows how much you love and appreciate her. These beautiful blooms are perfect for moms:
Assorted flowers and roses: Combining a variety of colors and emotions in a refreshing assortment of natural blooms, assorted flowers are a lighthearted but sweet choice to show your mom how special she is. Our Felice assortment features lisianthus, veronica, alstroemerias, and mondial roses in soft shades complemented with fresh Eucalyptus greenery — complete with a keepsake vase. Your mom will love this breath of fresh air as a gift.
Multi-colored roses: You could never sum up your love for your mother in just one word — so you don't have to do it in just one color. When you want to surprise her with a bright, beautiful bouquet on Valentine's Day, our Assorted Rose Bouquet is an elegant, exuberant choice that will lift her spirits. Send her a heartfelt, lighthearted gift with a presentation she'll remember. This bouquet is brimming with life and lush color.
Orange roses: Another appropriate floral option for your mom is a bouquet of sunny orange roses. With bright petals and blooming buds, the orange rose is known not for romance, but for friendship and deep platonic caring. Shower your mom with affection and brighten her spirits with our exuberant Orange Rose Bouquet in your choice of 12, 24, or 36 stems. She'll feel the joy and warmth exuding from the blooms.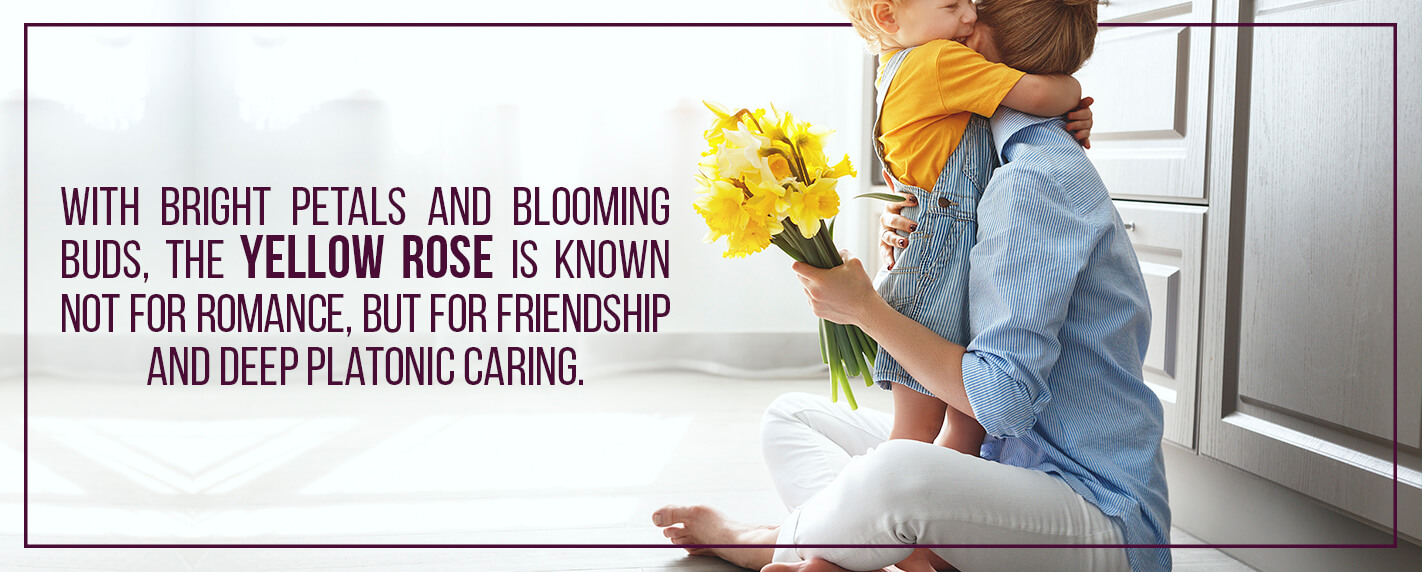 White roses: While they're sometimes reserved for bridal bouquets or sympathy, white roses are also a beautiful bouquet choice for your mom because they represent innocence and purity — like your childhood. In addition, these pale, elegant blooms exude a degree of softness and sophistication perfect for a mom's personality. When you order our lovely White Rose Bouquet, the flowers will fully open over time, giving her time to watch them bloom like she did with you.
Mixed arrangement: For a grander gesture, give your mom a large bouquet that shows her how much you appreciate everything she's done for you — including how much patience she's shown you. Our white Chloe Bouquet combines white roses and Queen Anne's Lace with eucalyptus in a large cylinder vase for an elegant and sophisticated arrangement. Send your mom a special gift this Valentine's Day.
Valentine's Day Flowers for Your Daughter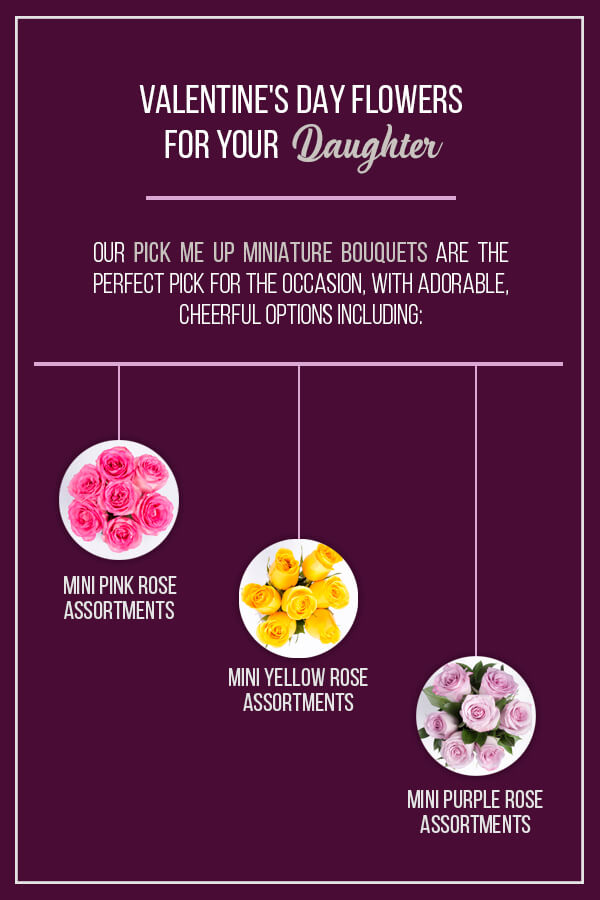 Flowers are a given Valentine's Day idea for your wife or significant other, but what about the little girl who lights up your life? From the day she was born, you've loved your daughter more than anyone else in the world. As she gets older, she might not be as excited about the chocolates and candies she used to get on February 14th, so why not show her how much you care with something special — like an elegant but cheerful bouquet of beautiful blooms? Be her first floral arrangement experience this Valentine's Day. Our Pick Me Up miniature bouquets are the perfect pick for the occasion, with adorable, cheerful options including:
Mini pink rose assortments: Show your daughter how happy she makes you and how grateful you are to have her in your life by offering her a sweet bouquet of pink blooms. Conveying sweetness and admiration, pink roses also convey appreciation, gratitude, and joy — perfect for a daughter. Our Petite Brigitte bouquet features seven sweet pink roses in a stylish mason jar vase, so it's just the right size for that special little girl in your life.
Mini orange rose assortments: If your daughter isn't into pink, a small bouquet of orange roses makes an equally graceful and elegant gift — with a little extra sun. Express the warmth and caring you feel for your daughter with our bright Petite Lolita bouquet. This baby bouquet of cheerful roses will brighten her day and make her feel as special as she is when she gets her first glimpse of them on Valentine's Day.
Mini white rose assortments: For a more mature daughter or a girl with simpler tastes, try lovely white roses. Subtle and sophisticated, white roses offer a gentle reminder of love and an air of fascination — perfect to symbolize the enchantment you felt when you first held your daughter in your arms. Now that she's grown, give her the Valentine's gift of our Petite Josephine flowers and watch her light up.
Valentine's Day Flowers for Your Best Friend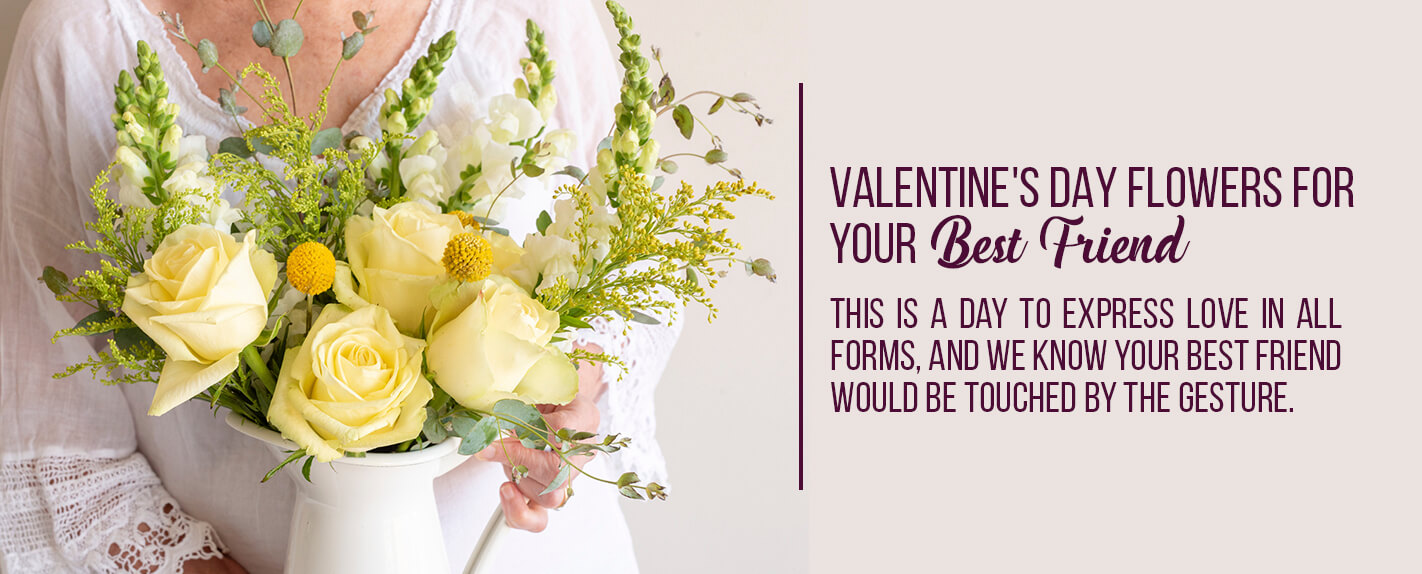 With all the romance in the air, you might not think of Valentine's Day as the perfect time to send your best friend a reminder of how special she is — but this is a day to express love in all forms, and we know your best friend would be touched by the gesture. Whether you don't have a special someone this year or you just want to show your best friend some love and a reminder of her place in your life, here are the perfect Valentine's Day flowers for friends:
Yellow roses: As the universal sign of friendship, yellow roses are perfect for the friend who's always there for you. Offer her all the warmth, caring, and platonic love in your heart with a hand-tied Yellow Rose Bouquet this Valentine's Day. Even though they're not romantic flowers, your surprise gift will make your friend feel infinitely loved. These bright blooms are the perfect way to touch a heart.
Assorted roses: When you can't find the words or a single color to express how happy you are to have your best friend in your life, let an assortment of bright and beautiful blooms speak for you. Like all our bouquets, our Assorted Rose arrangement is hand-tied and delivered in a tasteful vase, but it combines the colors and cheer of every rose arrangement. Brighten your best friend's day with a joyful bouquet of purple and pink blooms this Valentine's Day.

Why Order Valentine's Day Roses From Ode à la Rose
Ready to send same-day or next-day Valentine's Day flowers to everyone you hold most dear? When you're looking for the highest degree of elegance and sophistication, Ode à la Rose is the place to go. As the premier flower source in your city, we offer more than any small, local shop or large-scale corporation. With a team of in-house, high-end floral designers and flower experts, we tend to every bloom and place every petal for the perfect blend of classic French floral style and chic sophistication.
Inspired by the classic French tradition of simple but chic floral arrangements that speak to the soul, we make every bouquet a work of art. Our high-quality flowers are sourced from the best farms in the world, and we use the most stringent control processes to ensure the freshest blooms in your arrangements. Each of our bouquets is hand-arranged and hand-tied by our talented in-house floral designers and delivered in water, complete with a keepsake vase, to ensure their lasting freshness.
When you order from Ode à la Rose, we give you more than the best quality of blooms in the most beautiful, unique arrangements — we deliver every original bouquet in our beautiful signature gift box. What could be more fitting for Valentine's Day? You can also customize your flower arrangement with special add-ons like a small or large French candle, a printed photo or personalized note, a set of six assorted macarons, dark chocolate, or your choice of vase for the flowers.
We offer same-day delivery for New York, Chicago, Philadelphia, Los Angeles, Washington DC, Austin, and Miami as well as next day flower delivery nationwide. Make this Valentine's Day one she'll always remember — order Ode à la Rose's Valentine's Day roses for that special woman in your life today, or reach out if you have any questions.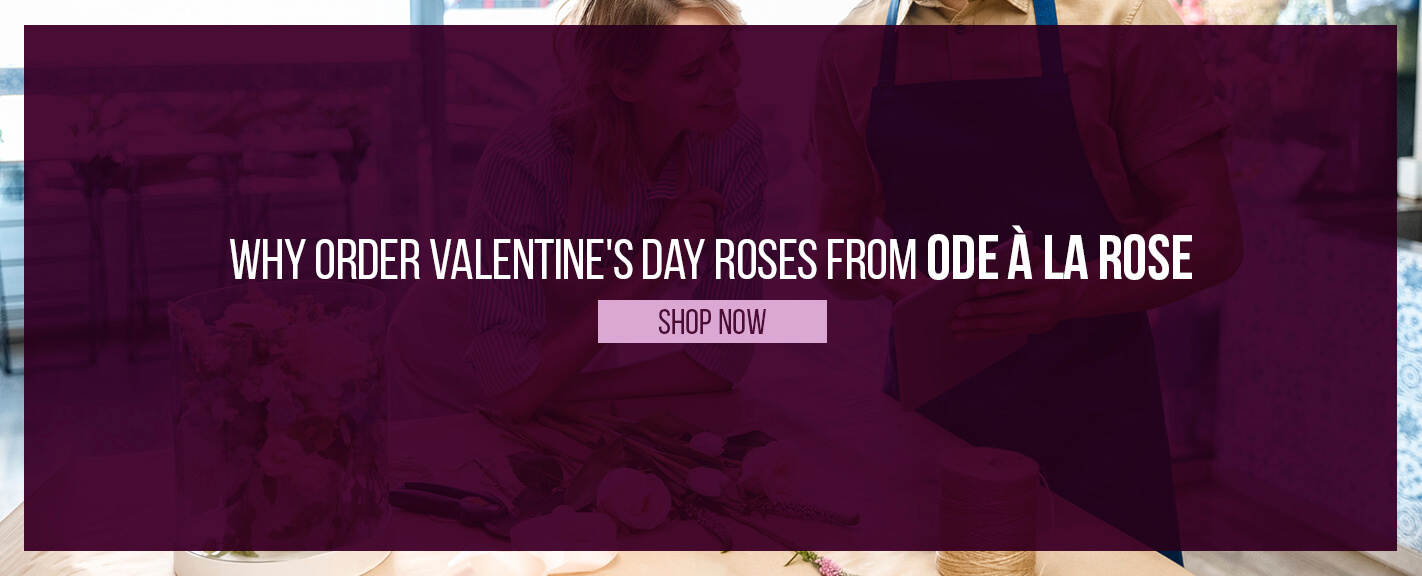 [slide-anything id="1840″]