Exchanging gifts is a popular Valentine's Day tradition — but have you ever wondered why? One sociologist suggests we exchange presents on Valentine's Day because early societies gave gifts to represent emotions and to communicate meaning, rather than as a commercial or financial transaction. Many couples give presents on Valentine's Day as a way to thank one another for another year of love and support. For other couples, Valentine's Day is an important milestone that calls for a celebration.
Related Posts:
No matter the reason you choose to exchange presents on Valentine's Day, it takes a little thought and preparation to find the perfect gift. In this guide, we'll provide some romantic gift-giving inspiration and a list of what men want for Valentine's Day.

What to Get Your Boyfriend for Valentine's Day
Whether you and your boyfriend have been together for years or you are embarking on a brand new relationship, the prospect of choosing the perfect Valentine's Day gift for him may be daunting — but don't worry. Whether you have a budding romance or longtime love, you have plenty of options:
For the Budding Romance
If your relationship is still in the beginning stages, Valentine's Day can come with a certain level of pressure to get it right the first time. The key is to refrain from overthinking. It is possible to give your new significant other a meaningful gift without putting too much pressure on yourself.
Here are a few simple Valentine's ideas for men:
Find a shared interest: Give your new boyfriend a gift that expresses your shared interests, like an album from a mutually loved band, a collector's set of his favorite television show, or a gift you can use outdoors together, like a canoe or camping tent.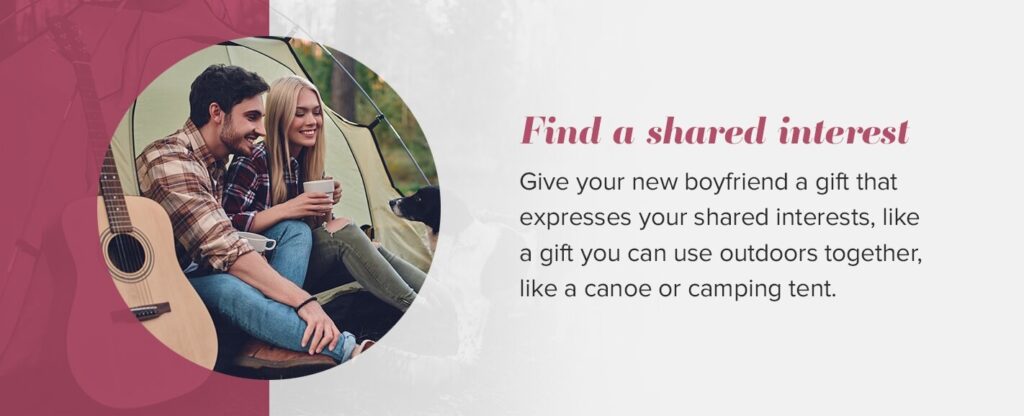 Make him laugh: For fun-loving couples, infuse your gift with a sense of humor. Choose a funny gift that represents an inside joke between the two of you, or look for a gag gift you know will make him laugh.
Fulfill a want or need: Still unsure what to get a new boyfriend for Valentine's Day? Show your new boyfriend you listen and care by giving him something he has mentioned wanting or needing in the past.
For the Longtime Love
Wondering what to get your serious boyfriend for Valentine's Day? For couples who have been together a while and know each other well, gift-giving is usually easier. You have had time to learn about one another's interests, hobbies, and values. There is also less pressure to get the perfect gift. For longtime relationships, choose a sentimental or meaningful gift that shows your partner you care about them and value your relationship.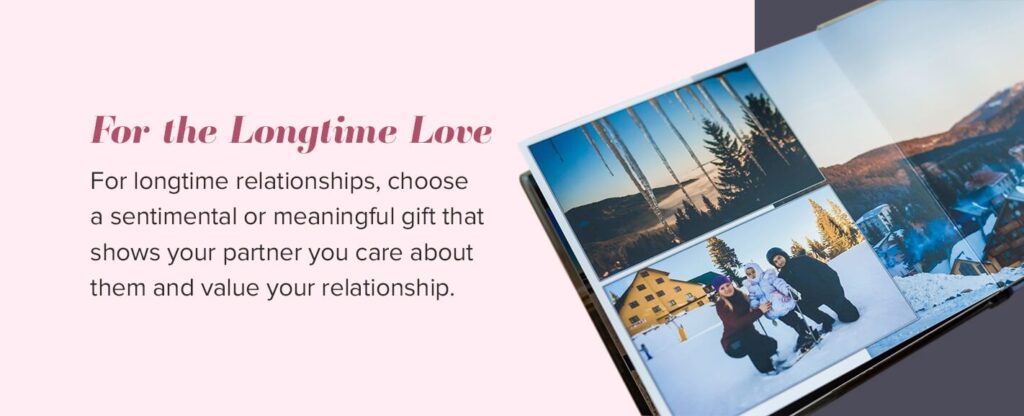 Some examples of sentimental gifts include:
What to Get Your Husband for Valentine's Day
Choosing what to get your husband for Valentine's Day can be a little tricky because you may have to work extra hard to surprise him. That being said, many people consider husbands easier and more fun to shop for than boyfriends because, at this point, you know a lot about each other's interests and tastes. These are some of the most popular Valentine's Day gifts for husbands:
Homemade Food and Baked Goods
You've probably heard the cliché: the way to a man's heart is through his stomach — test this theory on Valentine's Day with these delicious gift ideas:
Break out the mixer for some homemade baked goods, like cookies, brownies, cupcakes, or muffins.
Assemble an entire dinner spread comprised of all his favorite foods.
Try your hand at recreating the first meal you shared together.
Give him a gift basket full of his favorite chocolate and candies.
Order gourmet chocolates or chocolate-covered strawberries to enjoy together.
Prepare a new dish you and your husband have always wanted to try.
To make your edible gift even more meaningful, consider cooking or baking it together. Spending time together in the kitchen can strengthen your relationship, facilitate communication, and create lasting memories.
A Gift for Every Kind of Husband
What are your husband's hobbies, interests, and passions? Use these to guide your gift selection. Whether your husband is invested in his hobby or has only mentioned his interest in passing, here are a few gift ideas for every kind of husband: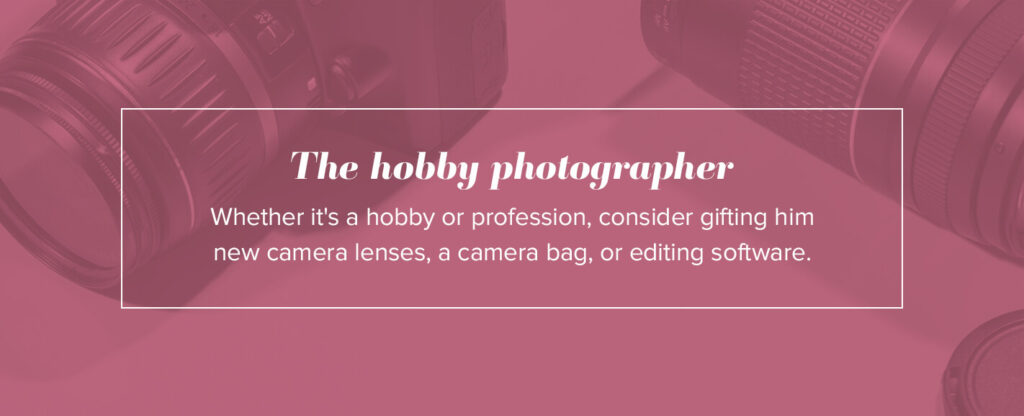 Still unsure which gift is best for your husband? Consider choosing something from a hobby you think he may enjoy. Who knows? He could end up developing a new interest or learning a new skill he would have never thought to try before.
Romantic Valentine's Day Gifts for Him
Romantic gifts come in all shapes and sizes. As you pick out the perfect gift for your significant other, keep in mind that what guys really want for Valentine's Day is to spend quality time with you.
Give the Gift of Experience
One of the most romantic Valentine's Day gifts for him is the gift of time spent together. Give your boyfriend or husband the gift of a new experience, like an event, class, or vacation. The memories created during these shared experiences will last you both a lifetime:
Attend an event: Get your significant other tickets to a one-of-a-kind attraction or event, like a concert tour, amusement park, sporting event, festival, or theater show.
Attend a class: Learning something new together is romantic and a great way to keep your relationship exciting. The most popular are couples cooking classes — which is a great choice for many couples — but there are many other types of classes you could consider. Art classes, like pottery and painting, are ideal for creative couples. For couples who love staying active, find a dance or fitness class. Research options available in your area and find something you and your partner can get excited about.
Take a tour: Schedule or organize a tour through a local winery, art museum, historic district, or filming location. When choosing a tour for your significant other, look for walking tours as well as less conventional tours, like helicopter rides, boat tours, and carriage rides.
Plan a trip: Why not go away for Valentine's Day this year? Plan a special trip or vacation for you and your significant other. You could explore a nearby city together or spend the weekend in a cozy bed and breakfast in the countryside. If your husband is outdoorsy, consider a camping trip or an overnight backpacking expedition.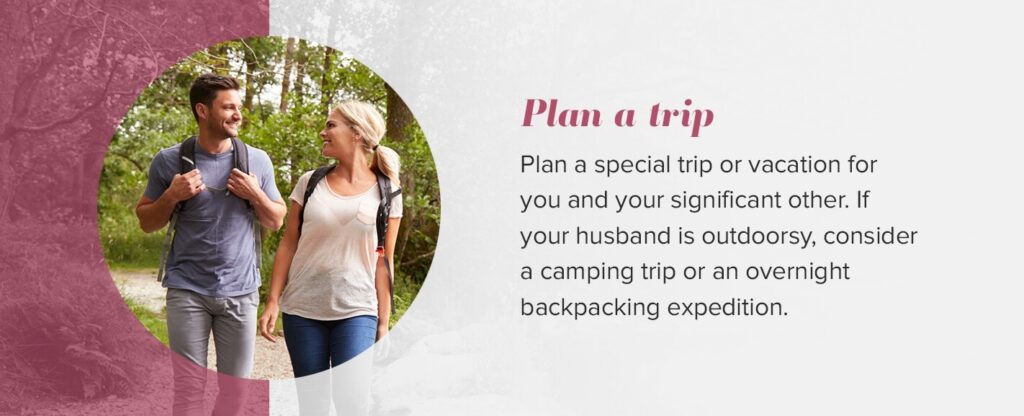 Plan an activity: Is your significant other a thrill seeker? Keep the adventurous spirit alive with bungee jumping, skydiving, snorkeling, or deep-sea diving. For a less intense activity, find local indoor trampoline parks or rock climbing walls.
Donate to an organization: This Valentine's Day, consider donating to your husband's favorite charity group, relief organization, or animal sanctuary. Giving to something your significant other cares about will show him you are equally invested in his passions and values, and it helps out those in need.
Physical Gifts That Never Go out of Style
Are you looking for more traditional Valentine's Day gifts for men? These classic gifting options never go out of style: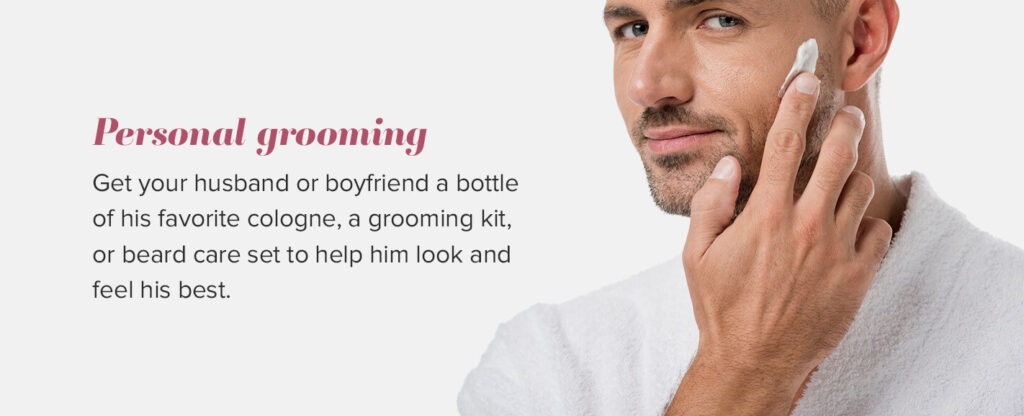 Comfort: Get your significant other something to keep him warm and comfortable on cold winter nights, like slippers, a robe, or a luxuriously soft throw blanket.
A monthly subscription box: Subscription boxes — like Dollar Shave Club, Loot Crate, and the Gentleman's Box — are the gifts that keep on giving all year long. Plus, there are so many different subscription boxes on the market today that you are sure to find one that suits your significant other's interests or hobbies.
Stylish accessories: Give the gift of style by picking out a wristwatch, pocket watch, or pair of cufflinks for your significant other.
What to Get Your Boy Crush for Valentine's Day
If you recently met someone new or developed a crush on a boy in your life, you might be wondering how to approach Valentine's Day. If you're not in a relationship with this person yet — but still want to acknowledge the occasion and express your interest in him — here are a few casual Valentine's Day gift ideas to help you send the right message:
Give a Valentine's Day card: Sometimes, the simplest gifts can be the most meaningful. Make your crush a handmade Valentine's Day card, or take the time to pick out the perfect one from the store. Inside, keep your message short and sweet. Consider delivering it to your crush with some homemade baked goods or his favorite candy.
Send a candy gram: If you don't want to deliver your crush's gift in person, consider having a candy gram delivered to his school or workplace.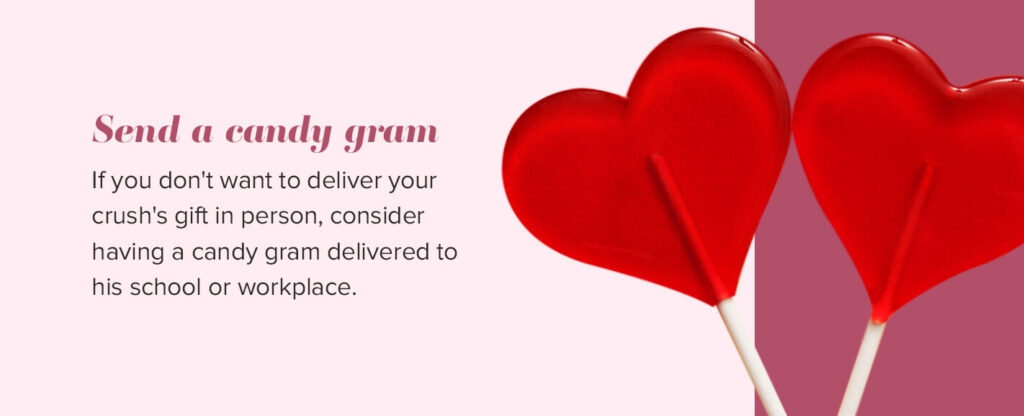 Make a playlist: Put together a playlist of your favorite music and songs you think your crush would enjoy and give it to him to listen to on Valentine's Day. This is a low-pressure way to tell your crush how you feel, and it lets them get to know a little bit more about you and your interests.
How to Plan the Ultimate Valentine's Day Date
What do guys want for Valentine's Day? Often, the perfect gift for your significant other is as simple as planning a romantic date for the two of you. After all, the reason so many couples enjoy Valentine's Day is because it is one occasion where you both set other responsibilities aside to spend time together.
For the ultimate Valentine's Day date, consider these tips:
Plan together or make it a surprise: If you're trying to surprise your husband or boyfriend with the perfect romantic Valentine's Day date, you are responsible for making all the decisions — just make sure he isn't planning a surprise date night for you, too. If you are not planning for the date to be a total surprise, sit down and plan your Valentine's Day agenda together, so you can incorporate a balance of what you both want to do.
Decide if you want to stay in or go out: Do you and your significant other want to spend Valentine's Day in the comfort of your own home, or out on the town for dinner and drinks?
Choose a theme or atmosphere you want to achieve: Choose whether you want your Valentine's Day to be upscale and elegant or more casual and low-key. This will help you decide which restaurant to book reservations at, which food to prepare, and how to set the scene for your evening.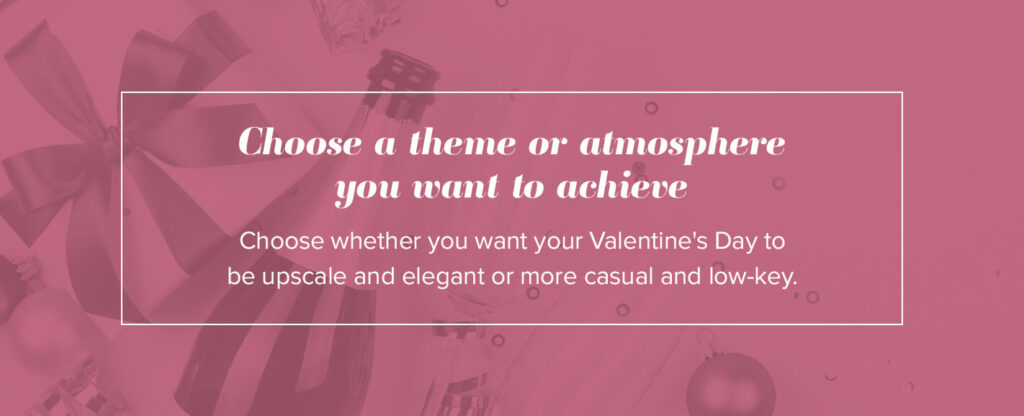 Don't be afraid to be unconventional: Valentine's Day is rich with romantic tradition, but that doesn't mean you can't make your own rules. Don't be afraid to be unconventional. For example, consider making your Valentine's Day a group outing with friends to your favorite hang out or spending the day volunteering with a local charity. There is also no reason you have to celebrate specifically on Valentine's Day — maybe you want to wait until the following weekend or until you two can sneak away for a relaxing vacation.
Have a Romantic Date at Home
Staying in is an excellent choice for couples who want to focus on having a romantic evening while still being comfortable and casual. Of course, it's entirely possible to have an upscale dinner date at home. However, you have more space and fewer distractions at home, so you can focus on spending time together rather than navigating traffic and the hustle and bustle of restaurants on Valentine's Day.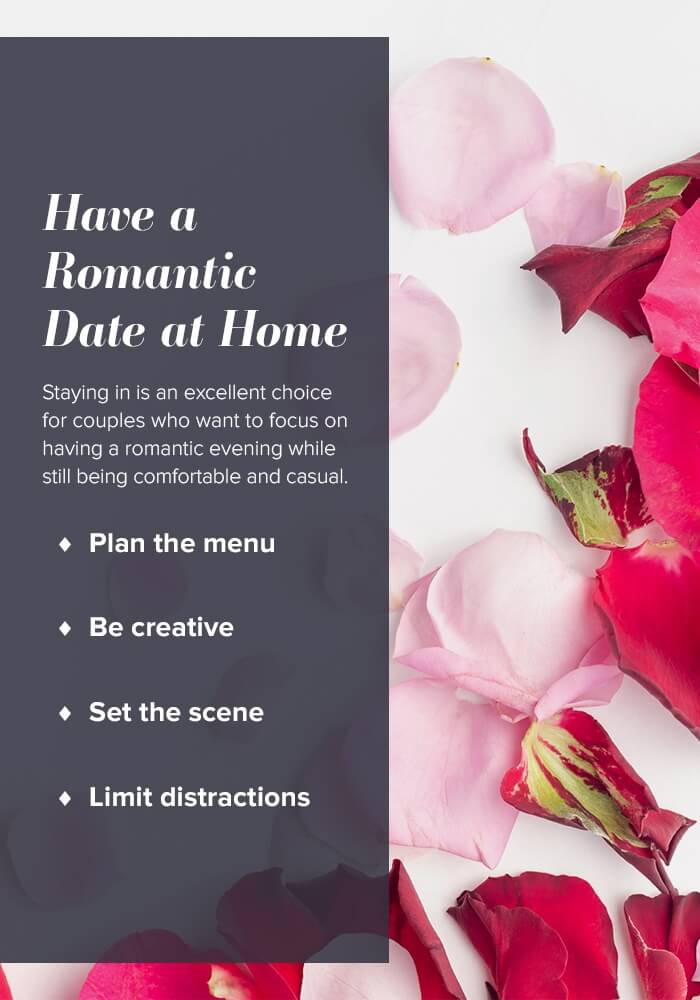 Plan the menu: Choose a menu that fits you and your significant other's idea of romance. For some, this could be a homemade French dinner made from scratch or homemade breakfast in bed. For others, this could be grabbing takeout or ordering a pizza for delivery. Whichever menu you choose, don't forget the dessert.
Be creative: Use Valentine's Day as an excuse to get creative. For example, turn your romantic evening into a movie marathon or board game night. Take dinner outdoors for al fresco dining by candlelight or an intimate picnic in your backyard.
Set the scene: Put on a playlist of your favorite songs, light some candles, or scatter fresh rose petals around your home for an ambient, romantic atmosphere.
Limit distractions: The key to a romantic evening at home is limiting anything that distracts you from spending time with one another. This means finding a sitter for your children or pets, silencing cell phones, and letting friends and family know you will be unavailable.
Enjoy a Night on the Town
Feeling adventurous? For a successful, stress-free Valentine's Day on the town, follow these tips:
Choose the right restaurant: The most important part of your Valentine's Day evening on the town is choosing the perfect restaurant. As you decide, consider any dietary restrictions or preferences, your budget, and the kind of ambiance you want to enjoy.
Make reservations: Once you've chosen a restaurant, don't forget to make reservations in advance. Valentine's Day is many restaurant's busiest day of the year, and tables can fill up quickly.
Plan other activities: Fill your itinerary with plenty of activities to do before and after dinner, such as a scenic drive, drinks at your favorite bar, shopping, or catching a movie or show.
Ode à la Rose Flowers Are the Perfect Finishing Touch
After you've chosen the perfect gift, planned the ideal dinner date, and made all the preparations for a romantic Valentine's Day, it's time for the perfect finishing touch. Choose a stunning bouquet for the centerpiece of your candlelight dinner at home or rose petals to create a romantic ambiance.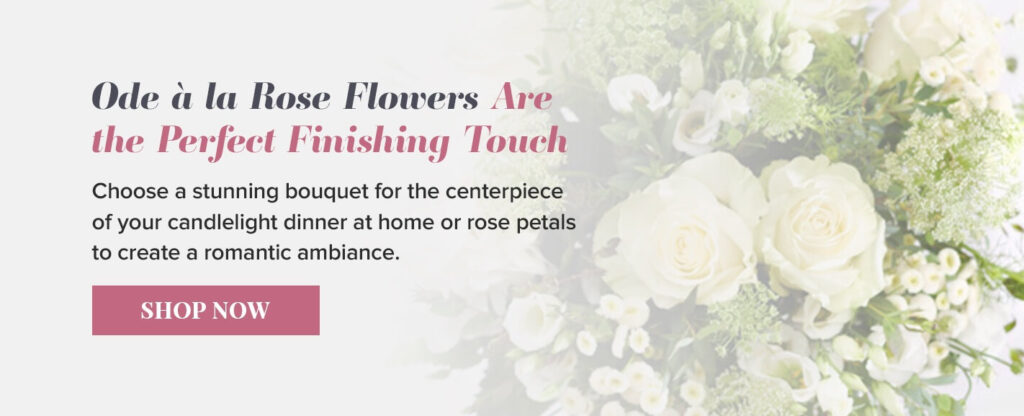 Ode à la Rose flowers are sourced directly from high-quality, eco-friendly farms and are a beautiful, classic Valentine's Day gift for everyone in your life.
We hand-deliver all of our elegant bouquets in our signature packaging, with hydrated stems to maintain the freshness and fragrance of our flowers. For a more personal touch, you can even upload a photo of you and your significant other to be delivered with your flowers at no additional cost.