Finding the perfect gift for Valentine's Day can seem like a challenge, but it's not impossible. If you live in Los Angeles, you're in luck! L.A. is full of some of the best gift options around. Whether you a looking for something sweet and simple or something big and extravagant, you are sure to find a gift that will impress your valentine. Check out this guide for 19 of the best Valentine's Day gifts that you can find in and around L.A. The one that you adore will be happy you did!
Related Posts: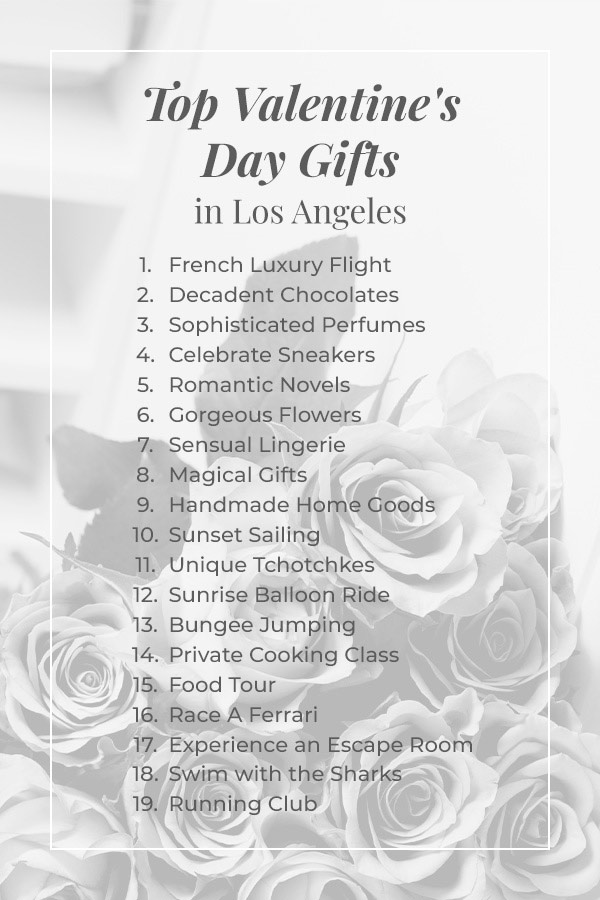 1. French Luxury Flight
Did you know that you can take flight in a French luxury airplane for Valentine's Day? That's right! You and your sweetheart can enjoy the gorgeous views of the Downtown L.A. skyscrapers, Dodger Stadium, and the famous Hollywood sign. Take in the sights of the coast from Malibu to Long Beach. You can also try your hand at flying if you so choose or you can relax while the instructor takes you on a fantastic flight over Los Angeles. If you and your valentine fancy sightseeing in a whole new way, this is the perfect gift.
2. Decadent Chocolates
Valentine's Day is definitely a day for gifting chocolates. It is also not the time to run to the nearest grocery store for something off the shelf. To gift chocolate, the right way for Valentine's Day, you should do it the way it's done in L.A. Los Angeles has the best locations for finding some of the most luxe chocolates in the area. You can find extraordinary varieties with inventive flavors of all kinds. You can even watch your chocolate being made fresh in some confectioner's shops, such as Compartes on La Brea, for superior quality. For the one that has the sweet tooth, you can't go wrong with chocolates from L.A.
3. Sophisticated Perfumes
If the one you love enjoys pleasant scents, a new bottle of perfume could be an excellent gifting choice for Valentine's Day. Los Angeles has no shortage of perfumiers featuring unique and sophisticated fragrances. Perfumes can be found in a variety of scents and essences at some of the most unique shops like Strange Invisible Perfumes in Venice and Capsule Parfumerie on Melrose Avenue. From the beautiful and delicate scents of floral botanicals to creations that feature essences of jasmine, sandalwood, black tea, or leather, you are sure to find a sensational scent for your Valentine.
4. Celebrate Sneakers
What do you get for a loved one who is absolutely obsessed over amazing sneakers, aside from another pair? Take them to 14,000 square feet of galleries and installations featuring nothing but the unique art and culture of sneakers at Sneakertopia. Not only will it give them the chance to learn new things about their favorite kicks, but they can also have the opportunity to customize their own pair if they so desire. You can also browse a variety of limited-edition merchandise for a truly unique gift that really suits them.
5. Romantic Novels
Valentine's Day is all about romance. If your special someone is a book lover, consider gifting them a book or two packed with romance and intrigue. To find something that your valentine will enjoy reading from beginning to end, take some time to visit The Ripped Bodice. It is the only West Coast book store that is dedicated to romance novels. Whether they like mysteries or comedies, The Ripped Bodice in Culver City will have a romantic novel for whatever they fancy. This is the perfect gift for a quiet night in or for when your sweetheart has some downtime to dive into a risque story.
6. Gorgeous Flowers
Flowers are another wonderful way to show your Valentine that you adore them. Why not send them a Preserved Rose Arrangement in a rose gold vase for something long-lasting and super chic.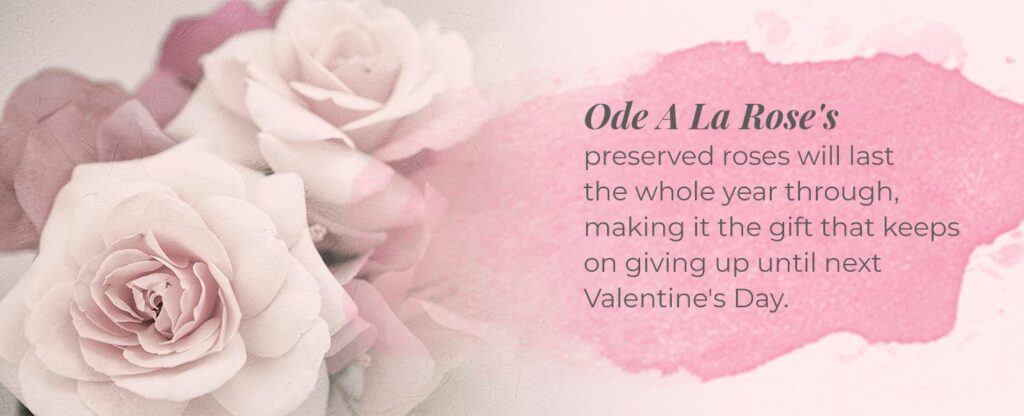 Ode á la Rose's preserved roses will last the whole year through, making it the gift that keeps on giving up until next Valentine's Day. Why stop at flowers? Make this Valentine's Day extra special for them by pampering them completely. You can also send along a scrumptious bar of French Dark Chocolate, a box of authentic French Macaroons, and a beautifully scented candle to set the mood for a romantic Valentine's Day in Los Angeles.
7. Sensual Lingerie
If your Valentine enjoys feeling sassy and seductive, lingerie just might be what the love doctor ordered. L.A. has an abundance of shops devoted to sweet and sexy lingerie options for sweethearts of all sizes. For your vintage-styled vixen, check out the selection of retro negligees including corsets, bullet bras, and seamed nylon stockings at What Katie Did in Burbank's Magnolia Park. If you feel like you and your partner could do with something a little more scandalous, consider taking a visit to Agent Provocateur on Rodeo Drive and Melrose Avenue. Full of leather paddles, rose gold cuffs, and lacy bras, you will find something for a night of love.
8. Magical Gifts
When the one you adore has a magical side, give them some magical metaphysical presents for Valentine's Day. Offering a wide range of candles, crystals, incense, and more, House of Intuition in North Hollywood has everything your valentine could desire. Get them a new tarot or oracle deck, or gift them something to inspire self-love or help them overcome obstacles. From apothecary products to jewelry, you will find the ideal gift for that magical muse of yours. Visit this metaphysical mecca in Los Angeles and cast a spell on your mate for Valentine's Day that they will love.
9. Handmade Home Goods
Surprise your valentine with unique, handmade home decor and accessories. One of the best things about The Little Market at Palisades Village is that they fill their shop with products that support women artists all over the world. Offering a wide range of products including jewelry, woven bags, sugar scrubs, bath bombs, and more there is something to help make the one you admire most feel special.  For some of the best bohemian-modern Valentine's Day gifts in Los Angeles, you can't go wrong with visiting The Little Market. You can also explore the handmade candles and other handmade home goods at General Store in Venice.
10. Sunset Sailing
If the idea of taking your valentine on a romantic sail at sunset, you have found the perfect gift. Set sail on one of L.A.s official tall ships and enjoy an exquisite dinner cruise at the Port of Los Angeles. Lasting a couple of hours, you and your sweetheart can indulge in a sumptuous three-course dinner complete with a sparkling toast on the beautiful waters at sunset. Not only that, but the experience is also BYOB, so you can partake in any beverage you each desire. You will also receive a nautical keepsake gift so you can both remember such an amazing night for years to come.
11. Unique Tchotchkes
When traditional gifts just won't due because your valentine loves all things quirky and pop-cultured, Los Angeles has gift options for you. Soap Plant + Wacko on Hollywood Boulevard offers the perfect selection of gifts for those who can't get enough of pop culture collectibles, curiosities, and other unique items. You can find socks, stationery, candles, and more that are boasting with weird uniqueness. Spitfire Girl in Los Feliz also offers a variety of interesting gifts including illustrated glass holders, wood greeting cards, cheeky tea towels, and more.
12. Sunrise Balloon Ride
Enjoy the sunrise of Los Angeles by taking a hot air balloon ride. Your valentine can enjoy the beautiful sights of the mountain sunrise as your experienced pilot floats you over rows of lush vineyards and red-tiled roofs of posh country estates and amazing ranches. Once you land, you will be treated to a sweet champagne toast to celebrate the love you share and the time you spent together gliding amongst the clouds.  For a unique way to spend Valentine's Day, there is perhaps no better than to enjoy the beauty of Southern California in a colorful hot air balloon.
13. Bungee Jumping
Sometimes people just like the feeling of adrenaline as it rushes through their bodies. If that sounds like you and your loved one, treat them to an adventure they will never forget with a bungee jumping package. Spend Valentine's Day together by going for a scenic five-mile hike winding through Angeles National Forest. Then, relax for a short while before participating in some lessons on proper bungee jumping techniques and safety. After that, you will have the chance to bungee jump from a bridge that stands 10 stories above a raging river. To get the blood pumping for your valentine, bungee jumping is the way to go.
14. Private Cooking Class
If you would like to plan a Valentine's Day Gift in L.A. that is intimate and best suited for a night in, then your sweetheart may enjoy a private virtual cooking lesson. Enjoy a bottle of wine as you take part in a video meeting via Skype with chefs from chefs all over the world including Spain, Japan, Italy, Hungary, and more. Learn how to make delicious and authentic meals such as Paella, Jambalaya, or Bolognese Sauce without leaving the comfort of your home. All of the sessions are one-on-one and include a complimentary kitchen prep session to help you get prepared for the cooking experience ahead.
15. Food Tour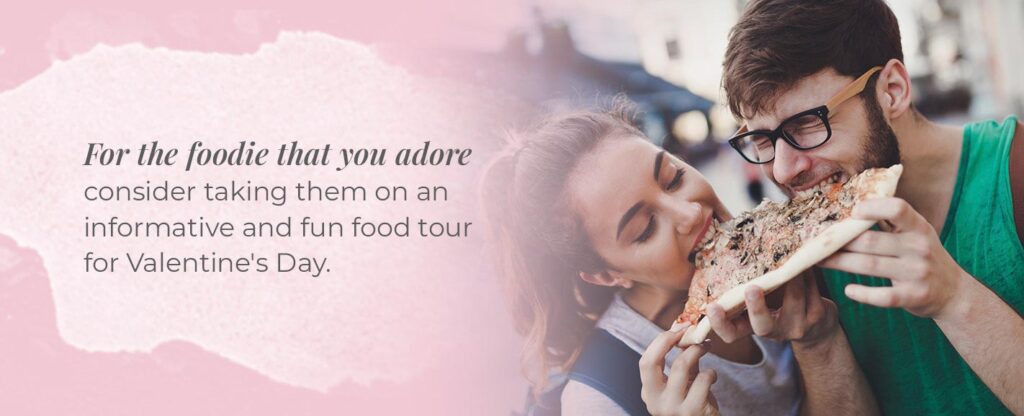 For the foodie that you adore, consider taking them on an informative and fun food tour for Valentine's Day. Discover history, stories, and anecdotes as a tour guide leads you through L.A. to some of the best-kept food spots around. Learn about the film industry as you taste the exciting flavors of six of the most unique food establishments such as The Nickel Diner, Berlin Currywurst, Horse Theif BBQ, and more. You will experience Downtown Los Angeles in a way you never have before while finding some new favorite places to eat in the process.
16. Race A Ferrari
Yes, you read that correctly. You can actually give the gift of racing a Ferrari to your special someone for Valentine's Day. Your day at the race track will begin with a short class directed by a professional instructor where you will learn safety tips, driving techniques, and more to prepare you for getting behind the wheel. Once the class is finished you will them get suited up, complete with helmet, and head on out to the track. Brace yourself behind the driver's seat of a Ferrari 488 GTB for the driving experience of a lifetime as your instructor gives you real-time feedback and tips on how to perfect your driving skills.
17. Experience an Escape Room
If you and your lover are great at sleuthing, give them the gift of an Escape Room experience. Work together you find clues, solve riddles, and escape the themed room before the time runs out. You will have tons of fun trying to uncover the mysteries of any room you are in. Los Angeles has a lot of escape room options to choose from, all ranging in various difficulty levels and time frames. There are also options available for online escape rooms if you would prefer to do them virtually from home. Whether you want to feel like you are a part of the Mafia or a member of CSI, you will get to try your hand at solving intriguing mysteries.
18. Swim with the Sharks
For the one that loves the sea and its magnificent inhabitants, this could be the ideal Valentine's Day gift. Take a five-day trip and experience what it is like to swim underwater with glorious Great White Sharks. You will be accompanied by experienced Great White crews that will ensure your safety at all times. Dive down and hang around with the sharks inside a cage that will allow you to get up close to the wonderous sharks. In the off time, you will enjoy a private room complete with a hot tub and wifi for ultimate comfort while on the sea. It will surely be an experience the two of you will never forget.
19. Running Club
Is your valentine a fitness nut? Help them improve their running skills with a year-long running club membership. They will have the chance to enjoy over 50 running videos, as well as weekly Pilates and Yoga Classes. They will also learn how to avoid injuries and improve their running overall. Not only that but your mate can be a part of a community that shares the same passion for fitness as they do. Treat them to a membership for the running club this Valentine's Day and help fuel their passion.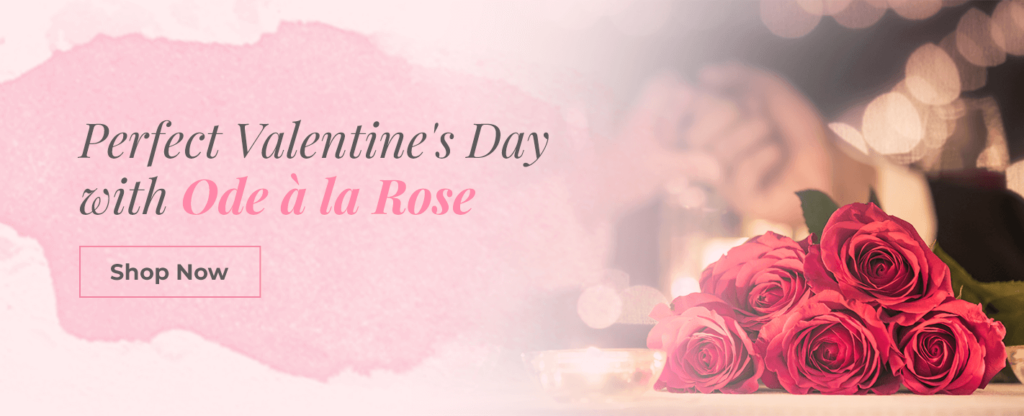 Perfect Valentine's Day with Ode à la Rose
Valentine's Day is brimming with romantic gestures everywhere you look. Treat your valentine to unique bouquets of flowers from Ode à la Rose. We pride ourselves in offering only the most chic and unique bouquets in the area. Our bouquet selections include up to 100 roses in romantic colors such as pink, white, and red. They are sourced from high-quality and eco-friendly farms all around the world, ensuring only superior arrangements for our customers. Add a touching message or send along some luxe dark chocolate, macaroons, or even a candle to make your gift complete. Contact us at Ode à la Rose today to find the perfect gift this Valentine's Day.