Valentine's Day in New York City is romantic and full of so many fun possibilities. With so much to do to treat your loved one on this holiday, it's hard to decide how to celebrate. When you're looking for affordable Valentine's Day gifts, especially in the city, the choice gets even trickier.
Related Posts:
Don't pass on an exciting day out or a romantic evening to celebrate this holiday of love just because of sticker shock. You can find plenty to do in the city that doesn't break the bank or compromise on romance. Dive into the list below for 10 amazing NYC Valentine's Day gifts for $100 or under.
1. Relax With a Spa Treatment at Body by Brooklyn
Give your valentine the gift of relaxation with a body treatment from the Body by Brooklyn spa and lounge. Book a 30-minute Swedish massage to help your loved one unwind for under $100. These affordable Valentine's Day gifts are the perfect way to acknowledge how hard your partner works. As a bonus, this luxurious spa has its own martini bar.
2. Enjoy an Evening at The Red Hook Winery's Tasting Room
Nothing inspires feelings of romance like a glass of wine. Add a stop to The Red Hook Winery to your NYC-local Valentine's Day ideas. The winery offers a variety-filled tasting menu that any wine lover will enjoy. A small group tasting for two costs $25 per guest, plus tax and gratuity.
3. Shop for a Gift From Erica Weiner's Jewelry Collection
Erica Weiner has two stores in New York City — one in Brooklyn and one in Nolita — and a wide selection of unique vintage and contemporary jewelry. Not everything in the store is under $100, but you can still peruse plenty of ring, earring, bracelet, and necklace options. It never hurts to give a gift with a little sparkle and shine.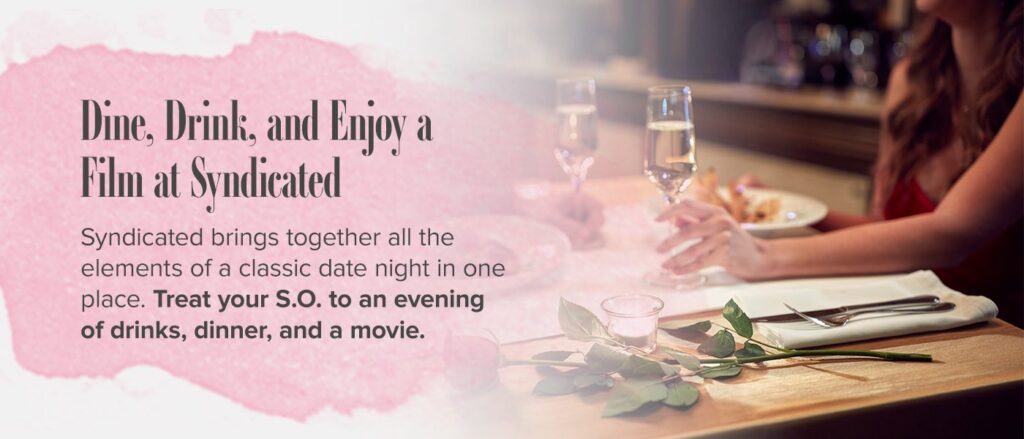 4. Dine, Drink, and Enjoy a Film at Syndicated
Syndicated brings together all the elements of a classic date night in one place. Treat your S.O. to an evening of drinks, dinner, and a movie. The fully stocked bar and kitchen offer various cocktails and tasty dishes that you can enjoy during screenings of classic and modern movies.
5. Sample Local Treats From Farm to People
If you and your valentine don't feel like dining out for the holiday, get cooking at home with help from Farm to People. Farm to People sources small-batch, artisanal foods from New York and other nearby states. The company's Farm Boxes range in size and theme, with many options to please even the pickiest partner. Select a Cook's Box, which costs just under $50, for everything you need to make a romantic meal for two, including recipe ideas and cooking tips.
6. Gift Perfume From CB I Hate Perfume
If your partner scorns the traditional, this off-the-beaten-path shop should be at the top of your shopping list. It may seem odd that a perfumery bears the name "I Hate Perfume," but the animus is directed at mainstream scents that are too often alike. Shop CB I Hate Perfume for more creative fragrances that will give your partner a unique scent to wear. The perfumery's 30-milliliter water perfumes start at $58.
7. Treat Your Sweetie With Something From Aigner Chocolates
Valentine's Day is about love, but more importantly, it's about chocolate. Aigner Chocolates' selection of fresh chocolate has something for everyone, from truffles and cordials to bars, barks, and plenty more. Most of the sweets treats at Aigner Chocolates make the perfect Valentine's Day gifts under $100. A pound of their artisanal-flavored truffles or bark starts at $36, but you're sure to want to mix and match to create the perfect chocolate gift for your sweetheart.
8. Dance the Night Away in Manhattan
Die-hard romantics will fall head over heels for this gift. Buy an evening of couple's tango lessons for $80 from CourseHorse. The two-hour class is held at Strictly Tango NYC in Manhattan. You and your sweetheart are sure to steal the show next time you're out on the dance floor.
9. Eat a Whole Lot of Dessert on a Tour of the City
Need more NYC-local Valentine's Day ideas that satisfy your sweetheart's sweet tooth? Check out tours offered through Get Your Guide that take you around the city to different dining spots. Sample unique, trendy creations on the donut tour, which starts at $40 per person, or indulge in the cupcake tour for $50 per person.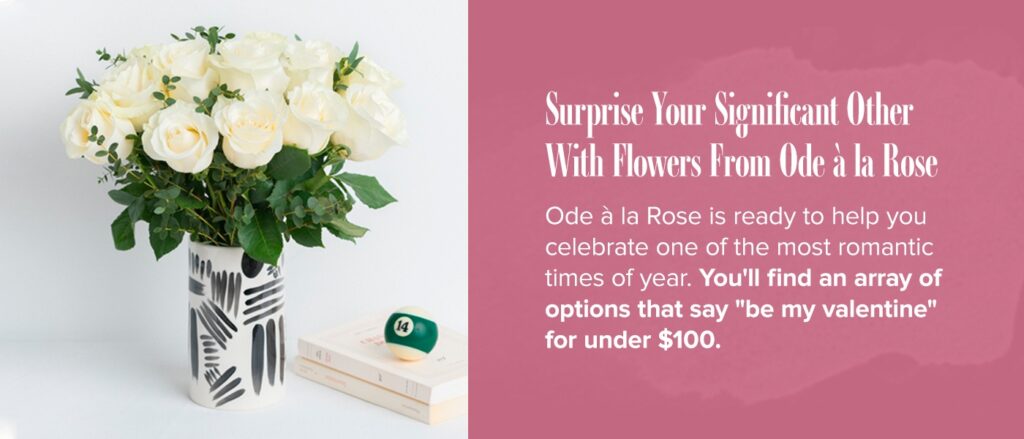 10. Surprise Your Significant Other With Flowers From Ode à la Rose
If you've been searching for NYC Valentine's Day gifts, search no longer. Nothing makes this holiday of love more romantic than a beautiful bouquet of flowers. Ode à la Rose is ready to help you celebrate one of the most romantic times of year. You'll find an array of options that say "be my valentine" for under $100. We create more than bouquets — our floral arrangements are works of art that range from sweet and simple displays to grand gestures of your love.
Shop our Valentine's Day floral arrangements to find the perfect one for your partner this holiday.