What Are the Most Romantic Flowers?
Flowers aren't always given as a romantic expression of love. On the contrary, floral arrangements are appropriate for birthdays, Mother's Day, bridal showers, and graduations. They can serve as a powerful expression of sympathy for a family that has just lost a loved one, or as a celebratory gesture for a couple welcoming a new baby.
Still, despite the many flower-friendly occasions, floral bouquets are still associated most strongly with love and romance. But what is the most romantic flower? What flower should you give to remind a close friend or family member how much you love them, or express your feelings for them? Discover floral arrangement options from Ode à la Rose so you can send romantic flowers to your loved ones.
Roses
Virtually no conversation about romantic flowers will ever start with anything other than roses. The rose has a long association with love, dating back to ancient Greek and Roman times. Roses were associated with both Aphrodite and Venus — each a goddess of love. Ever since, the sophisticated, beautiful blooms of the rose have been linked with romance, attraction, passion, and love.
The red rose is the most iconic flower for its associations with love, but white, pink, and even orange roses are often given to express loving feelings like admiration, desire, and enchantment. Long-stemmed roses are a classic for a reason, and any variety of colors can depict your deep affection through a poetic gesture.
Carnations
Although the rose is the most famously romantic flower, it certainly isn't the only one that can convey your feelings. Carnations are a cuter, less serious, and less expensive romantic gesture than roses. Carnations symbolize fascination and love, and they are an appropriate gift for your first date with a romantic partner or a more casual romantic occasion.
White carnations are among the most popular choices to symbolize new beginnings. Light pink and red blooms can portray your adoration or admiration for a significant other. These carnations are a softer way to say "I love you," and many new couples can show their feelings with these arrangements.
Tulips
Tulips are symbolic of spring, but they also have a long association with love. According to Turkish legend, the first red tulip sprung up after a Turkish prince rode his horse over the brink of a cliff, so heartbroken over the loss of his lover that he felt he could no longer live.
Like many other flowers, tulips come in an array of colors, and each has a different meaning. Yellow tulips symbolize happiness, while pink tulips embody confidence and positivity. White tulips can be a gesture of apology and a loving way to say sorry to your partner. No matter which you choose, rest assured knowing you're expressing your devoted love with a magnificent array of vibrant colors.
Tulips can express your passionate love or convey your joy. Either way, a bouquet of tulips is a fitting romantic gift.
Peonies
The fragrant peony gets its name from Paeon, a student of the Greek god of healing and medicine. Stories detail Paeon healing Zeus with one of these delicate blooms, leading him to become the healer of the gods. When Paeon went to meet his end, Zeus turned him into the very same bloom, and we now know peonies have medicinal properties. They can ease chest pain, prevent blood clotting, and act as an antioxidant.
Peonies have a sweet fragrance that makes them hard to miss. Choosing an arrangement of peonies can show your deep love and romantic feelings for your significant other. These flowers are a common choice among brides-to-be and are considered a positive omen for a happy marriage.
Orchids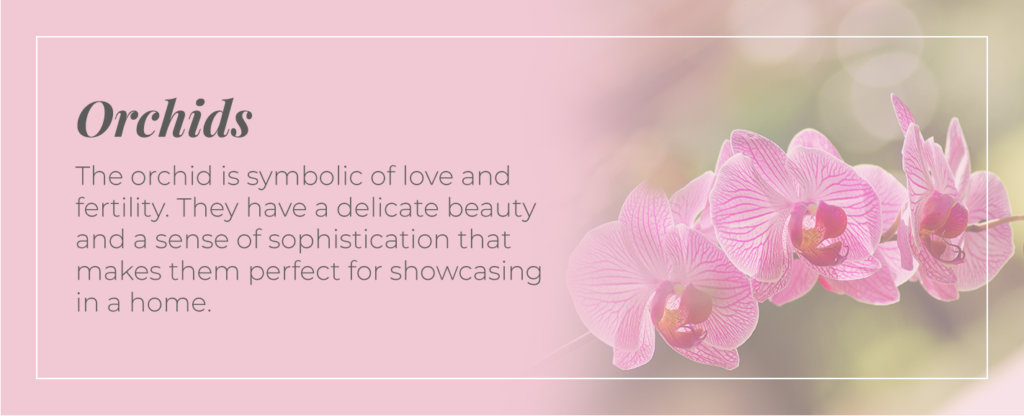 How about orchids — flowers that, after roses, are among the most common floral gifts among lovers? The orchid is symbolic of love and fertility. They have a delicate beauty and a sense of sophistication that makes them perfect for showcasing in a home. If you want to express to someone in your life how stunning you find them to be, a romantic flower bouquet that incorporates orchids would be a fitting gift.
These blooms can typically last longer than other flowers, making them the perfect way to keep your loved one thinking of you for days to come. You can select a bouquet of fresh-cut orchids or send a potted orchid to your loved one so they can enjoy their flowers for longer.
One of the most popular varieties, pink orchids have a playfulness to them that makes them excellent for celebrating new love. White orchids bring traces of spirituality, purity, and elegance, and they're especially popular for weddings and engagements. Other orchid colors you might encounter include green, yellow, and purple.
Dahlias
Dahlias gained popularity in the Victorian era as symbols of love and devotion and were popular for wedding celebrations. Today, Dahlias are still a fantastic bloom to celebrate love and romance. Coming from a hardy plant that can survive longer than many other flowers, Dahlias also symbolize steadfastness, commitment, and kindness.
You can find Dahlias in shades like yellow, orange, pink, magenta, and red. These colors represent happiness, kindness, and love, so any variety is sure to be the perfect gift to share your love for someone.
Show Your Romantic Side With a Bouquet From Ode à la Rose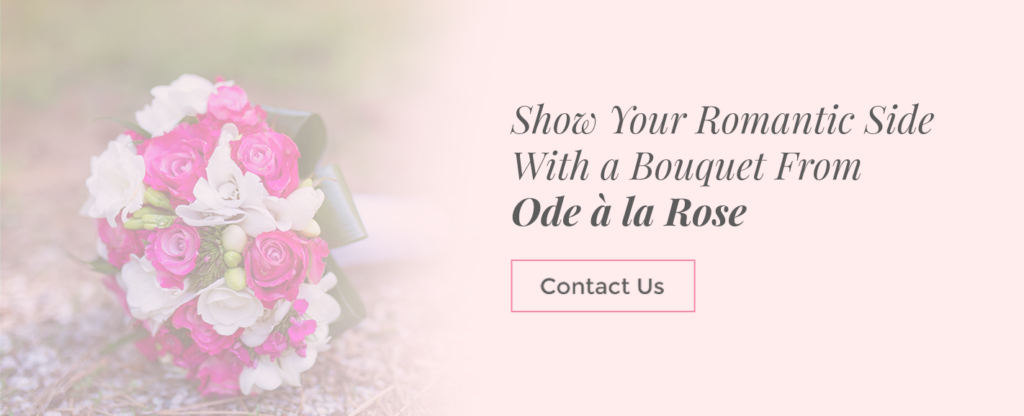 Do you need help sending a romantic message with your floral gift? Ode à la Rose can help! Our professional floral designers are always happy to help you craft the perfect bouquet. When you order through us, you can feel confident that your loved one will receive a picture-perfect arrangement every time. Regardless of the occasion, we'll choose the best blooms to display your true intentions and feelings.
We are a nationwide flower delivery service. We deliver to every city in the country. Same-day flower delivery is available in select areas, including Chicago, Los Angeles, Washington, D.C., Philadelphia, NYC, Miami, and Austin. Next-day delivery is available everywhere else in the continental U.S., so you can send the most romantic flower arrangements no matter where you are.