When date night rolls around, are you ready to go, or are you running short on ideas? If you live in or around Los Angeles, you need not worry. There are tons of romantic date ideas for you to explore. Whether you would like to watch the sunrise or you want to take an exciting day trip to someplace new, you are sure to find your ideal rendezvous. Take a look at some of the most romantic date ideas Los Angeles has to offer. Woo your main squeeze with a fantastic date that they will never forget.
Art, Books, & Botanicals at the Huntington
Located on 120 acres, the Huntington in San Marino has everything you could possibly need for a date full of literature, artwork, and flowers. Surrounded by gardens featuring botanical varieties from all over the world, the Huntington is filled with rare written works. It also holds one of the most impressive art galleries featuring famous masterpieces such as Thomas Gainsborough's "The Blue Boy" and many more. Not only that, but there is also a collection that recognizes the work of some of Pasadena's most famous and talented architects.
A Night of Luxurious Comfort
Maybe you and your date would like some time to relax and reconnect? Treat the both of you to a luxurious night at the Ritz Carlton Hotel on West Olympic Boulevard. Offering club rooms and elegant suites, you can enjoy their rooftop outdoor pool, a pampering luxe spa, and a dining experience that is hard to refuse. Surprise your date and have a bottle of wine and a gorgeous bouquet of roses waiting for them when you get there to really ramp up the romantic gesture.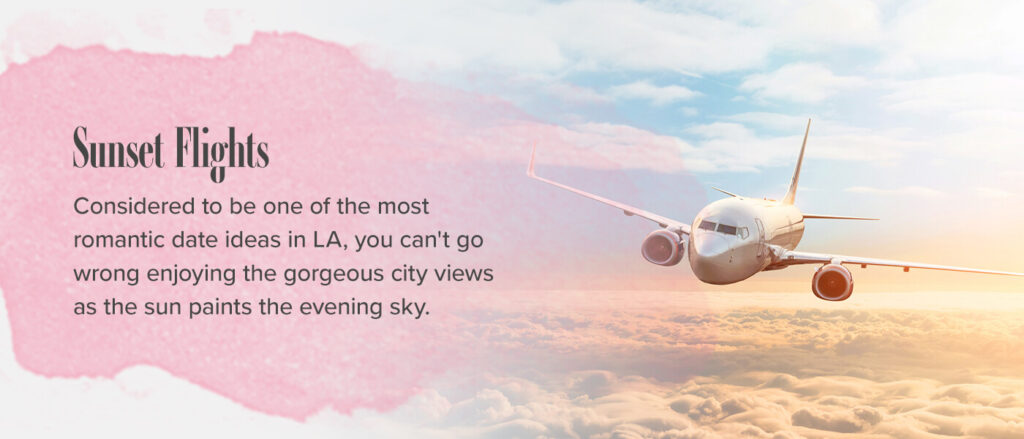 Sunset Flights
Experience Los Angeles like you never have before and take your date on a beautiful sunset flight. Considered to be one of the most romantic date ideas in LA, you can't go wrong enjoying the gorgeous city views as the sun paints the evening sky. Some private flight companies even provide exclusive facilities that allow you to be taken to a high-end restaurant at the end of the flight. You and your date can't go wrong with such a beautiful way to spend time together.
Wine Safari
If you and your sweetheart enjoy wine, take them on a wine tasting adventure. A jeep tour that covers 1,000 acres of Saddlerock Ranch, Malibu Wine Safari will help you explore new wines like never before. Enjoy a tour of the Saddlerock Ranch & Vineyard, two wine tasting shops offering six different kinds of wine, and a complimentary snack of crackers and delicious spreads. What would a safari be without animals? You and your date will also have the chance to feed zebras and camels if you so desire.
Rooftop Movie Night
When a movie at just any old theater simply won't do, take your date to the Rooftop Cinema Club in Los Angeles. Cuddle up with your date for a flick under the night sky at one of the most romantic cinemas in the area. Featuring comfortable deck chairs, wireless headphones for superior listening, and complimentary blankets, you can enjoy award-winning movies in a truly unique setting.
Vintage Bowling
A couple's game night could be just what the two of you need. Highland Park Bowl is one of the most fun and romantic date ideas LA has to offer. Originally opened during the Prohibition Era, the bowling alley is dripping in vintage glam style. Complete with vintage pin-setter chandeliers and recovered early 1900's murals, you and your date can bowl with all of the feelings of a vintage romance. You can also enjoy fantastic refreshments including wood-fired pizzas and cocktails throughout the evening.
Visit the Happiest Place on Earth
Make it a day trip and take your date to explore what many say is the happiest place on earth at Disneyland Resort in Anaheim. Take your fairest one of all and enjoy all of the thrilling rides and experiences the park has to offer, including Galaxy's Edge, Space Mountain, the Haunted House, and more. Don't forget to meet with the iconic Disney couple, Mickey and Minnie Mouse, to make your date complete. You can also enjoy the fabulous parade that happens every evening featuring fireworks and laser light shows that are truly awe-inspiring, making this one of the most romantic things to do in LA.
Spend the Day at Griffith Park
If you are looking for a date idea that will get you both moving and enjoying the great outdoors, this is the place for you. Spanning over 4,000 acres of land, Griffith Park has something for everyone to enjoy. Why not go on a guided hike to the top of the famous Hollywood Sign or enjoy some of the many other activities including cycling, golfing, and horseback riding? With over 50 miles of trails featuring waterfalls and lagoons, you and your date can have tons of fun all in one place.
Stargaze at the Observatory
What better way to spend a romantic evening than appreciating the stars… and your date? The Griffith Observatory, situated at Griffith Park, is easily one of the most romantic dates in Los Angeles. Offering free public telescope views on clear nights, you can gaze at the gorgeous stars above. Use the historic Zeiss telescope, the solar telescope, or one of the portable lawn telescopes to enjoy the wonders of the universe above. You can also visit the Samuel Oschin Planetarium for an in-depth showing for an admission fee.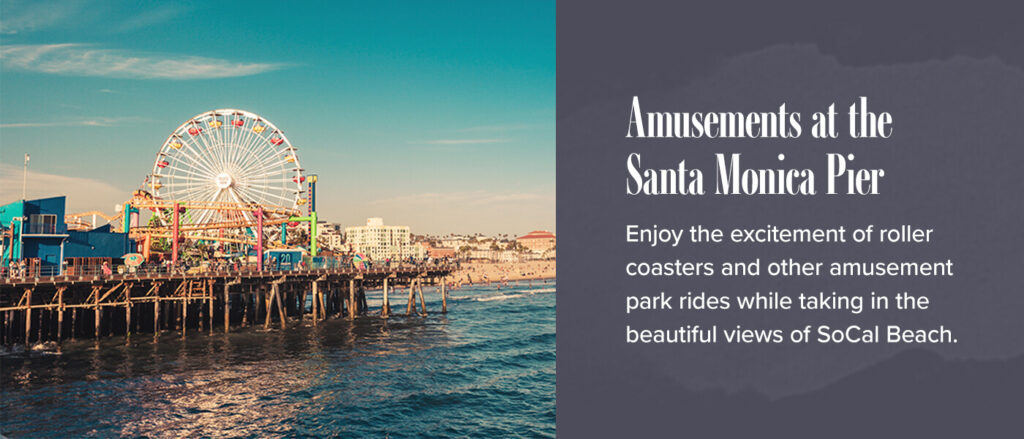 Amusements at the Santa Monica Pier
Amusement parks are one of the most fun places to go on a date, and it can be one of the most romantic, too. Enjoy the excitement of roller coasters and other amusement park rides while taking in the beautiful views of SoCal Beach. Try to win your date a prize at one of the many carnival games, get them a souvenir for your special night together, and indulge in some of the most delicious pier foods. If you go at night, you can take in all of the colorful lights and take a Ferris wheel ride. Why not surprise them with a rose and maybe even steal a kiss at the top?
Romance & A Dinner Cruise
Surprise the one you adore with a romantic dinner cruise at Marina Del Rey. Just a few minutes away from Lincoln Boulevard, you and your date can revel in a fantastic three-course dinner prepared by the onboard chef. Afterwards, participate in some romantic dances to melodious tunes as you take in the beautiful views of the Pacific waters.
Take a Train
While it may not seem like a train ride could be romantic, the Pacific Surfliner offers all of the components of a cute date. Enjoy a ride from Union Station all the way along the coast. While you appreciate all of the sights the journey has to offer, you and your date can feast on a delicious lunch in Santa Barbara. Vintage wine tastings are also available. You will also have time to explore various eateries before heading back in the evening and having the chance to witness the beautiful sunset.
1920's Nightlife
If you and your date are fascinated by the old days, the Cicada Club is a fantastic place to visit in LA. This club provides an authentically retro feel, complete with music and decor from the 1920's. You and your partner can both enjoy the food, drinks, and swing-dancing styles of 1920's nightlife. It is for sure one of the most romantic date ideas for those who love the feeling of going back in time. Why not complement one another with fabulous 1920's attire to really get into the 1920's spirit?
A Charming Gondola Ride
Experience one of the most romantic spots in Los Angeles by going on one of the most romantic dates around. Take a gondola ride through Venice and have a night to remember with your other half. Enjoy the gorgeous sunset or bask in the moonlight with your date. Enjoy some wine while admiring the beauty of the city as you float across the crystal waters. This will definitely be one of the most romantic gestures that the one you adore will always remember. Don't forget to bring a bouquet of flowers for that extra touch of thoughtfulness!
See a Live Performance
Located at Griffith Park, the Greek Theater offers one of the best date ideas for those who love a good show. Considered to be one of the top ten most romantic places to visit in Los Angeles, the spacious theater is famous for its extensive range of world-class performances. It is also an architectural wonder, reminiscent of a marvelous Greek Temple. Enjoy a delicious meal under the stars as you and your date experience some of the most memorable live performances around.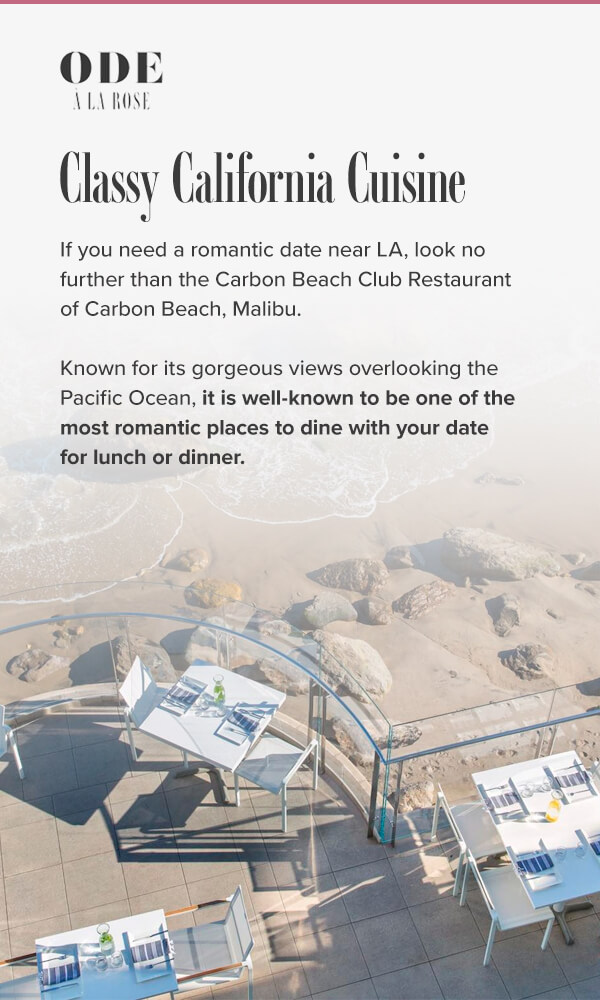 Classy California Cuisine
If you need a romantic date near LA, look no further than the Carbon Beach Club Restaurant of Carbon Beach, Malibu. Known for its gorgeous views overlooking the Pacific Ocean, it is well-known to be one of the most romantic places to dine with your date for lunch or dinner. In addition to the breathtaking scenery, you can experience some of the freshest and most carefully created dishes around. Specializing in seafood culinary delights, your meals will feature only the best locally produced ingredients. You can also pair your meal with a glass of regional wine.
Take to the Countryside
When the country is calling both of your names, you should take your date to Sunset Ranch in Hollywood. Offering horseback riding experiences for beginner and advanced riders alike, there are tours available for everyone. Enjoy a two-hour ride in the evening to Mount Hollywood. You will get to see some of the most beautiful views that the area has to offer while enjoying a leisurely ride on horseback. What could be a better way to disconnect from the city and recharge with one another?
Art Appreciation at the Getty Center
Does your lover have an art obsession? Take them to one of the most stunning art museums in Los Angeles. Located in the Santa Monica Mountains, the Getty Center is home to an absolutely impressive collection of famous works of art. Featuring masterpieces by Van Gogh, Monet, Renoir, Manet, and many more, there is so much to explore. There are also multiple sculptures, illuminated manuscripts, antiques and beautiful gardens to marvel at the whole date through.
Experience the Wizarding World
Do you and your other half have a fondness for Harry Potter? You have just found the perfect date idea. The Wizarding World of Harry Potter located at Universal Studios Hollywood is waiting for you. Explore the magical Hogwarts Castle and venture through the streets of Hogsmeade. Enjoy some of the most thrilling and magical rides including the Flight of the Hippogriff and Harry Potter and the Forbidden Journey. For fans of fantasy and magic, this is definitely one of the most romantic dates in Los Angeles.
Spectacular Shopping Spree
When your date loves shopping, there is no better place to go than the Grove. The Grove Shopping Center in Los Angeles is one of the cutest dates for those who love to shop 'til they drop. An enormous shopping and entertainment complex, you and your date can explore dozens of designer stores, boutiques, bars, clubs, and more. Enjoy the outdoor mall and all of its wonders including beauty products, the latest fashions, and some of the most stylish furniture around. It's a shopping lover's dream come true.
Drive-In Theater
What could be more romantic than cuddling up in your car while watching a classic movie  under the night sky? For a romantic night in LA, heading to the Electric Dusk Drive-In can deliver. The only drive-in theater in Los Angeles, this cinema brings about all of the romantic feels of days gone by. Take a cozy blanket, grab some popcorn, and enjoy a movie in front of the giant silver screen from the comfort of your vehicle.
Enjoy the Music at Hollywood Bowl
The Hollywood Bowl located in SoCal is the best date idea for music lovers of all kinds. Not only does the venue host gorgeous shows including ballets and musicals, but it is also one of the best places for dinner and a show. Enjoy a first-class dinner at one of the fantastic eateries before the show begins. Seating complete with tablecloths and candles can really add to the romantic and musical ambience as you sit under the night sky. From rock and country to latin and pop music, the Hollywood Bowl is the ideal date for two music lovers.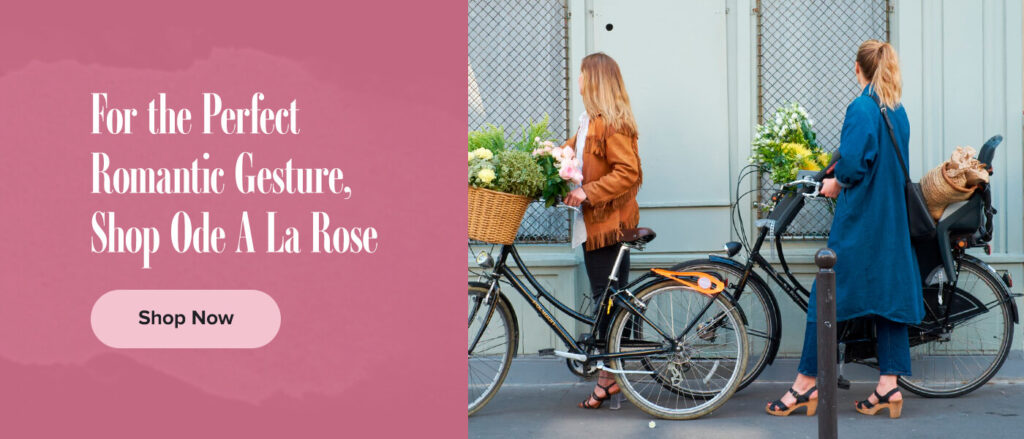 For the Perfect Romantic Gesture, Shop Ode à la Rose
Nothing compliments the perfect date better than a gorgeous bouquet of flowers. Ode à la Rose designs all bouquets with French influence, making them the most elegant floral arrangements available. Make your date complete by surprising the one you admire with a gorgeous bouquet. Whether you want something grand or something simple, we offer a wide variety of flowers for you to choose from including roses, tulips, lilies, peonies, and more. Contact us at Ode à la Rose today to see how we can help you create the perfect bouquet for your date.