Are you planning to surprise a loved one during their trip to Los Angeles? Consider sending a vibrant bouquet of flowers to their hotel room for a stunning and thoughtful gift. This gesture is an excellent way to send your love and wish them well on their travels, and they'll continue to cherish this memory even after they arrive back home.
There are many factors to consider when sending flowers to hotel guests, from picking the perfect arrangement to ensuring it arrives at the right room. We're here to offer some guidance. Whether you're delivering flowers to a friend, family member, or significant other, we'll teach you how to send this beautiful gift to their hotel for a gesture they'll never forget.
Types of Flowers to Send to a Hotel Room
Trying to decide what type of flowers to send to your recipient's hotel room? While you can select any arrangement you please, here are some beautiful flower varieties to consider:
Roses: Easily one of the most timeless and romantic flowers, you simply can't go wrong with a classic bouquet of roses. With multiple colors to choose from, you can send your recipient a gorgeous arrangement of roses they'll absolutely adore.
Peonies: Perfectly lush, soft, and elegant, peonies are another lovely option for your loved one. With delicate hues such as soft pink and white to choose from, peonies are a wonderful way to express your deepest admiration.
Tulips: Convey heartfelt love and appreciation with some vibrant tulips. If you're looking for a brightly colored arrangement that's full of life and joy, a bouquet of tulips may be just what you have in mind.
Orchids: A stunning and exotic variety, orchids are a timeless arrangement choice for the special people in your life. Available in elegant tones like white, magenta, and soft purple, these flowers can make an incredible gift for your loved one.
Carnations: A flower that symbolizes sweetness and purity, carnations make a beautiful, long-lasting gift for a loved one.
Lilies: Consider these flowers if you're looking for a timeless and elegant springtime variety. With vibrant and joyful hues to ring in the crisp spring season, lilies are sure to brighten your loved one's day.
While these are a few popular and gorgeous varieties to help give you some ideas, there is a wide variety of flower bouquets you can send to a hotel room in Los Angeles. Whatever type of flowers you decide, you'll surely find a stunning arrangement to surprise your loved one.
How to Send Flowers to a Hotel Room in LA
Whether you're having fresh flowers delivered to celebrate an occasion, cure a loved one's homesickness, make them feel less alone, or send them a sweet surprise to brighten up their hotel room, follow these steps to help the bouquet reach your recipient.
1. Pick the Arrangement
The first step is choosing the perfect flowers for your recipient. While we've covered some specific types of flowers you can send, here are some other things to consider when picking the arrangement:
Color: Consider choosing an arrangement in your recipient's favorite color if you know it. Whether they prefer simple but elegant white roses, soft and romantic pinks, brilliant reds, or another shade, you're sure to find something that fits this color preference.
Season: Try choosing blooms that are in season if possible. Spring and summer tend to be the best times of the year to send flowers, as they provide wider selections of seasonal blossoms. If you need help determining what blooms are in season, browse our seasonal flower guide for assistance!
Occasion: If there's a specific reason you're sending flowers, try choosing blooms to commemorate it. Whether it's beautiful birthday flowers, an anniversary bouquet, or a way to say congratulations, flowers are a perfect way to celebrate the special moments in life.
2. Gather Information
After you've chosen your arrangement, the next step is gathering information to send flowers to your recipient's location. When ordering flowers for delivery to a hotel in Los Angeles, you'll need to provide the following details:
The recipient's name
The hotel's name
The full address of the hotel
The hotel's telephone number
Generally speaking, it should be easy to get this information. For one, you already know the name of the recipient. You can always look up the hotel's phone number and address, provided you know its name. If you don't know this, you can casually ask your loved one about the name of the Los Angeles hotel they're staying in. However, asking for their room number could alert them of your plans to send them a gift.
You may be wondering — if you don't have their room number, can you still send flowers to their hotel room? Fortunately, the answer is yes. Provided you have the other information, you can easily have blooms delivered to your loved one.
As a standard operating procedure, hotels cannot disclose room numbers or any other personal information regarding guests. However, delivery people don't typically bring packages directly to hotel rooms. They're more likely to bring items to the hotel reception desk or lobby. Therefore, knowing the recipient's room number won't be necessary for having flowers delivered to a hotel.
Once you've entered the information for your desired arrangement and delivery location, you're ready to place your order!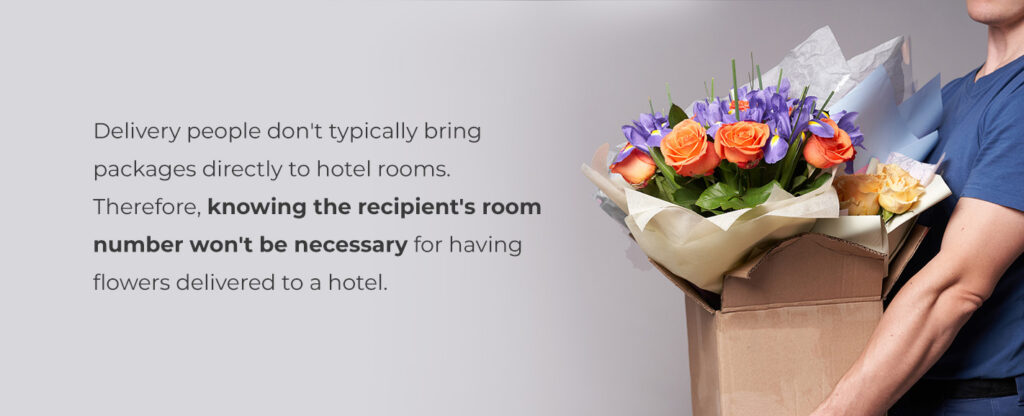 3. Check the Delivery Status
You've submitted the order, but now you may be wondering if there's a way to track it and make sure it arrives. How can you ensure the bouquet gets to the right place, especially when you don't have the room number?
The best way to do this is to call the hotel directly. This isn't to ask them for the recipient's room number but to inform them that a bouquet delivery is on the way. Hotels handle flower orders and deliveries more often than you may think, so they should be able to help you out.
Once you have the hotel in Los Angeles on the phone, follow these three steps to help ensure the flowers reach your loved one:
Ask to speak with the concierge.
Explain that you're having flowers delivered to a guest at the hotel.
Request their assistance in making sure the flowers get to the right place, providing the recipient's name and when the flowers are expected to arrive.
Generally speaking, a hotel employee will accept the bouquet delivery at the front desk, then take it to the room. Or, the hotel may call your recipient and request that they pick up their package at the front desk. Either way, you can rest assured that the blooms will get where they need to be without spoiling the surprise.
What to Send Along With Hotel Flowers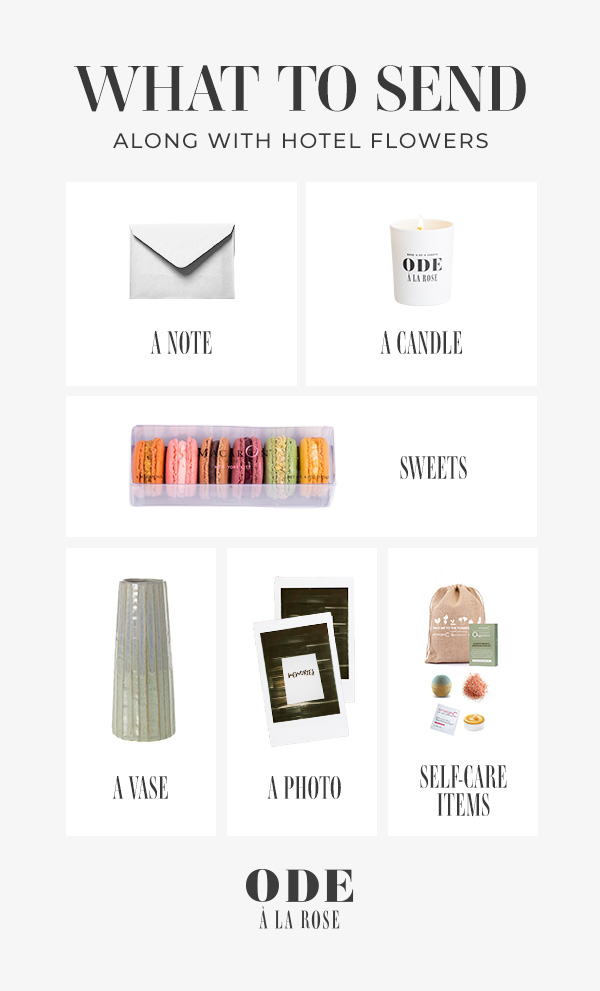 After you've selected a beautiful bouquet your recipient will adore, consider if there's anything you'd like to send with your flowers. Accompanying your blooms with a charming add-on is an excellent way to make this gift extra special. If you're wondering what to send with your hotel flowers, try some ideas below:
1. A Note
Attaching a heartfelt note to your flower arrangement is a thoughtful way to show a loved one how much you care for them. This note can include any message you please, whether it be:
The reason you're sending them flowers
How much you miss them and can't wait to see them again
The meaning behind the bouquet you selected
Your wish for their safe travels
2. A Photo
Consider elevating your flower arrangement with a meaningful photo. This addition could be a picture of them, you, the two of you together, or anything else you please. Think about why you're sending the bouquet when you select a photo. If it's to cure homesickness, you might include a photo of you both at a local attraction. While a bouquet is already visually pleasing on its own, adding a photo can brighten a loved one's day all the more.
3. Sweets
Satisfy your recipient's sweet tooth by sending some tasty treats with your bouquet. This gesture shows your loved one how much you appreciate them, and it also gives them some goodies to snack on while they relax in their hotel room! Here are some ideas for sweets to send along with your bouquet:
A bar of chocolate
Their favorite candy
A box of macarons
4. A Candle
For a sweet-smelling surprise, consider gifting your loved one a scented candle alongside their bouquet. Like flowers, a candle is the perfect way to light up a room with a soothing fragrance. Even if the hotel prohibits guests from lighting candles, your recipient can always take it with them to use at home.
5. A Vase
Give your recipient an elegant vase to display their arrangement in. Ensure the bouquet you order includes a vase, or add one to your order so your loved one can easily brighten up their hotel room as soon as they receive their flowers.
6. Self-Care Items
Just as flowers radiate beauty and tranquility, spa essentials are the perfect way to help your recipient unwind after a long day. To provide your loved one with ultimate comfort and relaxation, consider adding one or more of the following items to their bouquet:
Bath bombs or salts
Soap
Lotion
Perfume
Essential oils
Herbal tea
If possible, try to choose self-care items in colors and scents that complement the flowers.
Other Tips for Sending Flowers to a Hotel Room in Los Angeles
Below are some additional things to consider when you send flowers to Los Angeles hotels.
1. Determine the Right Size
Size is an important factor to consider when sending flowers to a hotel guest's room. While large arrangements are grand and elegant, they aren't always easy to display in a hotel room or transport home. You may want to opt for a smaller bouquet if you'd like something more convenient for your recipient to take home.
It's also important to consider your loved one's means of transport. If your recipient drove to the hotel, you may not have to be as cautious about the bouquet size since they can drive their flowers home with them.
Planes and other public transportation make it a little more difficult to take flower arrangements home. Try to keep these details in mind when selecting an arrangement for your loved one, choosing the size accordingly if possible.
2. Consider the Bouquet's Lifespan
When choosing the type of flower to send, determine how long you'd like the arrangement to last. Some flower varieties that tend to last the longest are:
Carnations — two to three weeks
Chrysanthemums — a month
Delphiniums — two weeks
Orchids — three weeks
Zinnias — 21 to 24 days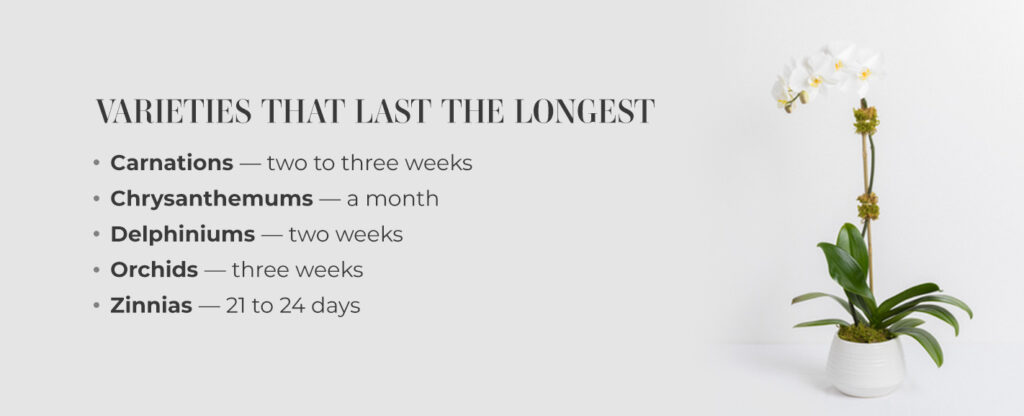 Meanwhile, varieties such as roses typically last about a week. Consider the average lifespans of different flowers and use this information to determine which type you'd like to send. The vase life also depends on correct care and maintenance, so including some care instructions along with the bouquet is helpful for the recipient.
3. Choose a Reliable Flower Delivery Service
When you send flowers to LA hotels, it's crucial to have them delivered through a quality and reliable florist. A good flower service will:
Craft beautiful and stunning arrangements
Package your flowers in a fashion that keeps them healthy and fresh throughout delivery
Provide exceptional customer service and assistance
Fulfill any special requests to the best of their ability
Deliver your flowers in a timely manner
If you're looking for a skilled florist that checks all of these boxes and more, Ode à la Rose is your one-of-a-kind solution. We believe flowers are more than just a gift — they tell a story from the heart. That's why we devote the utmost love and attention to every arrangement in our shop, sourcing the freshest flowers from eco-friendly farms and crafting each bouquet with an elegant French touch.
To keep your flowers beautiful and fresh from assembly to delivery, we hydrate the stems in a water-filled container before packaging the arrangement in our beautiful signature box. We also offer a variety of ways to personalize your order, whether it's adding an elegant vase, some chocolate or macarons, or a lovely note with the message of your choice. You can also add a photo to your bouquet — simply upload it with your order and let us take care of the rest!
Best of all, we provide same-day flower delivery in Los Angeles, so your loved one can receive their flowers the day you order them! You can count on Ode à la Rose for efficient delivery, quality and beautiful arrangements, and outstanding customer service.
Browse Beautiful Flower Arrangements From Ode à la Rose
Sending flowers to a hotel room in Los Angeles is simple with Ode à la Rose. Whether you're choosing flowers based on a specific color, variety, or occasion, we'll help you find a stunning arrangement for a gesture they'll cherish forever.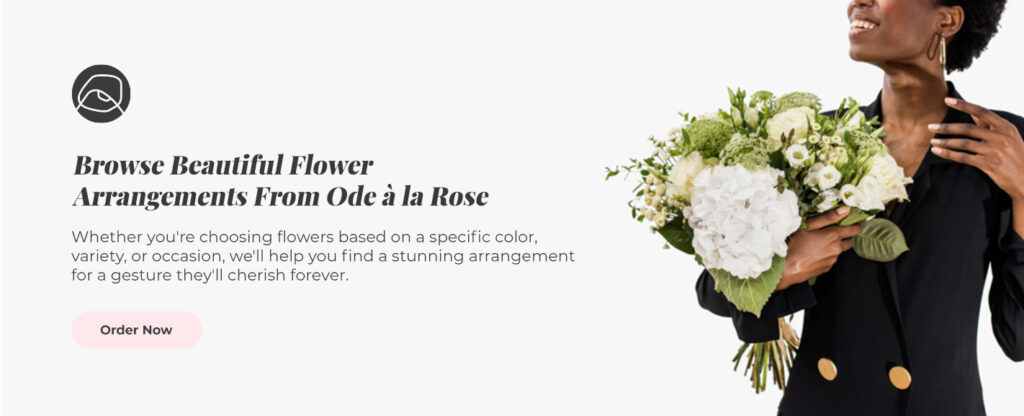 Browse our stunning selection and send flowers to your loved one in Los Angeles today! For any questions regarding our products or delivery services, please contact Ode à la Rose.