When sending flowers it is customary to add a card with some clever words to reinforce the impact of the gift. Sadly, yet realistically, many of us stumble over just the right words to use when crafting this message.
Lately, Ode à la Rose has noticed a number of our more creative clients have been including a few lines of poetry or a popular quote that expresses the intention of the sender.
Coming up with these bon mots can be difficult, so we've decided to make a list of 10 of them that may come in handy the next time you want to add just a little more on the card that accompanies your floral delivery.
---
After women, flowers are the most lovely thing God has given the world.
Christian Dior
Flowers for the loveliest woman of them all.
---
The earth laughs in flowers.
Ralph Waldo Emerson 
And I'm still laughing from last night. Can't wait to do it again!
---
Don't let the tall weeds cast a shadow on the beautiful flowers in your garden.
Steve Maraboli
I know you're having a hard day,  so I wanted to send a little something to cheer you up. Your boss is the tallest weed in the whole world. I love you!
---
A flower knows, when its butterfly will return,
and if the moon walks out, the sky will understand;
but now it hurts, to watch you leave so soon,
when I don't know, if you will ever come back.
Sanober Khan
I miss you so much and I can't wait for you to come home! Have a great time in New York. Hope these brighten up the hotel room!
---
Flowers always make people better, happier, and more helpful; they are sunshine, food and medicine for the soul.
Luther Burbank
You make me better, happier and more helpful. You are sunshine, food and medicine for my soul. I hope these flowers remind you of that.
---
Art is the unceasing effort to compete with the beauty of flowers – and never succeeding.
Gian Carlo Menotti 
Please accept my unceasing effort to make you smile–did I succeed?
---
Flowers are the sweetest things God ever made and forgot to put a soul into.
Henry Ward Beecher
And how was I lucky enough to find the sweetest one he did put a soul into?
---
All flowers in time bend towards the sun, I know you say there's no one for you, but here is one.
Jeff Buckley
I'm so sorry about our fight last night. Let me make it up to you. Dinner tonight?
---
I always like to have flowers on the table. I think they make it look special.
Ina Garten
Ina is always right! Thank you so much for having us for dinner last night. I hope these make your table look special.
---
Happiness is to hold flowers in both hands.
Chinese Proverb
Step 1. hold these flowers in both hands
Step 2. happiness!
---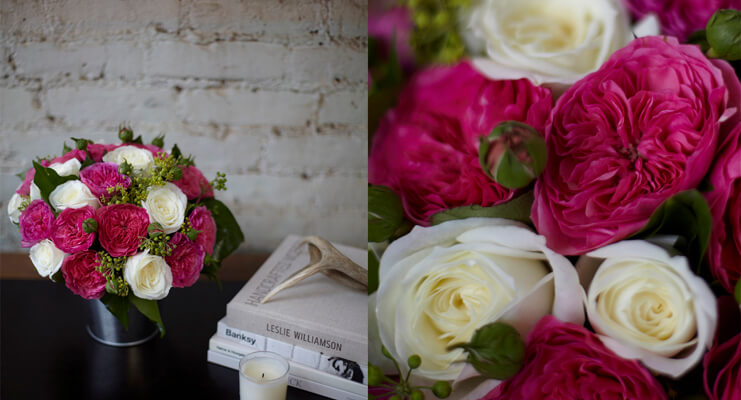 And when all else fails, upload your favorite photo to your order, which we'll print on glossy photo paper and tuck into your box. No words required!