The beauty and benefits of flowers continue to make floral arrangements a timeless present that shows you care about the recipient. While the gift itself is eternal, the ways of delivering it have evolved.
Gone are the days of having to look up a florist in the phone book and call to order an arrangement, all while having no pictures to show you what you're picking out for your loved one. Ordering flowers online has become the most popular option today.
If you have a friend, family member, or significant other in Chicago, you can send them a beautiful floral arrangement you picked out yourself, no matter where you are in the world. If you're interested in sending flowers to Chicago, read through this step-by-step guide for brightening your loved one's day by ordering through Ode à la Rose.
Step 1: Select Your Arrangement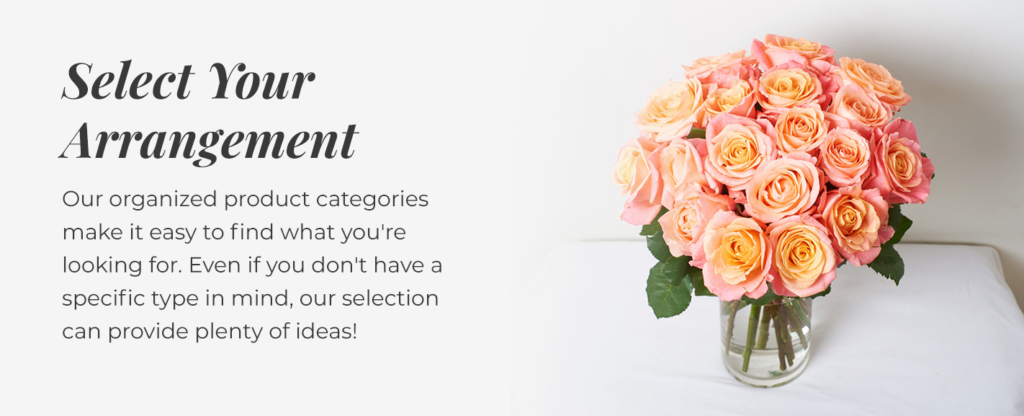 Once you've decided to send a floral arrangement, the first step is deciding which bouquet you would like to send. You can browse through arrangements by categories based on the following factors:
Our bouquets include a range of flower varieties, such as:
Roses: Nothing radiates class and romance quite like a timeless rose bouquet. When you order roses from Ode à la Rose, you can find a wide variety of colors like traditional red, elegant white, and soft pink.
Tulips: A vibrant tulip arrangement is sure to brighten your loved one's day, add some color to their space, and spread happy reminders of spring. Our tulip bouquets come in bright pastels like yellow and pink.
Daffodils: Daffodils are an exquisite spring bloom that symbolizes birth and renewal, making them perfect for an expectant mother. Put a smile on your loved one's face with a cheerful bouquet of daffodils.
Delphiniums: Delphiniums come in a breathtaking blue color, making them a great choice for someone who loves a standout arrangement.
Orchids: Delicate and exotic, orchids make a nontraditional yet beautiful floral gift. They also come potted with fresh moss so your loved one can enjoy them for a long time with proper care.
Peonies: With its full ruffles and soft pink hues, a peony arrangement can make a lovely gift for someone special in your life.
Mixed: An assorted flower arrangement can be a great choice if you have your eye on multiple colors or varieties. Blooms like roses, daisies, and lisianthus make a stunning ensemble, or you can pick a variety of different colored roses.
Our organized product categories make it easy to find what you're looking for. Even if you don't have a specific type in mind, our selection can provide plenty of ideas!
Step 2: Tell Us Where and When You Want to Send Your Arrangement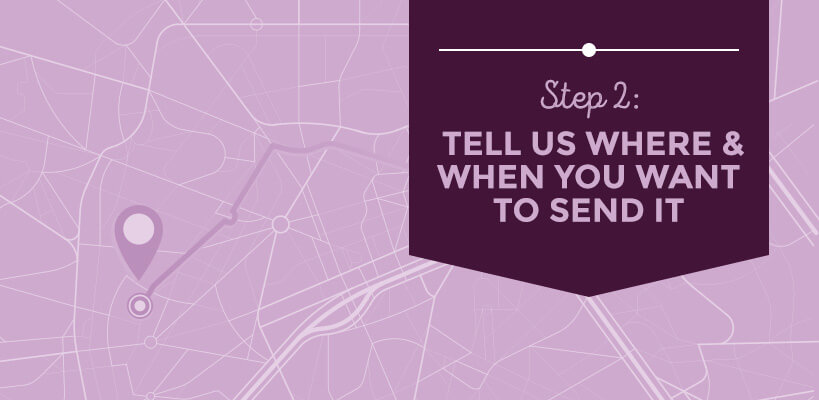 Once you've picked out an arrangement, the next step is letting us know when and where to send it. You can select the date you want, along with a time range for your flower delivery. Since we have a location in Chicago's West Town, we offer same-day Chicago flower delivery, so you don't have to wait long to surprise your loved one.
We service Chicago neighborhoods from North Side to South Side and everything in between. Depending on where your recipient is, you will specify a type of location, along with the address and any special delivery instructions you want to include. Let's take a brief look at some different location types and how to ensure your delivery goes smoothly.
Residence
If your loved one lives in Chicago, consider sending a surprise straight to their front door. If you're sending flowers to a home, whether it be a house, condo, or apartment building, select the residence option and include the recipient's exact address.
We will ask you to specify whether a doorman will be present. Depending on the security of the building, your loved one's flowers may remain at the front desk. In this case, the building management will notify them that they have a delivery.
Make sure you select a time range when you're fairly certain the recipient will be home. If no one answers the door, the delivery person will give the recipient a call and leave the flowers waiting for them, safely, right outside the door. If the recipient is unavailable and dropping the flowers off isn't a viable option, we will contact you to reschedule the delivery.
Business
Receiving flowers at your workplace is always a welcome surprise. Sending your friend or significant other a beautiful bouquet and note is sure to brighten their day and bring some sunshine into their office. If you send flowers to a Chicago business, we will ask you to include the company name.
Depending on the office setting, your flowers will most likely remain at the front desk, and the receptionist will let the recipient know they've received a delivery. As long as you specify the recipient's name, they should receive their bouquet with no trouble. If your loved one works in an open environment or cubicle where other employees are nearby, you may want to choose flowers that are easier on allergies, just as a courtesy to coworkers.
If your loved one is staying in the area temporarily, you can make them feel right at home by sending flowers to their Chicago hotel. You could even have the bouquet delivered ahead of time and ask the concierge to have it waiting for them in their room when they arrive. We can send flowers to Chicago hotels, including the Fairmont, the Drake, Trump International Hotel and Tower Chicago, the Renaissance Blackstone Hotel, and many more.
Hospital
A colorful bouquet is a perfect way to cheer up someone recovering from an illness or surgery or to congratulate someone who has just had a baby. We are happy to deliver to area hospitals like Northwestern Memorial Hospital, University of Chicago Medical Center, Rush University Medical Center, Loyola University Medical Center, Advocate Christ Medical Center, and more.
When you send flowers to a Chicago hospital, be sure to include the recipient's room number along with the hospital address to ensure a smooth delivery. Note that some hospital areas, like the intensive care unit, may not allow flowers. If your loved one is in the ICU, it is best to wait until the hospital staff moves them to a regular room or they return home to send them a bouquet.
School
For students, teachers, and staff alike, school days don't stop for special occasions like birthdays or anniversaries. When one of these unique days comes up, let your friend or sweetheart know it's not just another day at school. What better way to show that than with flowers?
If you want to send flowers to a student, teacher, or staff member at a Chicago school, select the school option and include the school's address along with the recipient's name. It may also be a good idea to contact the school secretary for a heads-up that the delivery will be coming. That way, you can prepare them to receive the flowers and pass them on to the lucky recipient.
Church
Many special events happen inside churches, including baby dedications, first communions, baptisms, weddings, and funerals. Whatever the occasion, happy or sad, flowers elevate it to the next level. If you work at a church in Chicago, consider having fresh flowers delivered weekly to enhance the beauty of your church's sanctuary.
If you have flowers delivered to a church, try to specify where the delivery person can connect with someone to receive the flowers. During a week when no events are taking place, this will likely be the church office. If the church is getting set up for a wedding or funeral, however, the delivery person may be able to hand off the flowers directly to the recipient.
Step 3: Include a Note and a Photo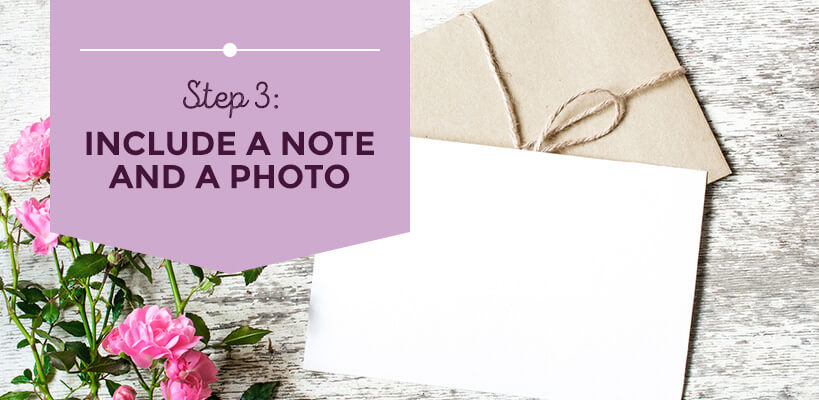 Next, you get to personalize your gift with a note or a photo. This step is optional, but it's a great way to make your gift even more meaningful. Some people get stumped on what to write if they overthink it. Even a message as simple as "I'll always love you" or "Sending cheerful thoughts your way" signed with your name is enough to make the recipient smile and feel a close connection to you.
You can personalize your gift further by uploading a photo. We'll print out your picture on glossy paper and include it with the arrangement you send at no extra cost. Here are just a few ideas for different occasions:
Anniversary: Upload a picture of you and your partner. It could be a casual photo taken on a memorable date or a professional photo from your wedding. Just make sure it captures your love as a couple. In the note, let your partner know you love them as much or more now as you did back then.
Sympathy: Including a photo that reminds someone of their recently deceased loved one is a heartfelt way of showing you care — and that their loved one will live on in their heart and in yours.
New baby: If you're congratulating someone on a tiny new addition to the family, pull your favorite photo of the baby to include with their arrangement. It's the perfect way of commemorating the joyous occasion.
Step 4: Select Add-ons and Pay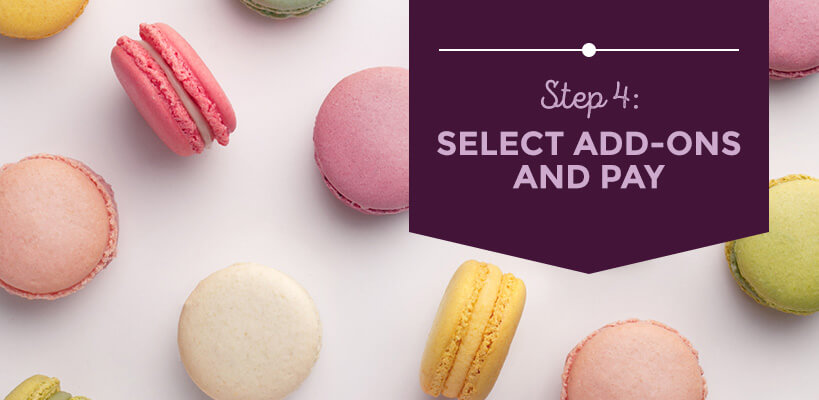 Before finalizing your order, you'll have the option to add a receptacle for your floral arrangement and an additional gift. Gifts you can add on include:
Macarons: If you want to give your recipient something to snack on, consider including a box of assorted macarons from Macaron Café.
Chocolate: Treat your recipient's craving for a sweet treat by adding a dark chocolate bar to your order. Chocolate makes the perfect add-on for Valentine's Day, a birthday, or any other day!
Spa kit: Perhaps your friend, family member, or partner has been tense lately due to work or a stressful life event. In that case, an at-home luxury spa kit makes the perfect add-on to pamper your recipient. An evening of self-care combined with beautiful, fragrant flowers can help anyone feel relaxed.
Security blanket: Our teddy bear security blankets make adorable add-ons, especially for expectant couples or those who recently had a baby.
Bento box: Delight your recipient with some gourmet candies by adding a Sugarfina bento box to your order.
Scented candle: While a gorgeous flower arrangement is a sweet-smelling gift on its own, a scented candle enhances the presentation even further. Our signature scented French candle comes in a small and large size.
Vase: We have a variety of vases to include with your order, including glass, white ceramic, gold, striped, and textured.
All add-ons are optional, so it's up to you whether you'd like to include them or send a standalone bouquet. Keep in mind that these add-on options can vary depending on the arrangement you choose.
Once you finalize your order, you'll pay online. The final cost you see will include the flowers and any add-ons, delivery fee, and tax. You can pay with a Visa, Mastercard, or American Express card, or through PayPal.
Step 5: Stay Updated and See Your Arrangement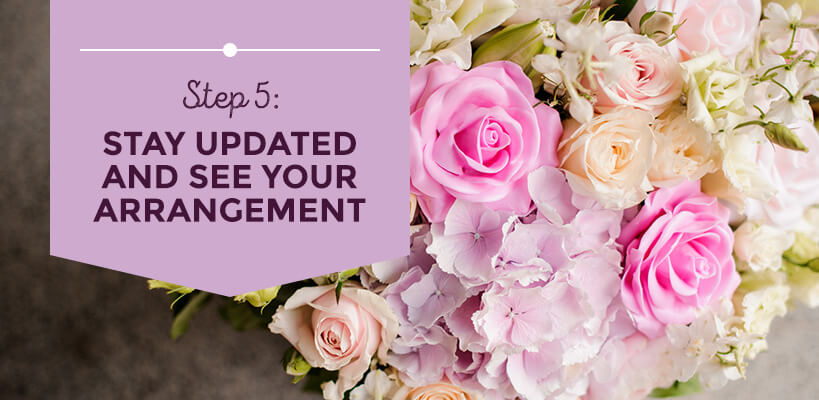 Once you place your order, you'll likely be full of anticipation to see when your order leaves the shop, and when you can expect your loved one's day to get brighter. Fortunately, Ode à la Rose will send you notifications to update you, and you can check your order status anytime by entering your email and order number.
In addition to letting you know when your arrangement leaves our flower shop, we'll also send you a picture of the exact bouquet your friend, family member, or partner will receive.
At Ode à la Rose, we pride ourselves on delivering quality arrangements that meet or exceed your expectations. Our bouquets are hand-tied with raffia, carefully wrapped, and placed in a water-filled travel container that keeps stems hydrated and flowers protected.
The arrangement and container arrive in one of our signature chic, pink boxes. When the recipient opens the box, their first sight will be tissue paper topped with fresh rose petals. Underneath, they'll find their beautiful floral surprise.
FAQs for Sending Flowers to Chicago
You've learned how to send flowers from Ode à la Rose to a loved one in Chicago, but you might still have some other questions about the process. Browse our answers to some common questions below or explore our FAQ page for further assistance.
1. Does Every Arrangement Come With a Vase?
Only select arrangements include a vase automatically. Otherwise, you can add one to your order at checkout. You can check the product description to see if your bouquet comes with a vase — if you see there's a vase available to add, this means it isn't included by default.
2. Is There an Order Deadline for Same-Day Delivery?
For our Chicago flower deliveries, same-day delivery is available Monday through Friday, as well as next-day delivery on Saturday. Our same-day delivery order deadline is 2:30 p.m. Your arrangement will arrive on Saturday if you place your order by 2:30 p.m. on Friday.
3. What Is the Delivery Fee?
Our delivery fee starts at $4.99 for small arrangements, while our larger bouquets have a $24.99 fee.
Ode à la Rose — the Best Choice for Chicago Flower Delivery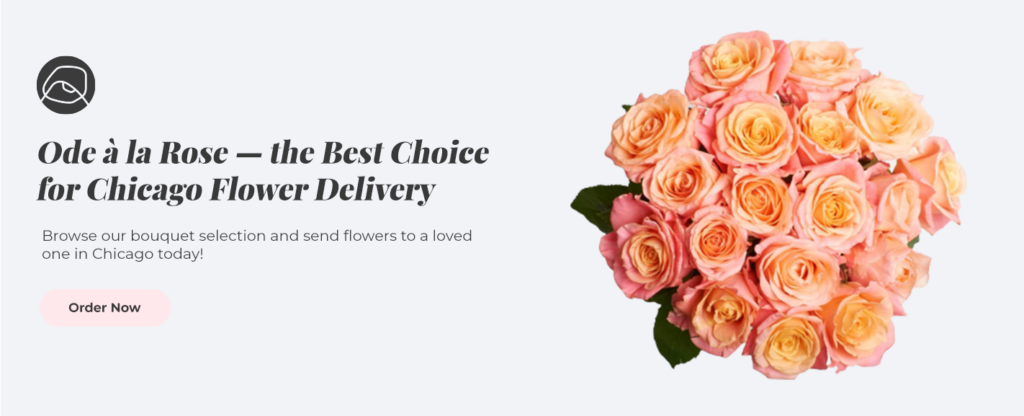 If you're planning to send flowers to Chicago, order from Ode à la Rose and wow your loved one with beautiful, premium flowers arranged into the most elegant bouquets. Our Parisian-inspired arrangements are truly a work of art, and our commitment to excellent customer service is unsurpassed. Browse our bouquet selection and send flowers to a loved one in Chicago today!