For most people, being in the hospital for surgery — or any other condition, for that matter — is never an ideal circumstance. That's why it's important to show your support any way you can when a friend, relative, partner, or any other loved one is recovering bedside. Having beautiful blooms delivered to their room is a great start.
Sending flowers to a hospital room should require careful thought, planning, and love to make the gesture as special as possible. We have various tips to help you, from choosing the perfect flowers to picking the best colors. Learn how to send flowers to a hospital room to make your recipient's recovery process a little easier.
Should You Send Flowers After Surgery?
If someone you love is in the hospital after a recent surgery, sending them an elegant flower bouquet is a great way to offer your support, let them know you're thinking of them, and wish them a speedy recovery. Flowers are known to make people smile, lift their spirits, and add a lovely pop of color to their space.
So, yes — we definitely recommend sending someone flowers as a post-surgery gift! Continue reading for some essential tips to keep in mind when doing so.
Tips and FAQS for Sending Flowers to a Hospital Room
There are a few things to consider before having flowers delivered to a loved one in the hospital — like the appropriate color choice, the right time to send a bouquet, and the hospital's policies. Below are some essential tips and answers to FAQs that may help you out.
1. Should I Contact the Hospital Before Sending Flowers?
It's always a good idea to call a business before having something delivered to their premises. You'll need to make sure the hospital's policies allow flowers as gifts for recovering patients.
It's unlikely they'll turn down your request, but some units might prohibit flowers or fruit baskets due to potential allergic reactions or other concerns. Before you start ordering flowers, take a couple of minutes to look up the hospital's phone number, then ask the front desk if flower deliveries are permitted.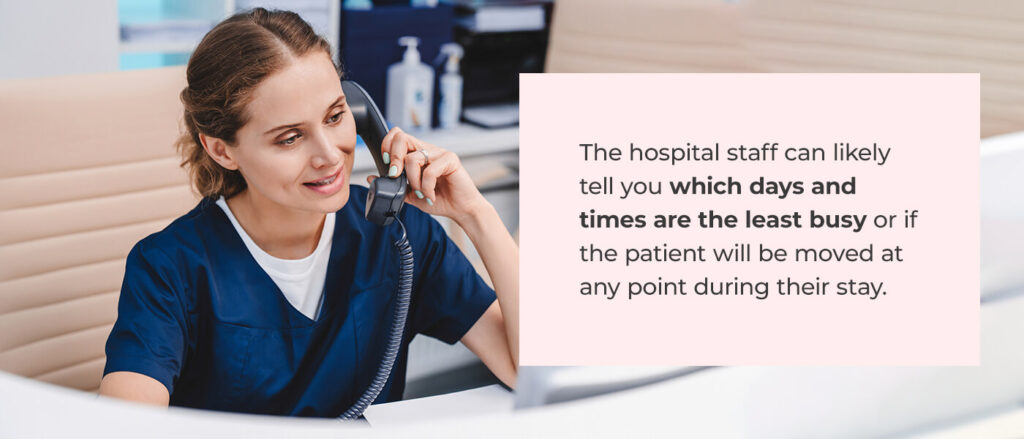 2. When Is the Best Time to Send Flowers?
Checking with the hospital's front desk is the best way to determine the answer to this question. The hospital staff can likely tell you which days and times are the least busy or if the patient will be moved at any point during their stay. You'll want to ensure direct delivery to their room to avoid someone rushing around the hospital corridors trying to find your relocated recipient.
Additionally, if your loved one is being discharged immediately or shortly after surgery, the hospital staff may suggest sending the flowers to their home instead. Communicating with the establishment can help you determine a good time to send a bouquet their way.
3. What Flower Colors Should I Choose?
What color flowers are best for recovery? There's no right or wrong choice when picking flower colors — your loved one is bound to adore this heartwarming gesture regardless of the color scheme you go with. We recommend warm, cheerful tones that will brighten their day.
Brightly colored flowers radiate optimism and joy, which are encouraging messages for someone recovering from surgery. Bright blooms also add a charming splash of color to an otherwise bland hospital room.
For example, if you like the thought of sending roses to your recovering loved one, yellow or orange may be good choices. Another option is choosing a bouquet in their favorite colors if you know them.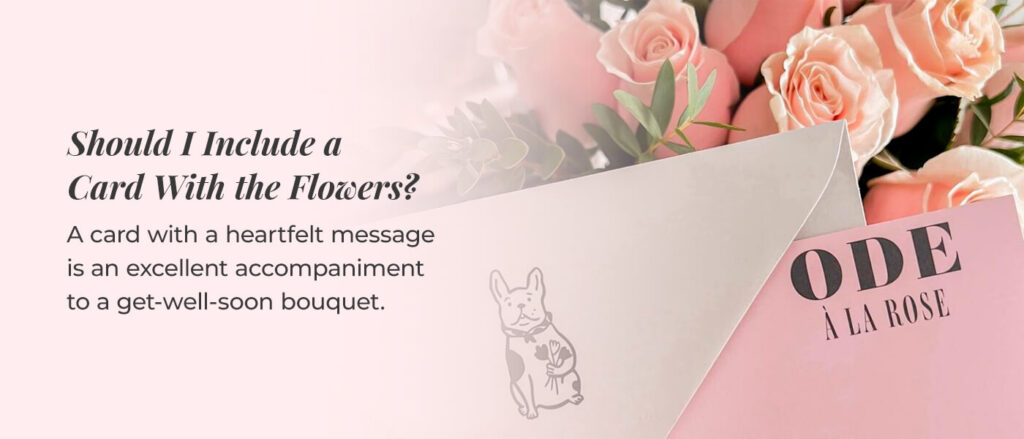 4. Should I Include a Card With the Flowers?
A card with a heartfelt message is an excellent accompaniment to a get-well-soon bouquet. Here are some short and sweet notes you might include in your card:
Love and prayers for a speedy recovery!
We miss you! Get well soon!
Thinking of you during your recovery from surgery!
We hope these flowers add some joy and color to your day!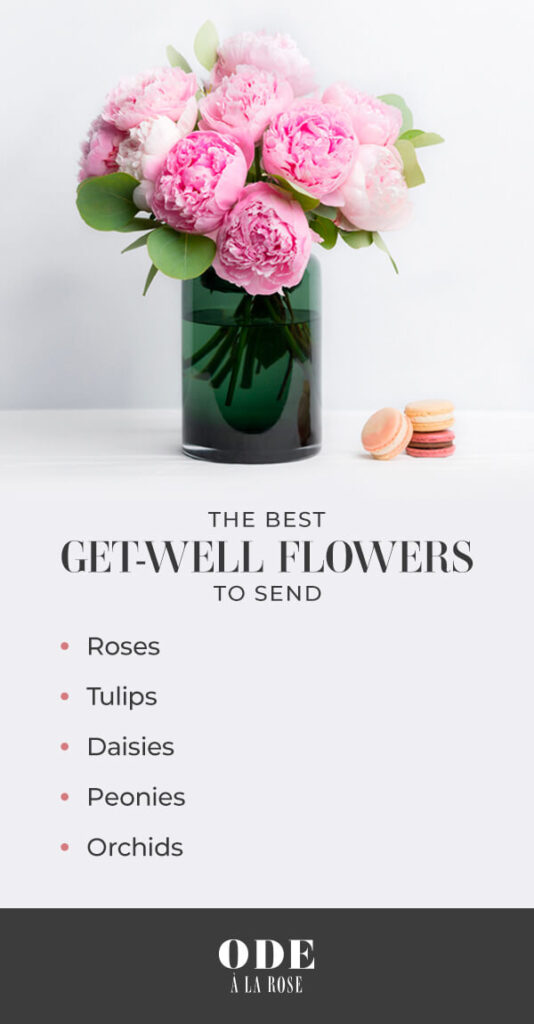 The Best Get-Well Flowers to Send
What kind of flowers do you give someone after surgery? There's no right or wrong type of flower to choose from. However, below are some lovely varieties to consider if you need ideas:
Roses: A stunning and timeless choice, you can't go wrong with a bouquet of roses. Red and pink tend to be popular colors. However, you can opt for gold, yellow, or orange if you want something more bright and cheerful.
Tulips: Colorful, springy, and fragrant, tulips are another excellent option. Vibrant hues like pink, yellow, orange, and cream are sure to liven up any hospital room.
Daisies: A delicate batch of daisies is a great way to cheer up your loved one in the hospital. Yellow daisies represent joy and happiness, while pink daisies symbolize love and gentleness. Additionally, orange daisies stand for sunshine and warmth. These cheerful tones and their meanings make lovely choices for a flower arrangement.
Peonies: Available in soft or bright pinks and oranges, peony arrangements are beautiful, lush, and full of life. Peonies symbolize good luck, prosperity, and best wishes, making them a wonderful choice for someone in recovery.
Orchids: With its exotic yet elegant nature, the orchid is another classic variety to consider. Orchids in royal purple or striking magenta can brighten up your loved one's space.
If you're trying to decide between multiple types of flowers, don't feel restricted to just one. You can also consider an assorted bouquet with two or more varieties. Whether you desire a simple arrangement or a colorful mix, we have plenty of options to choose from at Ode à la Rose.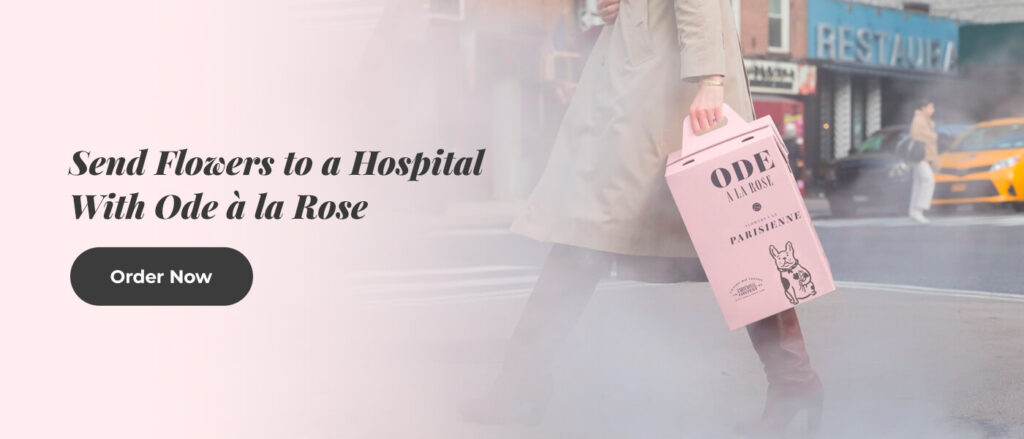 Send Flowers to a Hospital With Ode à la Rose
If your loved one is recovering in the hospital after recently having surgery, Ode à la Rose can help you pull off a beautiful get-well-soon flower delivery to bring a smile to their face. With our charming selection of blooms, you can easily find something in their favorite color or variety to make their day. You can also check out our get-well-soon flowers to give you some ideas.
Want to make their arrangement extra special? Upload a photo or personalized note to your order, and we'll print and attach it for you. You can also select one of our add-on items like a scented candle, chocolate bar, or spa kit. Feel free to add a vase as well if your arrangement doesn't already include one.
Let us help you send a gorgeous bouquet your recovering loved one will treasure forever. If you have any questions about our flowers or need help choosing a stunning arrangement, contact Ode à la Rose at any time!