Special people in your life deserve a unique gift now and then. You can't go wrong with a gorgeous arrangement of fresh flowers, but what if the person you plan on gifting them to won't be home to receive them? What if, instead, that person is away at a hotel?
Can you send flowers to a hotel room? Luckily, the answer to that question is yes. There are just a few things you should know to make sure your delivery reaches that special someone in your life. Let us at Ode à la Rose help you through the process of surprising someone in a hotel room with a flower delivery.
You may have some concerns about how to send flowers to a hotel, but we're here to address them. We have the answers if you're wondering:
If these questions and worries prevent you from sending flowers to someone you care about, read on to solve any concerns you have about sending flowers to someone's accommodations. From the perfect occasion to what bouquets are best to send, we've compiled advice to make sending flowers to a hotel easy.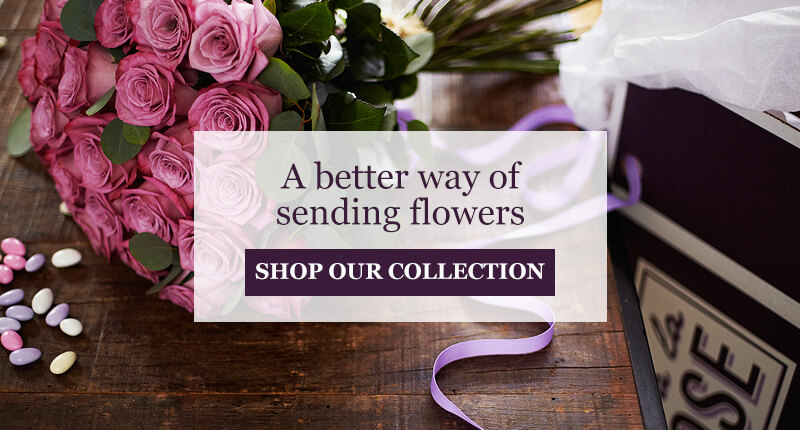 On What Occasion Should I Send Flowers to a Hotel Guest?
Now that you know it is possible to send a message with fresh flowers to someone staying at a hotel, plan what event you'd like to commemorate with such a lovely gift. Below are popular events and reasons for ordering a floral arrangement for someone staying at a hotel.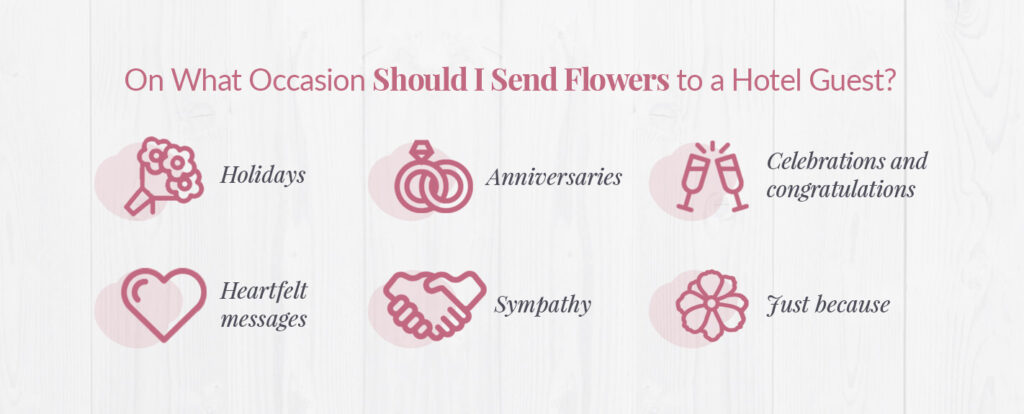 Of course, don't let the occasions above limit you. Fresh flowers make a heartfelt gift any time of year for any reason, but you do need to know how to send lovely arrangements to friends and loved ones staying at a hotel.
What Information Do I Need to Know?
Before you start picking out bouquets to send to everyone you know who's staying in a hotel, you'll need some information. When getting flowers delivered to a hotel, you'll typically need to provide these details:
Recipient's name
Hotel name
Hotel address
Hotel phone number
Room number, if you know it
For the most part, it will be easy to get this information. You know the name of the person you'd like to send flowers to, and you can look up the hotel's address and phone number if you know its name. It may not be suspicious to ask for the name of the hotel where your friend or loved one is staying, but asking for the room number may tip them off about your plans. If you don't know their room number, you may wonder how to surprise someone in a hotel room with flowers. No need to worry. As long as you have the other information, you can get fresh flowers sent to someone special.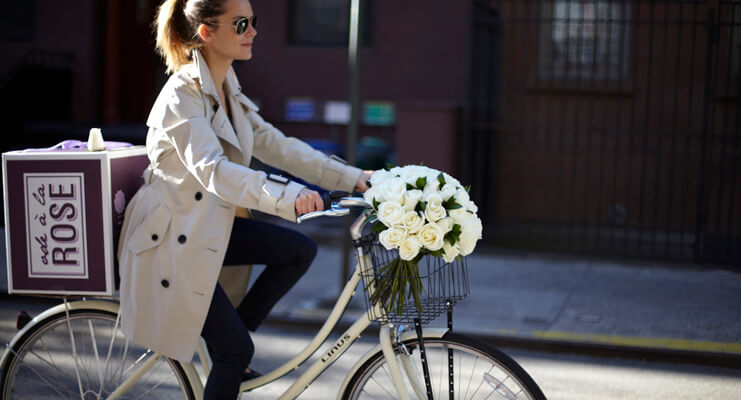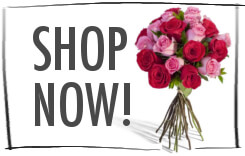 How Do I Get Flowers Delivered to a Hotel When I Don't Have the Room Number?
Here's the scenario — a friend, family member, significant other, or someone else you care deeply for is staying at a hotel. You want to send flowers to them — whether as a romantic surprise or a show of thanks or sympathy. You know where the person is staying, but the complication is that you don't have their room number. You could ask them for it, but you don't want to spoil the surprise.
Thankfully, you aren't out of options. We know how hotel flower deliveries work, and we have the answer to the question — what can you do?
Most flower delivery companies are happy to deliver to hotels. However, if you are scheduling a hotel flower delivery, it's standard to provide the name, address, and phone number of the hotel, as well as the name and room number of the guest who is receiving the flowers.
It's also standard operating procedure for hotels not to give out room numbers or any other personal information for their guests. If you don't have the hotel room number, you will probably start to feel like your loved one can't receive their stunning floral arrangement.
But here's the thing — when it comes to delivering items to hotels, delivery people won't always take packages directly to the room. Particularly in upscale hotels, you might not even be able to get past the elevator bank without the proper key. As a result, delivery personnel — whether they are bringing pizzas, packages, or flowers — will often bring the items to the lobby or the front desk. Knowing the room number, in other words, is not usually essential to making a delivery at a hotel.
Making Sure Your Flowers Make It to the Right Destination
So how can you make sure your flowers end up in the right place — even if you don't have the hotel room number? Your best strategy is to call the hotel directly — not to beg them to provide you with the room number of the recipient, but to inform them a delivery of flowers is on the way.
Believe it or not, you aren't the first person who has had the idea to surprise your special someone with a hotel flower delivery. Hotels often deal with these requests — even when the person sending the flowers doesn't know the recipient's room number.
Once you call the hotel, making sure your flowers get to your friend or loved one is simple.
Ask to speak to the concierge.
Explain the situation and say that you are ordering flowers and plan to have them delivered to the hotel.
Request the concierge's assistance in ensuring the flowers get where they need to go, providing the name of the recipient and when the flowers should arrive.
In most cases, a hotel staff member can accept the flower delivery at the front desk and then take it the rest of the way to the room. In other cases, the hotel might call the recipient and have them come down to the front desk to collect the package. Either way, the flowers get where they need to go in a fashion that doesn't spoil the surprise.
If you play your cards right, you might even be able to convince the concierge to place the flowers in the room before your special someone arrives. If you are trying for romance, this option is the most effective and is worth considering. Not all hotels will go for it, but you never know until you ask!
No matter how you plan to surprise someone special during their hotel stay, your best bet is to call the hotel before ordering flowers to make sure they will accept the delivery. Once you know you can have flowers sent to someone's accommodations, place your order and call the hotel again to provide details of the delivery and recipient.
What Bouquets Are Best to Send to a Hotel?
You're all ready to send flowers to someone you care about staying in a hotel — whether or not you know their room number — but there's more to consider. What are the best flowers to send? While we touched on different flowers to send for specific events before, you'll want to make a selection that's convenient for the recipient, as well.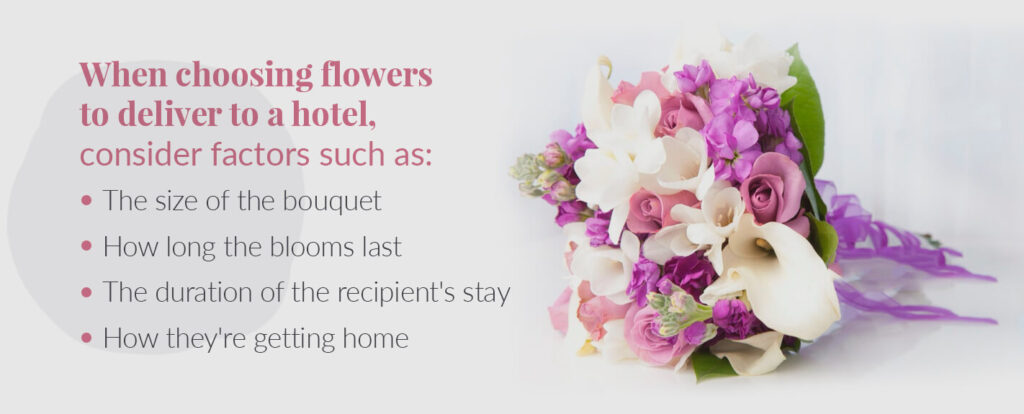 When choosing flowers to deliver to a hotel, consider factors such as:
The size of the bouquet
How long the blooms last
The duration of the recipient's stay
How they're getting home
While large bouquets are impressive, they aren't exactly easy to display in a hotel room and transport home. Small bouquets are stunning in their simplicity and are more convenient for a hotel guest than a large display.
Long-lasting flowers can stay beautiful for two or more weeks, but will your friend or loved one be able to transport still-fresh blooms home? Roses have a vase life of about one week, so they may be the better option in case your recipient must leave their bouquet behind.
If your friend or loved one drove to the hotel, you don't have to worry as much about getting a small arrangement or one that won't last for weeks, since they can easily drive their flowers home with them. Planes and other public transportation make taking bouquets home a bit more complicated, so keep that in mind when choosing an arrangement. If transportation isn't an issue, consider options such as:
When purchasing flowers with us at Ode à la Rose, be sure the bouquet you choose comes with a vase, or select one at checkout. Your recipient may not have easy access to a vase in their hotel room, and you'll want them to be able to display their lovely arrangement, no matter the size.
Once you've selected the perfect bouquet, personalize your flower arrangement by including a photo, choosing an add-on such as a candle — available with some of our arrangements — or writing a personal note.
Don't Forget the Note
You've selected a bouquet you think your friend or loved one will adore, but you want to make the surprise even more special. Including a note with your flower arrangement shows your friend or loved one how much you care. Consider adding details in your message, such as:
Why you're sending the flowers
The fact that you miss them and can't wait to see them again
The meaning of the flowers you chose
Wishing them safe travels
Since you won't be there to give your friend or loved one their floral arrangement, be sure to add a heartfelt note that explains exactly why you're sending the flowers — and who they're from, of course. A thoughtful message will elevate your gift and tell the recipient why you chose to send them flowers.
Why Send Flowers to a Hotel?
You may wonder why you shouldn't just wait until your friend or loved one returns from their hotel stay to send flowers. While the occasions we mentioned above and others are reason enough for making someone's day with a flower delivery, we think these reasons serve as further encouragement to surprise someone with flowers delivered to a hotel.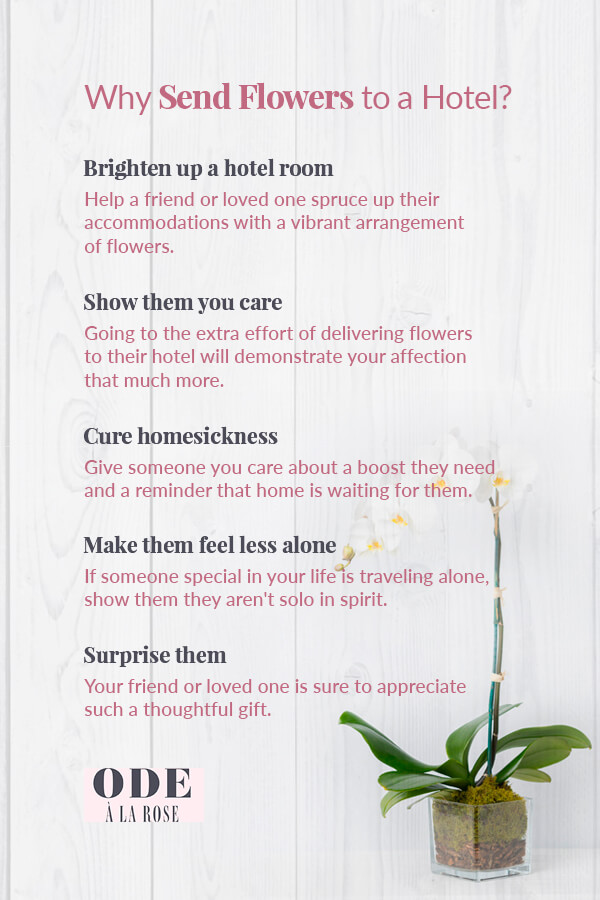 Brighten up a hotel room: Sure, hotel rooms are often luxurious, but sometimes they need a bit of life. Help a friend or loved one spruce up their accommodations with a vibrant arrangement of flowers.
Show them you care: Whether or not you have a specific occasion in mind when sending an arrangement, the sentiment of flowers shows someone how much you care. Going to the extra effort of delivering flowers to their hotel will demonstrate your affection that much more.
Cure homesickness: Traveling can take a toll, especially on long trips. Give someone you care about a boost they need and a reminder that home is waiting for them.
Make them feel less alone: If someone special in your life is traveling alone, show them they aren't solo in spirit. Flowers can say, "Stay safe, and I'll see you soon!" A positive message with lovely blooms is precisely what someone who is traveling on their own needs to pick up their mood.
Surprise them: Gorgeous fresh flowers delivered to someone's accommodations will be a welcome surprise, no matter the occasion. Your friend or loved one is sure to appreciate such a thoughtful gift.
Hopefully, the reasons above, combined with our tips for choosing the right bouquet, inspire you to deliver flowers to a hotel. The right arrangement can say so many things to a friend or loved one, and they are sure to remember such a caring gesture.
Deliver Flowers to a Hotel With Ode à la Rose
Make someone you care about feel good with a delivery of gorgeous flowers right to their hotel. Browse our selection of bouquets to make the right choice, keeping our tips above in mind.
If you still have some concerns about delivering flowers to a hotel, know that we take good care of our fresh arrangements. At Ode à la Rose, we carefully wrap bouquets and vases before placing them in our chic gift box to ensure safe delivery. The flowers you choose will safely arrive, looking beautiful and ready to display.
Since you will not be there to see the flowers before gifting them to someone else, rest assured that our high-end arrangements will appear just as you imagined. We send a photo of the completed arrangement, so you'll know what your friend or loved one will receive at their hotel. The flowers arrive in water, as well, ensuring freshness and beauty.
You shouldn't have to stress when it comes to ordering flowers for someone staying at a hotel. At Ode à la Rose, we want to help you surprise someone special with a vibrant arrangement that shows how much you care.
Ready to place an order now that you know how to send flowers to a hotel? Visit Ode à la Rose online and contact us with any questions you have about sending a floral arrangement.