Are you planning the floral theme for your wedding? Alternatively, are you wondering what type of flower is most affordable at this particular moment in time? If so, it's a good idea to take a look at seasonal bloom times. Different flowers bloom naturally in various periods of the year, which means that certain flowers will be much easier to find (and much more affordable) depending on when you shop for them.
Below, we have outlined the seasonal growth times for several popular flower varieties to help you shop more efficiently. Keep in mind that none of these lists are totally comprehensive, and flowers in season vary by month. You will also notice that some flower varieties are "in season" during more than one part of the year.
Spring Seasonal Flowers
As you would expect, springtime is the peak growth time for flowers and most other flowering plants. Part of the reason that spring and summer are so popular for weddings — beyond the gorgeous weather — is the wider availability of flowers. Expect to see tulips, daisies, daffodils, hyacinths, and plenty of other springtime favorites.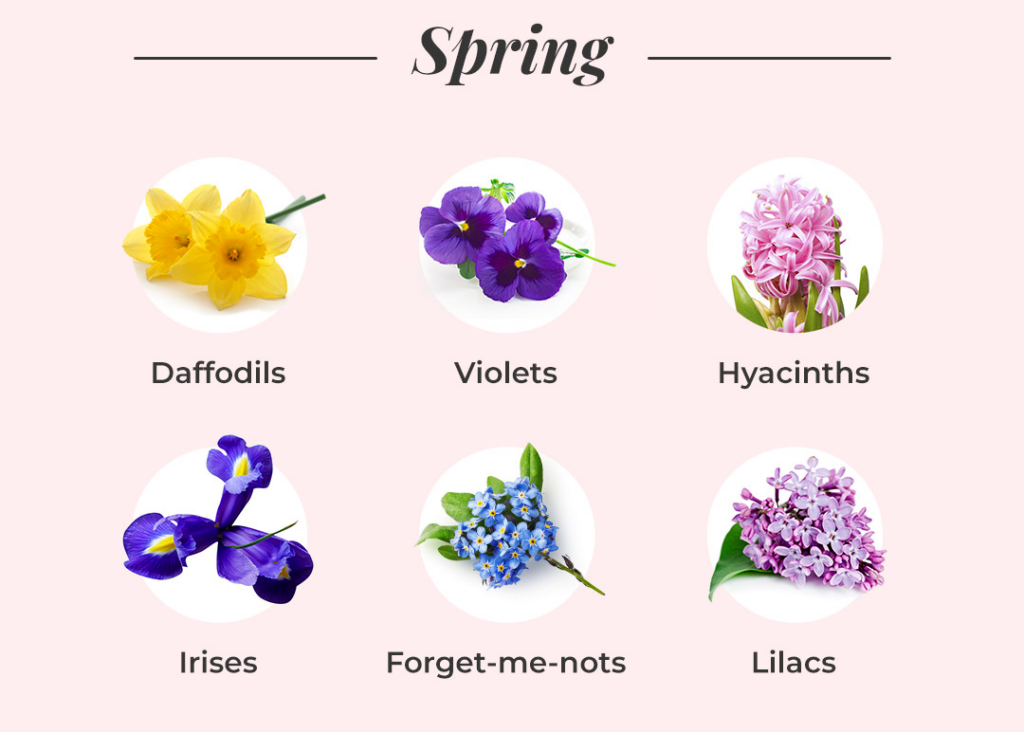 March
March marks the beginning of spring blooms in many parts of the country, though specific blooming dates depend on the date of the last frost and overall temperatures. Everyone knows and loves March's superstar flowers — the orchid and the tulip — but the first month of spring brings plenty of other options, too, such as:
Daffodils
Star magnolias
Windflowers
Trout lilies
Tree peonies
Wild ginger
Forsythias
Periwinkles
Violets
Hyacinths
April
Spring is in full swing by April, bringing colorful blooms and fragrant florals along with it. Expect to find spring beauties like:
Daffodils
Money plants
Bleeding hearts
Wild geraniums
Azaleas
Dwarf crested irises
Grape hyacinths
May
After all those April showers, May is the prime time for many rose types to start blooming in an array of colors. You'll also find:
Trillium
Rhododendrons
Lilies of the Valley
Bearded irises
Peonies
Mountain laurels
Lamb's ear
Forget-me-nots
Lilacs

Summer Seasonal Flowers
Spring and summer flower seasons often blend into one another. For instance, irises are a late spring or an early summer flower. Also, many of the flowers that bloom in the spring will continue to bloom throughout the summer. For instance, if you have lilies planted in your yard, you will see the first blossoms in the spring, but can expect blooms until fall. Notable appearances include roses, dahlias, azaleas, cosmos, daisies, and more!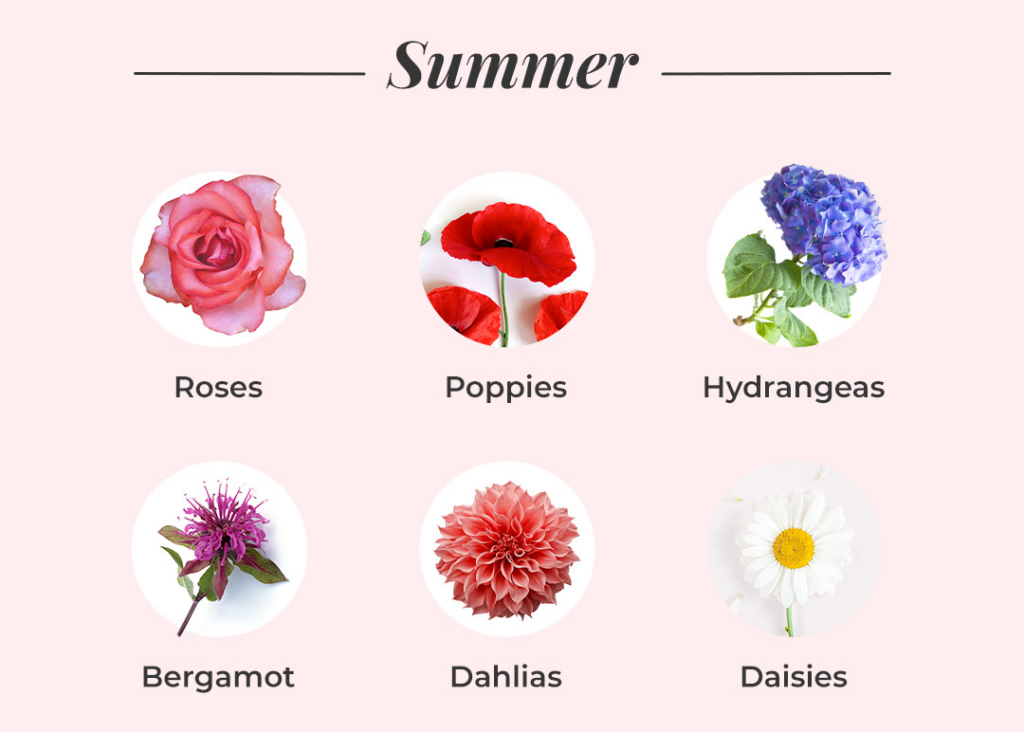 June
As cool spring days begin to warm into summer temperatures, some spring bloomers stick around and join these popular June blooms:
Foxtail lilies
Roses
Yarrow
Poppies
Hydrangeas
Bergamot
Wild blue indigo
Bellflowers
July
By July, the ground is warm, days are long, and the sky is sunny — perfect for these summer favorites:
Daylilies
Dahlias
Daisies
Queen Anne's Lace
August
Most summer flowers have already started blooming by the end of the season, but August brings a few stragglers with it, some of which may continue flowering through early autumn. Watch for these August flowers:
Blazing stars
Tube clematis
Daylilies

Autumn Seasonal Flowers
Autumn is the time of year that flower bloom cycles start to slow down. There are some holdovers from the summertime: sunflowers often continue to bloom well into the fall. If you are putting together a bouquet, you will still have plenty of options from which to choose: chrysanthemums, daisies, roses, carnations, and so many more!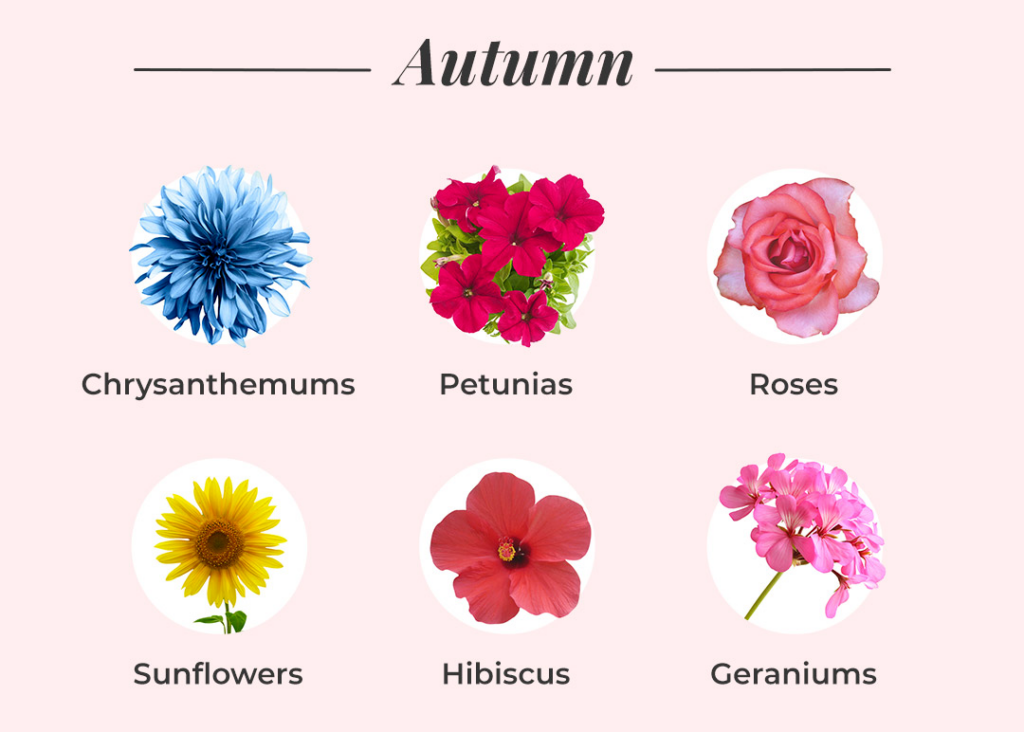 September
September marks a transitional period for flowers, as the temperatures still reach summer highs in many states, while evenings can bring an autumn chill. Depending on where you live, you might find:
Chrysanthemums
Pansies
Violas
Asters
Petunias
Purple coneflowers
Black-eyed Susans
October
October blooms are all about rich, decadent hues, and strong-willed flowers that withstand cold temperatures. Autumn-blooming favorites in October include:
Roses
Sunflowers
Aster
Autumn crocus
Coneflowers
Willow-leaved sunflowers
Hibiscus
English lavender
Japanese honeysuckle

November
November flowers are a balance of hardy and delicate, balancing fall colors with late-autumn and early winter temperatures. Find your favorites among:
Pansies
Geraniums
Coronillas

Winter Seasonal Flowers
Flowers are a less common gift or decoration in winter than during any other season of the year. The obvious exception is poinsettia plants, which sell in the tens of millions every year as Christmas gifts or holiday decorations. Others you may see in the winter include amaryllis, gardenias, camellias, and more!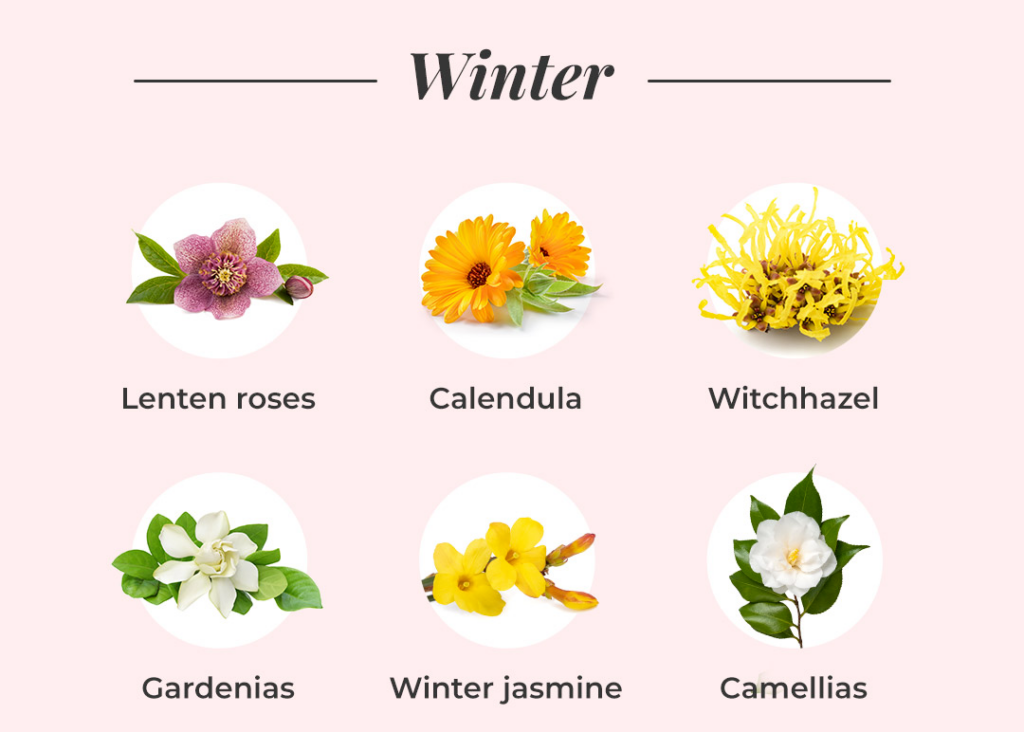 December
December flowers are festive and vibrant, with holiday blooms like:
Lenten roses
Winter's rose camellia
Christmas rose
January
January growing conditions bring frozen earth, frosty mornings and snow-covered greenery, but that doesn't stop these flowers from making an entrance in some parts of the country:
Calendula
Hardenbergia
Witchhazel
February
February is the month of love, and what better way to demonstrate those feelings than with fragrant flowers in subtle hues? Enjoy these late-winter blooms:
Yellow jessamine
Gardenias
Winter jasmine
Witchhazel
Camellias

Shop Beautiful Flowers All Year Long at Ode à la Rose
Which flowers are in season ultimately depends on where you live and the climate. Using the lists above, you can get a general sense of the type of flowers that will be in season at any given time of year. To learn what varieties of flowers are available to you right now — or what will be available for your wedding or event — it's a good idea to speak to a florist in your area. Your florist will have a more exact idea of when they start selling different types of flowers each year.
Ode à la Rose is your go-to destination for beautiful seasonal bouquets to purchase as gifts, décor, or for your special upcoming event. Because we obtain our flowers from all over the globe, we can always guarantee fresh, in-season blooms for any bouquet you purchase. While certain flowers like peonies and lilacs tend to be more seasonal, we also offer year-round flowers such as roses. You can check our website any time to see what's available during a particular season.
As a nationwide flower delivery service, we deliver to every city in the US. Same-day flower delivery is available in select cities: NYC, Chicago, Philadelphia, Los Angeles, Austin, Washington D.C., and Miami. Next-day delivery is available everywhere else in all the US. For New York City flower delivery, shop from our same-day delivery section.