Love is in the air as February 14 approaches, and with it comes swirls of red and pink hearts, arrows, and roses. Roses are stunning and a romantic standard, but you may want to consider other possibilities. Your loved ones deserve the best, and a lovely bouquet is the perfect romantic gesture for this February holiday.
Related Posts:
So, is it even possible to gift Valentine's Day flowers that aren't roses? Luckily for you, there are a wide variety of romantic Valentine's Day flowers other than roses. In this guide, we'll discuss plenty of alternatives for thoughtful bouquets that are just as stunning as roses and are sure to please any of your loved ones this February.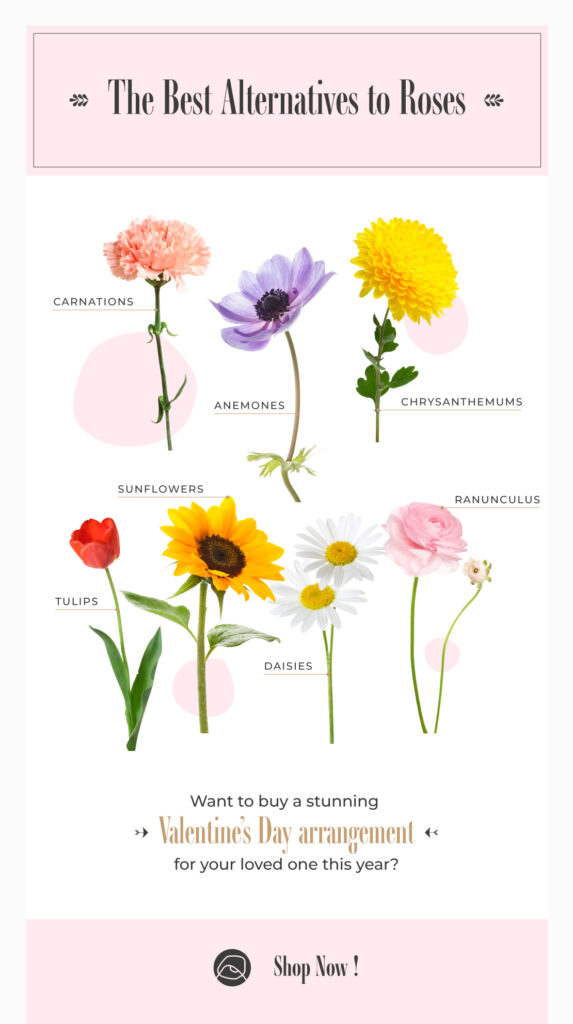 Why Not Roses?
When you think of a romantic bouquet, you may picture a dozen red roses, but your significant other and loved ones may want something different. Giving your partner, friend, or family member the best alternatives to roses means you can gift them:
Something personal: If your partner has a favorite flower or the two of you have a bloom that's special to you and your relationship, gift that instead of roses. It shows extra thought and adds a loving touch to an already romantic gesture. Even if you get Valentine's Day flowers for a friend that feature their favorite blooms, it shows just how much you care and know about them.
Something unexpected: Roses are the standard, but they've also become predictable in some ways. A bouquet of elegant roses can set the tone for this February holiday, but others can too, and they'll be a gorgeous surprise for your partner, friend, or family member.
Something considerate: While those with allergies can enjoy a bouquet of roses, there are other hypoallergenic Valentine's Day flowers that are just as romantic. Your gift will be all the more considerate if you take any allergies into consideration when selecting an arrangement. You can also tailor a bouquet to carry a particular message with flowers and colors that have particular symbolism to make your gift more considerate.
Something appropriate: Roses are the pinnacle of romance, and some relationships aren't quite there as February 14 approaches. Keep your gift casual yet somewhat romantic with an appropriate bouquet that still shows you care. With non-romantic Valentine's Day flowers, you can also get appropriate gifts for friends and family members.
Something eclectic: An all-rose bouquet is breathtaking, but some prefer an arrangement with various colors and textures. Choosing flowers other than roses gives you the chance to combine blooms into one bouquet for a textured and eye-catching — yet still romantic — gift.
Your loved ones certainly wouldn't turn down roses, but they will love the extra thought you put into alternative flowers for Valentine's Day. A unique arrangement shows you put in a bit more effort to search for the perfect gift and decided on a customized and unique arrangement. No matter your reason for seeking alternative flowers, you're sure to find a fun, elegant, or classic option, perfect for anyone in your life who deserves a gift this February.
Best Alternatives to Roses for Valentine's Day
Romantic Valentine's Day flowers other than roses can have similar shapes or colors to the traditional blossoms, but others bring in new looks that freshen up the standard holiday bouquet. These blooms are beautiful in their own way and still work as romantic flowers, even if they aren't roses.
1. Carnations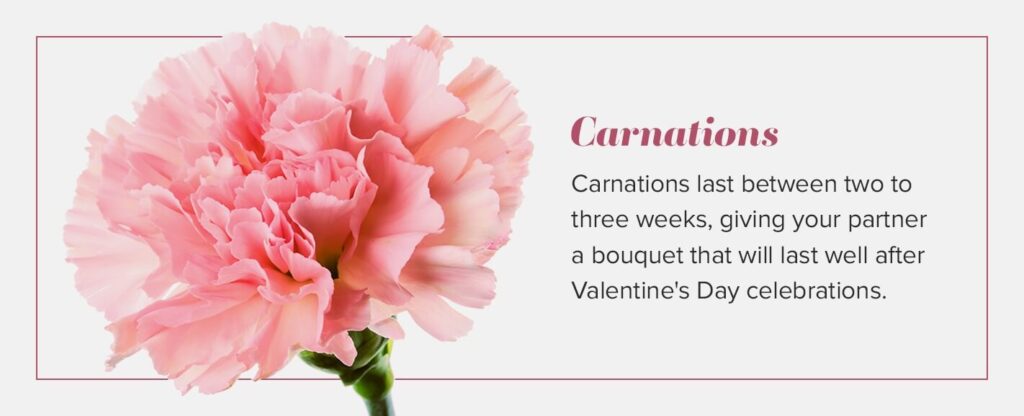 These gorgeous flowers have a similar shape to roses with a denser texture of petals. It's no wonder carnations symbolize beauty, making them the perfect Valentine's Day gift to give your significant other. Along with your partner's beauty and the beauty of your relationship together, carnations celebrate the love you share.
Carnations also last between two to three weeks, giving your partner a bouquet that will last well after Valentine's Day celebrations. With your romantic bouquet on display, your significant other can admire it and you every time they see the gorgeous blooms.
These alternative Valentine's Day flowers come in a rainbow of colors, many natural and others dyed. If color and floral symbolism interest you, you'll want to choose white carnations, as they symbolize pure love, faithfulness, and, as many white flowers do, innocence. White carnations are a great gift for young couples to exchange, but partners of any age can appreciate the romantic appearance and pure meaning of carnations.
2. Anemones
A symbol of undying love, anemones have a striking appearance with defined petals and a dark center. They make the perfect addition to wildflower bouquets, ones with eucalyptus for greenery, and anything with soft, pastel colors. You can commonly find these gorgeous flowers in:
White
Red
Purple
Pink
Blue
Combine the romantic colors or choose your partner's favorites to come together for a gorgeous bouquet. Anemones are a popular wedding bouquet choice, so if your partner carried these blossoms down the aisle, call back to when your life began together by including them in a Valentine's Day gift. Even if they didn't made an appearance on your special day, anemones will show your partner that your love together is everlasting.
3. Chrysanthemums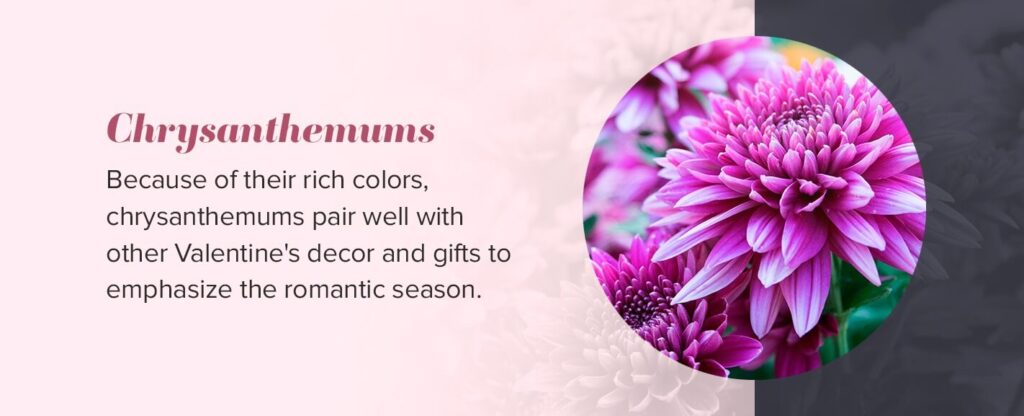 While these flowers are popular in the fall, you can often get any type of flower year-round. Choose chrysanthemums, also known as mums, for their rounded and textured look. With an abundance of small petals, these blooms have a whimsical look in a romantic bouquet. Gift these Valentine's Day alternatives if your relationship is fun and your partner appreciates a bit of whimsy.
Chrysanthemums can even have a more serious side packed with meaning. White mums represent truth, and if honesty is an essential pillar to your relationship, they could make the perfect touch to a romantic bouquet. Chrysanthemums also come in warm tones that reflect fall but can also symbolize passion or romance with colors like:
Red
Orange
Maroon
Gold
Pink
Because of their rich colors, chrysanthemums pair well with other Valentine's decor and gifts to emphasize the romantic season. These flowers will be around after the heart décor comes down, too. With proper maintenance, chrysanthemums can last up to a month. If your partner doesn't mind a bit of upkeep and enjoys having flowers around, these may be the perfect choice.
4. Tulips
Declare your love outright with a romantic bouquet of tulips. Red tulips carry the same romantic weight as roses, symbolizing a declaration of love that can make them perfect for newer relationships. If you're ready to take the leap into "I love you" territory, give the gift of red tulips.
Any type of relationship will welcome the gift of tulips, though. They are bright and cheery, evoking optimism that your relationship, no matter the type, is made to last and brings you great joy. Like carnations, tulips come in almost every color of the rainbow, making them the perfect gift for multiple people in your life with a simple color palette swap.
5. Sunflowers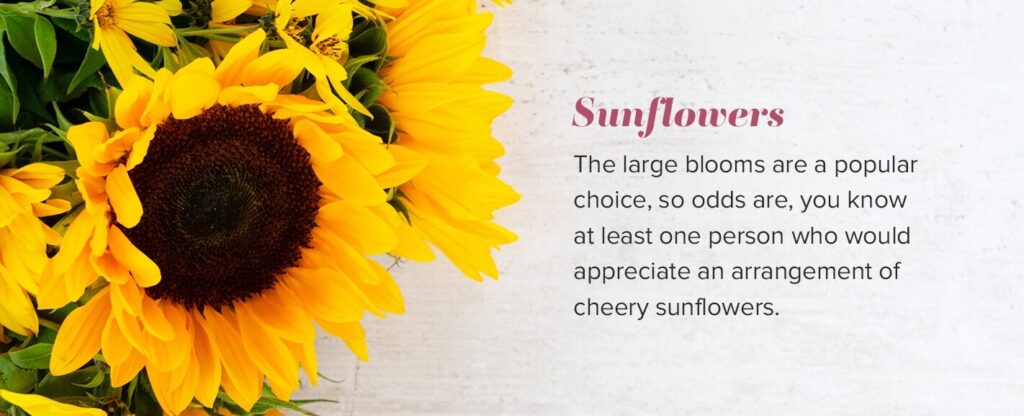 Your love is the sunshine of your life, and you can show that with a bright and beautiful bouquet that features sunflowers. The large blooms are a popular choice, so odds are, you know at least one person who would appreciate an arrangement of cheery sunflowers.
Smaller sunflowers are known to represent adoration, which can apply to many relationships in your life. They also evoke sunshine and loyalty, making them an excellent option to honor a dear friend or your cheerful significant other.
While one large sunflower can be appropriate for young love, a sophisticated bouquet can feature the sunny bloom. By themselves and with a touch of greenery, a sunflower arrangement is bright and beautiful, but the flowers play well with others, as well. Pale blue and purple blooms add a pop of contrast while orange and red enhance the warm hue and make the arrangement more passionate.
6. Daisies
These simple flowers represent innocence, perfect for new love. White daisies evoke this purity the most, but you'll find many other colors in the gerbera variety. From pastel hues to vibrant shades, daisies come in:
Red
Orange
Yellow
Pink
Purple
If your partner appreciates simple beauty, a bouquet with plenty of daisies is sure to impress. For more complex arrangements, include some daisies among other blooms for a cheerful touch. You can also incorporate daisies of different varieties and colors for a more dynamic look, using pastel or vivid shades, depending on your loved one's preference.
7. Ranunculus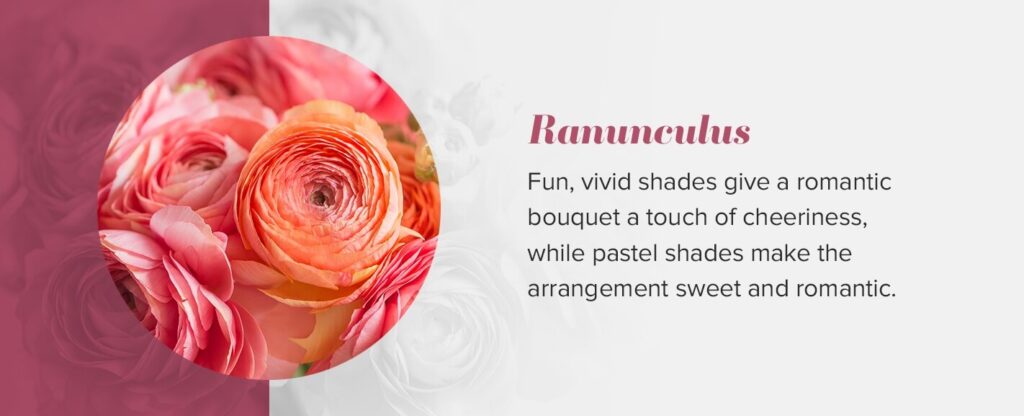 Give the gift of charming flowers to your just-as-charming significant other. Ranunculus are perfect for a partner who enjoys and deserves something on the luxurious side. As romantic flowers that aren't roses, ranunculus blooms feature a similar shape to the traditional flower, but with a captivating swirl of petals. The blooms come in shades of red, pink, orange, and yellow, with some having a lighter color in the center than the outer petals.
Fun, vivid shades give a romantic bouquet a touch of cheeriness, while pastel shades make the arrangement sweet and romantic. A white arrangement with roses, lisianthus and eucalyptus looks elegant and sophisticated, perfect for relationships that have stood the test of time.
Make the Bouquet More Romantic
On their own, these flowers make gorgeous, minimalistic arrangements for Valentine's Day, but you can enhance the romance with some additions and changes. Take your Valentine's Day flower ideas and:
Choose romantic shades like pink, white, or red.
Select different shades like light purple to symbolize love at first sight.
Gift a bouquet that prominently features the alternative flower with a few roses.
Include a filler like baby's breath for eternal love or ferns for sincerity.
These touches will make a more classic gift for the holiday of love, but if your significant other has unique tastes, don't be afraid to stray away from the standard Valentine's Day colors of pink and red. Choose something you think your partner will love, and the thought you put into the bouquet is sure to show. No matter what you choose, add a romantic note that can say:
A simple message of your love.
A quote or poem that's special to the two of you.
The meaning of the flowers you chose.
What you love about your significant other.
A sweet, romantic note will take the gift over the top and make it perfect for Valentine's Day, no matter what blooms it contains.
Hypoallergenic Valentine's Day Flowers
Don't leave allergy sufferers out of the exchange of romantic gifts. While roses are virtually allergen-free, there are other hypoallergenic Valentine's Day flowers available. Avoid flowers that produce and transfer excessive pollen, as those irritate individuals with pollen allergies — you want your loved one to display their bouquet for all to see, and they can't do that if it triggers an allergic reaction.
Lucky for you and your love, you can find a wide array of flowers to fill a Valentine's bouquet for people with allergies. Some popular choices that won't irritate those with pollen allergies include:
Daffodil
Geranium
Peony
Snapdragon
Tulip
Zinnia
Iris
Combine these blooms with the ones below for a grand bouquet that's gentle enough for allergy sufferers or keep it simple with one or two of these varieties:
1. Hydrangea
Hydrangea makes a dramatic addition to an elegant bouquet. Include a few white hydrangea blooms with other florals for a chic and eclectic arrangement that expresses your love in a grand way.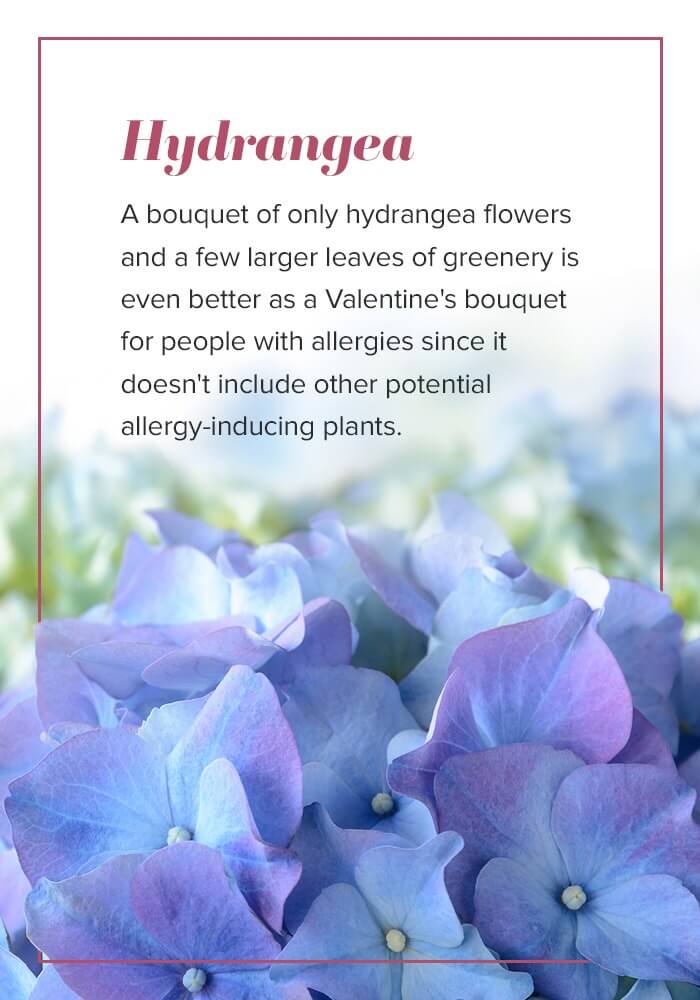 A bouquet of only hydrangea flowers and a few larger leaves of greenery is even better as a Valentine's bouquet for people with allergies since it doesn't include other potential allergy-inducing plants. Keep the flowers all the same color for a dramatic arrangement or mix in various shades for a more whimsical bouquet. Hydrangea flowers come in many soft shades perfect for Valentine's Day, like:
Lavender
Violet
Purple
Green
White
Pink
Blue
Choose a majority of white hydrangea blooms and mix in light shades of pink for a soft yet striking bouquet of hypoallergenic Valentine's Day flowers.
2. Orchid
Orchids are among the most popular choices of flowers other than roses for Valentine's Day. They can be modern, tropical, or elegant, all depending on how you display them. The common choice for an orchid display is the Phalaenopsis orchid, which features a handful of blossoms on a stem. White Phalaenopsis orchids in a cube vase have a clean and modern feel and are a convenient bouquet, as well.
Your loved one can put the simple but gorgeous plant on their desk, a nightstand, or an end table thanks to its smaller size, and orchids aren't likely to affect those with allergies.
Dendrobium is another variety of orchid, but this style evokes a more traditional bouquet. Dendrobium bouquets have long, light green stems that stand out in a vase. The blossoms cluster towards the bottom of the arrangement for a unique look that can come in white, blue, pink, purple, and other shades.
3. Lily
In general, the lily represents purity of heart, and white lilies symbolize purity and sweetness. Red lilies, as the hue does in other floral varieties, represent passion, perfect for newer and older romantic relationships alike. If you need non-romantic Valentine's Day flowers that are also hypoallergenic, you'll be glad to know that lilies come in a wide array of colors and varieties. Pink, yellow, and orange lilies are common finds, and they would all make beautiful additions to a Valentine's arrangement.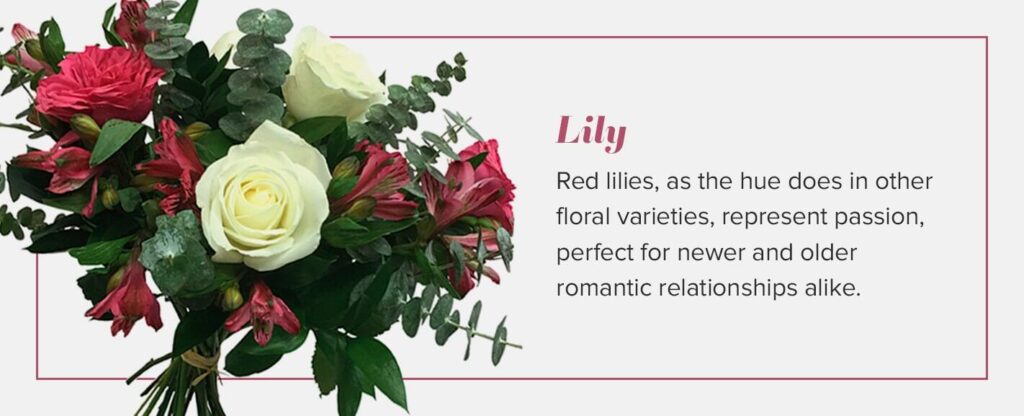 Calla lilies are also romantic flowers that aren't roses but are beautiful in their own way. The way the cup-like blossoms curl give movement to an arrangement of these unique, romantic flowers. These lilies are the traditional symbol of marriage, making them a meaningful choice for a married or engaged couple, but anyone in any type of relationship will appreciate the beauty of these blooms and their warm tones.
Valentine's Day Flowers for Non-Romantic Relationships
Don't forget about the other important relationships in your life this Valentine's Day. Since you're already searching for the right bouquets, expand your search to non-romantic Valentine's Day flowers for others in your life.
Your Children
Make your children feel special on Valentine's Day with a fun bouquet that celebrates familial love. Daisies and sunflowers are sweet and fun choices with appropriate colors. White flowers represent innocence, which makes them perfect for your children of any age. You can also gift a fun bouquet with a rainbow of colors to express your adoration, perfect for younger children. Cheerful colors and arrangements are sure to express just the right sentiment to your children on Valentine's Day.
Parents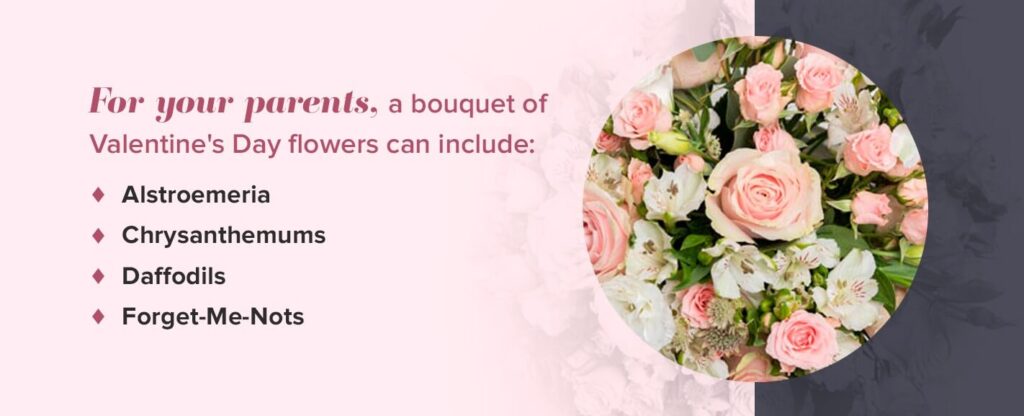 Send a Valentine's Day bouquet to your parents to celebrate their love and your appreciation for them. For your parents, a bouquet of Valentine's Day flowers shows how much you care and can include:
Alstroemeria
Chrysanthemums
Daffodils
Forget-Me-Nots
Choose a large bouquet to gift to the most important people in your life and express your gratitude and love.
Other Family Members
Whether you're close with other family members or want to show them you're thinking of them, use Valentine's Day as a reason to give them a thoughtful gift. Flowers are perfect gifts for:
In-laws
Aunts or uncles
Cousins
Grandparents
Tropical arrangements or bold and simple color palettes are excellent options for male family members, unless you know they have a particular favorite. Smaller bouquets also make a thoughtful gift and are the smart choice if you have a large family to show your love to on Valentine's Day.
Friends
Valentine's Day is typically associated with love, but you can celebrate platonic love in your life, too. Find the perfect Valentine's Day flowers for a friend to thank them for their friendship and all they do for you. Since you aren't celebrating romantic love, you can easily give Valentine's Day flowers that aren't roses to your friends. Gift flowers with touching significance for friendships, such as:
Alstroemeria, which represents friendship and devotion.
Zinnia to show a friend who's away that you miss them.
Forget-Me-Nots to honor the memories you have together.
Those gorgeous blooms come in a rainbow of colors, but to celebrate friendships and non-romantic love, you can select:
Blue for a loyal friend.
Cheerful yellow to celebrate your friendship.
Your friend's favorite color for a personal touch.
Yellow is most commonly associated with platonic relationships, for roses in particular, so if you really wanted to go with roses or they're your friend's favorite flower, you could do so. With so many other gorgeous flower options, though, you're sure to find something that says "Happy Valentine's Day" to your dearest friend.
Gift Alternative Valentine's Day Flowers From Ode à la Rose
Celebrate the season of love with anyone in your life, and make that celebration unique with the best alternatives to roses. With so many options for flowers other than roses for Valentine's Day, get help from us at Ode à la Rose to make those ideas a reality.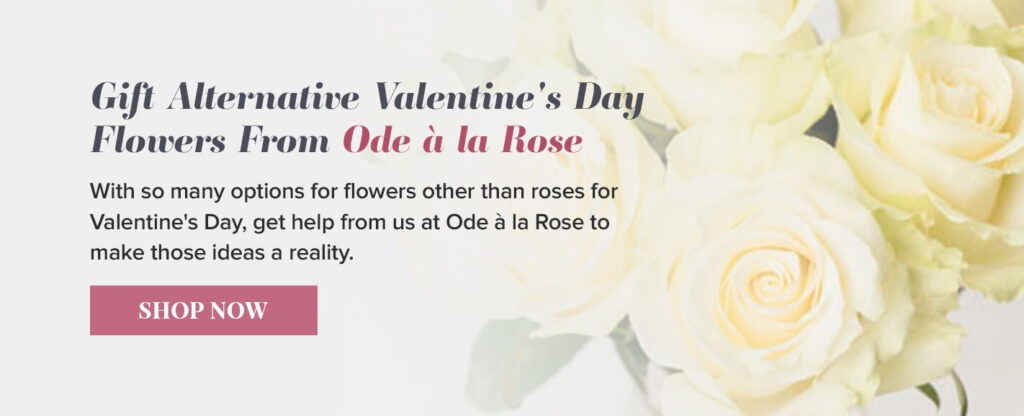 Our expert floral designers take high-quality flowers and compose them into stunning arrangements perfect for any occasion. Your thoughtful gift will arrive safely in our signature gift box, which adds a layer of surprise and sophistication to an already dazzling arrangement.
Browse our breathtaking bouquets to find something for every one of your loved ones this February. Be sure to check our delivery zones to see if we'll deliver your gorgeous Valentine's arrangement the same or the next day. Your loved ones will be stunned to receive such a thoughtful and beautiful arrangement this Valentine's Day.