Your wife works hard, and she deserves a stunning gift. You could surprise her with a bouquet of flowers when she gets home — but an even bigger surprise would be to send your wife flowers at work to brighten her day and her desk with a lovely arrangement.
Not sure how to send flowers to an office? From the best flowers to choose to the perfect reasons to order them, we'll help you figure out how to send flowers to your wife at work.
Check out these related topics:
How to Send Flowers to an Office or Place of Business
Keep these few key steps in mind when surprising your wife or someone else at work with flowers:
Select a florist that delivers in the area: Explore your options that deliver to your recipient's place of work. If the office or place of business is in a city, you may have same- or one-day delivery options. At Ode à la Rose, we serve areas throughout New York City and Chicago with same-day options, providing deliveries to the many places of business in these cities. You can also get one-day delivery in various cities throughout the Northeast & Midwest.
Pay attention to delivery times: Some florists can provide an estimate of when the flowers should arrive. Since you are sending flowers to a workplace, you should know what time the recipient arrives at work and leaves. Provide the florist with that information so they can try to make an accurate delivery.
Plan a week or two in advance: Look into flower delivery a week or two before you'd like your arrangement delivered, especially depending on the time of year. During popular flower-giving seasons and holidays, such as Valentine's Day or Mother's Day, florists have a higher volume of orders. Help guarantee your floral delivery by contacting a florist early.
Contact the florist with any questions: If you aren't sure what flowers to choose or what information about the place of business to provide, a florist will help. Tell them the occasion or your recipient's favorite flowers for advice on arrangements to choose. You can also contact the florist to ensure that they will deliver to an office and what details they will need to do so.
Choose an arrangement: Selecting flowers will be the most challenging part of ordering, but it's only because you'll have so many options to explore. We'll help you pick the best flowers to send your wife at work, but in general, choose ones that reflect the occasion and the recipient's taste.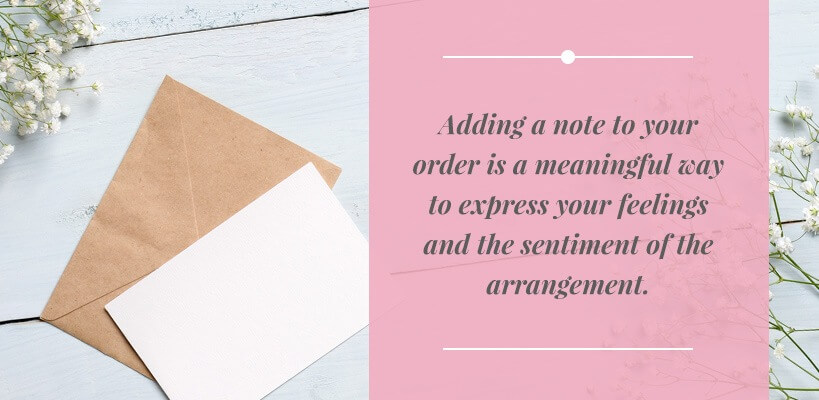 Write a note: Many florists allow you to include a short letter with the delivery. Adding a note to your order is a meaningful way to express your feelings and the sentiment of the arrangement. Try to write a message from your heart, but if you're at a loss for words, you can always find suggestions.
Place the order: Provide the address and additional information about the place of business. If your recipient works in a large building with several other offices, include specific details. Provide the floor of the building, the name of the office, and the department your wife works in to help the delivery arrive.
Check that the order arrived: If your recipient doesn't contact you on the day the flowers are set to arrive, check with them during a break. Since they are at work, don't stress if they don't thank you for the flowers as soon as they get them.
Surprising someone with flowers at work is a thoughtful gift that brightens their day. Since you are sending flowers to your wife, you'll have some flexibility with your flower etiquette, but you still want to send something tasteful. If you are ordering flowers for a coworker or boss, just make sure it's an appropriate occasion for sending blooms.
If you are sending flowers to your girlfriend instead of your wife, think about:
The length of the relationship
The history of the relationship
If your relationship is public
If your relationship is serious
If you're sending your wife flowers at work, you won't need to keep these concerns in mind. But, there are still certain things to think about before ordering flowers for your wife and sending them to her workspace.
Things to Consider Before Sending Her Flowers at Work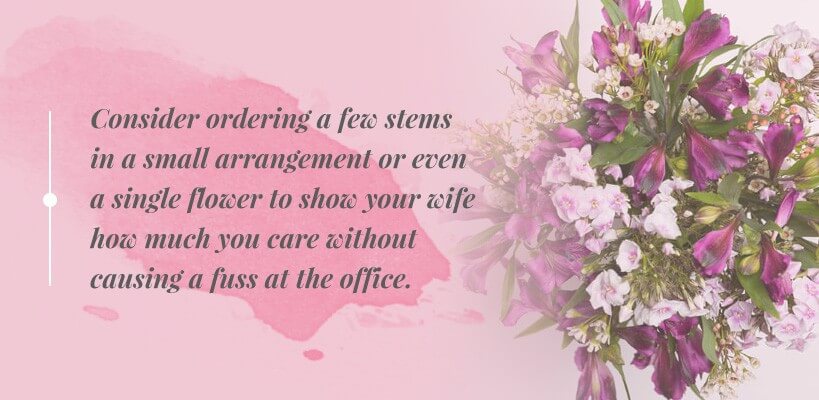 When you want to surprise your wife with flowers at work, remember that she's receiving the flowers in a public setting. So you'll want to give thought to:
Her personality: If your wife doesn't prefer to be the focus of everyone's attention, a grand bouquet may not be the best flowers to send your wife at work. Consider ordering a few stems in a small arrangement or even a single flower to show your wife how much you care without causing a fuss at the office. You can choose a larger arrangement if your wife doesn't mind some attention, but be mindful of how much space she has to display the blooms, should she even want them at work. If she doesn't like to mix her personal life with her professional life, surprise her with flowers at home instead of work.
Her coworkers: Knowing how your wife's coworkers will react to her receiving a bouquet of flowers goes along with her personality. If they aren't the type to make a fuss and that's what your wife prefers, you should have no problem sending flowers to your wife at her place of work.
Her office: Consider the office environment before you surprise your wife at work with flowers. Does she have room on her desk for any bouquets? Does she share office or desk space with a coworker? Even more important than the physical space of the office is the setting. If your wife works in a formal and strict office, you may want to have flowers delivered to your home instead.
In addition to the above things to consider before sending your wife flowers at work, think about the message you attach with the bouquet. No matter the office environment, you should keep the note you include tame. Since you never know who may pass by the note on your wife's desk, include what occasion the flowers are for and a few words about how much you love and care for your wife.
If you want to surprise your wife with flowers at work but don't know if the reason is appropriate, the good news is that almost any occasion is great for sending flowers, such as: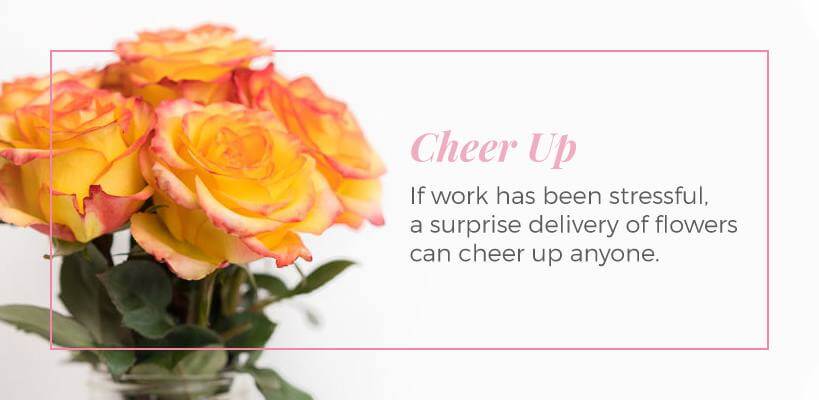 While you should choose to send flowers to your wife at work because you want to, sometimes a particular holiday provides the expectation of a flower delivery. If you know that your wife's coworkers will receive flowers on holidays like Valentine's Day, you may want to send flowers to her. Your gift will show your love while also making sure she doesn't feel left out if everyone else receives flowers. Put in an effort to send flowers appropriate for the occasion and the office alike.
Best Flowers to Send Your Wife at Work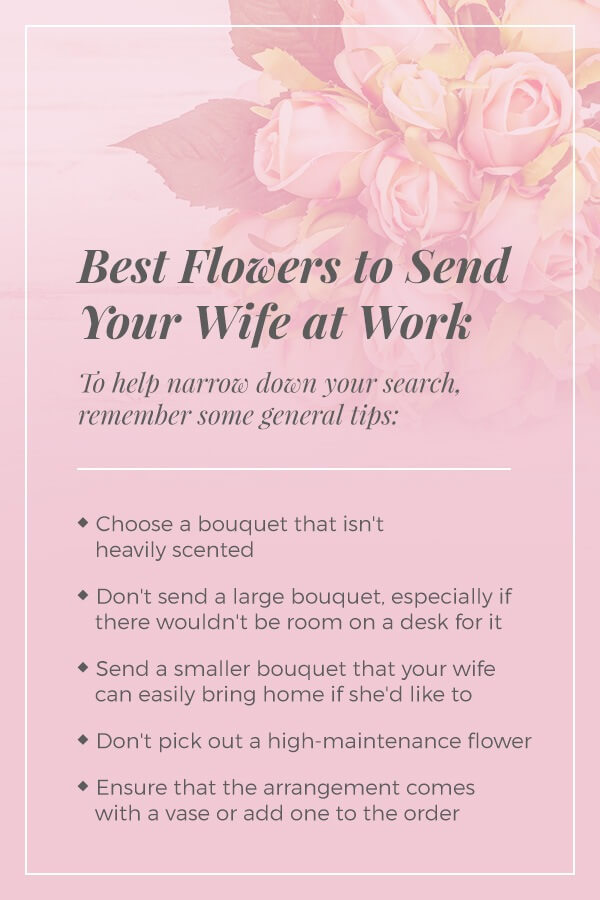 With so many flower options out there, you can find something for every event and taste. To help narrow down your search, remember some general tips:
Choose a bouquet that isn't heavily scented
Don't send a large bouquet, especially if there wouldn't be room on a desk for it
Send a smaller bouquet that your wife can easily bring home if she'd like to
Don't pick out a high-maintenance flower
Ensure that the arrangement comes with a vase or add one to the order
Because the flowers will be on display in a public space — unless your wife has a private office — you'll have to take others into consideration. A delicately scented flower won't irritate anyone's allergies or senses. A smaller bouquet won't provide a distraction in the workplace, and your wife can easily transport a small bouquet home. A low-maintenance flower is great for a workplace since your wife won't have time to take from her workday to care for blooms. Adding a vase to an order ensures that your wife can display the floral gift.
What flowers should you send? If you know your wife's favorite flowers, that's always a great place to start. Since different flowers and colors have different meanings, send an arrangement with significance to your relationship. Some options you'll have are:
Roses: Surprise your wife on an anniversary or other romantic occasions with roses. Show your devotion with a bouquet of these blooms or add in other flowers for a mix of meanings. Roses are one of the most popular choices for gifting to a spouse.
Peonies: Give an arrangement of peonies if your wife has started a new job or received a promotion. These flowers represent prosperity and can bring some prosperous luck to a new beginning.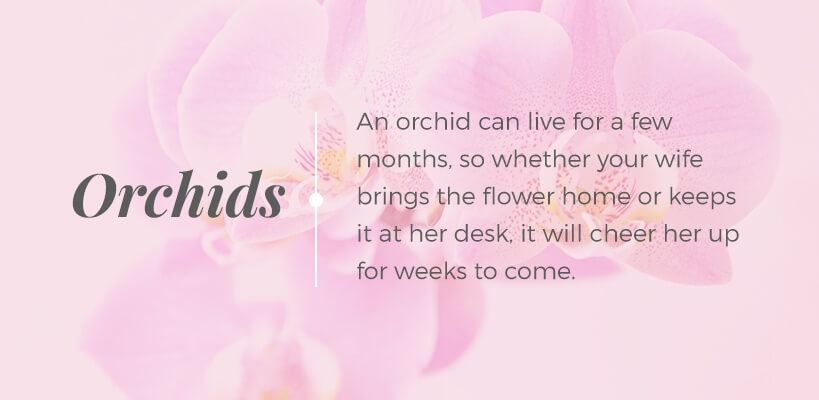 Orchids: Usually sold as one stunning flower, an orchid represents love, beauty, and thoughtfulness. Remind your wife of all the qualities you see in her with an elegant orchid. Given its smaller size, the plant could be a good workplace option. An orchid can live for a few months, so whether your wife brings the flower home or keeps it at her desk, it will cheer her up for weeks to come. Avoid sending an orchid if you're concerned about fragrant flowers in the workplace because orchids have a strong, yet lovely, scent.
Carnations: Be careful when ordering carnations for delivery. The color you choose can have a great impact on meaning. Yellow carnations imply disappointment or rejection, so avoid sending those blooms. Red carnations, on the other hand, symbolize love and admiration, while white or light color carnations represent good luck. Those positive meanings make carnations great for celebratory occasions from anniversaries to promotions.
Any of the flowers above would make a lovely surprise that shows your wife your undying affection. When you're looking for the most classic of romantic gestures, you can't go wrong with roses.
Send Your Wife Roses at Work
You're most likely looking to give your wife a tastefully romantic surprise with a bouquet at work. For a lovely arrangement, you can't go wrong with roses. Since it is such a common variety of flower to give, there are many options out there.
The number of roses you send to your wife at work can have different meanings.
One rose: The elegant choice of a single rose still makes a great impact. The subtle gesture is perfect for any occasion or just because. When you send one rose, you convey your intent but won't cause a fuss or draw attention to a more shy or private individual.
Twelve roses: A dozen roses is a classic romantic gift. It's the perfect number to send your wife at work since the arrangement won't be too large, but it still demonstrates your affection.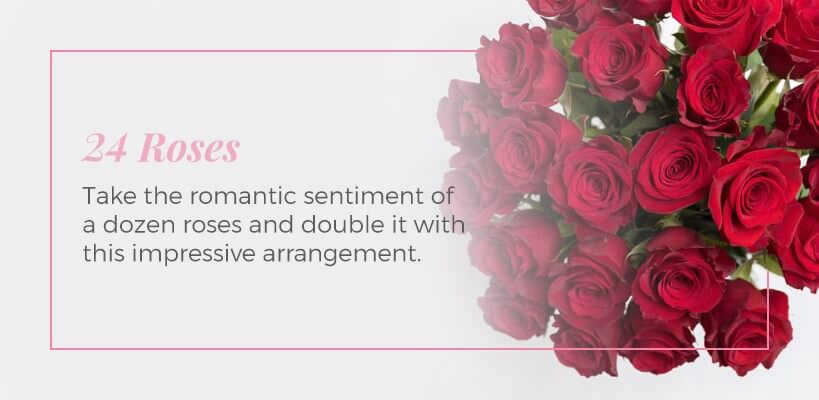 Twenty-four roses: Size doesn't matter if you choose this larger bouquet. Take the romantic sentiment of a dozen roses and double it with this impressive arrangement.
Thirty-six roses: Three dozen roses express your undying love and affection. A larger bouquet like this is great to surprise your wife with at home, but weigh your other options if you're sending an arrangement to her workplace.
Your own special number of roses: When sending flowers to your wife at work, do you have a special number that signifies your relationship? If so, using that number as part of your gift will convey extra special thoughtfulness and admiration.
You also have a range of colors to select from when shopping for roses. Different colors have different meanings, so consider what you're gifting the flowers for when you choose from:
Red: The most romantic and classic rose color, red is a sophisticated choice. Surprise your wife at work with the timeless tradition of red roses that symbolize passion. Mark anniversaries, Valentine's Day, or other celebrations of love with red blooms.
Pink: A cheerful color, pink roses also symbolize elegance. Show your wife your appreciation and admiration. Celebrate birthdays or send pink roses just because.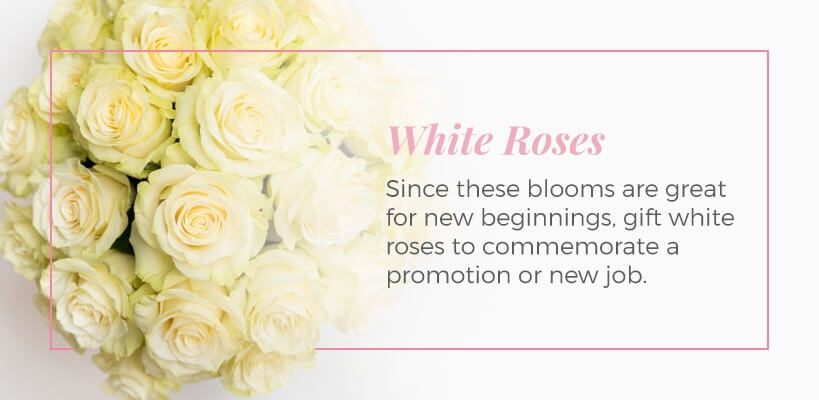 White: Express your deep love and respect for your wife with a bouquet of white roses. Since these blooms are also great for new beginnings, gift white roses to commemorate a promotion or new job.
Gold: Happy times call for cheerful colors. Gold roses are perfect for celebrating promotions, birthdays, and other happy occasions. Brighten up your wife's workplace with sunny gold roses.
Save yellow or assorted roses for a friend. Though the colors are beautiful, the hues above are best for a romantic partner. With the tips above, you are sure to make the perfect selection for your romantic gesture.
How Ode á la Rose Can Help You Surprise Her at Work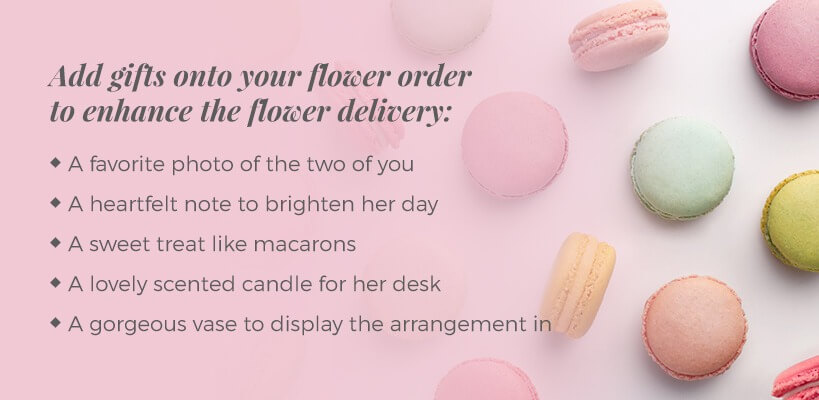 Once you've decided to send your wife flowers at her place of work, you'll have to choose a florist. If you're in Chicago, New York City, or other Northeast areas, Ode à la Rose would be delighted to help you with the perfect surprise. We also allow you to add gifts onto your flower order to enhance the flower delivery. Surprise your wife even more with additions like:
A favorite photo of the two of you
A heartfelt note to brighten her day
A sweet treat like macarons
A lovely scented candle for her desk
A gorgeous vase to display the arrangement in
Of these gifts, a vase and a note are the most popular. Since your wife will need to display the flowers you send her, she'll need something to put them in on her desk. Some of our arrangements come with vases already, but we'll let you know as you order if you need to purchase a vase on the side. We'll send the vase safely along with the blooms so she gets everything she needs to admire her elegant gift.
We want your delivery to arrive just as you'd hope, which is why we offer:
A photo of the arrangement once it's made: After our talented designers create your arrangement, we'll send you a picture of the blooms. Know exactly what your wife will see when she receives her flowers thanks to this feature.
A chic delivery box: Our elegant packaging keeps the floral arrangement safe while preparing your recipient for the beautiful gift inside.
A selection of add-ons: As we've listed above, we offer different add-on gifts for your flower order. Customize the already heartwarming gift of blossoms with a note, macarons, or a lovely vase.
A high-quality arrangement: We source our flowers from worldwide locations. Our selective partnerships help guarantee fresh and beautiful blooms that our skilled designers arrange into high-quality presentations.
With the offerings above, you're sure to send a sophisticated floral arrangement that makes the perfect surprise. Take the time to make your wife's day and make her the envy of the office.
Send Your Wife Flowers at Work With Us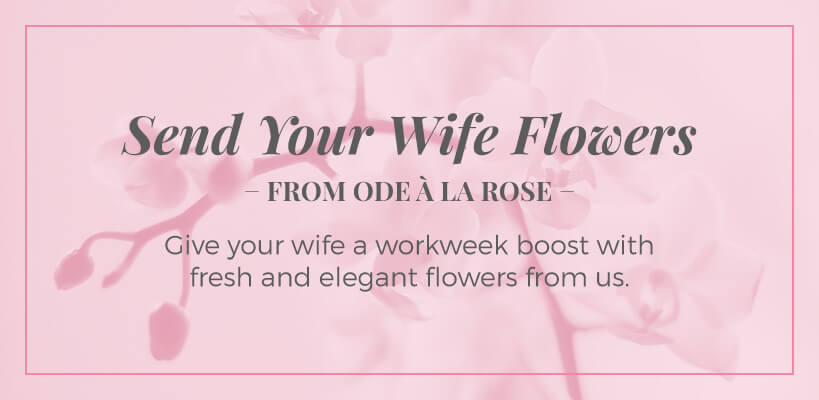 If you know your wife will appreciate a surprise of flowers at work, place your order with us at Ode à la Rose. Browse our selection of floral arrangements from small bouquets to roses. Contact us with any questions you have about having flowers delivered to an office or what flowers are best to send your wife at work.
Give your wife a workweek boost with fresh and elegant flowers from us. We'll be happy to help you plan your surprise gift no matter the occasion.