Mother's Day is quickly approaching, and if your wife is currently expecting, then get ready to celebrate this new mom for the first time. Your pregnant wife is probably feeling many emotions about pregnancy, motherhood, and everything it entails. While you're preparing for starting your family and nesting before the baby arrives, it's important to make this Mother's Day extra special for your partner.
Are you looking for ideas for your wife's first Mother's Day gift? Check out this helpful guide for the best gifts for first-time moms this Mother's Day.
Related Posts:
Why Mother's Day Is Important for an Expectant Mother
Mother's Day is for all moms — those who have children, who adopt, who foster, and moms who are currently pregnant for the first time. A women's first Mother's Day is one she'll remember forever. It's one of the first times she is recognized as a mother and how special her role is in life. Mother's Day is monumental for expectant mothers because it's a chance to celebrate their journey into motherhood.
First-time moms expect to be appreciated at their baby shower and other baby celebrations, but Mother's Day is one holiday that you should definitely treat her like a queen.
Whether your wife is a first-time mom-to-be or bringing another baby into the world, make Mother's Day extra special while she's pregnant. She's taking care of your child and enduring all of the pregnancy symptoms that come along with that. It's appropriate to celebrate her with wonderful Mother's Day gifts and thank her for being the best mother in the world.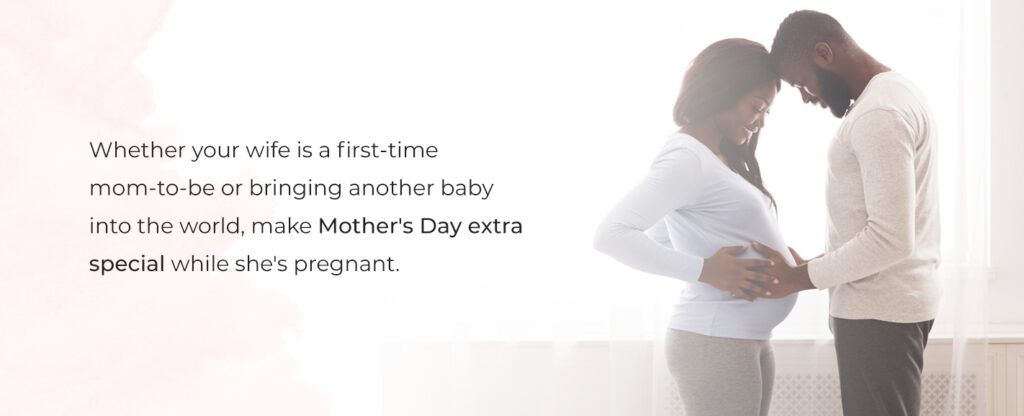 What to Get Your Pregnant Wife for a Mother's Day Gift
Since Mother's Day is quickly approaching, start shopping for the perfect gifts for your mom-to-be wife. From cute mom-themed shirts to beautiful birthstone or baby name jewelry, the present options you have to search through are vast.
If you're stumped on where to begin your gift search, trust our Mother's Day gift guide. This list includes some popular gift options, unique presents, and thoughtful items that your pregnant wife will love.
Consider these recommendations for the best Mother's Day gifts for first-time moms:
1.Non-Toxic Nail Polish
A fresh manicure can help someone feel confident and beautiful, and fun nail polish colors can brighten a new mom's day. Some mothers avoid painting their nails based on polish's standard chemical ingredients. If your wife likes to paint her nails, buy her some non-toxic nail polish. Buy your wife her go-to nail polish color, or buy a set of a few colors so she can change up her nail look.
2. Foot Massager
Pregnancy can take a toll on your wife's body. She might be experiencing back pain, swollen ankles, sore feet, and other discomforts. Treat your wife to an at-home foot massage with an electric foot massager. A nice, deep tissue foot massager can help relieve some of the aches and pains your wife feels during pregnancy. She'll even be able to use the foot massager after pregnancy.
3. Mom Jewelry
Most women love receiving jewelry as a gift. If your wife is one of those girls, then a nice piece of mom-style jewelry is a great gift for her this Mother's Day. Many jewelry companies offer special designs around Mother's Day, so you'll have numerous options to shop around through.
Select jewelry that says "Mom" or "Mama," your baby's name, your baby's initials, or the birthstone of your baby. You can get any type of jewelry, like necklaces, rings, bracelets, and earrings and wrap them up in a cute Mother's Day gift box.
4. Mom T-Shirt
Get your wife a cute and cozy tee that shows everyone she is a mom. You can look for cute shirts that your wife can wear out and about or shirts that are comfortable and cozy so she can wear them as pajamas.
5. Gift Card to Her Favorite Store
If you know what store your wife loves but are unsure of what to get her, buy her a gift card. A gift card to her favorite store will allow your wife to treat herself to whatever she wants, mom-related or not. If you decide to go with a gift card, you can pair it with something like breakfast in bed, a bouquet of flowers, chocolates, or her favorite dinner.
6. Button-Up Pajamas
A cute pajama set can make bedtime even more relaxing and fun. Your wife might be wearing pajamas often after the baby is born, so a couple of new pajama sets will be an amazing present. A pajama set that buttons up is perfect for the mom-to-be because it will be easy for nursing.
7. Nursing Robe
A comfy maternity robe is a wonderful first Mother's Day gift for your wife. A nursing or maternity robe will be easy for her to throw on in the morning and take care of the baby, nurse the baby, and relax in a comfy robe all day. This gift is definitely a go-to for expecting moms on Mother's Day.
8. Sleep Mask
Sleep masks can help people get a better night's rest and can make naps more relaxing. This item is a great idea for a Mother's Day gift for your pregnant wife. Pregnancy can make sleeping a bit of a struggle, and anything to make sleep more relaxing is a must-have for women who are pregnant. Look for a luxurious sleep mask and pair it with some cozy pajamas to make the perfect present.
9. Spa Day Kit
Your wife deserves to be pampered every day, especially on Mother's Day. You can book her a trip to the spa or create your own spa kit for an at-home spa experience.
To put together the perfect at-home spa kit for the new mama-to-be, consider self-care goods you can pamper your partner with. Grab a basket and fill it with all the spa day necessities, like bath salts, face masks, lotion, aromatherapy oils, body oil, a luxurious robe, and slippers. The gift of relaxation and self-care is one of the best Mother's Day ideas for the soon-to-be mom.
10. A New Outfit
The way to some women's hearts can be through clothes. If your wife loves strutting new outfits and fashion, buy her new stylish items to include in her wardrobe. A beautiful flowy dress is a great option for expecting mothers because it will leave room for her growing baby bump, look amazing, and be comfortable. You can plan a nice lunch or dinner date to wear the new outfit to as a bonus present for Mother's Day.
11. Candles
Gifts that are relaxing and comforting are some of the best Mother's Day gifts for expectant mothers. For a gift that is sweet and freshens any room, buy your wife some candles for Mother's Day. You can find candles that smell like fresh flowers, melting chocolate, or stress-relieving aromatherapy candles. Some stores sell candles specifically for Mother's Day, with messages like "Best Mom" or "Happy Mother's Day" on the candle jar.
If your partner is sensitive to strong scents during pregnancy, consider subtle options or unscented candles in decorative jars. Choose options that are suitable for Mother's Day or ones that complement your home's decor.
12. Maternity Photo Session
The first time someone is pregnant is truly a milestone that is unforgettable. Securing the memories of the moments before your little one arrives is very special. Give one of the most thoughtful gifts with a maternity photo shoot session for Mother's Day. Hiring a professional photographer to capture the moments before your baby is born is a beautiful gift for your wife this Mother's Day.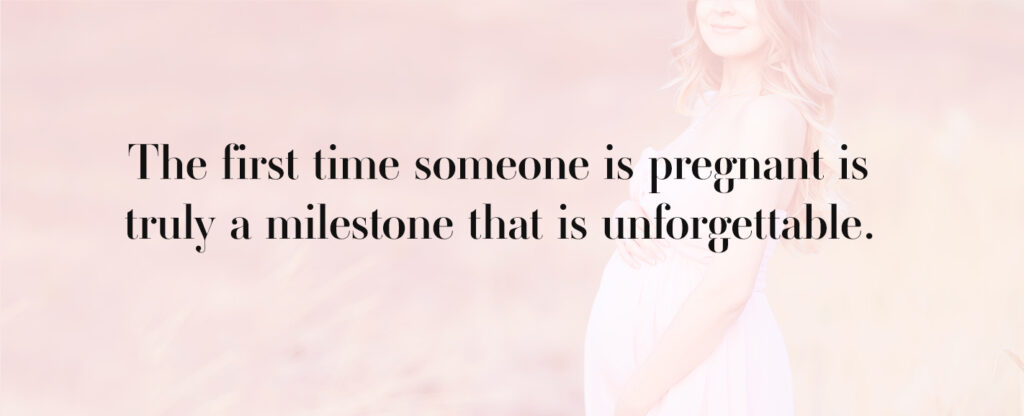 13. Custom Mug
A gift that will make your wife smile every time she has a cup of tea or coffee is a custom Mother's Day coffee mug. You can make this mug special with sweet Mother's Day phrases, a sonogram photo, or a photo from a maternity photo shoot. Take this gift to the next level by bringing your wife breakfast in bed on Mother's Day and presenting the mug with the meal.
14. Cozy Blanket
Your wife may want to snuggle up on the couch or in bed, especially during the later months of pregnancy. A fantastic gift to surprise your wife with for Mother's Day is a soft and cozy blanket that she can cuddle with while she's relaxing. Consider making a custom blanket with a sonogram photo or a photo from a maternity photo shoot. You can really never go wrong with a comfy blanket, which you can pair a blanket with a nice set of pajamas and slippers.
15. Nursing Bras
Your pregnant wife will love a new set of nursing bras. Nursing bras give extra support for mothers who are lactating and are comfortable for breastfeeding because the bra cups can unclip and open or close. Find some high-quality and comfortable nursing bras for a practical Mother's Day gift for a first-time mom.
16. Pregnancy Pillow
If your pregnant wife doesn't have a pregnancy pillow now, it will be one of the best Mother's Day gifts. A pregnancy pillow is both a practical gift and a comfortable pillow that treats the mom-to-be. Many pregnant women experience some level of insomnia, and a pregnancy pillow can help alleviate some discomfort that occurs when pregnant women try to sleep.
17. Hospital Maternity Gown
The hospital will supply your wife with a hospital gown when she goes in to have your baby. Instead of using the given gown, why not purchase one that matches your wife's style or is in her favorite color? You can find numerous maternity hospital gowns that are in various colors, materials, and designs that can help your wife feel more comfortable and like herself while she's in the hospital.
18. Belly Casting Kit
For a creative present for your wife this Mother's Day, consider a belly casting kit. A belly casting kit allows your wife to create a mold of her baby bump to keep as a memory. The kit works by using wet plaster strips to stick to the front of mom's baby bump and waiting until the strips set and harden. Once the mold is complete, you can leave it as-is or paint and decorate the cast as a unique art piece or memory in your home.
19. Child Birthing Class
A practical gift that you and your pregnant wife will enjoy is scheduling a childbirth class. You can find both in-person and online childbirth classes that can help prepare both parents for birth. These classes can lead to a more knowledgeable and positive birth experience by teaching about the medical practices and possible situations the mama-to-be may experience during childbirth.
20. Flowers
One of the best Mother's Day gifts that will surely put a smile on your wife's face is a bouquet of flowers. A fresh bouquet of flowers tells someone you care about them. Flowers are the perfect gift on their own and paired with any of the other gifts on this guide. Whether you choose roses, lilies, sunflowers, tulips, carnations, or orchids, you can make your wife's first Mother's Day as memorable as possible with a beautiful floral arrangement.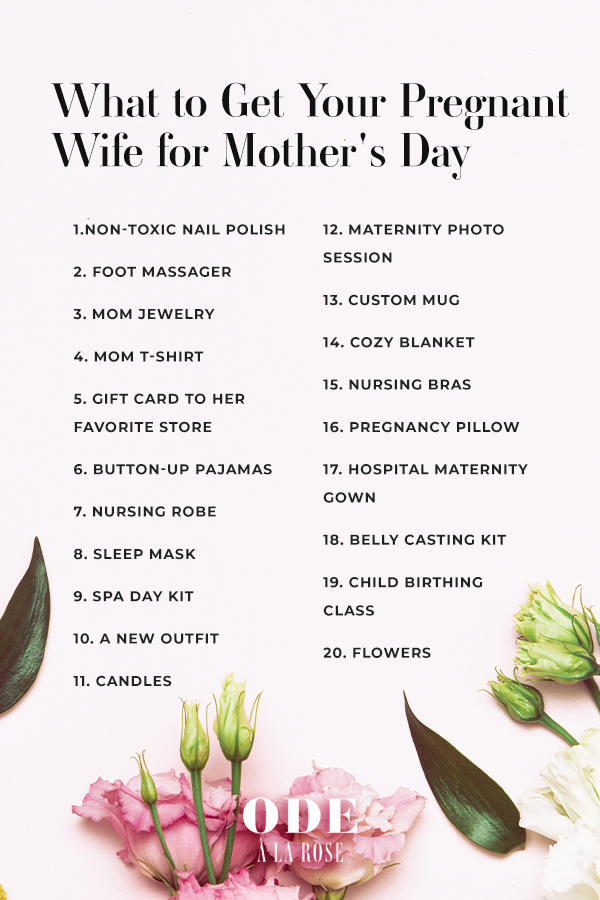 Activities to Celebrate Mother's Day
Gifts are wonderful on Mother's Day, but one of the best presents you can give your pregnant wife is quality time. Planning a fun activity this Mother's Day can make your wife feel extra special and loved. Try one of these fun Mother's Day activities to surprise the mom-to-be:
Dine at her favorite restaurant: A fun Mother's Day date can be scheduling a reservation at your wife's favorite restaurant. You can get all dressed up and treat her to a romantic evening.
Go shopping: A fun activity can be a day of shopping. You and your wife can browse for clothes for yourselves and some more items for the baby.
Learn how to make a flower arrangement: A fun and unique date for Mother's Day is creating your own flower arrangements at home. If your wife loves flowers, this crafty activity will make her smile. Order some beautiful flowers and greenery, vases, and other tools you'll need for your DIY project.
Set up a picnic: Grab a picnic basket, blanket, and some delicious food for a Mother's Day picnic. This idea is a simple but sweet date to surprise your pregnant wife with on her first Mother's Day.
Make breakfast in bed: If you want to stay at home during Mother's Day, cook some of your wife's favorite breakfast foods along with her favorite drink and some fresh flowers, and surprise her with breakfast in bed.
Order Mother's Day Flowers From Ode à la Rose
Express to your pregnant wife how special she is on her first Mother's Day with a beautiful bouquet of flowers from Ode à la Rose. We have a large selection of gorgeous Mother's Day flowers you can search through to find the perfect arrangement for your partner. Your flowers will be delivered right to your front door and look beautiful and fresh. We deliver flowers all over the country, and you can search our delivery zones locater to see if we deliver to your address.
Contact us today if you have questions about our fresh blooms and delivery services.