Is someone you adore staying in a Chicago hotel? We will show you how to surprise them with a bouquet. The process is simple, and most hotels have experience handling such requests. Even if you do not have their room number, you can still move forward with your special gift. You'll make your loved one's stay in the Windy City unforgettable when they receive your message of amour.
How to Send Flowers to a Hotel Room
Hotels, especially high-end hotels, take pride in pleasing their guests and making them as comfortable as possible. If you contact the hotel and let them know you are sending flowers to one of their guests, it is highly likely they will assist you and make sure the delivery runs smoothly.
It is easy to deliver flowers to a hotel, and you usually do not need the guest's room number. Hotels generally do not like to give out information about guests, so you likely would not be able to obtain the room number from the hotel anyway. Usually, the delivery person will leave the flowers at the front desk, and the hotel staff will either deliver the package to the guest or call them to the lobby – it is as simple as that. To ensure your flowers make it to the guest, call the hotel and inform them that a special delivery is on the way. If they offer concierge services, ask to speak to the concierge. The concierge can make sure the flowers are safely delivered to the guest.
When you contact the florist, it helps to have some information on hand. You'll need to tell the florist the following:
The guest's name
The guest's room number if you have it
The address of the hotel
The hotel's phone number
In most cases, hotels and florists are happy to work with you and make sure you and the guest are satisfied with the experience.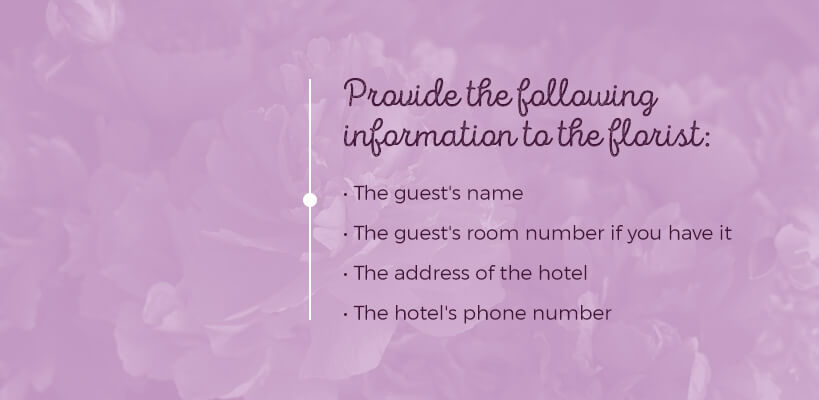 Major Chicago Hotels
Below are a few top-rated Chicago hotels that are known for excellence, luxury, and treating their guests like royalty. If your loved one stays at any of the following hotels, you will have no trouble surprising them with a flower delivery. We will look at the highlights of each hotel and provide contact information to help streamline the process.
1. The Peninsula
The Peninsula is a five-star hotel located in Chicago's vibrant business district – the Magnificent Mile. Here, guests are only steps away from upscale shops, award-winning restaurants, and iconic Chicago landmarks.
With locations around the globe, the Peninsula started in Hong Kong over 90 years ago. While lodging at the Peninsula's Chicago location, guests enjoy a fusion of traditional Asian service with Midwestern hospitality. Bright, comfortable rooms, a rooftop lounge, and the option to enjoy Cantonese dishes at the hotel's restaurant Shanghai Terrace are just a few of the amenities.
Perhaps what draws guests to the Peninsula most is the hotel's reputation for customer satisfaction. Hotel staff aims to delight their guests and make them feel spectacular. They offer in-room dining services 24 hours a day, for example, as well as concierge services. If someone you love is staying at the Peninsula, simply call the hotel and ask to speak to a concierge about your plans.
Address: 108 E. Superior St., Chicago, IL 60611
Phone number: 1-312-337-2888
2. The Langham
The Langham is a comfortable, luxurious hotel located on the banks of the Chicago River. At the Langham, guests enjoy proximity to the Magnificent Mile and striking views of the river, Lake Michigan, and the cityscape. Guests also have access to a 67-foot indoor swimming pool situated beneath a display of dazzling spotlights.
Since 1865, the Langham has been showering visitors with attentive, friendly service. At this hotel, you'll find 24-hour concierge service to ensure your flower delivery makes it to your loved one on time. The Langham will surely accommodate your desire to pamper one of their guests further.
Address: 330 N. Wabash Ave., Chicago, IL 60611
Phone: 1-312-923-9988
You can also fill out a contact form online and request service before your loved one arrives.
3. Four Seasons Hotel
Four Seasons is a glamorous five-star hotel located in the heart of Chicago's historic Gold Coast neighborhood, a short stroll away from the Magnificent Mile. Featuring impressive views of Lake Michigan, stylish decor, and world-class hospitality, Four Seasons will leave guests feeling bathed in luxury.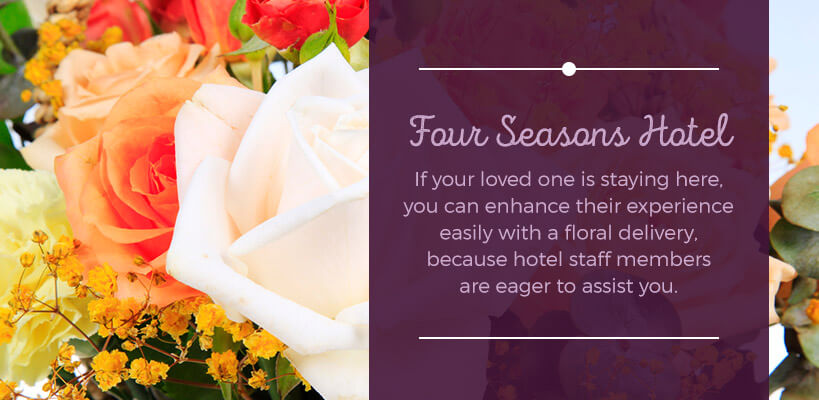 If your loved one is staying at this hotel, you can enhance their experience easily with a floral delivery, because hotel staff members are eager to assist you. You can call them with any questions or concerns and ensure your plans work out perfectly. They make it a point to go above and beyond for guests, and can help arrange practically anything – no need to be shy about your romantic request.
Address: 120 E. Delaware Pl., Chicago, IL 60611
Phone: 1-312-280-8800
4. Waldorf Astoria
If your loved one is planning a stay at Waldorf Astoria, they are already halfway to a romantic experience. All they need is your special touch to remind them you're present, even if you're far away.
Located in Gold Coast, Waldorf Astoria beckons visitors to slow down and cherish moments of complete relaxation. Most of the rooms offer in-room fireplaces, and all guests can dine in the hotel's opulent French-inspired eateries such as Petit Margeaux, a French patisserie, and Margeaux Brasserie, where guests are transported to a Parisian cafe.
Waldorf Astoria is the ideal setting for your floral message of love. The hotel invites you to contact their personal concierge so they can help you plan a surprise flower delivery. It's easy to imagine how your loved one will feel when they find a delicately designed bouquet presented in front of a glowing fireplace. One thing is for sure, Waldorf Astoria is excited to help you say, "Je t'adore" — I adore you.
Address: 11 E. Walton St., Chicago, IL 60611
Concierge phone: 1-312-646-1405
Hotel phone: 1-312-646-1300
5. Sofitel
Sofitel Chicago offers a unique experience for visitors, combining contemporary French flair with the local culture. Guests can expect upscale amenities, stunning views of downtown, and modern decor with a sleek European feel – all for a reasonable price.
If your loved one stays at Sofitel, they will enjoy being only a few blocks away from the Magnificent Mile, while also feeling like they are lodging at a sophisticated hotel in France. At Sofitel, guests might relish a cocktail in Le Bar, designed by architect Jean-Paul Viguier, or savor French cuisine in Café des Architectes. Sending a loved one a floral surprise will enhance the magic of Sofitel. You only need to reach out to the friendly hotel staff who are sure to welcome your gesture and assist you in the delivery.
Address: 20 E. Chestnut St., Chicago, IL 60611
Phone: 1-312-324-4000
Occasions for Sending Flowers to a Hotel Guest
Every day is an opportunity to be romantic or tell a loved one you care. For thousands of years, human beings have cherished the delicate beauty of flowers as decoration and symbols of love. Men and women both enjoy a fresh and uplifting bouquet to add sweet scents, color, and positive energy to a room. If you've ever received a bouquet of flowers, you can probably remember how special you felt.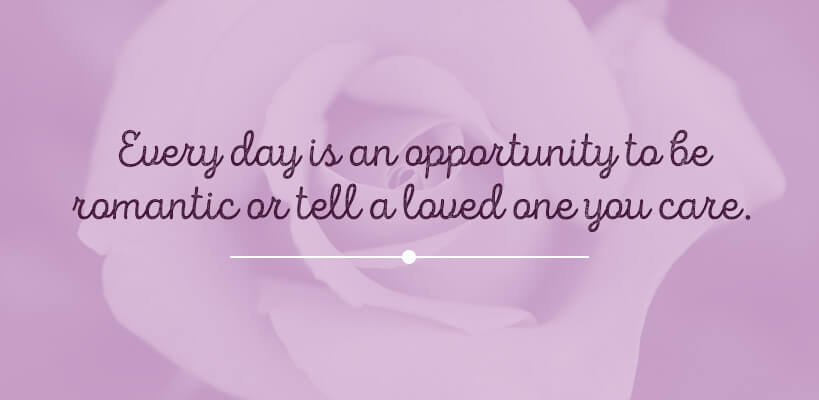 A flower delivery is a beautiful way to make a hotel room feel more welcoming for your loved one and comfort them while they are away. It can also heighten their experience to levels they will never forget. If they are in the Windy City for a job interview or event and feel nervous, or if they are in town to visit relatives, you can let them know you are by their side every moment of the day. If they are in Chicago simply to explore and enjoy all the cultural treasures the city offers, they will feel like a king or queen when the hotel staff presents a bouquet delivered from your heart.
You might send a bouquet just because you cherish someone. Nevertheless, here are a few reasons to send a thoughtful floral surprise:
To express your love and affection
To brighten your loved one's day
To send a gesture of apology
To show sympathy
To win someone's heart
To show appreciation or send thanks
To celebrate a special date like a birthday, anniversary, or holiday
To congratulate for reaching a milestone like landing a dream job or graduating college
To comfort them if they are far from home or traveling alone
To enhance their experience
To celebrate a recent engagement or a soon-to-happen surprise engagement
To send yourself a bouquet because you deserve it
Just because
Flowers cheer up anyone's day and show them they are deeply loved and cared for, especially when it is unexpected.
Best Flowers to Send to a Hotel Guest
Although many different flowers could impress your significant other or brighten a friend's day, some flowers are traditionally associated with certain meanings. Consider asking a florist to incorporate one or more of the following flowers in your bouquet to convey your message: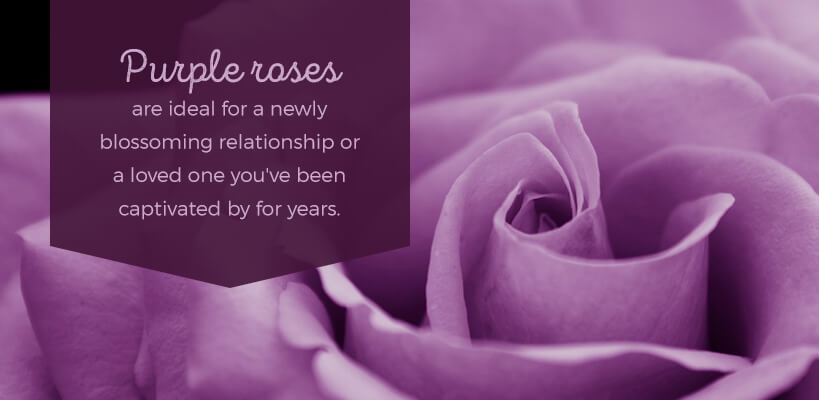 Orange rose: Another way to express your fascination with a significant other is to send them an energizing and unexpected bouquet of orange roses. Orange roses also add a burst of citrusy hues to a neutral hotel room, making a stay in Chicago feel even more inspirational.
Tulips: Just like red roses, sending red tulips is another way to say you love and adore someone. Classy yet playful, tulips serve as a reminder of your affection and everlasting love. A tulip's scent varies, but generally, they emit a subdued, sweet perfume.
Sunflower: Walking into a room with a cheerful and warm bouquet of sunflowers will surely make someone feel more at home. Sunflowers symbolize adoration and make wonderful surprises for anyone on any occasion. A bouquet of sunflowers is a great way to congratulate a sibling for finally making it to the Windy City or to pamper Mom while she enjoys a weekend in an upscale hotel.
Pansy: Show someone you think about them day and night while they are staying in Chicago with a bouquet of pansies. A pansy comes from the French word "pensée," which means to think. These richly colored blooms add tiny jewels of joy to a hotel room.
Iris: Irises trace back to Greek mythology — the name means "rainbow" and "messenger." The iris flower inspired the fleur-de-lis design, and during the Victorian era, the iris represented wisdom, courage, and admiration. If a loved one has traveled to Chicago on a mission, send them an unusual bouquet of irises to give them strength and show them how proud you are of them. You'll also add a touch of color, elegance, and a gentle powdery scent to their room.
Order Flowers From Ode à la Rose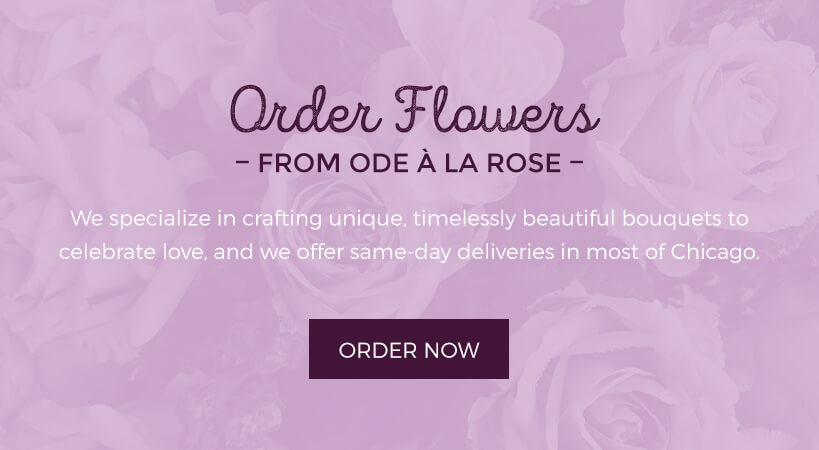 If you wish to surprise a loved one while they spend time in Chicago, reach out to us at Ode à la Rose. At Ode à la Rose, we are happy to deliver fresh-cut, hand-designed chic bouquets to your loved one's Chicago hotel. We specialize in crafting unique, timelessly beautiful bouquets to celebrate love, and we offer same-day deliveries in most of Chicago including the Magnificent Mile and the Gold Coast.
We'll create a made-to-order bouquet especially to convey the message you want to send with top quality flowers and a heartfelt note. Trained in the art of French-style hand-tied bouquets, we make the experience unforgettably romantic. Each arrangement is carefully added to a water-filled vase, wrapped and secured in our trademark purple box, and topped with a layer of tissue paper and rose petals to keep flowers hydrated, vibrant, and safe.
To surprise a loved one with a stunning, Parisian-inspired bouquet, order flowers today.