With crisp, pleasant temperatures and vibrant foliage, fall weddings are nothing short of a dream. Just like winter, spring, and summer ceremonies, tying the knot during autumn provides an array of opportunities to capture the beauty of the season.
From choosing the right wedding flowers to planning a delicious menu, there are several things to consider for your big day. Researching current wedding trends is a great way to gather some ideas for your special celebration — and we happen to have an assortment of them right here! Read on to explore some of the biggest wedding trends for fall 2023.
12 Amazing Fall Wedding Ideas
Whether you're looking for fall wedding flower ideas, gorgeous color palettes, or creative wedding favors, we've got it all right here. Browse the wedding trends ideas below to create a celebration that features the best of everything autumn has to offer.
1. Seasonal Food Displays
With various seasonal ingredients to choose from, it's no wonder couples are finding ways to get creative with their wedding foods. Many work with their caterers to create autumn-inspired menus — think roasted squash, build-your-own charcuterie boards, root vegetables, and freshly baked pies.
Instead of passed hors d'oeuvres, rustic grazing tables of cheeses, meats, fruits, and nuts are another way to incorporate a charming seasonal touch. Dessert stations with fall favorites — like mini apple pies, cinnamon rolls, and pumpkin macarons — are also on the rise. Autumn is the prime time to take advantage of seasonal ingredients, so consider integrating them into your wedding for an unforgettable feast!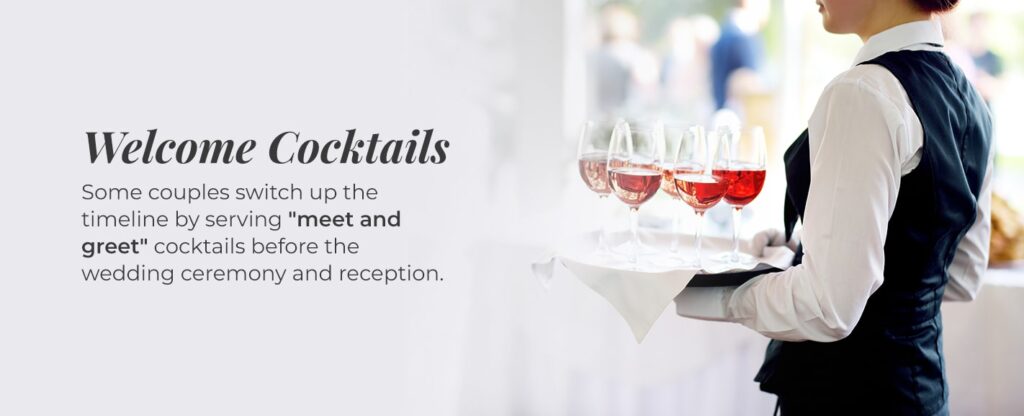 2. Welcome Cocktails
Contrary to popular belief, you don't have to wait until cocktail hour to serve drinks. Some couples switch up the timeline by serving "meet and greet" cocktails before the wedding ceremony and reception.
Welcome cocktails are a great way to greet your loved ones, create a more fun and relaxed guest experience, and thank them for attending your big celebration. Bonus points if you serve fall-inspired cocktails like spiked apple cider, pumpkin pie martinis, or bourbon-based drinks!
3. Dried Flowers
Subtle yet elegant, dried flowers and pampas grass are other trends this fall, both for indoor and outdoor ceremonies. Whether you're planning a rustic, boho, glam, modern, or minimalist wedding, their earthy and organic nature can suit many themes and styles. With their beautiful texture and color, there are various ways to incorporate dried and bleached flowers into your decorations.
Dried flowers are a stunning choice for table centerpieces — you can take advantage of their unique shapes and textures to create asymmetrical designs. You can also consider hanging floral arrangements over entrances or tables. Furthermore, dried flowers make timeless bridal and bridesmaid bouquets.
The possibilities are endless when it comes to dried blooms, so it's no surprise they're one of the most popular fall wedding flower trends! Try to choose hues and textures that match your theme and wedding color palette.
4. Fall Wedding Favors
Providing favors for guests to take home after the wedding is a long-standing tradition. However, seasonal and themed wedding favors have been on the rise more recently. Here are some fall-inspired wedding favors to get your guests in the autumn spirit:
Mini jars of jam or maple syrup: Treat your guests to a sweet spread by handing out mini jars of jelly or maple syrup. Personalize the labels with your names, then tie the jars with some ribbon or twine for a rustic autumn touch.
Bite-sized pies: If you aren't serving pie at the dessert table, consider passing out mini pies as your wedding favors instead! Whether pumpkin, apple, peach, or cherry, delicious bite-sized pies are sure to satisfy your guests' cravings for an autumn dessert.
Scented fall candles: Beautiful, practical, and fragrant, you can't go wrong with scented candles as fall wedding favors. Choose autumn-themed scents like pumpkin spice, apple cinnamon, or mulled cider. They'll smell incredible and remind your guests of the blissful memories from your wedding day.
Caramel apples: Distributing caramel apples as wedding favors is another delicious way to maintain the autumnal theme of your wedding.
DIY s'mores kits: S'mores are another staple treat for fall. What better gift for guests than some adorable DIY s'mores kits? If you want to get even more creative, host a campfire at your reception and make s'mores with your loved ones!
5. Greenery
Plants and greenery aren't only associated with summer and spring — they've also found their way into autumn weddings. The color green radiates health, life, renewal, and the simplicity of nature, adding a relaxed and graceful touch to any color palette. Consider evergreen accents and greenery-based floral arrangements if you aspire to have a rustic or forest-themed wedding.
Aside from plants and flowers, green has made its debut in other wedding details as well. Emerald engagement rings, sage green bridesmaid dresses, and various shades of green for linen, invitations, and attire are showing up everywhere.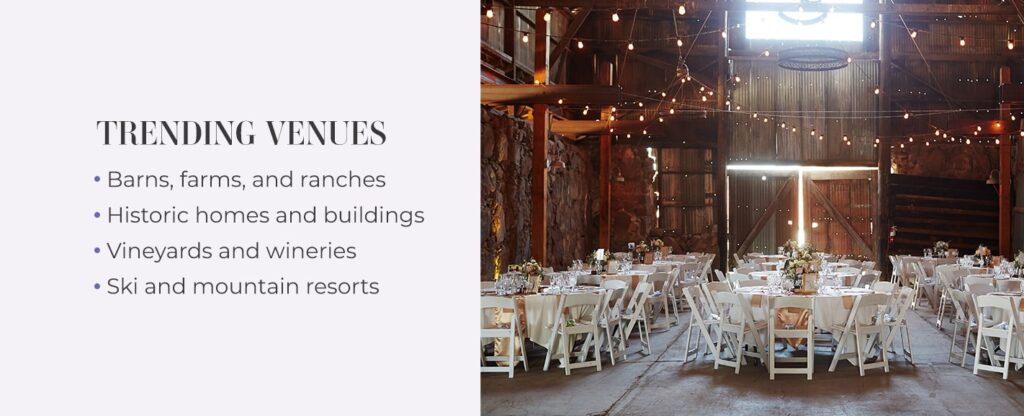 6. Trending Venues
If you haven't already chosen a location for your ceremony or reception, you can use trending wedding venues to gather some inspiration. Here are some popular wedding locations for fall 2023:
Barns, farms, and ranches: Dreaming of a rustic wedding theme? There's no better place to tie the knot than a barn or farm venue. Many couples choose these types of locations for their relaxed vibe, gorgeous scenery for outdoor ceremonies and photo backdrops, and rustic feel.
Historic homes and buildings: Whether you're a history buff or simply appreciative of beautiful architecture, a historic home or building makes a timeless venue for your big day. Featuring picturesque indoor and outdoor event spaces, most historic buildings can accommodate both intimate ceremonies and larger parties. Remember that some historic homes have rules and guidelines to maintain the space's integrity — like noise restrictions and bans on open flames — so be sure to read over any contracts carefully.
Vineyards and wineries: Seeing as fall is a prime season for grape harvesting, wine tasting, and winery hopping, why not fully embrace it with a beautiful vineyard wedding? Most wineries and vineyards are nestled in the countryside, surrounded by breathtaking scenery, which will undoubtedly make for some incredible wedding photos.
Ski and mountain resorts: While winter is considered their busy season, ski and mountain resorts can be just as magnificent during fall. Imagine being surrounded by rolling hills covered in brilliant red, orange, and yellow foliage as you say, "I do." You can't beat that!
7. Wood Accents
Wood is a fundamental decorative accent for an autumn wedding table display, especially if you're going for a rustic style. Wooden lanterns, backdrops, welcome signs, table numbers, and photo boards are just a few examples of wooden accents to make your fall décor stand out.
Distressed wood tables can set the tone for a rustic reception, whether you're working with a barn or a more industrial space such as a warehouse. Wood accents are a striking complement to fall tones like deep oranges, rusts, and reds. However, they can also offset more neutral shades like white, green, beige, gray, and black.
If your wedding décor could use some sprucing up, wooden accents might just be the missing element you need for your big day!
8. Farm-Grown Flowers
In addition to dried and bleached florals, farm-grown flowers are another popular autumn flower trend. Dressing your head table to match the season's changing foliage is a beautiful way to make your wedding reception venue more inviting. Floral arrangements of farm-fresh tulips, orchids, peonies, roses, ranunculus, dahlias, or sweet peas make incredible centerpieces for wooden farm tables.
9. Autumn-Inspired Color Palettes
What's an autumn wedding without fall wedding colors? Here are some trending combinations for fall 2023 that may help inspire your color palette:
Wine reds: You don't have to wait for the holiday season to break out the deep reds — they're a classic for fall as well! A dark wine red looks superb when paired with gold or ivory, but you can try mixing it with other tones as well to see what meshes best.
Pumpkin and sage: What could be a better fall wedding color than pumpkin orange? Whether you use it as a base color for your bridesmaids' dresses or a subtle decorative accent, pumpkin makes a wonderful addition to your color scheme. Pumpkin and sage green are the quintessential autumn color pairing. You can also use actual pumpkins as décor for the perfect pop of orange!
Deep purples and lavender: Various shades of purple create a lovely color palette. Your bridesmaids are sure to look great whether they wear a light or dark shade. Deep violet is especially elegant when paired with a light lilac purple or lavender. Not to mention purple makes for some gorgeous floral arrangements as well.
Navy and gold: Navy is already a flattering and elegant hue, but pairing it with gold accents makes for an exceptionally chic and formal affair. From farmhouse rustic to glam wedding styles, this classic color combo can accommodate various themes. If gold isn't for you, navy also looks great with silver, gray, white, or beige accents.
Cranberry and peach: Not only do they make you crave fruit, but cranberry and peach are a gorgeous color combo for fall. Dark cranberry and light peach complement each other beautifully and make for charming floral displays, decorations, and attire. You can even use the actual fruits as accents or centerpieces to get even more creative!
Dark green and pale pink: Autumn makes it easy to embrace the greenery around you, especially if you're planning an outdoor wedding. Dark emerald or forest green looks especially great when paired with pale pink accents. Alternatively, you can use pale pink or blush as your primary color, adding dark green accents or natural foliage.
10. Fall-Themed Wedding Cakes
If you'd rather opt for a classic wedding cake than a fall-themed dessert table, there are various ways to create an autumn-inspired wedding cake as well. Seasonal wedding cakes are an ongoing trend, and a fall wedding cake is a fun way to ring in the season while sticking to tradition.
Whether you desire a cake that's formal and extravagant or casual and laid back, you can easily incorporate seasonal elements for a lovely autumnal display. Embrace fall shades and wedding cake flavors like pumpkin spice, cream cheese, and red velvet.
To set a more intimate mood for a small ceremony, consider a fall bundt cake. If you're looking to capture a warm and rustic wedding vibe, you can't go wrong with fall-inspired cake toppers like sliced apples, maple icing glaze, or salted caramel drizzles. Meanwhile, a naked chocolate cake embellished with seasonal fruits — like pears, figs, and berries — is a great choice if you're going for a somber fall mood.
Textured cakes are another growing wedding trend, suitable for glam, boho, rustic, and every wedding style in between. The possibilities are endless when it comes to designing a picturesque fall wedding cake, so don't be afraid to think outside the box!
11. Seasonal Blooms
Just like with winter, spring, and summer, choosing seasonal flowers is a continuing trend for fall weddings. If you're wondering what blooms are in season during autumn, we've listed some of them below!
Consider these varieties if you're planning to get married in September:
Aster
Black-eyed Susan
Chrysanthemum
Pansy
Petunia
Purple coneflower
Viola
Next, here are some lovely blooms for an October wedding:
Aster
Autumn crocus
Coneflower
English lavender
Hibiscus
Japanese honeysuckle
Rose
Sunflower
Willow-leaved sunflower
Finally, consider the flower varieties below when tying the knot in November:
12. Themed Rehearsal Dinners
If you're looking for a fun and creative way to kick off your wedding weekend, try incorporating a theme into your rehearsal dinner. While you don't have to devote as much time and effort to your rehearsal dinner as your actual wedding, you can still sprinkle in some fall-inspired elements if you're looking to stay on theme with the season.
As mentioned earlier, there's no better way to highlight a fall wedding than with some seasonal cuisines. You can welcome guests to your rehearsal dinner with fresh apple cider, followed by warm comfort entrées like pot roast, butternut squash soup, or roasted root vegetables for a seated dinner.
If a casual buffet is more your cup of tea, a relaxed backyard barbecue is another option. Pulled pork and brisket sliders, grilled seasonal fruit, and truffle mac and cheese are all crowd-pleasers. Feel free to add some fall-inspired décor if you feel so inclined — candles, plaid tablecloths, wildflower or seasonal bloom centerpieces, mini pumpkins, or gourds all make charming autumn accents.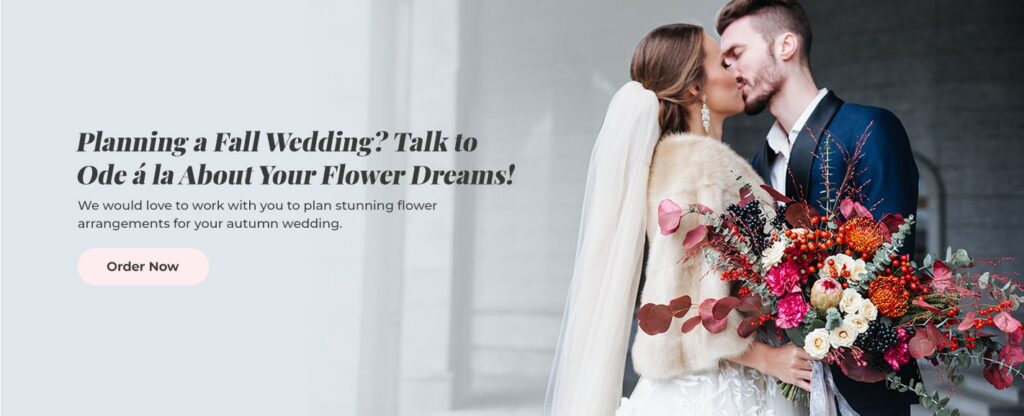 Planning a Fall Wedding? Talk to Ode á la Rose About Your Flower Dreams!
At Ode à la Rose, we want to help turn your dream fall wedding into a reality. Let us help you find fresh, beautiful blooms to accent your big day! Browse our wedding and events collection for flowers to match your preferred style, theme, or color palette. Whether you're searching for the perfect bridal bouquets, table centerpieces, or boutonnieres, our team can help you find just what you're looking for.
We would love to work with you to plan stunning flower arrangements for your autumn wedding. Reach out to us for wedding flower services today!