Each season provides a unique, elegant touch to weddings, from colorful autumn backdrops to lavish blooms in springtime. Summer 2022 is quickly approaching, and if you're planning to get married during this season, there are endless opportunities to create an unforgettable celebration. No matter the location, style, or size of your wedding, you and your partner can use current trends to help you plan specific details.
From choosing your wedding colors to picking the perfect flowers, there are many things to consider when planning your dream summer wedding. If you aren't quite sure where to begin, we've crafted this list of 2022 summer wedding ideas to help inspire your wedding plans.
18 Summer Wedding Trends
Are you searching for the perfect hairstyle, color scheme, venue, foods, or other important elements for your big day? Create an unforgettable celebration with some of the newest wedding trends this summer! Browse this list to see if any of them pique your interest.
1. Earth Tones
To add a unique twist on the typical boho neutral theme, many couples are choosing darker accent tones for more richness and depth to their color palettes this season. Whether you're planning a bohemian-style wedding or you're looking to create a retro vibe, earthy hues are a stunning choice for summer. Try incorporating this desert-esque color palette into your theme with sophisticated tones such as:
Burnt orange
Blush
Rust
Terracotta
Muted green
Khaki
2. Soft Blues
As a color that exudes a delicate and romantic vibe, it's no wonder lighter shades of blue are becoming popular choices for summer weddings. Darker blue hues like sapphire and navy will likely be less present this year as light blue takes the cake as one of 2022's most popular wedding colors. Gather inspiration from the ocean, flowers, or the sky to create an elegant soft blue color palette for your wedding.
3. Popular Wedding Styles
When planning your wedding, you may have a desired style or concept in mind. Or, you may be familiar with the common wedding styles, such as glam, bohemian, classic, rustic, and modern.
Many couples like to take inspiration from some of the biggest wedding trends to help determine the ideal atmosphere for their big day. Here are some popular wedding themes for 2022 to help you gather some ideas:
Romantic: While weddings are already about romance and love, consider adding a romantic theme to your summer wedding with lace details, Cinderella-esque wedding gowns, lots of tulle, and soft and sweet decorations.
Classic: A classic wedding theme entails timeless and traditional elements — think a grand wedding cake, delicate white florals, and a church or garden ceremony.
Rustic: Reflect your appreciation for nature and the outdoors by hosting a rustic-style wedding ceremony. This theme typically involves a barn or forest setting, earthy color schemes, and organic flower arrangements.
Boho: Like rustic weddings, a bohemian theme encapsulates a natural, outdoor feel. It tends to use more artistic and hippie-inspired details such as flower crowns, lots of plants, and breezy lace dresses.
Modern: This contemporary wedding theme takes inspiration from classic, trendy, and subtle wedding elements all at the same time. Think monochromatic color palettes, unique venues such as museums and lofts, and neutral decor.
Seasonal: A seasonal ceremony provides many creative wedding opportunities. For a summer wedding theme, consider bright and lively color schemes, an outdoor venue, and some seasonal wedding favors like mini jars of honey.
Minimalist: If you're a "less is more" type person, a budget-friendly minimalist wedding style may be just what you desire for your special day. Quality yet scaled-back details such as muted and neutral color palettes, simple decorations, and intimate ceremonies perfectly describe this wedding trend.
4. Bright Colors
Bright, vibrant tones have always been a popular option for couples planning a tropical or destination wedding. Couples having their ceremonies in other locations are starting to capture this theme, as well, especially for spring and summer weddings.
There's no better way to express a cheerful summer vibe than with bright and bold pinks, greens, cheerful yellows, and oranges. Consider adding a colorful touch to your bridesmaids' dresses, bridal bouquets, centerpieces, and other decorations. And with tropical blooms in full swing this season, you can easily create a striking and unforgettable color scheme.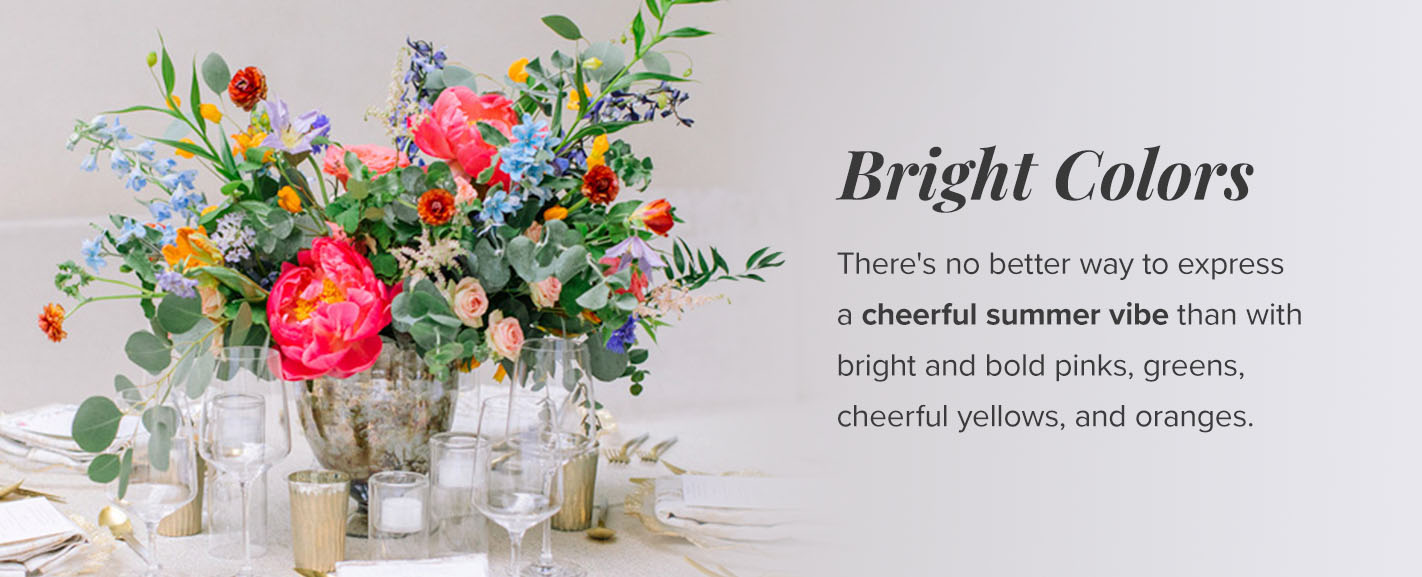 5. Welcome Parties
Typically less formal than a rehearsal dinner, a welcome party is a pre-wedding event that's generally open to all guests. This casual social gathering is an opportunity to welcome your guests to the wedding and give them a taste of what they can expect.
While rehearsal dinners are usually small, intimate gatherings of close relatives and the bridal party, a welcome party is a larger, more upbeat gathering. Whether it's enjoying cocktails at your favorite bar or hosting a backyard barbecue, there is a range of casual settings to consider for a welcome party. If desired, your welcome party can still include toasts and sharing stories about the couple as most rehearsal dinners do.
6. Light and Breezy Outfits
Whether it's the bridesmaids' dresses, the wedding gown, or the suits, opting for light and flowy fabrics is a great way to keep the whole party cool in hot summer temperatures. Think chiffon, organza, charmeuse, and similar lightweight materials.
These fabrics also allow for easier movement, making them ideal for hitting the dance floor at your reception! If your location gets exceptionally hot during this season — and your wedding is outdoors — this is a crucial summer trend to consider.
7. Candles
As mentioned, vibrant hues are a popular wedding trend this summer, and here's another great way to incorporate this fun and lively color palette. Contrary to popular belief, candles aren't only a wintertime wedding decoration. They're also a great way to incorporate some vivid summertime tones into your table centerpieces. Decorate the middle of your reception tables with colorful candles — either standalone or floating in water — to add a vibrant splash of color to your summer wedding.
8. Summer Cocktails
Nothing says summer quite like fresh, sweet berries and citrus fruits. Ring in summer by incorporating some fruity seasonal mixed drinks into your reception or cocktail hour. Of course, you can swap the alcohol for sparkling water or seltzers so everyone can enjoy a refreshing beverage.
Below are some signature wedding cocktails for 2022:
Watermelon refreshers
Champagne and fruit
Blueberry mojitos
Margaritas
Pineapple rum tea punch
Lavender-infused champagne
Grapefruit mimosas
Add an extra special touch to your summer cocktails with some personalized glasses, whether it's etching your names onto the glasses or attaching some "just married" tags. These can also serve as charming wedding favors for your guests to take home!
9. Evergreen Fog Color Palette
Create a rustic forest ambiance by integrating a stellar evergreen fog color scheme into your wedding. If you desire a natural and elegant wedding color palette, this green-gray mid-tone truly reflects the beauty of nature. In fact, national paint manufacturer Sherwin Williams recently named evergreen fog as its 2022 color of the year.
If you're planning an outdoor ceremony with a wood-secluded venue, this may be just the concept you're looking for. Consider pairing this shade with some elegant neutrals like beige or cream for a truly striking color palette.
10. Sustainability
In an effort to protect and preserve the environment, sustainable weddings are on the rise. Whether it's hiring a plastic-free caterer, choosing vendors with greener production, sourcing foods from local farms, or replanting and donating wedding flowers after the big day, there are many ways to incorporate sustainability into your wedding. These ideas promote an eco-friendly celebration, and they can also make for a more affordable wedding while supporting your local community.
If this is a priority for you and your partner, below are some popular sustainable wedding trends for 2022:
Lab-grown diamonds for wedding rings
Biodegradable wedding confetti
Sustainable decorations such as dried flowers
Sustainable wedding dresses from eco-friendly designers
Eco-friendly wedding invitations
11. Humidity-Resistant Hairstyles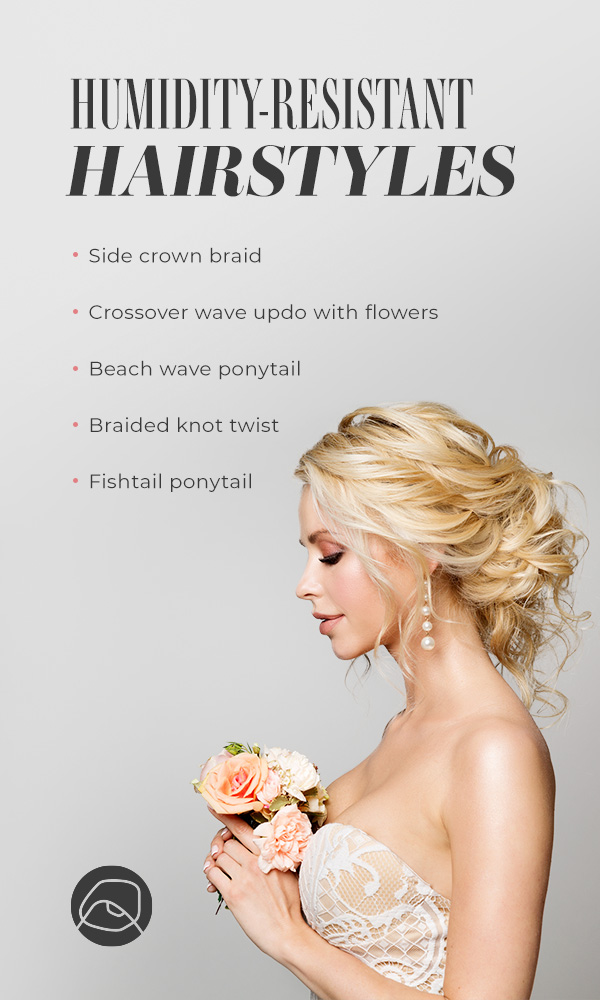 While summer weddings are beautiful and elegant, their main downside is increased heat and humidity levels. This can make finding the right hairstyle a challenge, especially for outdoor ceremonies.
Thankfully, humidity-resistant hairstyles are becoming a popular wedding trend in 2022. To protect their hair from frizz and humidity, many brides and bridesmaids are opting for elegant updos as an alternative to long curls and waves. Here are some trending humidity-proof updos to consider this summer:
Side crown braid
Crossover wave updo with flowers
Beach wave ponytail
Braided knot twist
Fishtail ponytail
12. Textured Wedding Cakes
The textured wedding cake trend is growing in popularity this year, and rightfully so — it incorporates a simple yet elegant design while providing a range of patterns and embossments to choose from. Textured wedding cakes are especially popular choices for glam, boho, and chic weddings. They can also include any other customized features you may desire, like flowers, colors, and toppers.
The ideal texture allows your cake to be as laid back or as elegant as you please. Check out some examples of wedding cake textures below:
Lace
Dots
Diamond or grid patterns
Overlapping circles
Diagonal stripes
Embossed floral
Swirls
Roses
Ridges
13. String Light Canopies
Dine al fresco under the stars at your wedding reception with a dreamy string light canopy. Perfect for a warm summer night, this romantic and elegant decoration can set the ideal tone for your celebration, creating a picture-perfect memory of your special day. Hang some twinkling string lights above each table for a gorgeous scene you won't forget.
14. Frozen Treats
Besides fruity cocktails and wedding cake, frozen desserts are another sweet addition to your summer wedding. Cool your guests off with some chilly treats such as popsicles, ice cream, frozen yogurt, or fruit sorbet. Consider setting up a frozen dessert bar complete with your favorite flavors and toppings! You can either provide this in addition to or as an alternative to your wedding cake, depending on what your dessert budget allows for.
15. Parasols and Fans
If your ceremony or reception will be outdoors — and provides minimal shelter from the sun — you'll want to provide your guests with ample shade and protection from the intense summer heat. For this reason, distributing parasols to guests has quickly become a popular wedding practice this year.
Your guests are sure to look sophisticated with a classy parasol in hand, so it's a great idea to have someone distribute these at the entrance or have guests pick them up on their way in. Alternatively — or in addition — you can set up a fan station and have guests grab these upon entrance.
Try to opt for fans or parasols that highlight your desired color scheme. For rustic and earthy tones, consider warm browns or muted greens. Want to incorporate bright, vibrant tones into your wedding? Try handing out some pink, yellow, or blue parasols or fans to your guests. Not to mention these can serve as excellent wedding favors.
16. Garden Venues
Whether you have a green thumb or simply enjoy soaking in the beauty of nature, this is an exquisite wedding location. With lush greenery, warm temperatures, and vibrant blooms, what could be better than a garden ceremony? This setting provides a colorful and romantic backdrop for a dream fairytale wedding, making this type of venue a beloved trend for summer.
17. Sparklers
Another popular summer wedding trend, sparklers are the perfect closing to your wedding night, creating some stellar wedding exit photos for you and your partner. For a fun and unique guest experience, have everyone take part in this activity! Sparklers can serve other purposes, as well, from temporary table centerpieces to wedding cake toppers. Light up the festivities with sparklers for a memory you'll cherish forever.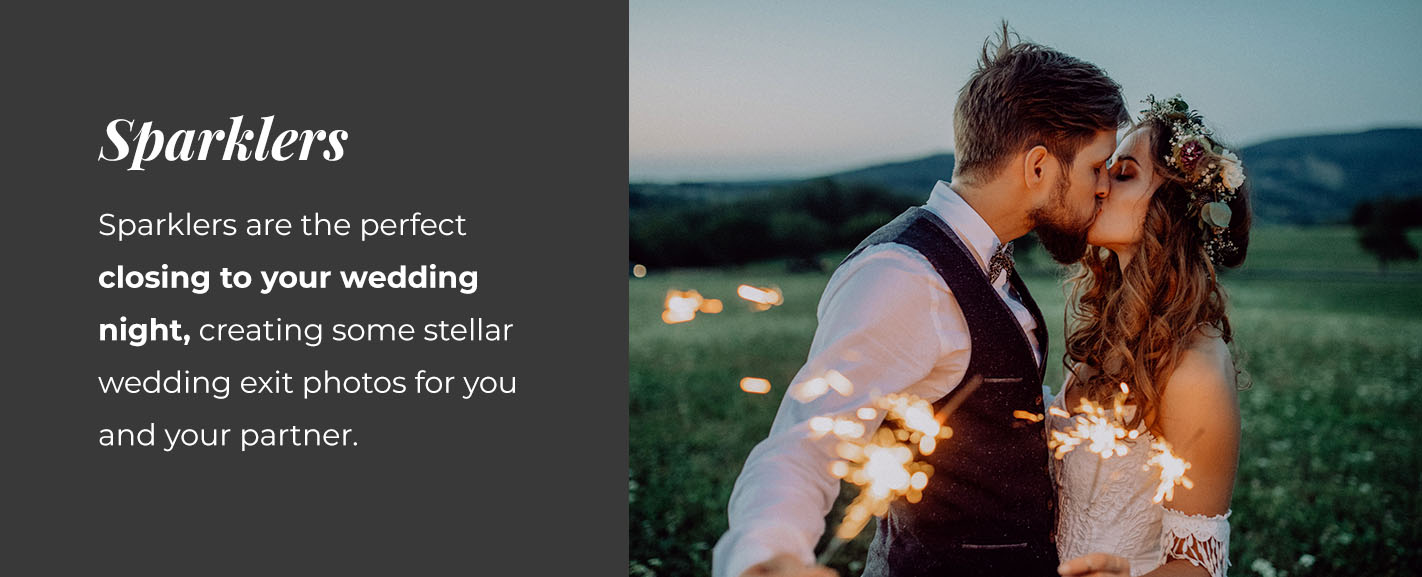 18. Seasonal Blooms
Seasonal blooms are a trend that never goes out of style. Summer wedding flowers are gorgeous and elegant, and they can also be a more cost-effective option for your wedding — it's typically much easier for florists to source seasonal flowers than blooms that are out of season. If you're seeking seasonal blooms for summer, below are some beautiful varieties to consider.
First, here are some popular June blooms:
Bellflowers
Bergamot
Foxtail lilies
Hydrangeas
Poppies
Roses
Wild blue indigo
Yarrow
Next, here are some common varieties for July:
Dahlias
Daisies
Daylilies
Queen Anne's Lace
Finally, consider these flowers for August:
Blazing stars
Daylilies
Tube clematis
Order Wedding Flowers at Ode à la Rose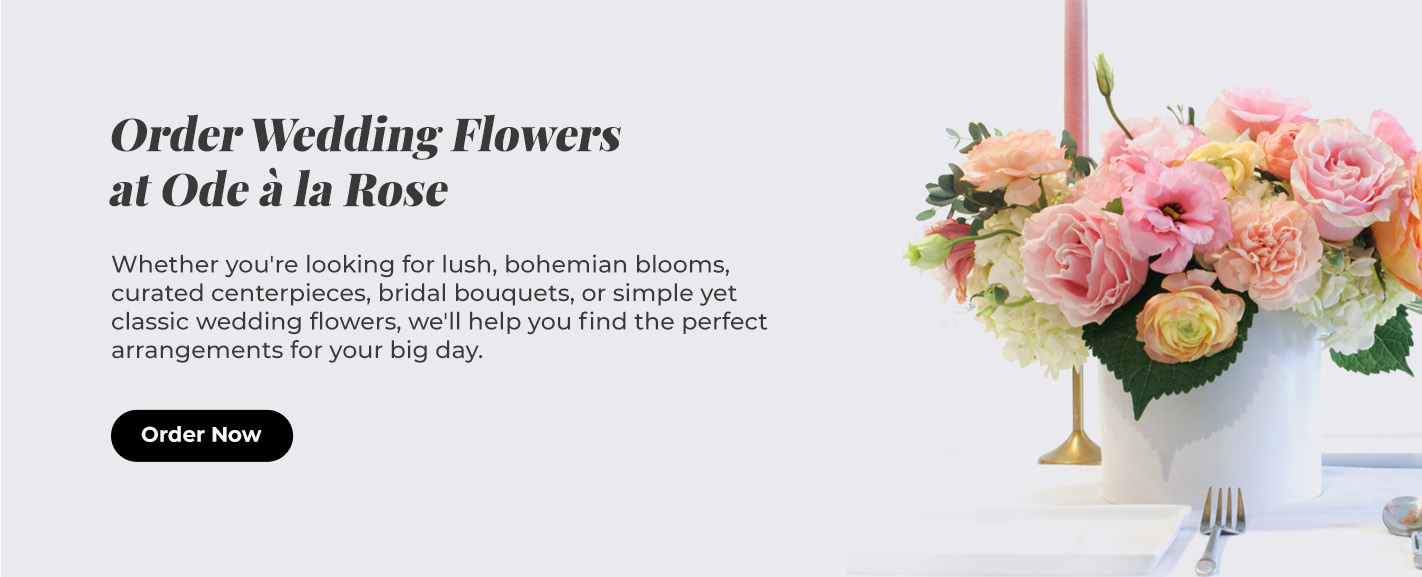 After scanning this list of 2022 trends for summer weddings, we hope you've gathered some inspiration for your special day. No wedding is complete without the perfect flowers to accent your theme, and we have a gorgeous selection of arrangements to choose from at Ode à la Rose.
Whether you're looking for lush, bohemian blooms, curated centerpieces, bridal bouquets, or simple yet classic wedding flowers, we'll help you find the perfect arrangements for your big day. Browse our wedding collection and inquire about our wedding services!