Planning a romantic evening in Philadelphia? Treating your date to an exquisite meal at one of the city's top restaurants is an excellent way to show them how much they mean to you. No matter the type of cuisine or atmosphere you're looking for, you're bound to find something special from our top 10 picks.
10 Most Romantic Restaurants in Philadelphia
Plan an unforgettable date for someone special with one of the best romantic restaurants in Philadelphia we've listed below!
1. Amada
Opened in 2005, Amada was Chef Jose Garces' first Philadelphia restaurant. Today, he owns restaurants across the country. The Old City restaurant features Spanish cuisine perfect for sharing. You and your date can order several small plates and try a little bit of everything together, the true beauty of tapas. Pair the plates with a cocktail, or even a pitcher of sangria, and you've just put together an unforgettable date.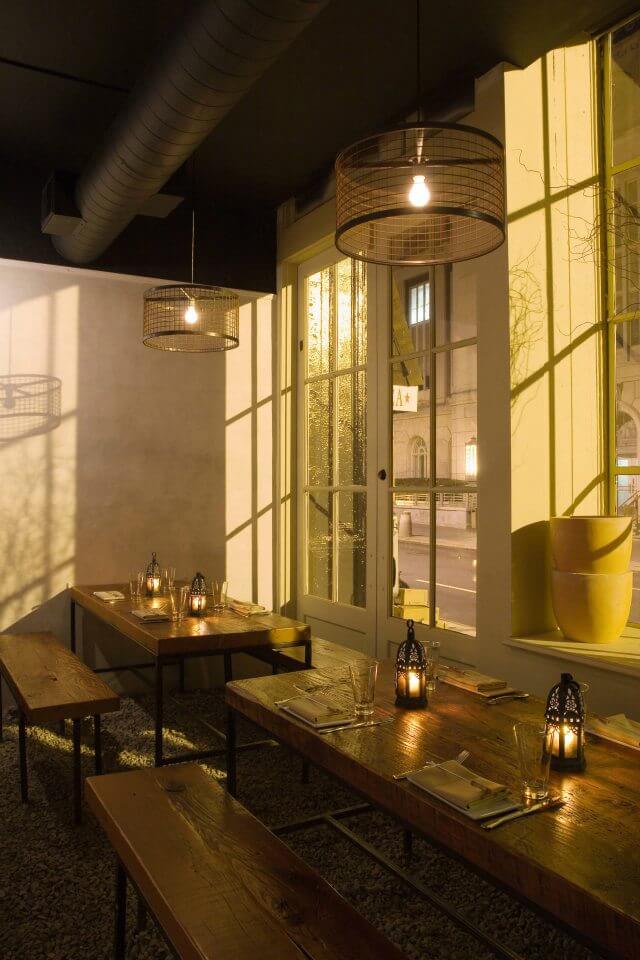 2. Bistrot La Minette
Book a table at Bistrot La Minette, a South Street staple that will impress even the least romantic of dates. No one is immune to the charms of this authentic French bistro. Eye one another across the close-spaced tables inside or sit under the sun at an outdoor table.
The warmly lit restaurant features traditional and inventive French dishes always made from scratch. Work your way through a bottle of wine and toward a decadent dessert. Share a dish of sorbet or crème brûlée to end the evening on an impeccable high note.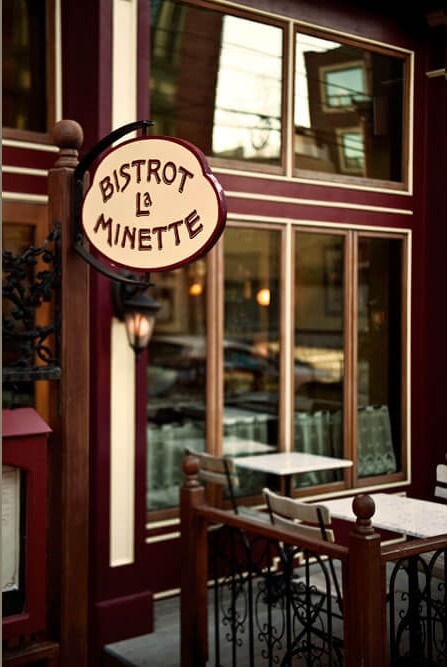 3. Lacroix at The Rittenhouse
Lacroix at the Rittenhouse is Rittenhouse Hotel's glamorous restaurant. Sit down to dinner in a room with floor-to-ceiling windows and marble columns, a setting that takes on both an elegant and minimalist ambiance.
The seasonal menu changes to offer the freshest possible dishes. Sample some caviar before diving into your four-course meal. Elevate your special occasion with a menu that's truly meant for foodies when you dine at Lacroix.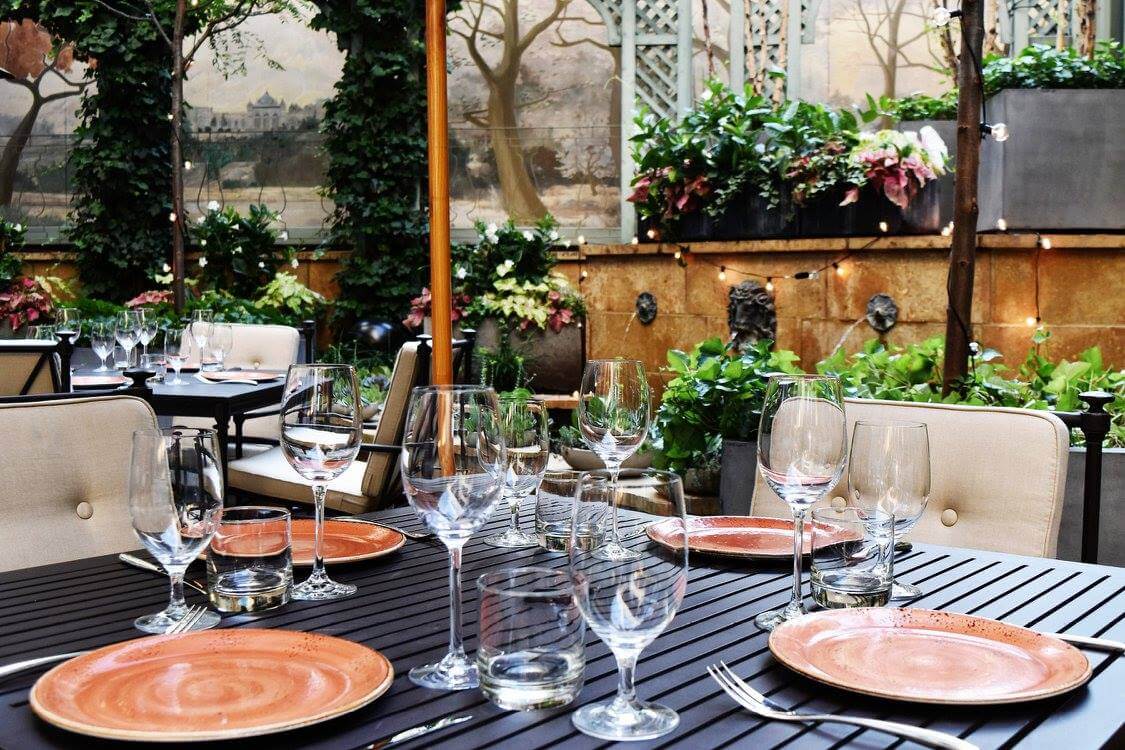 4. R2L
If you're looking for romantic rooftop restaurants in Philadelphia, R2L Restaurant is a must. While it sounds like an adorable droid from Star Wars, R2L is no casual cantina. Instead, the restaurant boasts a chic interior with a breathtaking look at the city. R2L is on the 37th floor of Two Liberty Place.
The towering glass windows on all sides give diners a view that goes on for miles. Sink your teeth into a steak cooked to perfection or opt for something from the seafood selection. For the ultimate romantic vibe, try to book a table during sunset.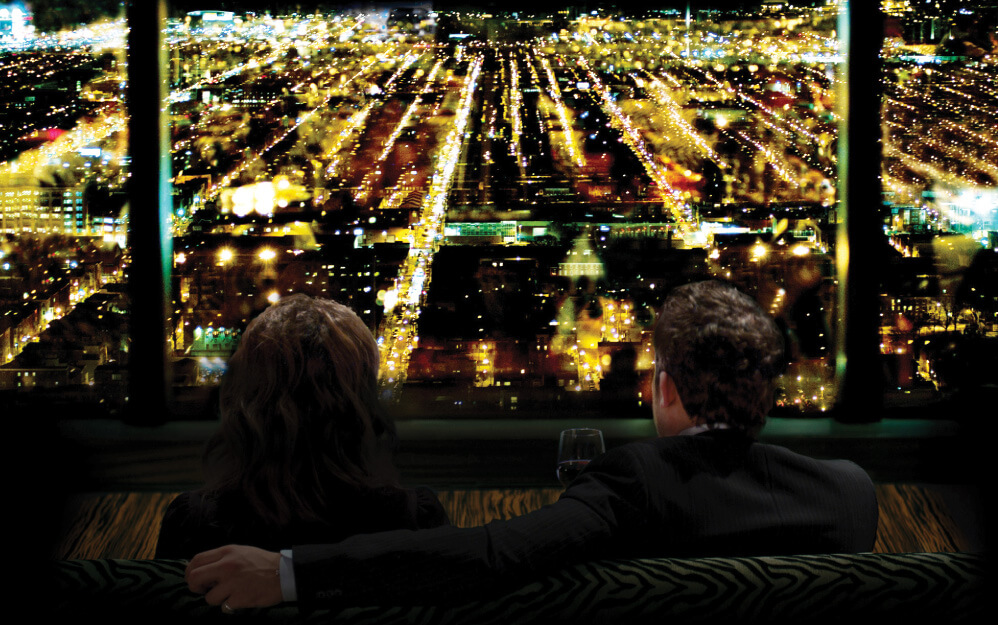 5. Talula's Garden
This Washington Square restaurant pulls its dishes straight from the garden, as the name suggests. Sit outside under soft, twinkling lights and it'll be easy to forget anything but your date.
Set a brunch date if you and your partner are in the mood for an earlier start to the day, or opt for an evening out. Either way, dairy lovers will think they've found their Holy Grail. Talula's Garden has a menu dedicated just to cheese. Call us cheesy, but true romance is bonding over a plate of locally sourced cheddar.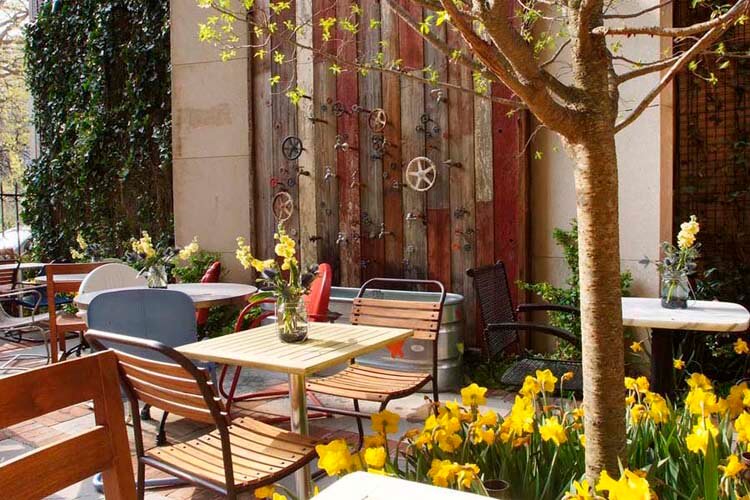 6. Valley Green Inn
One of Fairmount Park's most beloved dining spots, Valley Green Inn is perfect for a relaxing dinner date. Built in 1850, this restaurant is one of Philadelphia's last remaining roadhouses. Featuring a historic country charm, welcoming porch, cozy fireplaces, and a warmly-lit interior, Valley Green Inn is easily one of the city's best-kept secrets.
Treat your date to some classic American cuisine from Valley Green's seasonal menu, complete with fresh, locally-sourced ingredients. This perfectly rustic and cozy inn is sure to provide a romantic escape for you and your partner.
7. The Love
Radiating a delicate and romantic vibe, there couldn't be a more fitting name for this restaurant. The Love in Rittenhouse Square features a light and airy atmosphere, complete with a comfy and modern white brick interior. If you're looking for a restaurant that offers an imaginative take on traditional American cuisine, look no further than here.
From honey brined pork chops to creamy butterscotch pudding parfait, you and your date are bound to find a favorite on the menu. Its signature dish, "The Lovebird," is a savory combo of collard greens, buttermilk fried chicken, and grits. Plan the ultimate romantic evening when you reserve a table at The Love.
8. Butcher and Singer
Illuminating a vintage 1940s Hollywood vibe, Butcher and Singer is another prime spot to treat your date to a romantic dinner. Featuring high ceilings, warm decor, and low lighting to set the mood, this Rittenhouse Square restaurant provides an elegant yet cozy dining experience. Enjoy chops and steaks charred to perfection, a fresh shellfish platter, or classic martinis when you visit Butcher and Singer.
9. Friday Saturday Sunday
Boasting an intimate upstairs dining room, an elegant eight-course tasting menu, and a full wine and cocktail list to accompany your meal, Friday Saturday Sunday in Rittenhouse Square provides a wonderfully romantic dining experience.
Opt for classic indoor seating or dine al fresco near the restaurant's entrance for a Parisian ambiance. Plan a date you'll cherish for a lifetime when you make a reservation at Friday Saturday Sunday.
10. Vetri Cucina
Last, but not least, we picked one of Philadelphia's top Italian restaurants. Vetri's buttery yellow and wood walls, not to mention the chandelier, look nothing short of enchanting. Vetri only offers a tasting menu at $155 per person. The price tag may be high, but the dining experience is divine.
As Vetri's guest, you and your date will enjoy antipasti, pasta, secondi and dolce dishes of your choice. The wine list has 70 different bottles to choose from, so don't be shy about asking for a recommendation. One of the most romantic restaurants in Center City Philadelphia, Vetri Cucina is the perfect place to spoil your special someone.

Photo courtesy of Vetri
Accent Your Perfect Date in Philly With Flowers
While romantic restaurants in Philly with a view make for an unforgettable date night, a lovely bouquet of flowers makes the evening extra special. With classic roses, exotic orchids, vibrant tulips, and more, we have a beautiful selection to choose from at Ode à la Rose. Whether you know your date's favorite flower or color, or you're making a decision from scratch, we'll help you find an arrangement they'll adore.
The best part? We offer next-day flower delivery in Philadelphia, so your date can receive their flowers the day after you order them. For a date night they'll treasure for life, browse our selection and send blooms to a loved one in Philly today!