Rose petals are completely edible, and are in the same plant family as strawberries and apples. You should feel free to strew them on everything, from your table linens to the top of your roast beef when you bring that to table. Rose petals are an elegant garnish that lets your company know they are special – but rose petals can do so much more in cookery.
To stretch your mind, consider that anything you might cook with strawberries is fair game to try with rose petals. This can be anything from simply adding them to a fruit salad, to complicated meat dishes. Mexican novelist Laura Esquivel's book, Like Water for Chocolate, was made into a movie and is known among foodies for its key scene of the lovelorn heroine cooking up quails in rose petal sauce, which has a curious effect on all who eat it.
The recipe has been reproduced many times, and you can find it here.
Rose hips are the fruit of the rose. When petals fall off, the seed case at the bottom swells to a rounded, burnished hard knob. As with apples, ripe rose fruits contain various levels of vitamin C. These are a common ingredient in herbal remedies.
Preparing Rose Petals for Cooking
You will enjoy rose petals more as food if you clip off the white part at the bottom of each flower petal with scissors. That's the only part of the petal that has a bit of a bitter taste (very similar to what you experience when nibbling the whitish part of a not-fully-ripe strawberry). Discard any wrinkled or ugly petals.
If you are using rose petals as a garnish rather than a cooking ingredient, consider that once they are taken off the stem they will start to dry out in about two hours indoors. So keep the flowers whole until the last minute, if your dining event will go on for some time.
Fragrant Roses
Is fragrance important to your culinary vision? The most fragrant roses are those that are used to make perfume. The damask rose (Rosa damascena) has been used for centuries to make rose-scented oils and rose water, as it is powerfully fragrant – a single flower will scent an entire room. But this variety of rose rarely makes it on a gardener's top ten list, because it only blooms once a year for a week or two, and it's very, very thorny. Modern fragrant roses you can find at a garden center include aromatherapy, fragrant cloud, perfume delight, bella roma, memorial day, and two longstanding favorites, Mr. Lincoln and Chrysler Imperial.
Source: Damask Roses
Source: Modern Roses
Roses Recipes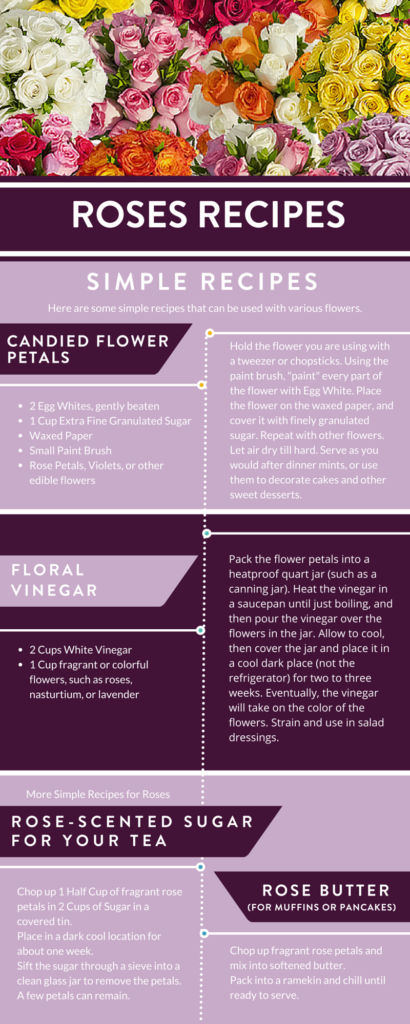 Additional Recipes
Two recipes for Rose Petal Jam (gulkand, the Indian version, and a modern western version):
Rose Petal Jam (Western Version)
1 Cup (packed) of rose petals, trimmed and chopped 2 Cups of White Sugar

3 Cups of Water

2 Tablespoons Fresh Lemon Juice

1 packet powdered Pectin
Bring the water to boiling in a saucepan. Add the Sugar and Rose Petals and stir until the sugar is dissolved. Lower the heat and simmer 20 minutes. Then, increase the heat to a full boil and add the powdered pectin. Boil hard for one minute.
Turn off the heat, add the lemon juice, and skim off any foam. Pour into sterilized, heatproof jelly jars and seal them tightly. Let cool. Makes about 4 Cups.
Gulkand Rose Petal Jam (Eastern Version)
Equal amounts fresh Rose Petals and Superfine Granulated White Sugar
Select a large glass jar with a lid, and alternate layers of rose petals and roses to fill up the jar.
Cover the jar tightly and place in a sunny window. Let the mixture ferment for up to 10 days. The color will darken. The sweet mixture can be spread on toast or cereal.
Other Rose Recipes