Whether you are a Chicago local looking for different date options or a tourist enjoying a romantic vacation, Chicago has what you are looking for. A city with rich culture, historic architecture, and unique experiences is the perfect place to charm that special person in your life. Each season brings out intriguing places to visit in Chicago, too. Even when the weather ruins your plans, you won't be at a loss for things to do.
With an abundance of sights to see, diverse cuisine to sample, cozy settings, and thrilling activities, your date night will turn into a romantic and captivating moment. Treat your date to a full day of fun or a traditional evening of dinner and drinks in Chicagoland. Here are 16 Chicago date ideas to make your time together extra special.
1. Spread out a Picnic in the Park
The tradition of toting food to scenic spots can be dressed up with a luxurious selection of wine and gourmet appetizers tucked into a basket. Lounge beside your significant other with the spread of your choice in one of Chicago's many parks and watch the sunset behind the iconic skyline.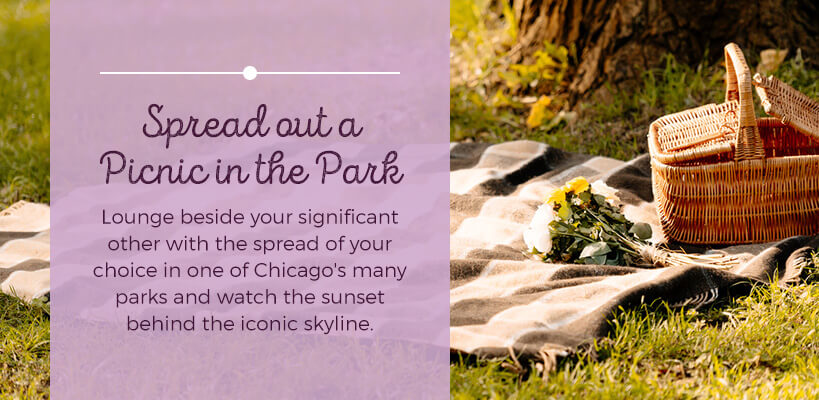 The historic Humboldt Park, for instance, is home to lagoons, boathouses, an inland beach, and more. What started as a prairie settlement and turned into a base for recreational activities is now a quaint spot for laying out your picnic blanket. Order caviar and other delicacies from the nearby Heritage Restaurant and Caviar Bar to sample while enjoying conversation with your sweetheart.
There's also Promontory Point in Burnham Park, which offers a stunning view of the skyline. This human-constructed peninsula was the beginning of architect Daniel H. Burnham's vision for an expansive park that would include islands, a boat harbor, beaches, playing areas, and more. While the park was never quite completed according to Burnham's plan, the area is still a delightful way to enjoy Chicago and the beauty of Lake Michigan.
Either of these locations is ideal for a romantic day out, but to make the picnic-in-the-park experience even more memorable, surprise your loved one with a gorgeous array of flowers.
2. Dinner and a Movie — With a Twist
Dinner and a movie is a predictable date choice, but Chicago's unique options spice up this classic. Show up to your date's door with a bouquet of garden roses to start the evening.
If the box office hits do not appeal to you and your date or you'd like to delve into indie movies, try Music Box Theatre. When it opened in 1929, the theatre was seen as a smaller version of the booming movie palaces of Chicago. Now, this theatre attracts large crowds due to its uncommon movies. It regularly shows foreign films, and if you make it on a special evening, you can catch an independent film's premiere. Stop by Tango Sur beforehand to taste the best Argentinian steak.
Combining the meal and the movie is possible at AMC Dine-in Block 37. You and your significant other can select your food directly from your seat. You are no longer limited to buttery popcorn — your choice of cuisine, like sushi, flatbread, and more, is brought right to you, so you can take in the big screen with extra comfort.
3. Take a Stroll on the Pier
Navy Pier, a quintessential Chicago landmark, is a bustling source of entertainment and diverse culinary choices. The pier also offers food tours, so you and your date don't have to restrict yourselves to one place and can experience multiple restaurants. Or if pizza is on the menu, you can indulge in the Chicago deep dish staple of Giordano's.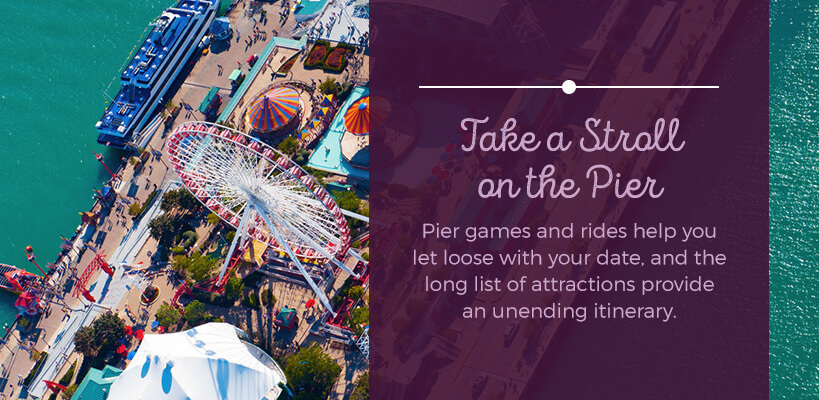 Pier games and rides help you let loose with your date, and the long list of attractions provides an unending itinerary. Enjoy the rides or engage your competitive sides with remote control boats.
End your night on the pier by drawing your loved one close on the famous Centennial Wheel — the twinkling city lights from the top of the Ferris wheel set the perfect ambiance.
4. Take in the Music at a Jazz Lounge
The spontaneous and smooth sounds of jazz create a captivating date setting. Chicago's jazz bars are a step back in time to the early 1900s when the rhythmic music was born, and to make your jazzy date night even more memorable, you can even dress the part with your partner.
Green Mill Cocktail Lounge features live music and decor inspired by Clark Monroe's Uptown House in Harlem. Grab a classic cocktail with your date and enjoy relaxing, casual conversation with the music as your backdrop. This lounge also regularly performs "Paper Machete," a live magazine act. Seating cannot be reserved, so pay attention to the performance calendar for more popular bands — be sure you get there early to get a seat.
Andy's Jazz Club and Restaurant is located in the River North district, and it was first known as a hangout for journalists and other newspaper professionals. The establishment adopted jazz in the mid-70s.
5. Laugh Along at a Comedy Night
Laughter is the best medicine and one of the best ways to start a date night. Attend a comedy club to automatically begin your date on a playfully romantic note — Chicago has several ideal places to get your laugh on.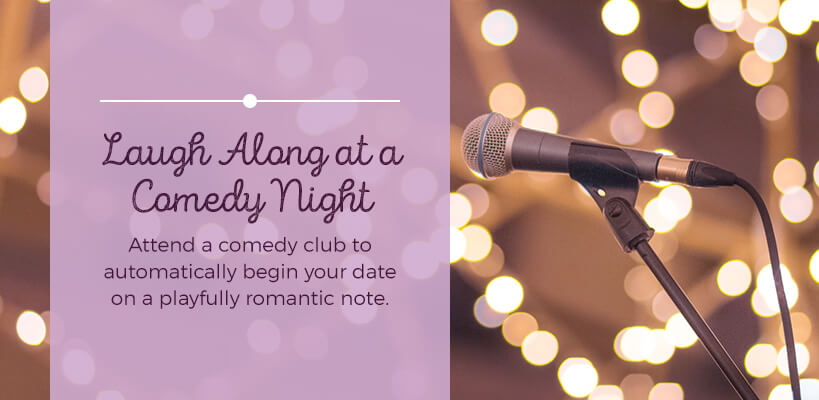 Second City is a renowned comedy center, as well as a training center for comedians. Steve Carell and Tina Fey, among other popular comedians, have performed at Second City. There are improvisational shows, sketches, and songs for your viewing pleasure. Up Comedy Club is an offshoot from Second City that offers stand-up comedy shows.
The Comedy Bar is another option for stand-up comedy, and it's accompanied by a brewery and restaurant. Enjoy comfort food and your partner while the comedians set a humorous backdrop for your night out.
Zanies brings in national headliners every night for constant quips and laughter-inducing bits. This comedy club has been thriving for 40 years, and it also offers comedy classes if you want to learn how to deliver jokes like a pro, too.
6. Take in the Views at the Conservatory
City life is beautiful with the bright lights, the skyline, and the architecture, but there's something about green spaces, too. The Garfield Park Conservatory displays lush indoor gardens enclosed in the glass structure, and there are also outdoor gardens that close for the colder months. No matter what season it is, you can take your date to this leafy haven to refresh.
The Garfield Park Conservatory is a massive botanical sanctuary of eight indoor sectors. Check out the water lily pond and the palm and fern rooms. Horticulture Hall is a public seating area and venue space for even closer viewing of the plant life.
Send your date some beautiful flowers or a flowering plant before the date to give a hint about your destination.
7. Visit the Zoo
If you and your date enjoy wildlife, head to the Lincoln Park Zoo. The variety of unique animals creates conversations that will flow freely — it's not every day you see giraffes or monkeys, after all. Take this chance to relish the diversity of the animal world with the one you're wild about.
This facility has been around for over 150 years, making it the fourth oldest zoo in the United States. The Lincoln Park Zoo is open year-round, and it remains free to the public primarily through its shops and fundraising.
8. Browse an Art Gallery Arm-in-Arm
To add a little artistic flair to date night, try wandering through Chicago's art galleries or museums and discuss the paintings you see with your significant other. Chicago is a particularly rich setting for art collections, so you have your choice in locations.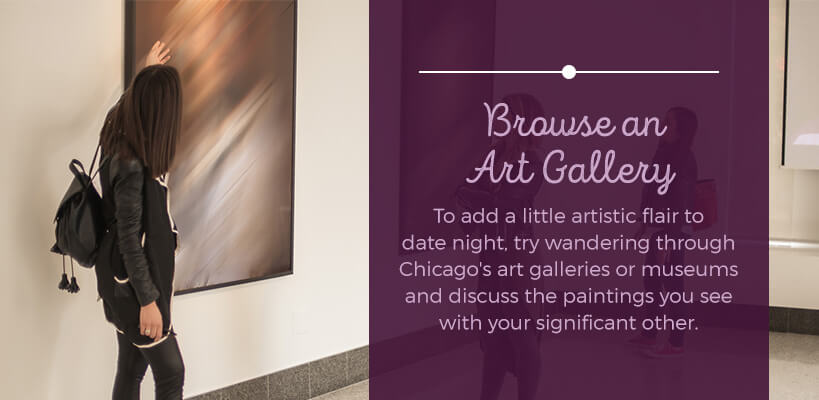 Chicago's Museum of Contemporary Art houses modern artwork and requires little historical knowledge to appreciate the one-of-a-kind pieces throughout the museum. The architecture of this museum also features ground-breaking art from Josef Paul Kleihues. His north staircase creates an optical masterpiece that you and your date can marvel at as you walk through.
For history lovers, the Art Institute of Chicago covers many cultures and time periods as well as various mediums of art. Paintings, sculptures, textiles, and photography are a few of the forms of art you can take in together.
The art galleries of Chicago feature up-and-coming artists, and the museums remember the artists of the past, but you and your date can appreciate either, depending on your mood and interests. Ask your date questions about their tastes as you move through the exhibits and learn a little more about art culture and your loved one.
9. Meet for Drinks
Take your partner to the classiest bars and breweries Chicago has to offer. Sample different wines or hit themed bars with fun environments. Chicago has several historic bars that entertain you with speakeasy vibes and great music.
The Violet Hour is located in Wicker Park, and it bases its style and drinks on the period just before 1920 when Prohibition cracked down on alcohol. At the entrance to this classy place, you'll find a regularly-changing mural that's illuminated by a single light bulb for a delightfully dramatic effect. Inside, candlelight, blue leather high-backed chairs, crystal chandeliers, and more combine together for an elegant setting.
The California Clipper is another historic bar that features a range of music from country to jazz. This bar merges its 1930s roots with modern choices in music, and it retains a jukebox with new hits. The red-tinged interior is alluring for any date.
Date night is also an ideal time to try something new, and Chicago's bars offer plenty of innovative cocktails and unusual settings. Whether you'd like to try the newest adult beverage concoction or be enthralled with a view, Chicago's diverse taprooms can accommodate your whim.
The Aviary is a bar that specializes in creative alcoholic beverages that give a whole new meaning to the word "innovative." Whether your drink comes as an orb in a glass or a vapor-filled teapot, this experience will bring a thrill to your romantic evening.
The Signature Lounge is located in a modern high structure with a direct and breathtaking view of the sunset. Sip an Old Fashioned with your date and watch the light turn golden. Looking across the skyscrapers and cityscape at dusk is as dreamlike as a Chicago date can get.
10. Sculpt a Masterpiece Together
Take a pottery class with your special someone and see one another in a new and intimate way. This hands-on activity will bring out your creative side.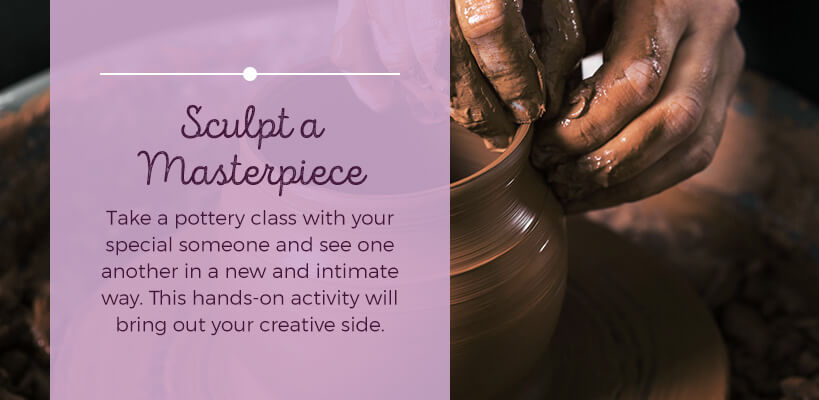 Penguin Foot Pottery is a pottery studio that caters to beginners and more advanced clay students. Located in Logan Square, this center offers wheel throwing for beginners and separate levels of hand building. While you and your partner could purchase a package of classes, drop-in sessions are available for a few hours at a time. Simply stop by during their sectioned off drop-in hours — Penguin Foot does not take appointments for shorter one-time classes.
Park West Ceramics is another option for getting creative. This studio is in Lincoln Park, and its beginner classes take the form of workshops. These workshops have a small teacher-to-student ratio, and students will produce one work of art by the end of their session.
Just remember, pottery making is messy, so tell your date to wear clothing that can get dirty!
11. Climb the Willis Tower and Skydeck Ledge
Formerly known as the Sears Tower, Willis Tower is a memorable sight, reaching 110-stories high. The view from the top allows you to scan four states — Illinois, Indiana, Wisconsin, and Michigan.
Visit a local coffee shop before climbing the tower to give you and your date a boost of energy to make it to the top — although the elevator is one of the fastest operating elevators in the world. Mojo Coffee is located nearby, and this New Zealand coffee roaster can supply you with a smooth dark roast before you embark to the tower. Floriole is another cafe, and it also includes a bakery that prides itself on its organic ingredients.
The Skydeck, or the observation deck, is the area near the top of the building where visitors can step out and take in an iconic Chicago view. The ledge off of the Skydeck is where a glass observation area gives you the illusion that you're suspended in mid-air. From there, you can get a breathtaking view of the Chicago skyline — right beneath your feet! It's an experience you and your date won't be forgetting anytime soon.
12. Go on a Hike
Nature makes for one of the most beautiful and romantic dates in Chicago — and with a few nearby state parks to explore, you and your partner are sure to find the perfect hiking spot. Spend some time connecting with nature by visiting Waterfall Glen Forest Preserve in DuPage County.
This tranquil outdoor escape features scenic overlooks, peaceful waterfalls, and multiple trails and picnicking spots. If you love nature and don't mind venturing half an hour away from the city, this stunning location makes for an unforgettable date.
13. Ice Skate Hand-in-Hand
Grab your ice skates and head to Maggie Daley Park in downtown Chicago during the cooler months. This seasonal winding rink offers stellar skyline views of the city and optimal enjoyment. If you're looking for romantic things to do in Chicago at night, what could be better than skating hand-in-hand under the gorgeous Chicago nighttime sky? Be sure to make a reservation online beforehand!
If you're planning a spring or summer date and the rink is closed for the season, never fear — Maggie Daley Park offers fun activities year-round! Whether it's mini-golfing, tennis, the climbing wall, or a relaxing garden stroll, you're sure to find something to enjoy.
14. Treat Your Sweet Tooth
What better way to enjoy a sweet evening than with some tasty treats? JoJo's Shake Bar in River North is bursting with loaded milkshakes, retro cocktails, and other delightful desserts to satisfy your sweetest cravings.
This whimsical milkshake shop puts a unique spin on the traditional ice cream date. If you don't want to go for solely dessert, the menu also features plenty of classic bar options like onion rings and Buffalo wings.
15. Kayak on the River
Add a peaceful ride on the Chicago River to your list of Chicago romantic dates. While kayaking in nature is always a classic date option, kayaking between skyscrapers adds a uniquely urban twist. With Wateriders, you can book a guided kayak tour that provides incredible views of the city. Experience Chicago from an entirely new perspective and plan an unforgettable date when you schedule your tour on the river.
16. Hit the Lanes
Bowling makes for a fun and classic date night, but Chicago puts an exciting spin on this activity. Visit Kings Dining & Entertainment in Lincoln Park to enjoy a '70s-Esque disco atmosphere, delicious appetizers, and a friendly bowling match for the ultimate fun date night in Chicago!
Waveland Bowl is another great date spot featuring 40 bowling lanes, excellent prices, and tasty Chicago-style food. If you're looking to make it a double date — or add even more couples — reserve a lane with Waveland Bowl's group rental options.
Accent Your Date With Flowers
To enhance each of these dates and heighten the romance, bring your date a Parisian-inspired arrangement from Ode à la Rose. Whether it's a signature bouquet or an anniversary arrangement for a milestone date, you can select a bouquet that's perfect for your significant other.
Signature gift box delivery adds an elegant note to your flower choice. Offering your date flowers when you pick them up or sending a bouquet of roses to their workplace will set the mood for your evening.
Another way to complement your date plans is to add some rose petals for a romantic touch to your intimate settings. These rose petals come in pink, red, or white, and you can sprinkle them across tables, the floor, and more to create an enchanting effect.
Purchase your flower arrangement today for same-day delivery in Chicago.