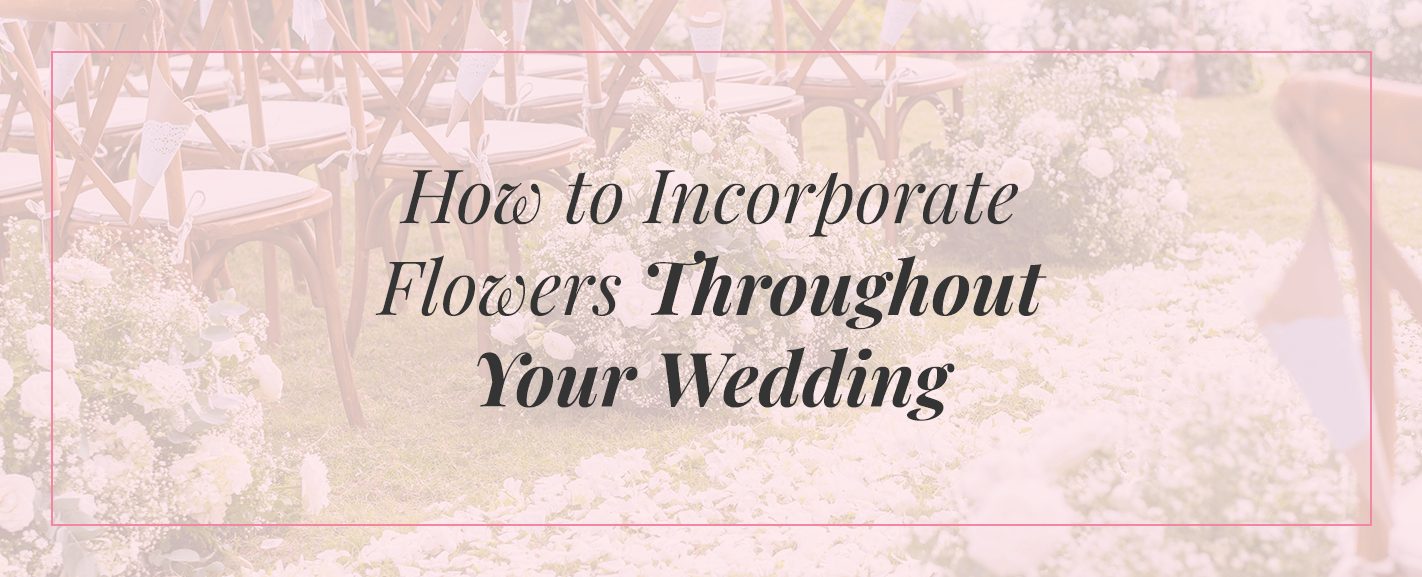 Flowers are a traditional element in many weddings. You'll see luscious floral decorations incorporated into the most minor details at a wedding. The bride and her bridesmaids will carry bouquets, and the groom and his groomsmen will wear boutonnieres. The flower girl will toss petals down the aisle, and flowers and floral arrangements will be scattered throughout the venue and ceremony space.
It's your special day, and you can get creative and use floral decorations in any aspect of the wedding that you want. You can choose to take a more untraditional route and incorporate some unique floral pieces, or you can stick with common wedding flower arrangements to brighten up your wedding day.
As you make your way down your wedding planning checklist and find your next task is wedding flowers, consider what kind of flowers you want and where you should place them on your big day. If you need some ideas for both traditional and unexpected ways to use flowers at your wedding, this guide can help you out.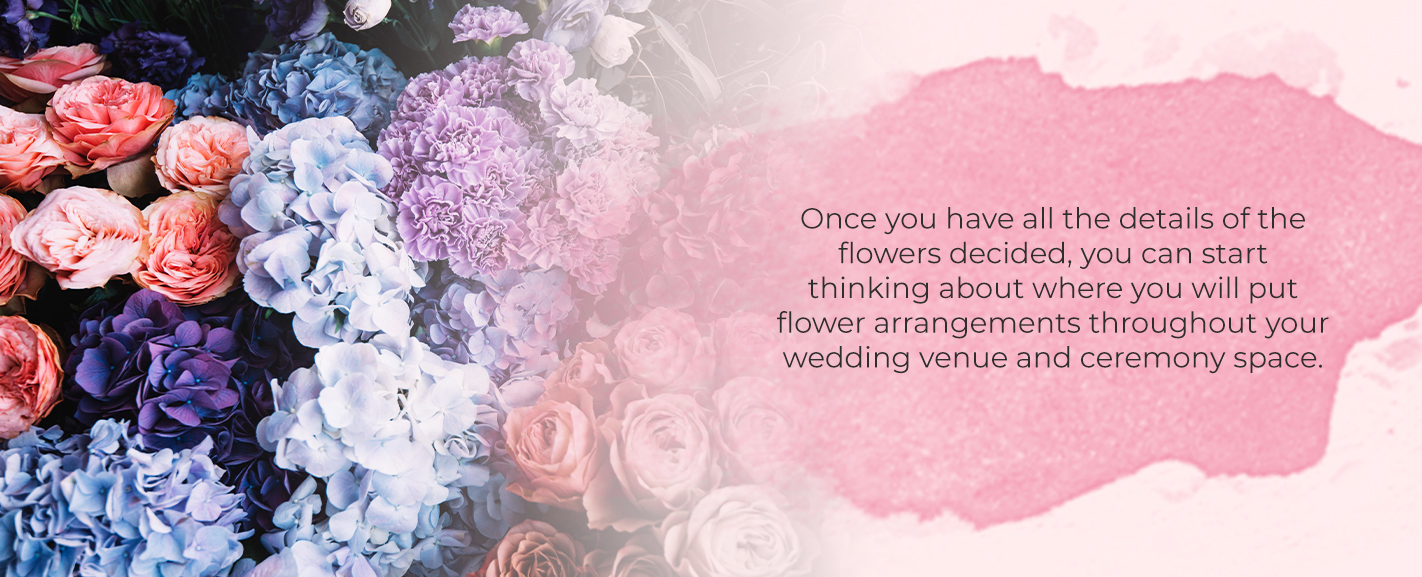 How to Incorporate Flowers in Wedding Décor
Picking out flowers for your wedding is one of the fun tasks you get to complete. You and your florist discuss what kind of flowers you want in your arrangements and the color scheme.
Once you have all the details of the flowers decided, you can start thinking about where you will put flower arrangements throughout your wedding venue and ceremony space. Whether you're considering incorporating the basic arrangements or going all out for the wedding, it's helpful to make a wedding flower checklist that you and your florist can go over. Using a checklist will help ensure you don't miss any important floral decorations you want for your wedding day.
While you're making your list, keep your wedding budget in mind. Avoid going over budget with your wedding flowers so you have enough for other wedding expenses.
What flowers do you need for a wedding? To make your decorating decisions easier, consider these wedding flower ideas for your floral décor.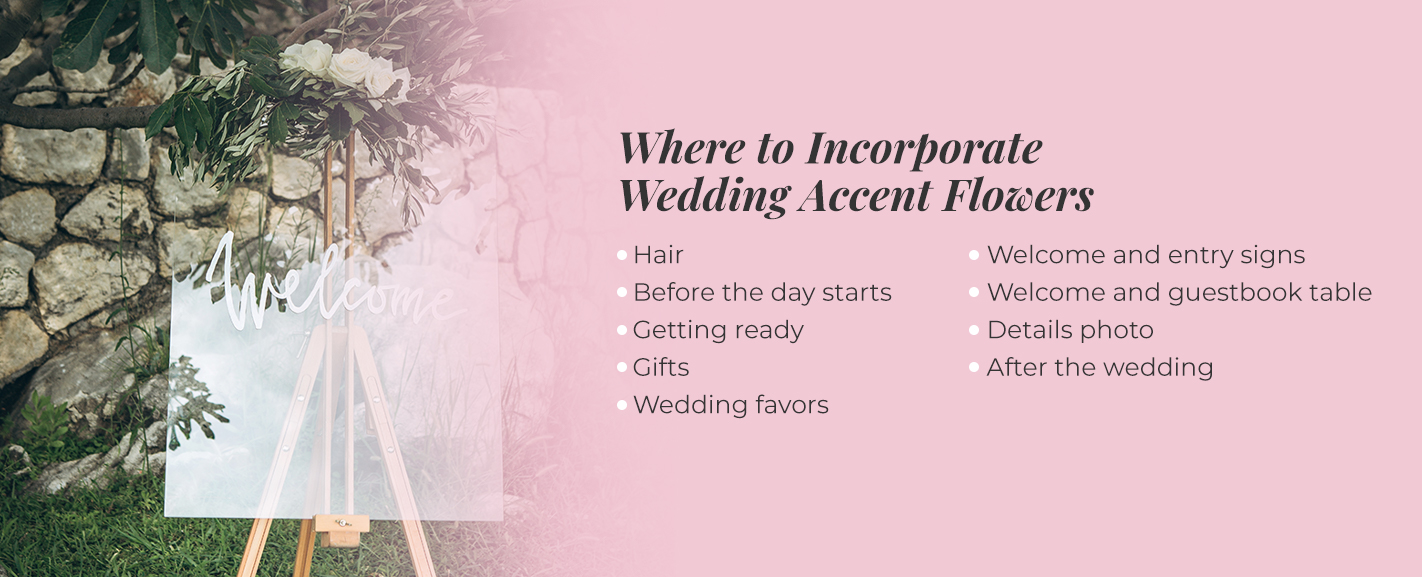 In the Small Details
It's easy to remember the typical floral arrangements for your wedding day, but the small details are what make your day special and stand out to your guests. Your wedding accent flowers will shine in these small pieces:
Wedding flowers for hair: Using a floral headpiece is a gorgeous accessory that can transform your bridal attire. Brides can choose from several floral hairpiece options that will match their style and gown. One option you have is a flower crown. Flower crowns are a favorite for many boho-style brides who want a soft hairpiece for their special day. Your flower crown can be a simple design of greenery or an extravagant arrangement of your wedding flowers. Another option is a clip-in or pin-in floral accessory for your hair. These can be small additions to your up-do or a larger piece to style in your half-up half-down look. Floral hairpieces are even cute for your bridesmaids and your flower girl to wear along with you.
Before the day starts: Wake up on your wedding day to a gorgeous bouquet of your wedding flowers. The day your wedding finally arrives can be a surreal feeling, and it should be one of the most special days you'll ever experience. Order an extra bouquet of your wedding flowers to pick up the day before your wedding. Arrange them in a cute vase and place them on your bedside table. You'll wake up on your wedding day to a beautiful view of flowers.
Getting ready: The morning of your wedding day consists of hanging out with your bridesmaids and getting ready for the ceremony. You'll be getting your hair and makeup done, eating food, drinking some champagne and chatting with your friends about the wedding day. Decorate your getting ready room or bridal suite with wedding florals. You can add small arrangments in vases throughout the room, small pieces on catering trays, flowers on dress hangers, and even edible petals in your champagne glasses.
Gifts: Surprise your wedding party, parents, grandparents, or other VIP guests with a lovely flower arrangement. Using flower bouquets as a special guest gift is a lovely gesture to your loved ones.
Wedding favors: If you're giving your guests wedding favor gifts, you can incorporate some of your wedding flowers in the gift. Tie ribbon around a tiny bottle of wine and add a small flower for decoration or secure a flower on other wedding favor gifts for something special to your guests.
Welcome and entry signs: Many decide to decorate the entryway to their venue with welcome signs, photos of the couple, and a sign detailing the order of events for the evening. You can add small floral garland or arrangements to the top of your signs, photos, and easels that you have in the entryway of the venue.
Welcome and guestbook table: Another entryway must-have is a welcome table or guest book table. This table will have your guestbook, photos, wedding favors, and a place for guests to leave their cards and gifts. You can add floral arrangements or floral garland to your welcome table.
Details photo: Your wedding photographer will likely take photos of small details, like invitations, rings, watches, perfume, and your flowers. Tell the photographer what flowers you want to be featured in these photos to ensure you have the pictures you want.
After the wedding: What's a more romantic way to end your wedding day than some petals scattered throughout your hotel room? Order an extra small bag of flower petals and have someone go to the hotel room the day of the wedding to scatter the petals around the bed. The petals will be the perfect addition to your lovely evening.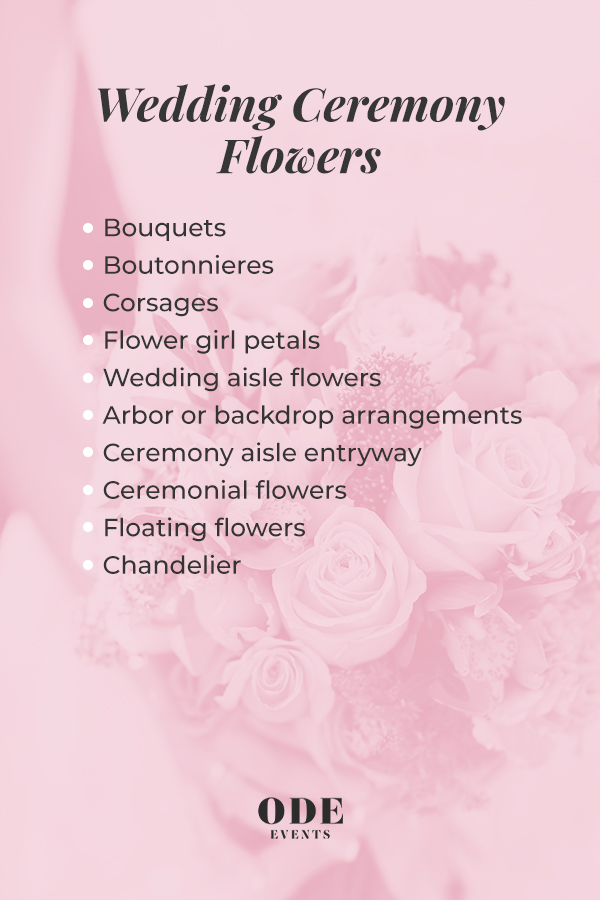 Wedding Ceremony Flowers
During your ceremony, the big moment when you'll say your "I do's" will be one you'll remember forever. See how to incorporate flowers at the ceremony:
Bouquets: One of the most special pieces of floral designs you'll have for your wedding is your bridal bouquet. The first time your partner sees you down the aisle, you'll be holding this beautiful arrangement. Your bridesmaids will also have bouquets, but they'll be a smaller version of your bridal bouquet.
Boutonnieres: The groom, his groomsmen, the ring bearer, the father of the bride, the father of the groom, and grandfathers will wear a boutonniere on the wedding day. These floral arrangements will complement your bouquet and your bridesmaids' bouquets.
Corsages: Corsages are typically given to the mother of the bride, mother of the groom, and grandmothers on your wedding day. You can go the untraditional route by having your bridesmaids wear corsages instead of holding bouquets during the ceremony. Corsages are a great alternative to bouquets because they stay on your wrist, and your wedding party won't have to worry about setting down their bouquet somewhere and misplacing it.
Flower girl petals: The bride is the last person in line during the ceremony precession. The person that typically enters before them is the flower girl. You can give the flower girl some flower petals to toss down the aisle in preparation for your entrance or give her a small bouquet to hold.
Wedding aisle flowers: Your ceremony aisle will be photographed a lot during your nuptials. Adding flowers throughout the aisle can help transform your ceremony space into your dream wedding. Some ways to incorporate flowers into your aisle are to line the aisle with a floral garland, set arrangements at every aisle entrance, hang floral arrangements on the backs of the aisle seats, or line both sides with petals.
Arbor or backdrop arrangements: All eyes will be on you and your partner during the ceremony, and you can make sure the background behind you is beautiful with some wedding flowers. Add flowers to the arbor or create a backdrop with your wedding flowers or greenery. You'll look back at your wedding photos and swoon over how happy you and your spouse are and how amazing your wedding flowers look in the background.
Ceremony aisle entryway: Add some color to your ceremony entryway by adding some floral arrangements. You can include large potted plants or small vases on cocktail tables.
Ceremonial flowers: You and your partner might be performing a ceremonial ritual that includes flowers. Different heritages and cultures perform special ceremonies during weddings that can be a part of your floral checklist.
Floating flowers: If your ceremony is by a fountain or small pond, consider adding some floating flower arrangements to really go all out with your decorations. You can also place floating flowers in a vase around your ceremony.
Chandelier: If you're having an indoor ceremony and the room has a beautiful chandelier, why not make it even better with some wedding flowers? Ask your florist to add flowers around the chandelier in your ceremony space to add a unique touch to your wedding day.
Wedding Reception Flowers
Now it's time for the room where the celebration happens: your wedding reception! You'll be eating dinner with your wedding guests, toasting champagne, enjoying cake, and dancing the night away. Learn how to incorporate flowers at the reception for an unforgettable evening.
Centerpieces in vases: Table centerpieces are common wedding flower arrangements. The options are endless when it comes to your centerpieces. You can add large bouquets or incorporate simple greenery along with some other decorations.
Floral garland: Another way to bring flowers to your reception tables is to use garland. Floral garland looks amazing on rectangle tables, along with some candles and other decorations.
Hanging flowers: Fill your reception space with more flowers by hanging small arrangements from the ceiling. You can find many cute examples of this idea online, and it will be a lovely addition to your ceremony space.
Fireplace mantel: You can include many decorations on a fireplace mantel if your venue includes one. Use a strand of garland or small vases of bouquets.
Cocktail tables: Cocktail tables are helpful to have around the dance floor or outside, near the bar or by the hors d'oeuvres table. You can add a simple wedding flower bouquet to the tables or sprinkle some flower petals for a nice touch.
Sweetheart table flowers: A sweetheart table is a small table reserved for the newlyweds during dinner. You can add a more special floral centerpiece to your table because it's your special day.
Bar arrangements: You can dress up the bar at your wedding with some flower arrangements as well as incorporating edible flowers into some of your cocktails or champagne for an elegant touch.
Floral marquee letters: Take some big cardboard or wooden letters that spell our Mr. and Mrs. or your new last name and fill them with some flowers. You can place these anywhere in your venue, like the fireplace mantel, the bar, the welcome table or on your sweetheart table.
Seating chart: Some people decide to add a seating chart outside of their reception space. Decorate this sign like your welcome sign and add flowers to your seating chart sign.
Wedding cake: One of the sweetest parts of the night, other than saying your "I do's," is eating wedding cake. Ask your florist to include some stemless flowers and greenery for your cake decorator to include on your wedding cake.
Place settings: If you decide to add place settings for your guests, like charger plates, menus, and silverware, include a flower or two for decoration.
Toss bouquet: Your real bouquet can be squished or damaged if you use it during the bouquet toss. Instead, ask for a special toss bouquet from your florist. This toss bouquet is sometimes included when you purchase a bridal bouquet.
Petal exit: Are you looking for a grand exit as newlyweds? Supply flower petals to all of your guests and have them toss them in the air as you exit the venue! This makes for some awesome photos and is a great way to end the night.
Fun Accents
Now, if you're looking for some extra-special floral ideas, check out some of these designs that will shine at your wedding:
Pet-friendly flowers: If you're including your furry friend in your ceremony, give them their own floral arrangement. Your pup can wear a pet-friendly wreath or garland strand to look as lovely as ever on your wedding day.
Ladies' room: Add a special vase of flowers to the ladies' room for a sweet touch that your guests will appreciate.
Getaway car: Add a wreath of flowers to your getaway car for a cute way to tell everyone you're just married!
Let the Wedding Flower Design Experts at Ode a La Rose Design Your Wedding Flowers
Your wedding day is one of the most memorable days of your life, and you should be happy and excited during the planning process. If you want a florist that will provide quality flowers and beautiful arrangements for your wedding, talk to the experts at Ode a La Rose. We'll be happy to provide your special day with gorgeous wedding flowers. Check out our gallery of wedding photos for some floral inspiration for your big day.