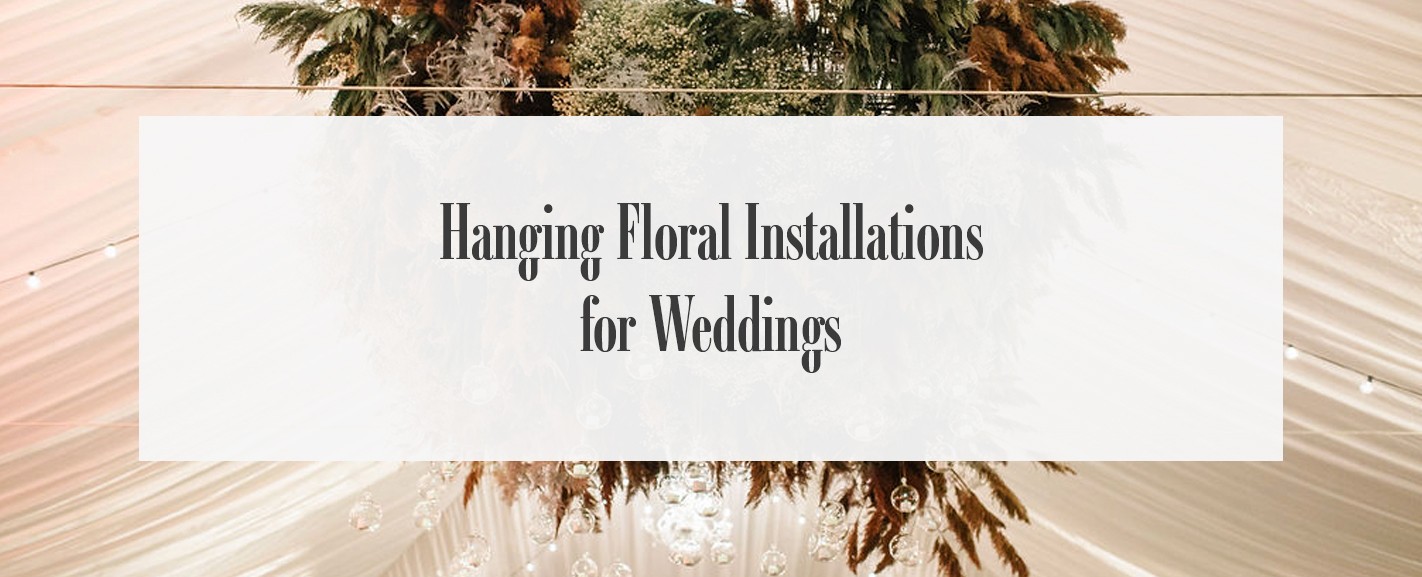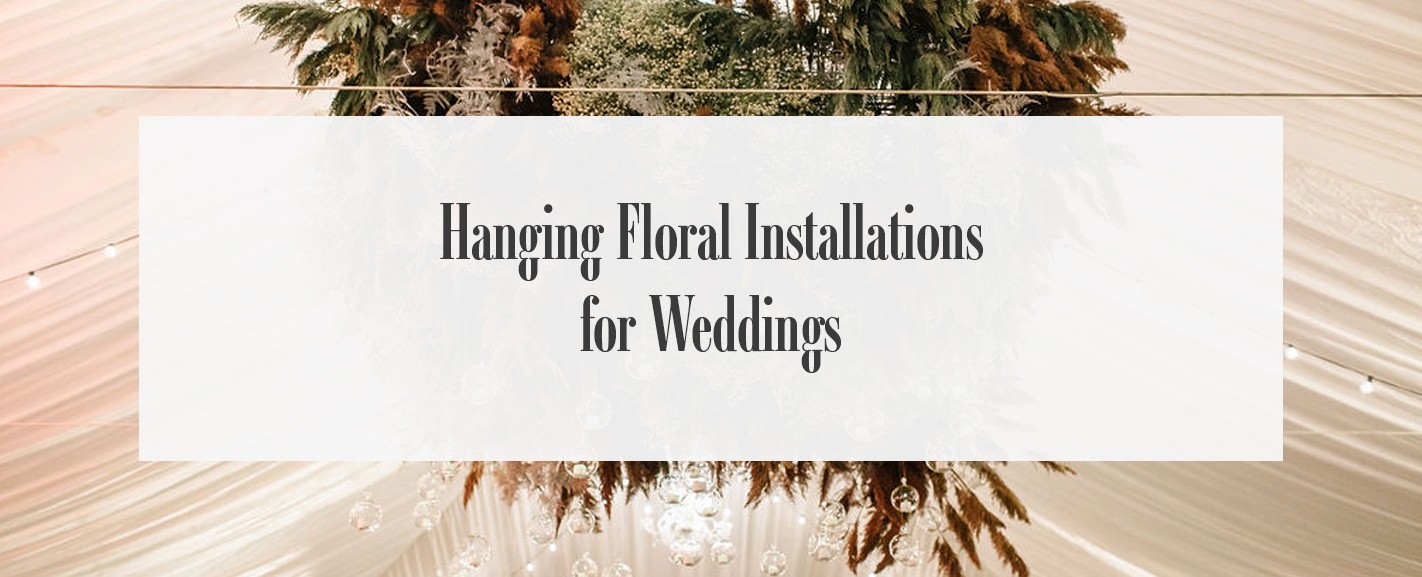 You want to say your vows and celebrate your special day surrounded by friends and family, all in a beautiful venue. Take your ceremony and reception to showstopping levels with hanging floral installations. These trendy displays elevate traditional flower centerpieces and are sure to be the talk of your wedding décor. Learn more about hanging floral installations for weddings below and see how they will transform your wedding's design.
What Is a Hanging Floral Installation?
If you're not familiar with this wedding trend, a hanging floral installation is an arrangement that suspends from above. It usually hangs from a structure or otherwise gets anchored to the ceiling in some way. With flowers hanging from the ceiling in your wedding, you get a unique decorative element that feels natural, wild, or elegant.
Hanging floral installations come in a wide variety of styles and sizes that make them a breathtaking addition to any wedding. You may go for a magical flower chandelier that dangles from invisible wires, appearing to float in midair. You could choose a rustic design that drapes blossoms and greenery around a wooden chandelier structure. The possibilities are endless for hanging floral arrangements at a wedding.
Where to Put a Hanging Floral Installation
You've seen beautiful arrangements of flowers suspended from above, and you want them at your wedding. With so many potential places to hang them, it helps to know where to put a hanging floral installation. Depending on the size and the structure of these decorations, you can put them almost anywhere throughout your venue.
With an outdoor ceremony or reception, you may need to get a bit creative. Use the structure of your arch to hold a smaller chandelier or hang it from a tree that provides shade for your altar. Hang floral chandeliers from the ceilings of canopies, tents, gazebos, and other outdoor structures that cover your reception space. For either indoor or outdoor celebrations, consider these ideas for where to put hanging floral installations.
In Your Ceremony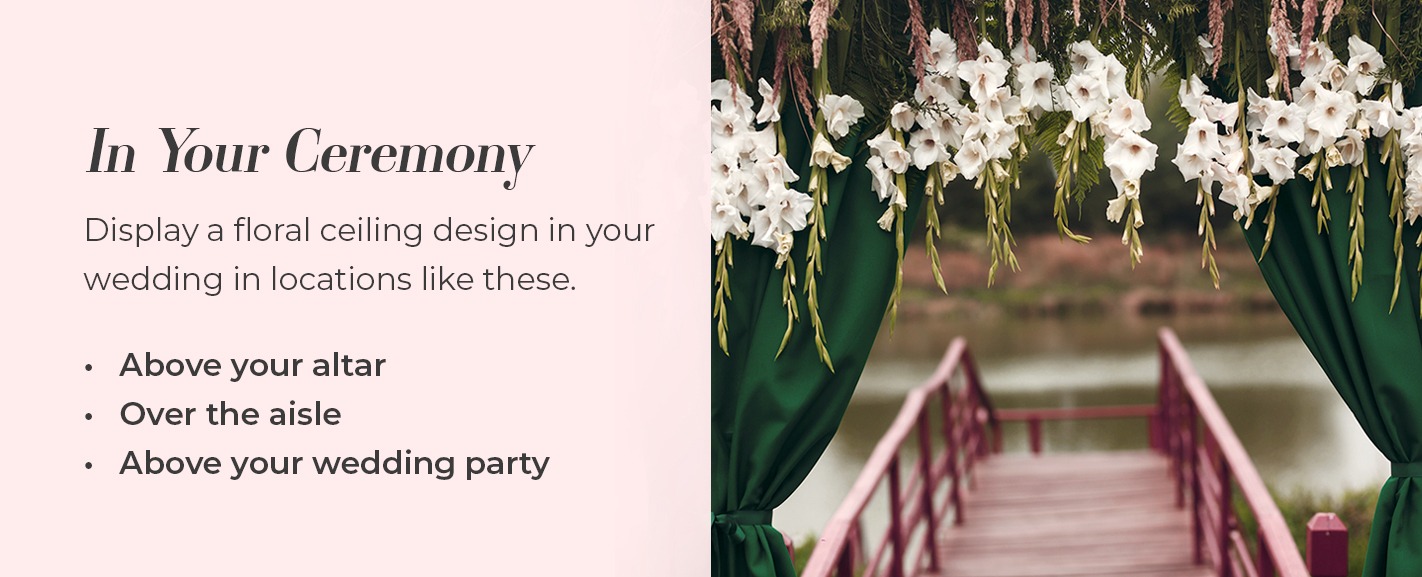 A wedding ceremony should feel lush and romantic, and hanging flowers will achieve that. Display a floral ceiling design in your wedding in locations like these.
Above your altar: The most popular spot for a floral chandelier is above you and your significant other. Some couples use hanging floral arrangements in weddings as the arch. Use the suspended floral arrangement on its own or with an arch for equally breathtaking scenery at your altar.
Over the aisle: Instead of spreading petals along your aisle, hang them from above. A few floral installations hanging the length of the aisle will tie in with any flower arrangements below.
Above your wedding party: If you already have an altar that you want to stand out on its own, accent your ceremony space on the sides. Hang two matching installations above where your bridesmaids and groomsmen stand for symmetry around your altar. Keep these installations on the smaller side, so your arch stays in the spotlight.
In Your Reception
Celebrate your ceremony with a breathtaking reception venue adorned with hanging flower installations. You and your guests will feel the impact of walking into your wedding reception and seeing stunning arrangements floating up above. To decorate your reception with hanging flowers, display them in these areas.
Above the head table: Bring the attention to you and your spouse with a gorgeous suspended arrangement. With a floral ceiling installation above the head table, you create a focal point in your reception venue.
As centerpieces: Decorate your guest tables with small and subtle accents and let the centerpieces hang from the ceiling. Using hanging floral centerpieces gives your venue a dramatic look and a unique decorative touch. A flower chandelier also works well over a single long table if you're having a smaller reception.
Above the escort table: Direct guests to the escort table and set the tone of your wedding theme with a chandelier above it. You could even replace an escort table with a hanging installation. Hoops of greenery and flowers can hold clothespins or cards with guests' names and table numbers.
Accents to Use in Hanging Floral Arrangements
You can dream up almost anything for your floral ceiling arrangement design. That includes the decorative accents you choose to feature. In addition to blooms that suit your wedding's design, add these touches to a hanging floral installation.
Lights
Light up your floral installations to draw attention to them and give your venue or ceremony space a charming glow. Integrate light fixtures like these into your suspended floral arrangement.
String lights woven throughout a centerpiece are perfect for evening ceremonies or providing ambient light. Choose smaller string lights for a soft glow, or hang larger bulbs down for a unique installation.
A chandelier can become the base of your hanging flowers. The result is a storybook or whimsical centerpiece as blossoms weave and hang along the light fixture.
Candles hanging down in votives or jars look magical. They can attach to the suspended flower arrangement with clear wires, jute, or different materials, depending on what suits your wedding aesthetic.
Fabric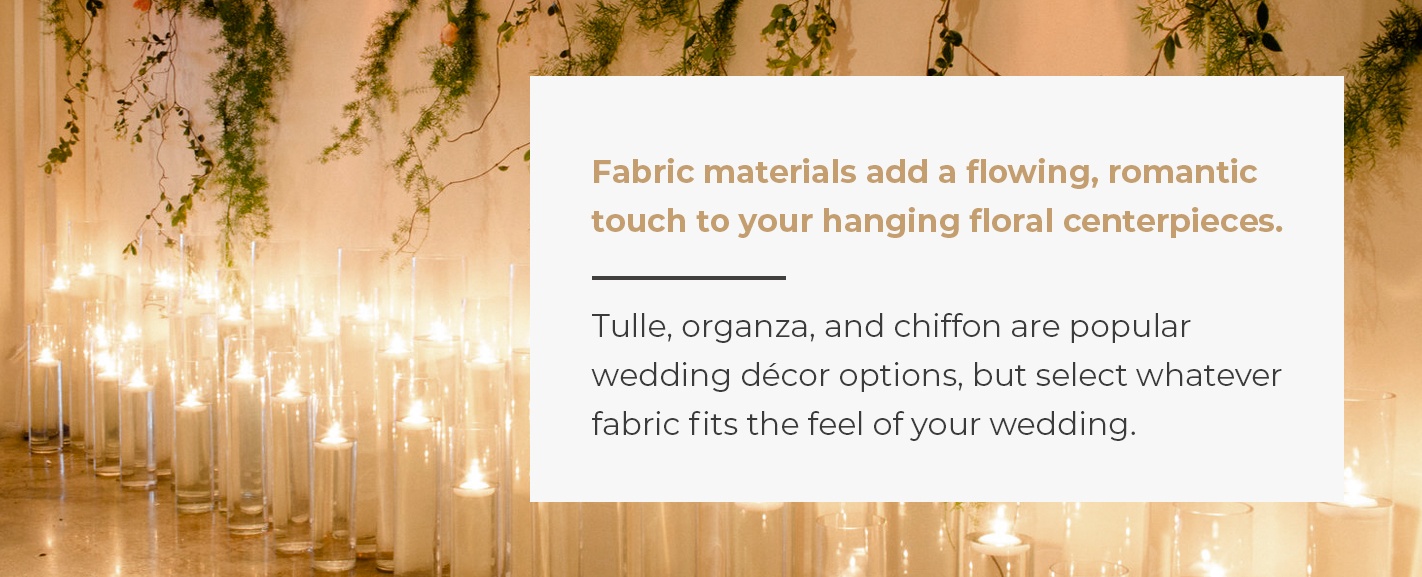 Fabric materials add a flowing, romantic touch to your hanging floral centerpieces. Tulle, organza, and chiffon are popular wedding décor options, but select whatever fabric fits the feel of your wedding. From there, accent your hanging flower installation with these ideas:
Hang vertical falling fabric around a circular flower chandelier.
Drape sections of cloth that start at the installation and flow out.
Use a canopy-style spread of fabric that covers the entire ceiling.
Tuft material like tulle to create a cloudy look.
Add ribbon or bow accents for a sweet touch.
Themed Decorations
Make your floral chandelier unique to your wedding's design with themed additions. These decorative items will vary based on your celebration's theme or aesthetic, but some ideas could include:
Geometric frames for a modern or minimalist wedding.
Seasonal fruits for specific times of the year.
Decorative butterflies for a whimsical garden party.
Starry decorations for a night sky theme.
Shells for a beach motif.
Branches for a rustic feel.
Greenery
Greenery and flowers complement each other, and most floral installations come alive with touches of leaves, vines, and garland. Your hanging centerpieces don't have to include flowers, either. Flowing branches of greenery are minimal, yet equally eye-catching. Whether you want blooms in your installation or want to keep it all green, consider greenery arrangements like these:
A long installation with leaves of various sizes and colors.
An overgrown installation with vines or bunches of leaves hanging over the sides.
A clean and minimal chandelier with a wrap of green garland around a frame.
A centerpiece with longer vines of leaves that hang close to the table.
How Much Do Hanging Wedding Floral Arrangements Cost?
A hanging floral installation is beautiful and dramatic, which can incur a higher cost than other décor items. The cost of hanging flowers varies based on a variety of factors, such as who makes the decoration and where you live. When you decide to use these chandeliers in your ceremony or reception, these variables will also influence the cost:
How many floral chandeliers you want at your wedding.
How large the installations are.
What creates the frame of your chandelier.
What type of flowers and greenery you want.
Whether you want live or faux flowers.
What extra décor you feature in an installation.
Let the Floral Experts at Ode Events Design Your Hanging Installation
Make your venue come to life and your wedding dreams come true with help from Ode Events. Our skilled team is ready to create hanging floral arrangements for your wedding and other décor that brings your vision to life. Our on-site production crew will then install your floral chandeliers and décor, ensuring that everything down to the last petal is perfect for your special day.
We're confident our wedding services will stun you and your guests. Complete a wedding inquiry today to dream up beautiful floral chandeliers with Ode Events.