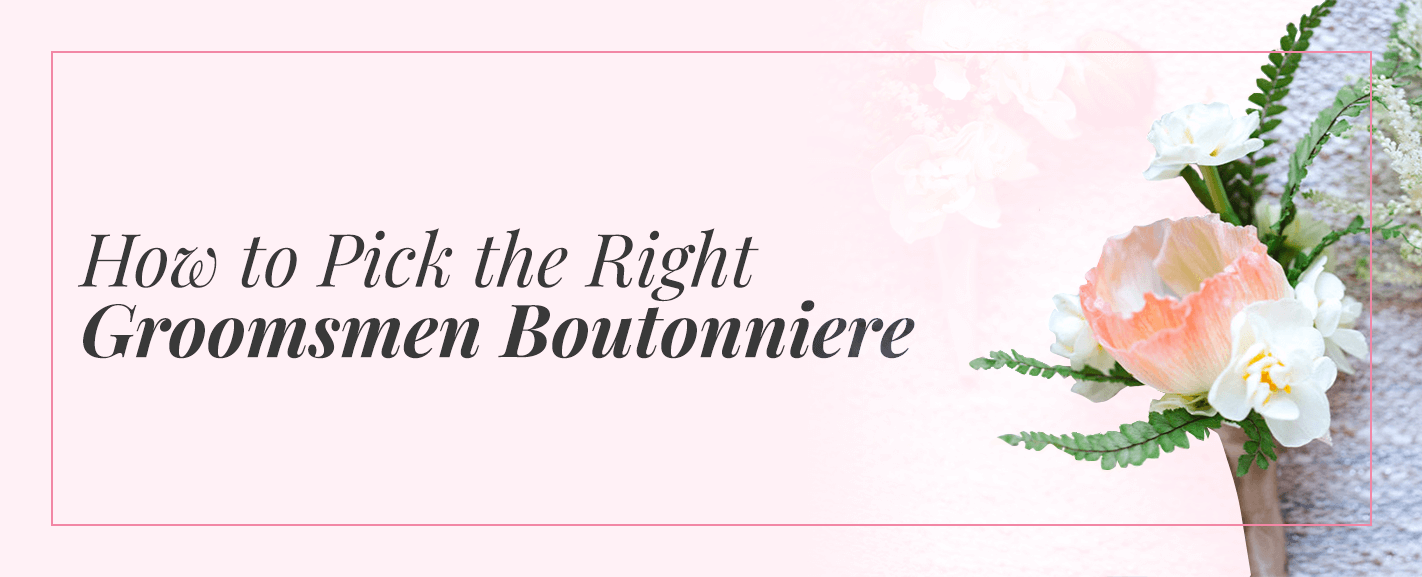 Flowers add natural beauty to weddings, and a tasteful flower boutonniere is an excellent way to spruce up formal attire and tie together the overall theme of your wedding. A wedding boutonniere expertly crafted from a selection of fresh flowers can be a striking accessory to distinguish the groom from the groomsmen.
Ode à la Rose has all of the boutonniere basics to help you choose the best boutonniere style for your wedding.
What Is a Boutonniere?
A boutonniere is a single flower or cluster of small flowers reserved for formal occasions such as weddings. The word "boutonniere" derives from the French word for "buttonhole," as men typically wear it through a small buttonhole on the left lapel of their suit or tuxedo jacket. A thread on the rear of the lapel slightly below the buttonhole keeps the flower upright by holding the flower stem flat against the lapel. Some men opt to use floral tape to secure the stem of their boutonniere.
As men wear the boutonniere right above their hearts, it has become a romantic symbol of the groom's ties to his bride. Although small, boutonnieres can make a big statement.
Who Wears the Boutonniere?
Traditionally, important men at the wedding, like the groom, will wear a boutonniere fastened to the left lapel of their suit. However, many other men can also wear a boutonniere to show their support for the groom as an honored member of the wedding party:
Groom: While a boutonniere usually includes at least one focal flower like a carnation or rose, a groom's boutonniere can feature a more elaborate arrangement. Two or more large flowers will help him stand out from the crowd. A groom may also choose to add a creative twist to his boutonniere to show off his personality and interests through various accessories like golf tees, guitar picks, feathers, and more.

Groomsmen/bridesmen and best man: The groomsmen and best man should sport boutonnieres that follow the wedding's color scheme as well as their specific attire. A best man may also wear a boutonniere slightly different from those of the other groomsmen to distinguish his honored role. If your wedding includes bridesmen, they can also wear boutonnieres with slightly different colors of flowers to contrast with the groomsmen's boutonnieres.

Fathers/stepfathers: Fathers and stepfathers of the couple-to-be should also wear boutonnieres. When it comes time for pictures, make sure your wedding photographer and videographer capture the sentimental moment when you fasten the boutonnieres onto their lapels.

Grandfathers: As with parents, offering the grandfathers of those to be married boutonnieres is a meaningful demonstration of how grateful you are for their presence. Making the time to offer your boutonniere to your grandparent in person is another way to make them feel appreciated and to celebrate how fortunate you are to have them there on your special day.
Ring bearer: When you plan out your list of guests to receive boutonnieres, remember to include the youngest member of the wedding party on the big day! The ring bearer's boutonniere can be a smaller and more proportionate version of the groomsmen's boutonnieres.
Ushers: Your ushers may be separate from the rest of your wedding party, but they still have an essential role during the service. Boutonnieres will help you identify your ushers as point people to respond to guests' questions and requests. It is also common for the ushers' boutonnieres to vary slightly from those of your groomsmen.
Officiant: You may also choose to have your male officiant wear a boutonniere. If your officiant wears secular attire, he may attach a boutonniere to his own suit lapel, but some religious officials wearing traditional dress may appreciate you asking his preference.
Other male family members: Lastly, other male members of the family or anyone else you feel deserves the extra touch may sport a boutonniere. This can often include ceremony readers or other immediate family members not included in the wedding party.
While it is most popular for men to wear a boutonniere at a wedding, important women in the family, such as mothers and grandmothers, may pin a boutonniere to their attire to show support for the couple on their special day.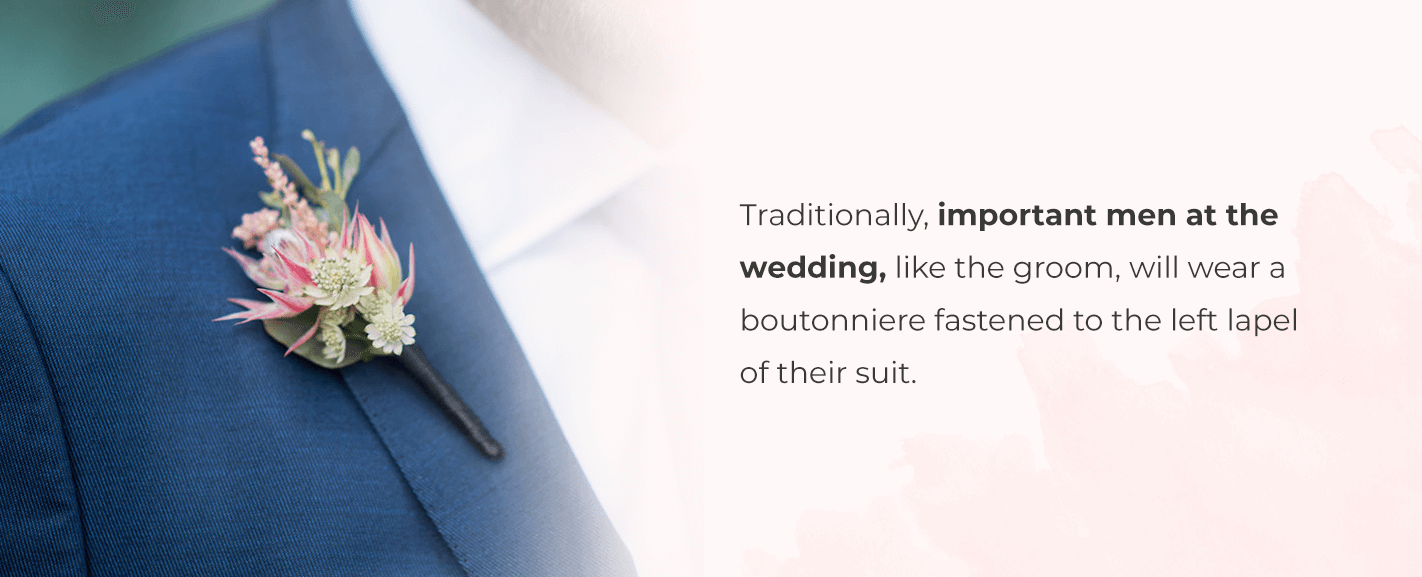 Eye-Catching Boutonniere Ideas
Wearing a boutonniere on your wedding day effortlessly adds a layer of personality, interest, and color to your attire. Of course, the most important aspect of a beautiful boutonniere is your choice of the focal flower. These large flowers will be the center of attention for your arrangement, and it is essential to select these flowers with care. From bold flowers that add a brilliant pop of color to creamy, calming neutrals and whites, you can find the perfect option to celebrate your wedding's unique style.
Here are some of the best boutonniere examples of fresh, real flowers to elevate your look on your special day.
Carnation
Carnations are a trendy choice when it comes to wedding boutonnieres. White and red carnations are especially popular due to their simple but elegant visual appeal, but carnations also come in a plethora of colors. In general, carnations are also an incredibly versatile flower as they blend easily with filler flowers.

Carnations' gorgeous ruffled petals also serve as solid standalone focal points on a boutonniere. When you want a beautiful, functional, and practical flower for your boutonniere, carnations are an excellent option. Carnations also symbolize fascination, love, and distinction, making them an ideal choice for wedding floral arrangements.
Dahlia
Dahlias are sophisticated flowers that represent lasting bonds and steadfast, endless commitment. While this may be enough to convince you that dahlias make for the perfect boutonniere, these flowers also come in a diverse range of sizes and a broad selection of bright and vibrant colors. You can choose among warm violet, orange, and red tones or dreamy pink, peach, and yellow-colored flowers.

As dahlias are in season during late summer in most regions, they are an excellent choice for summer and fall weddings. Dahlias' flowering pompoms and large blooms also make for unique boutonniere arrangements that are certain to capture everyone's eye.

Gardenia
Two symbolic meanings associated with gardenias are untainted love and joy. With an air of grace and fragrant scent, gardenias can deliver a powerful impact as a wedding boutonniere. Gardenias are also one of the best year-round flowers as they originate from the South. As they are also sturdy, gardenias are a great choice for a long-lasting and enduring boutonniere focal flower.

Gardenia flowers create an effortlessly romantic and sophisticated wedding look. Their large, fanned-out, creamy-white petals and shiny, dark green leaves can serve as rich statement pieces to complement your wedding's floral arrangements, attire, and theme.
Hyacinth
Hyacinths are a classic flower that symbolizes constancy, commitment, and sincerity, making them an excellent choice for a wedding boutonniere. With their tubular, strap-like petals arranged in an elegant bell shape, hyacinths achieve an exotic look almost as captivating as their light and airy fragrance.
Hyacinths come in a rainbow of colors, and some popular choices for hyacinth boutonnieres include deep purple, lavender, blue, white, and rose pink. Hyacinths are also a popular long-lasting option for spring wedding boutonnieres that deliver a classy and sweet message to your wedding party and guests.
Orchid
Orchids are one of the most popular and commonly used wedding flowers. Their delicate structure and exotic beauty signify love and charm while making the orchid itself mesmerizing to look at. Orchids also come in a bountiful array of color variations which make it easy to match your orchid boutonniere to the surrounding elements of your wedding.

If you prefer a light-hued boutonniere, white orchids are an ideal choice, while brighter pink and purple orchids make a bold statement even with just a small amount of greenery and filler foliage. Yellow orchids also create a fascinating boutonniere with an air of rarity.
Peony
Herbaceous peonies grow in abundance and offer a beautiful, lush texture that has earned them a favorited status for wedding bouquets and boutonnieres. While people adore their soft, lush, and fluffy petals, people also believe that peonies bring good fortune to newlyweds and symbolize love and hope for the future.

While muted pinks and whites are some of the more popular choices for peony boutonnieres, you might also find that yellow-centered peonies have the desired look you wish to tie your big day together. As peonies have a fairly short growing season, they tend to be a more high-end focal flower.
Ranunculus
Ranunculus buds are the perfect selection for a sophisticated boutonniere. Their thin, lustrous petals that resemble crepe paper symbolize charm and possess an undeniable understated beauty. Ranunculus flowers' small blooms and unique texture make them an interesting choice as standalone focal flowers or as part of a layered boutonniere.

Another advantage of ranunculus is that they are always in style and are especially versatile. From pink and coral to purple and burgundy, ranunculus buds come in a wide range of hues to match any look and style of your wedding.
Rose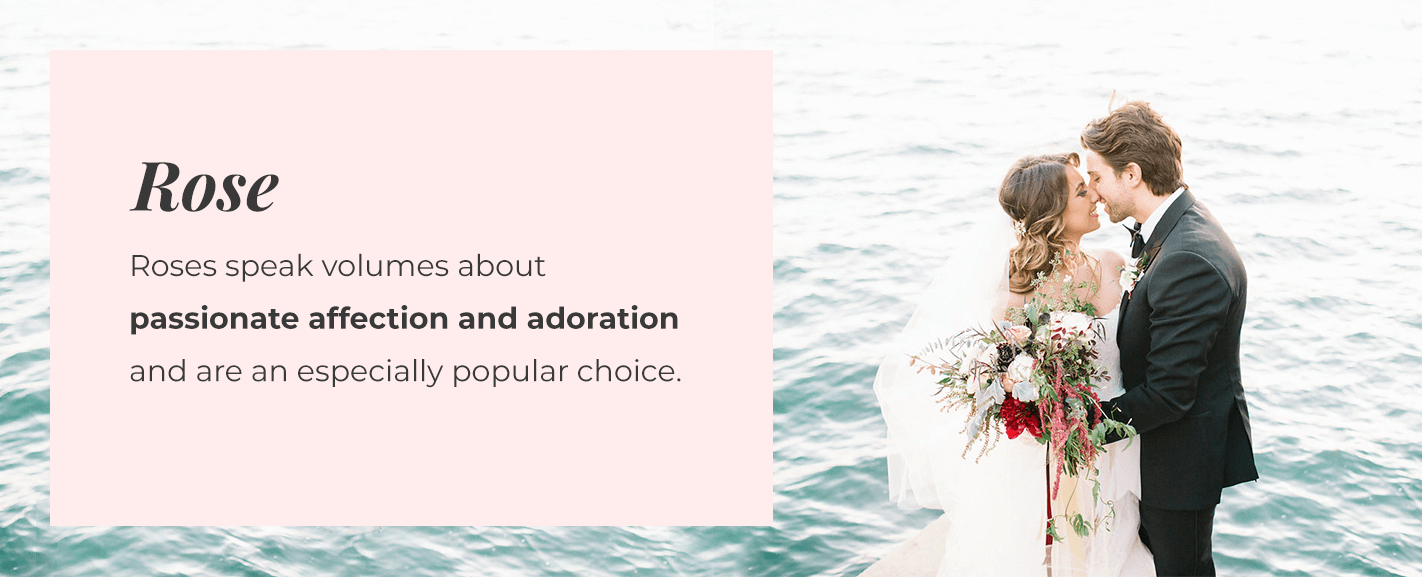 Weddings celebrate love and romance, and many people recognize roses as one of the most romantic flowers. As a boutonniere flower, roses speak volumes about passionate affection and adoration and are an especially popular choice due to their natural evocation of grace and heartfelt emotions.

While a deep red rose is a classic way to express passion, a white rose connotes eternal love, and a yellow rose can symbolize new beginnings. Whether you choose traditional colors or opt for soft-toned plum, cranberry, and dusty purple roses for a wintry twist, roses' gorgeous ruffles add an element of drama to impress on your wedding day.
Tulip
As with the classically romantic rose, tulips carry a significant amount of symbolic meanings of affection. Boutonnieres that feature tulips convey perfect love and happiness, which are beautiful symbols to display at your wedding. Loved for their timelessness, tulips exude a natural elegance through their sleek form and sloping petals.

Since tulips are spring flowers, they are also ideal when searching for softer, pastel shades for your spring wedding boutonniere and favor a wide range of availability. You can find tulips in numerous bright colors such as magenta, purple, pink, red, orange, and yellow, which will easily draw the eye on your special day.
Tips for Choosing the Right Boutonniere for Your Special Day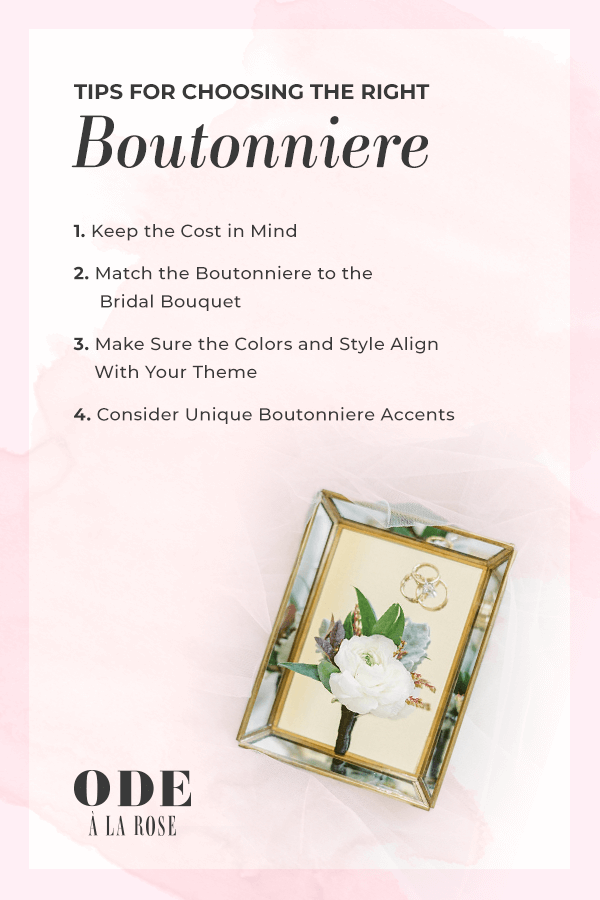 When it comes to picking the right wedding boutonniere, there is a lot to consider. From color and style to price, you'll want to make sure you pick a boutonniere arrangement that is certain to impress. Here are our top tips on how to choose a boutonniere that will suit your budget, your wedding's theme, and your unique style.
1. Keep the Cost in Mind
While the cost of a boutonniere is significantly less than the cost of a wedding centerpiece or bouquet, you should still consider it in terms of your overall budget. Couples typically spend up to 8%-10% of their total wedding budget on flowers.

Once you know how many wedding boutonnieres you will need to order, you can discern which types of flowers will best suit your price range and whether you can include more high-end blossoms. Orchids and peonies are excellent options for a smaller number of boutonnieres, while carnations and roses are ideal for when you plan to include many more members of your wedding party.
2. Match the Boutonniere to the Bridal Bouquet
A popular choice for wedding boutonnieres is to match the boutonniere's design to the bridal and wedding bouquets. You may choose to include the exact type of flower from the bride's bouquet or a selection of flowers that complement the shape, color, or floral choices of the bridesmaids' dresses.

Many wedding florists recommend choosing sturdier flowers for both the bouquet and boutonnieres that are long-lasting and can maintain their shape for more than a couple of hours.
3. Make Sure the Colors and Style Align With Your Theme
One crucial step to choosing the best boutonniere is to find an arrangement that fits with the rest of your wedding's theme and flowers. By matching your boutonniere's color scheme and similar tones to the decor of your venue and the wedding party's outfits, you can create a cohesive and compelling finishing touch to your overall theming.

It can also be useful to consider the range of sizes of various flowers. While a large rose may stand on its own, rosebuds or miniature roses will do well grouped with other flowers to create a more distinguishable and intricate design.
4. Consider Unique Boutonniere Accents
Apart from the necessary floral component, your boutonniere can incorporate other stylish accents. For a brilliant finishing touch to your boutonniere, you can choose from a range of individualized touches, including:
Silver or golden pins
Rustic wheat or olive sprigs
Miniature tropical flowers or succulents
Bird feathers, such as guinea or peacock
Filler foliage such as baby's breath, rosemary, dried grass, or geranium leaves
You may also consider including other flowers that stand out from your main focal flowers. Depending on your wedding theme and personal preferences, you can also choose various materials to tie your boutonniere together, literally:
Satin ribbon
Natural, bleached burlap
Copper wire
Delicate twine
Frayed linen
Silk thread
You can also put together a seasonally inspired boutonniere based on what flowers are in season at the time of your wedding. For a winter boutonniere, including cedar, baby pinecones, and pine needles with pale blue or deep purple flowers is an excellent way to tie together a winter wedding.
Trust Ode à la Rose With Your Wedding Boutonnieres
Choosing the right boutonniere can elevate your wedding's theme and create a beautiful focal point during your ceremony, and a skilled wedding florist can make all the difference in creating the ideal arrangement for your wedding. When you want the perfect wedding boutonniere, trust Ode à la Rose to deliver a chic and modern arrangement.
As a French company, we create elegant and personalized bouquets loyal to our Parisian roots. Our highly skilled floral designers use only the freshest flowers sourced from the best farms around the world in our unique in-house arrangements.
Looking for something super easy to complete your wedding floral vision? Our wedding collection service offers beautiful floral options for every season and color palette, complete with options for bridal bouquets, bridesmaids bouquets, boutonnieres, and centerpiece arrangements. Need a little something extra? Visit our wedding and events division to discuss more customized options to complete your vision for your big day.