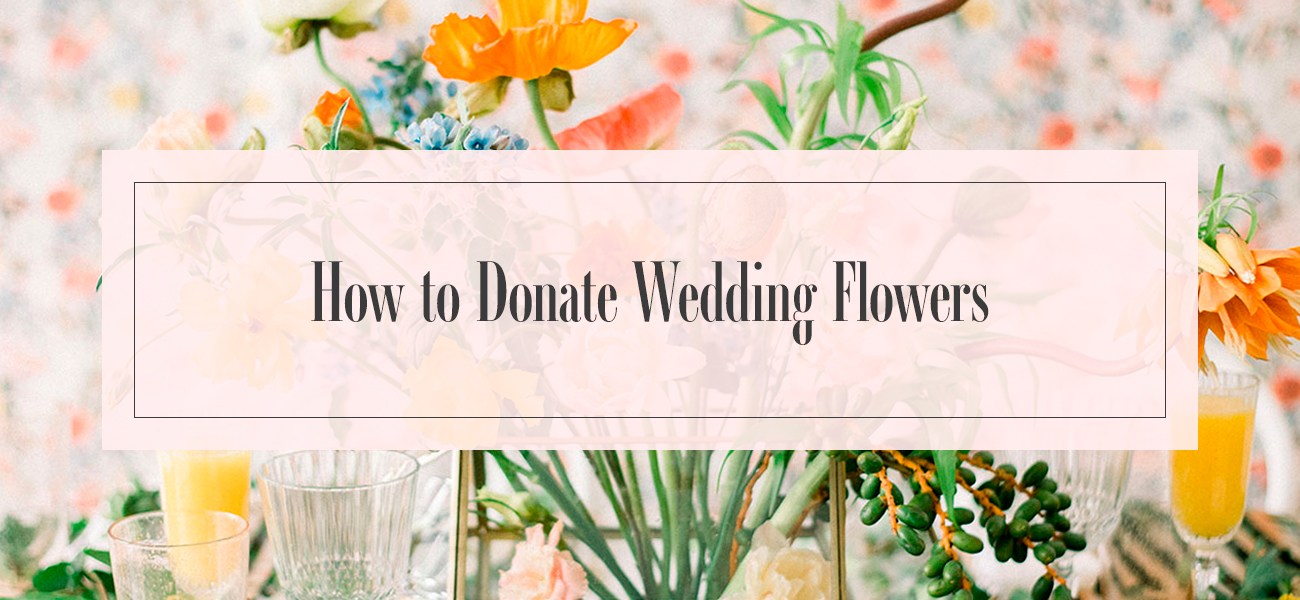 How to Donate Wedding Flowers
A lot of people can't imagine throwing away their beautiful flower arrangements. That's why many newlyweds donate their wedding flowers to local organizations or charities, or they simply give them to friends and family as a thank you.
Are you looking for ways to give away your wedding flowers? If so, consider these charitable ideas.
What Can You Donate From Your Wedding?
So much time is spent planning a wedding, but what do you do with your wedding decor, dresses, and food afterward? Many newlyweds choose to donate their:
Wedding dresses: You only wear your wedding dress once. Why not pass it along to another bride? Wedding dresses aren't easy on the wallet, and some brides can't afford to pay full-price for their dream dress. Find a charity, like Brides Across America, to donate your dress to. Remember that bridesmaids can donate their dresses, too!
Decorations: If you don't have space in your home for 20 candleholders or miles of fairy lights, donate them to The Salvation Army or another local charity. You could also post them online for a low price and donate the monetary profits to your favorite charitable organization.
Extra wedding favors: Do you have any leftover wedding favors or welcome gifts? Then, consider donating them to your local charity, too.
Unwanted gifts: Although the gesture was sweet, some gifts aren't practical to keep. Instead of letting the gift collect dust in your storage closet, consider donating unwanted gifts to your local charity or selling them at a low price to your community.
Food: Donating cooked food comes with more obstacles than other donation types. But, your local food bank will gladly accept leftover packaged foods or candies.
Flowers: High-quality, fresh flowers will last long after your wedding day. There are many charities and organizations that can pass your flowers along for someone else to enjoy.
Right after your wedding day, you and your fiancé will likely have one thing in mind — your honeymoon. Make donation arrangements during the planning stages of your wedding, and leave your wedding planner or a trusted friend or family member in charge of flower donations.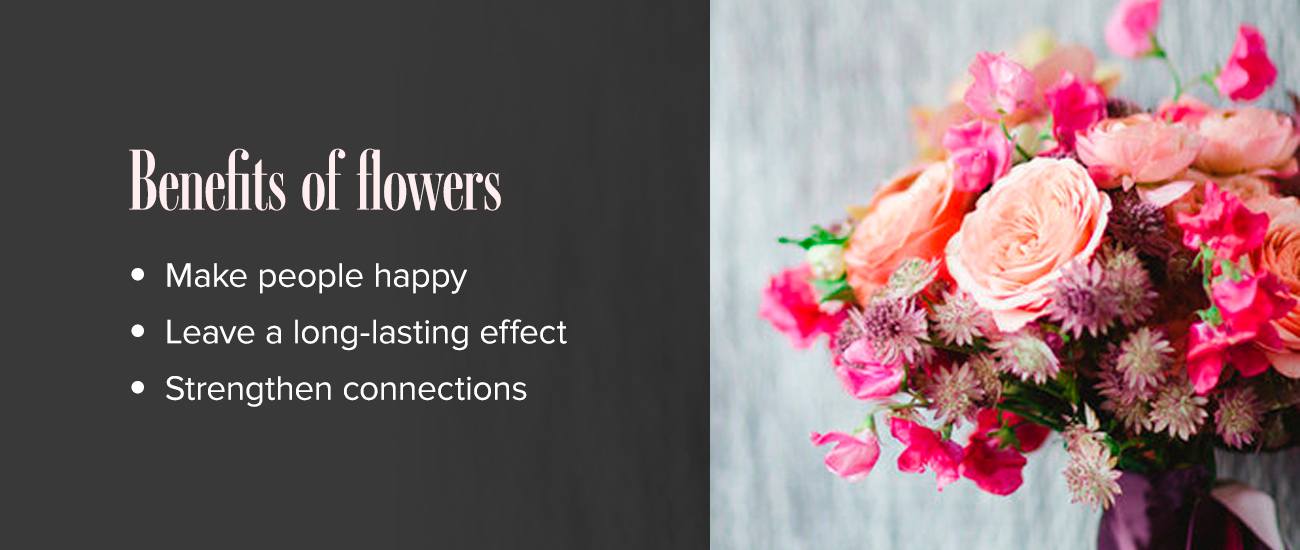 Why Donate Your Wedding Flowers?
Flowers play a big role in your wedding, and they can also play an equally big role in someone else's life. According to the Society of American Florists, flowers have the following benefits:
Make people happy: Have you ever given someone flowers? Flowers are cheerful and colorful, and they make people happy.
Leave a long-lasting effect: A person's happiness lingers long after they first receive flowers. Receiving flowers can help people feel less depressed and anxious, resulting in higher life satisfaction and enjoyment.
Strengthen connections: If you donate your flowers to friends and family, the act of kindness can help to strengthen your relationship. Or, if you donate to a local organization, you can make new friends!
If you donate your wedding flowers to a donation program, research their donation policies. Most programs operate on a volunteer basis, so they'll need at least a week of advanced notice to ensure they have enough volunteers to welcome your donation.
4 Ways to Give Away Your Wedding Flowers
Make a game plan for your wedding flower donations before your big day. You can get creative and reuse your wedding flowers in DIY crafts. Or, you can choose the charitable route and give away your wedding flowers to charity. Here's how:
1. Find a Wedding Flower Donation Program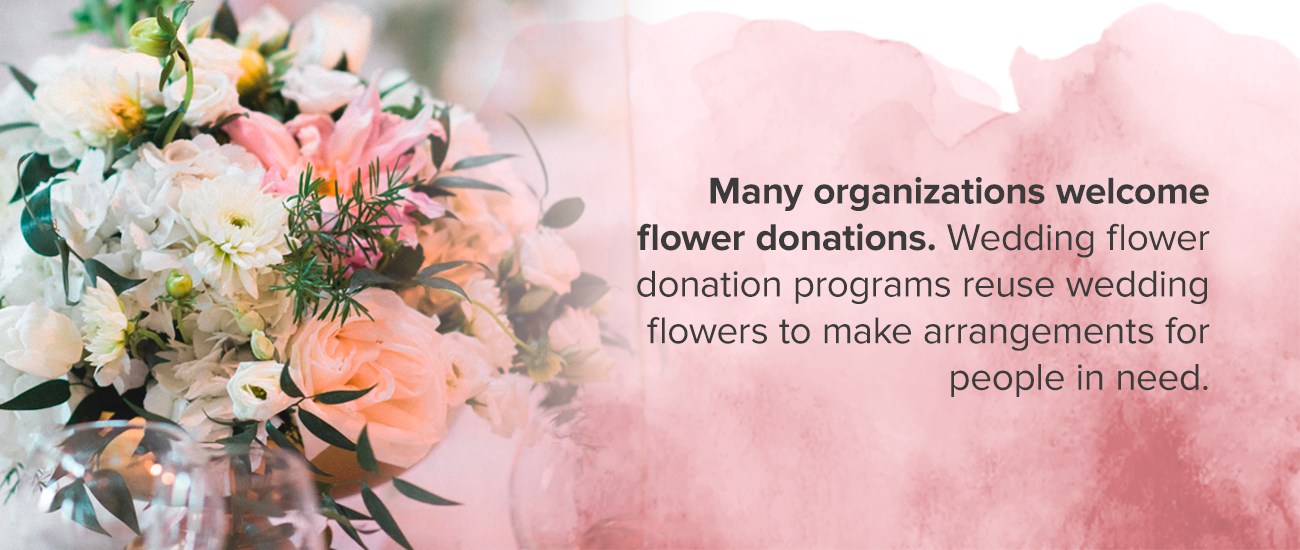 Many organizations welcome flower donations. Wedding flower donation programs reuse wedding flowers to make arrangements for people in need.
Not every state has a donation program, but you can always contact your local florist to find out what is available in your area. Here are some of the wedding flower donation programs available throughout a number of states in the U.S.
Hope Blooms
Hope Blooms is a nonprofit organization located in North Dakota. They welcome gently used flower arrangements, and they'll rearrange them into table centerpieces for those in need. Hope Blooms donates flower arrangements to:
Patients in hospice care
Seniors in assisted living facilities
Homebound seniors
Struggling mothers
Repurposed arrangements benefit struggling community members by shining a light of hope into their lives. Hope Blooms embraces this concept with a mission to spread hope, happiness, and emotional healing throughout their community.
If you're local to the Fargo, North Dakota, area, notify Hope Blooms of your donation one week in advance. That way, they can gather enough volunteers to welcome your flowers. Hope Blooms accepts flower supplies, too, so consider donating vases and other decorative pieces as well.
Random Acts of Flowers
Random Acts of Flowers has a slightly larger reach, with three locations:
Knoxville, TN
Tampa Bay, FL
Indianapolis, IN
Their mission is similar to Hope Blooms — to deliver arrangements to community members in need with hopes of boosting their spirits.
In 2007, the founder of Random Acts of Flowers survived a near-death accident resulting in a long stay in the hospital. His loved ones supported him during his stay, stopping by for meaningful conversation and delivering lively flowers to brighten his hospital room. But, as he looked at the rooms around him, he noticed not everybody was equally blessed with the same treatment.
Random Acts of Flowers accepts flower donations. Volunteers deliver these arrangements to people in need, with a focus on those in hospice care. As volunteers deliver flowers, they also engage the recipient in conversation. For many people, these random acts of kindness can be the turning part in their treatment.
If you're local to any of the three areas, contact the location and make arrangements for your donation.
Flower Angels USA
Flower Angels USA is a Massachusetts-based nonprofit organization that upcycles used arrangements to support community members. Like other flower donation organizations, Flower Angels USA strives to deliver happiness to people in need.
The organization started when founder Suzanne Carter visited her mother at a nursing home. She noticed that many of the residents didn't receive flowers or visitors, and she wanted to change that. Flower Angels USA started soon after.
If you're local to Cape Cod, contact Flower Angels USA and schedule a donation date. Volunteers will walk you through the donation process and answer any questions you might have along the way.
Bouquets of Kindness
Bouquets of Kindness is a volunteer-based organization that collects and repurposes flowers for older adults.
Over 20% of Florida's population is over the age of 65. The volunteers at Bouquets of Kindness aim to brighten retirees' days in the Jacksonville area — and they don't just deliver flowers. Volunteers with the organization encourage older adults to choose and craft their own arrangements, including the types of ribbons, vases, and other accessories.
Older adults, especially those living in a senior community, may feel dependent on others. Crafting their own arrangements restores older adults' sense of independence, decreasing feelings of depression.
If you're in the Jacksonville, Florida, area, you can prepare to donate your wedding flowers by filling out their online contact form approximately one month in advance.
Petals for Hope
Petals for Hope offers flower donation services in most U.S. states. With your donated wedding flowers, volunteers at Petals for Hope create rearranged arrangements and bouquets. They deliver them to community members in-need, like:
At-risk youth
Sex trafficking victims
Homeless children
Older adults in nursing homes
Patients in hospitals
Petals for Hope also hosts a number of events, such as:
Flower arranging workshops: Volunteers set up flower arranging events in children's hospitals, nursing homes, women's shelters, and more. They bring donated wedding flowers and materials and teach community members how to craft their own bouquet or arrangement.
Seasonal initiatives: Using donated flowers and other contributions, Petals for Hope hosts costume drives, stocking stuffing, and other events to give back to community members in need.
If you're interested in donating your wedding flowers to Petals for Hope, visit their online contact form. Contact them about a month in advance, and their volunteers will walk you through the donation process.
2. Gift a Local Organization
Take inspiration from these nonprofit organizations and gift your flowers to local community members and businesses. Look for local organizations like:
Senior living facilities: Older adults are prone to social isolation. Although residents spend quality time with their peers and nurses, a simple gesture of a flower donation can revive their spirits and help them feel appreciated.
Women's shelters: Some women have lived difficult lives. Support these women by donating your wedding flower arrangements, letting them know they're not alone, and their bravery and strength are recognized community-wide.
Children's hospitals: Unfortunately, some children aren't living a typical childhood. If you can't offer monetary donations, donate your flower arrangements to bring a little joy into children's hospital rooms.
Veteran service organizations: Thank veterans for their service by donating your flower arrangements. This small gesture has a big meaning, making veterans feel recognized and appreciated.
Talk with the organizations before giving away your wedding flowers. Ask what type of flower arrangements they welcome and schedule a day where the organization is ready to accept your gift.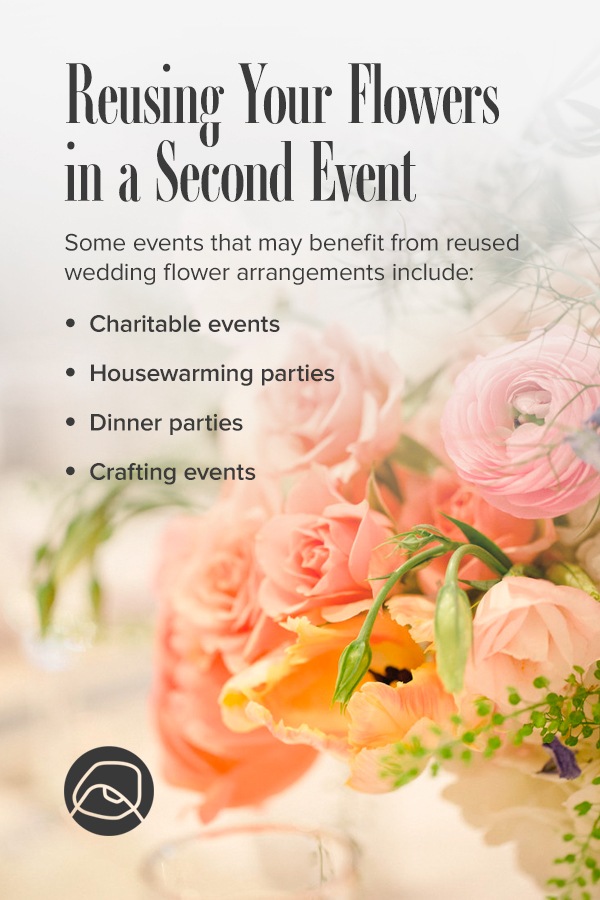 3. Reuse Your Flowers in a Second Event
Do you know of an event happening soon? If so, ask the host or hosting organization if they welcome flower donations. Or, if you plan on hosting an event not long after your wedding, you could even reuse your flowers then.
Some events that may benefit from reused wedding flower arrangements include:
Charitable events: Charity events rely heavily on building relationships with donators. Charitable events allow organizations to raise awareness and funds for their cause. Beautiful flower arrangements are sure to impress guests and leave a favorable impression. By donating your wedding flowers to a charitable event, you're saving the charity money and helping them generate long-term profit.
Housewarming parties: For some newlyweds, their wedding day is paired with move-in day. If you're celebrating a new house, consider hosting a housewarming party once you've settled in — and use your flowers as part of the decor.
Dinner parties: Are you hosting a small dinner party before leaving for your honeymoon? Or, do you know someone who loves hosting dinner parties? Then, consider donating your wedding flowers for an added elegant flair.
Crafting events: Make reusing your wedding flowers into group fun by hosting a crafting event. There's no shortage of floral wedding crafts. Gather some friends and use your wedding flowers in table arrangements, wreaths, resin projects, and so much more.
Any event can benefit from flower arrangements. If you don't plan on hosting an event soon, ask your friends if they have an event coming up or know of something that can benefit from flowers.
4. Give Away Wedding Flowers to Family and Guests
Invite guests to leave with a table arrangement along with their prepared wedding favor. Who wouldn't love having a lavish flower arrangement on their kitchen counter or dining room table?
Also, you can make regifting flower arrangements into a wedding activity. Set up an area in your wedding venue with a few tables, water buckets, and miscellaneous flower arrangement materials. Then, toward the end of your wedding, allow guests to dismantle each arrangement and make one of their own. Or, if guests don't want to craft arrangements, allow them to keep premade arrangements.
Plan this crafting table with your florist or wedding planner. Your guests will cherish their customized flower arrangement, and you'll have one less arrangement to take care of after your wedding.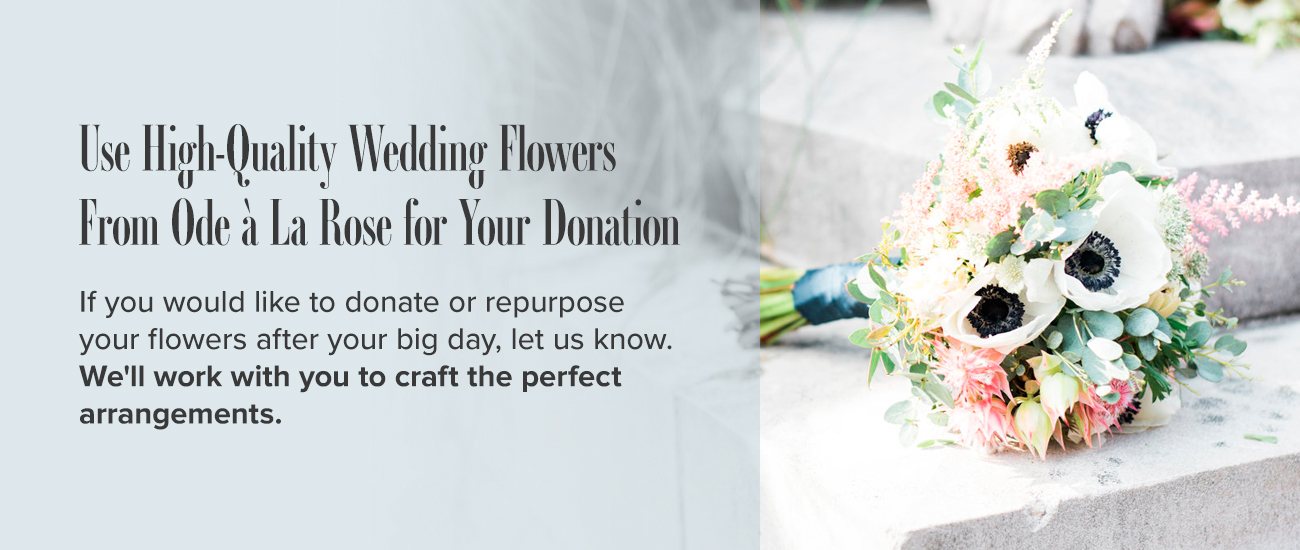 Use High-Quality Wedding Flowers From Ode à La Rose for Your Donation
At Ode à la Rose, we deliver high-quality arrangements and a one-of-a-kind experience. We're thankful to play a part in your wedding, and we want to help you keep the love alive long after your big day.
Our flowers are carefully and sustainably grown and come from the freshest sources, so you know your flower arrangements will look beautiful for your wedding and beyond. If you would like to donate or repurpose your flowers after your big day, let us know. We'll work with you to craft the perfect arrangements. Contact our event team online today to learn more about our flowers and services.