If someone you love has recently been admitted to a Chicago hospital, you probably want to cheer them up, comfort them, and let them know you are thinking about them. A colorful bouquet can boost your loved one's mood and make them feel loved and appreciated when they need it most.
Sending flowers to a hospital is generally easy. In many cases, hospital staffers are happy to help and make sure deliveries reach patients. There are a few exceptions where flowers may not be an option, which we will explore below. We'll also look at the types of flowers to send and how to send flowers to a hospital in Chicago.
How to Send Flowers to a Hospital Patient in Chicago
If your loved one is a patient at a Chicago hospital, you can lift their spirit with a breathtaking bouquet, even if you're out of town. Below are the steps to follow when sending flowers to a hospital room in Chicago.
1. Call the Hospital
Before you start browsing flowers and ordering an arrangement, you need to make sure the hospital's policies allow you to send flowers as a gift to a patient. It's a good idea to contact any business before delivering something to their establishment.
In a few cases, a hospital will not receive a flower delivery. For instance, patients who are in the Intensive Care Unit (ICU), oncology units, or transplant units may not be able to receive live flowers or plants.
Those who are at high risk of infection also cannot receive flowers. For these patients, it may be best to wait until they are back home to surprise them with a cheerful bouquet or until they get transferred to a floor room after surgery or being in the ICU.
Call the hospital and find out the following information to ensure successful delivery:
If the part of the hospital your loved one is staying in accepts floral deliveries
If the patient will be moving to a different room during their stay
The best time to send flowers
2. Select an Arrangement
Once you've confirmed you're permitted to send flowers to your loved one in the hospital and determined the best time to send them, the next step is selecting an arrangement. Continue reading if you need recommendations for choosing a bouquet.
3. Provide Information
After you choose the bouquet you wish to send, you'll need to provide the florist with the following information:
Patient's first and last name
Patient's room number
Hospital address
The florist will deliver the flowers to the patient information desk, and a hospital staff member or volunteer will take the flowers to the room. You may want to provide the patient's home address as well, in case they are no longer in the hospital.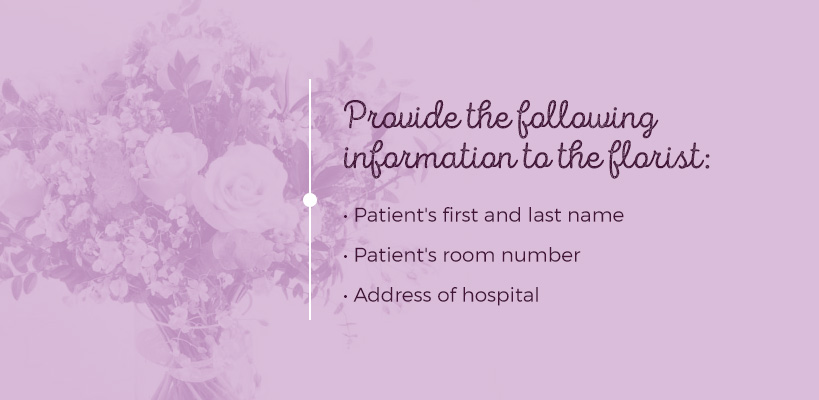 FAQs for Sending Flowers to a Hospital Room
While you've learned how to send flowers to a hospital room in Chicago, you may still have a few lingering questions about the process. Here are the answers to some popular questions regarding sending flowers to a hospital.
1. What if I Don't Know the Patient's Room Number?
If you do not have the patient's room number and want to surprise them, call the hospital and explain your situation. However, a patient may place restrictions on the information the hospital gives out to visitors. If they cannot disclose the room number, there should still be no problem getting the flowers to the patient as long as you have their full name.
2. Are All Types of Flowers Allowed?
The answer to this question may vary depending on the hospital. For instance, some may prohibit highly fragrant flowers or those that trigger allergies. If you have a certain type of flower in mind, consider asking if it's okay to send it. However, they'll likely tell you if there are any non-permitted flowers during your initial phone call.
3. Can I Send Gifts With the Flowers?
When you send flowers to a hospital through Ode à la Rose, you can choose from a variety of add-on items to include with your bouquet. For instance, adding a chocolate bar or macarons gives your recipient a sweet treat to snack on while they're in the hospital.
A scented candle is another great choice — even if the hospital prohibits them from lighting it in the room, they can always take it home with them for later use. A teddy bear or blanket make for adorable gifts, perhaps for a new mother in the hospital with her baby.
4. What Should I Write in the Card?
A get-well-soon bouquet combined with a heartfelt message is a great way to wish your loved one a speedy recovery. Here are some short and sweet messages for a card if you aren't quite sure what to write:
Love, hugs, and prayers for a speedy recovery!
Get well soon! We miss you!
We hope these flowers add some joy and color to your day.
Our thoughts are with you — feel better soon!
5. When Is the Best Time to Send Flowers?
Checking with the hospital's front desk can help you determine the best time to send flowers. A staff member can likely tell you which days and times are least busy.
Additionally, they can tell you if your recipient will be moved at all during their stay. It's important to ensure a smooth, direct delivery to your loved one's room — that way, you can avoid someone running around trying to track down your relocated patient.
If your recipient is being discharged soon, the staff may recommend sending the bouquet to their home instead of the hospital. Speaking with the staff can help you figure out the best time to send a flower arrangement.
6. What Type of Flowers Should I Send?
Here are some classic, beautiful varieties to consider if you need ideas for a bouquet:
7. Can I Send More Than One Type of Flower?
Absolutely! If you're trying to choose from multiple types of blooms, you might consider a mixed bouquet with two or more flower varieties. For instance, roses, lisianthus, and daisies can make a beautiful assorted arrangement, or you can select roses in various colors.
8. What Flower Colors Should I Choose?
While there's no right or wrong choice for flower colors, we recommend warm, cheerful tones to lighten up an otherwise plain hospital room. Some relaxing, comforting colors might include warm apricots, soft yellows, and pale greens.
On the other hand, cool blues and restful purples might be ideal flower colors for stressed-out or worried patients. Another possibility is choosing an arrangement in their favorite color if you know it.
9. What Size Arrangement Should I Send?
It might be best to avoid sending a large bouquet due to limited space in the hospital room. You might consider one of our Small Attentions bouquets, which send a small, but potent, burst of joy.
10. What Flowers Should I Send to a New Mom?
Pink carnations are a popular choice to send to a new mother because they represent a mother's love. Similarly, white carnations symbolize unconditional love. You might also send daffodils to parents to signify a new beginning.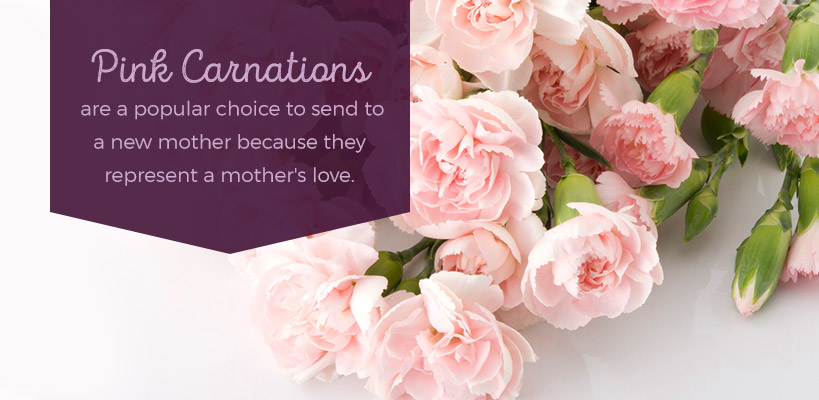 Other Tips for Sending Flowers to a Hospital Room in Chicago
Choosing the right flowers can make a difference in a patient's experience. Consider the following recommendations when selecting a bouquet for your loved one in the hospital.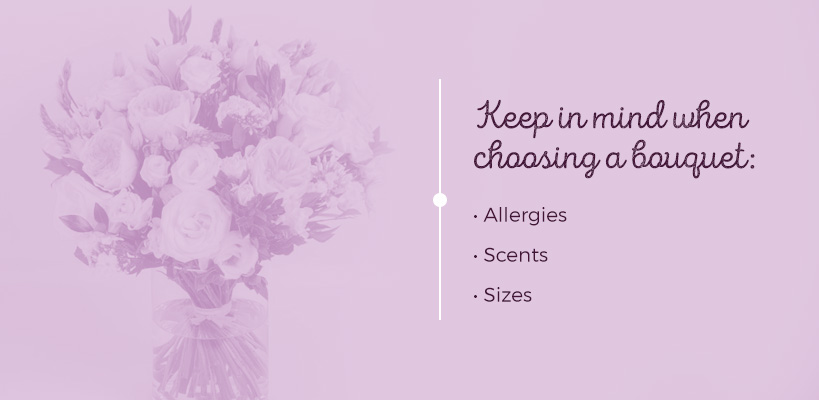 1. Choose Allergy-Free Flowers
Send your loved one allergy-free flowers to create a pleasant experience for everyone who enters the room. There are plenty of gorgeous allergy-free flowers to choose from, such as:
Roses
Carnations
Daffodils
Irises
Pansies
Snapdragons
Tulips
Zinnias
Orchids
2. Consider Low-Fragrance Flowers
If your loved one is not feeling well, they might be extra sensitive to scents and prefer flowers with a gentle scent or no aroma at all. A low-fragrance bouquet may also be a better choice, considering roommates and hospital staff. Many blooms are beautiful in color, shape, and size and are practically fragrance-free. Some of these include:
Daffodils
Irises
Orchids
Tulips
Snapdragons
3. Avoid Certain Flower Varieties
If you don't want to trigger any allergies, here are some flower varieties that those with pollen allergies should avoid:
Baby's breath
Chamomiles
Chrysanthemums
Dahlias
Daisies
Gerbera daisies
Sunflowers
Likewise, here are some varieties to steer away from if you don't want to give them overly fragrant flowers:
Gardenias
Sweet peas
Daphnes
Lilacs
Freesias
When in doubt, ask your florist for their recommendations if you need help determining what flowers to send.
Send Hospital Flowers Through Ode à la Rose
Hospital patients appreciate a thoughtful, heartwarming bouquet, especially while recovering after a stressful surgery, hours of labor, or a difficult illness. At Ode à la Rose, we make it simple to send flowers to a Chicago hospital, whether you are in the Windy City or thousands of miles away.
Our same-day delivery ensures flowers arrive fresh and on time. Our skilled floral designers carefully craft each arrangement using top-quality flowers, bringing the elegance of traditional French-style bouquets to life. We deliver our flowers in a chic pink box and protect them with a layer of tissue paper and rose petals for a unique gift experience.
Additionally, our arrangements arrive in a water-filled travel container to keep flowers hydrated and beautiful. To show your loved one they are always on your mind, browse and order flowers from Ode à la Rose today!