If someone you love has recently been admitted to a Chicago hospital, you probably want to cheer them up, comfort them, and let them know you are thinking about them. A colorful bouquet will boost your loved one's mood and make them feel loved and appreciated when they need it most.
Sending flowers to a hospital is easy, and many times, hospital staffers are happy to help and make sure deliveries safely reach patients. There are a few exceptions where flowers may not be an option, which we will explore below. We'll also look at the types of flowers to send and how to send flowers to a hospital patient in Chicago.
Steps to Send Flowers to a Hospital Patient at a Chicago Hospital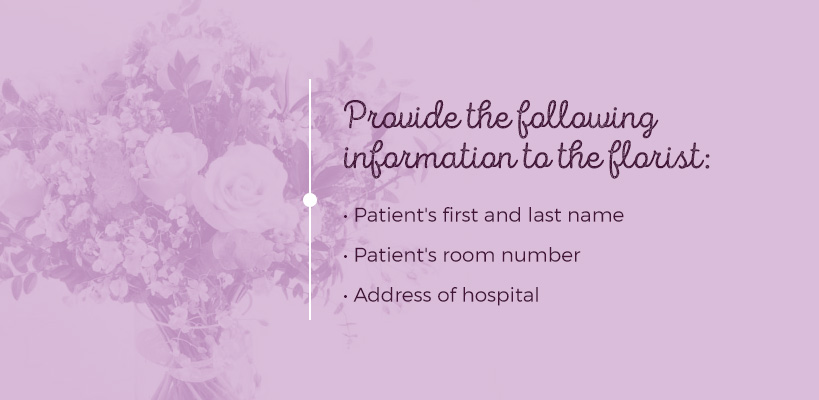 If your loved one is a patient at a Chicago hospital, like the University of Chicago Medicine, you can lift their spirit with a breathtaking bouquet, even if you're out of town. After you choose the bouquet you wish to send, you'll need to provide the florist with the following information:
Patient's first and last name
Patient's room number
Address – University of Chicago Medicine, 5841 S. Maryland Ave., Chicago, IL 60637-1470
If you wish to send flowers to a pediatric patient, tell the florist the following information:
Patient's first and last name
Patient's room number
Address – University of Chicago Medicine Comer Children's Hospital, 5721 S. Maryland Ave., Chicago, IL 60637-1470
If you do not have the patient's room number and want to surprise them, call the hospital and explain your situation. However, a patient may place restrictions on the information the hospital gives out to visitors. If they cannot disclose the room number, there should still be no problem getting the flowers to the patient as long as you have their full name.
The florist will deliver the flowers to the patient information desk, and a hospital staff member or volunteer will take the flowers to the room. Make sure to give the florist the patient's home address as well, in case they are no longer in the hospital.
To ensure successful delivery, it's a good idea to contact the hospital ahead of time at 773-702-1000 and find out the following information:
When is the best time to send flowers
If the part of the hospital your loved one is staying in accepts floral deliveries
If the patient will be moving to a different room during their stay
In a few cases, a hospital will not receive a flower delivery. At the University of Chicago Medicine, patients who are in the Intensive Care Unit (ICU), oncology units, or transplant units may not receive live flowers or plants. Those who are at high risk of infection also cannot receive flowers. For these patients, it may be best to wait until they are back home to surprise them with a cheerful bouquet or until they get transferred to a floor room after surgery or being in the ICU.
Types of Get-Well Flowers to Send to a Hospital Room in Chicago
Flowers make a classic get-well gift, and they might even help some patients heal. For example, one study found patients in recovery from surgery experienced less pain, anxiety, and fatigue when they had plants and flowers in their hospital room than patients with undecorated rooms. The patients with plants and flowers also had more positive feelings about their rooms than patients staying in similar rooms without plants.
According to a paper published by Washington State University, people feel more carefree and playful in a room with plants, and recover from stress more quickly when viewing images of nature. Plants also help patients recover from surgery faster and experience lower levels of discomfort.
Nevertheless, choosing the right flowers can make a difference in a patient's experience. Consider the following recommendations to choose bouquets that will heal, uplift, and inspire.
1. Choose Allergy-Free Flowers
Send your loved one allergy-free flowers to create a pleasant experience for everyone who enters the room. There are plenty of gorgeous allergy-free flowers to choose from, such as:
Roses
Carnations
Daffodils
Irises
Pansies
Snapdragons
Tulips
Zinnias
Orchids
For example, you might select the roses, orchids, and snapdragons bouquet we designed at Ode à la Rose. This bouquet is a soothing all-white arrangement and is perfect for adding a refreshing feeling to a hospital room.
2. Consider Low-Fragrance Flowers
If your loved one is not feeling well, they might be extra-sensitive to scents and prefer flowers with a gentle scent, or no aroma at all. A low-fragrance bouquet may also be a better choice, considering roommates and hospital staff. Many blooms are beautiful in color, shape, and size and practically fragrance-free. Some of these include:
Daffodils
Irises
Orchids
Tulips
Snapdragons
3.Offer Healing Flowers
Some flowers are traditional ingredients in teas and medicines due to their healing properties. Although you may want to send flowers to a patient solely to add visual beauty and tranquility to a room, here are a few healing plants and flowers to inspire your bouquet choice:
Lavender — Lavender promotes relaxation.
Rose — Roses have anti-inflammatory properties and treat coughs and colds.
Calendula — Calendulas are known for their antibacterial, antiviral, and antifungal properties.
Eucalyptus — The eucalyptus plant serves a variety of purposes, such as providing relief from respiratory problems and treating infections.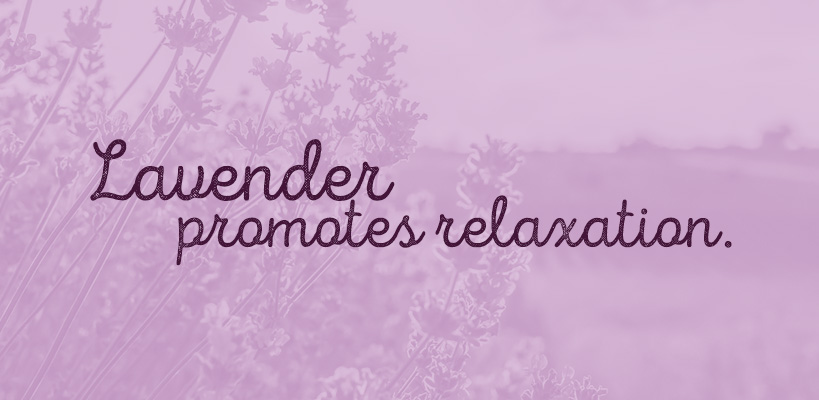 If you wish to surprise a loved one with a healing bouquet, consider our Nantucket arrangement, which features an elegant and gentle array of white roses, lisianthus, phlox, and eucalyptus.
4. Consider Plants That Improve Mental Health
Staying in a hospital can affect a patient's mood, and they may feel overwhelmed or anxious. You can send flowers to help quiet a loved one's worries, and comfort them during their hospital stay. Just about any surprise bouquet of cheerful flowers will lift someone's mood instantly, but here are a few plants that are known to add peace and calm to a room:
Chrysanthemums — Chrysanthemums brighten a room and have been shown to reduce stress and worry. However, keep in mind that these soft, fluffy blooms may affect allergy sufferers.
Snake plants — Snake plants improve energy levels, help those with headaches or breathing problems, and lower anxiety. A snake plant is a unique alternative to a traditional bouquet.
Lavender — Lavender reduces stress and anxiety, improves sleep, and lowers heart rate. Your loved one will feel a sense of peace with lavender nearby.
Types of Flowers to Celebrate a Birth
If someone you care about is in the Family Birth Center at the University of Chicago Medicine, you probably can't wait to shower them with congratulations and love. Becoming a parent and bringing a baby into the world is life-changing and calls for a celebration. New parents also face the stress and exhaustion that comes with caring for a newborn, so sending them a luxurious bouquet to energize them and boost their mood is a thoughtful way to say you care. Flowers are a memorable way to express the joy you feel for the baby and parents.
Pink carnations are a popular choice to send to a new mother because they represent a mother's love. Similarly, white carnations symbolize unconditional love. You might also send daffodils to parents to signify a new beginning. Carnations or daffodils are excellent choices if you want to send a gender-neutral gift, or if parents are welcoming twins.
However, if you would like to celebrate the birth of a baby girl or boy, consider the following flower ideas.
1. Best Flowers If It's a Boy
The color blue is traditionally associated with boys and is also a pleasing, relaxing color – perfect to help new parents wind down from the excitement of childbirth. Here is a list of blue flowers you might send parents and their baby boy:
Grape hyacinths
Cornflowers
Blue morning glories
Himalayan blue poppies
Blue hydrangeas
Gentians
You might also consider a cheerful bouquet of yellow roses or a colorful assortment of roses to wish new parents luck and welcome their newborn into the world.
2. Best Flowers If It's a Girl
Pink is the traditional color for baby girls, and there are plenty of vibrant pink flowers to choose from. Here are a few ideas to celebrate the birth of a baby girl:
Peonies
Pink carnations
Pink hydrangeas
Pink tulips
Roses
Orchids
Pink chrysanthemums
Pink camellias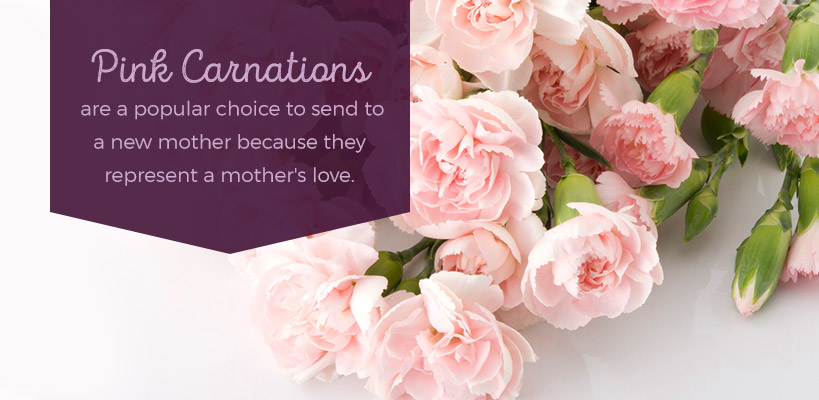 You might consider treating new parents to our chic and delicate bouquet of pink and white roses paired with sweet macarons.
3. Birth Month Flowers
If you would like to send flowers that represent the baby's birth month rather than gender, you can easily add a burst of color to a hospital room while the new mom and dad recuperate. The following flowers represent the month a child is born:
January — Send carnations for a January baby. Choose a white carnation to symbolize pure love.
February — Choose a bouquet incorporating irises or violets for a baby born in February. An iris symbolizes courage and friendship.
March — Send sunny daffodils to celebrate the birth of a March baby. Daffodils also symbolize new beginnings, joy, and happiness.
April — Cheery daisies are the birth flower of April, and mean beauty, innocence, and love.
May — Delicately scented lily of the valley flowers represent humility and happiness, and honor May babies.
June — Choose roses for a baby born in June. Send red roses for love, yellow for friendship, orange for enthusiasm, or a rainbow of rose colors to express joy.
July — Larkspurs are the birth flower for July babies. Purple larkspurs represent first love, and white ones mean a happy spirit.
August — Gladiolus flowers celebrate the birth of a baby in August, and represent strength and integrity.
September — Treat a fall baby to a bouquet of asters, which symbolize love, faith, and wisdom.
October — Autumnal marigolds welcome October babies into the world and symbolize everlasting love.
November — Choose white chrysanthemums to celebrate the birth of a November baby. White chrysanthemums symbolize innocence and purity.
December — Surprise new parents with white poinsettias to congratulate the birth of their December baby.
4. Factors to Keep in Mind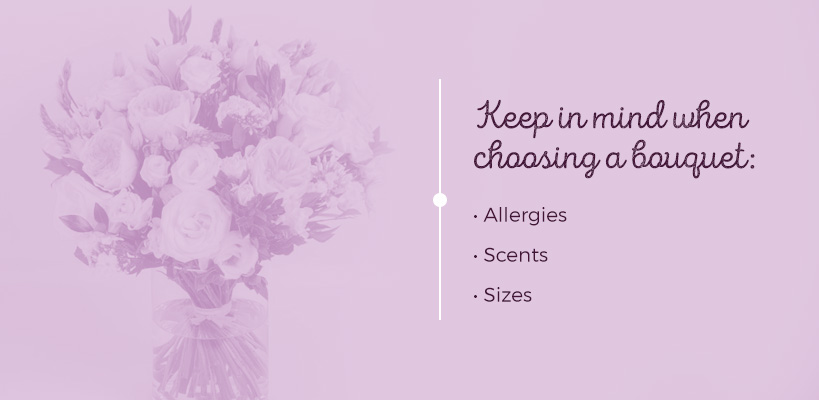 When choosing a bouquet to send to new parents in the hospital, consider the following:
Allergies — Consider if the parents have any allergies, and try to avoid allergy-inducing flowers if possible.
Scents — Although a loved one might adore highly fragrant flowers, keep in mind others in the hospital may be sensitive to strong scents.
Size — It might be best to avoid sending a large bouquet due to limited space in the hospital room. Keep space in mind when choosing flowers, and consider our Pick Me Up rose bouquets, which send a small, but potent, burst of joy.
When in doubt, ask your florist for their recommendations. Also, you might consider waiting to send flowers until the family leaves the hospital. A new mom might only spend a couple of days in her hospital room. Consider sending flowers once she is settled in with her new baby at home, about two weeks after birth.
Flower Therapy Colors
Another way to approach sending flowers to a hospital patient is to send a bouquet based on the therapeutic power of color. For most hospital patients, you'll want to send relaxing or comforting colors, such as the following:
Nurturing — A bouquet that incorporates nurturing colors is perfect for new moms or an ill friend. Choose warm apricots, soft yellows, and pale greens. For example, our Aurora bouquet is like a ray of warming sunshine, designed with peachy roses, citrus-hued chrysanthemums, buttery achillea, and joyous craspedia.
Tranquil — Light greens, cool blues, and restful purples are ideal flower colors for stressed-out moms or worried patients. Choose blue hydrangeas, white carnations, or ivory roses. Consider our calming wildflower and roses bouquet, which features lilies, wildflowers, lavender, and peaceful purple roses.
Send Hospital Flowers Through Ode à la Rose
Hospital patients appreciate a thoughtful, heartwarming bouquet, especially while recovering after a stressful surgery, hours of labor, or a difficult illness. At Ode à la Rose, we make it simple to send flowers to a Chicago hospital, whether you are in the Windy City, or thousands of miles away.
Our same-day delivery ensures flowers arrive fresh and on time. Our skilled floral designers carefully craft each arrangement using top-quality flowers to bring the elegance of traditional French-style bouquets to life. We deliver our flowers in a chic purple box and protect them with a layer of tissue paper and rose petals for a unique gift experience. Also, our arrangements arrive in a water-filled travel container to keep flowers hydrated and beautiful. To show your loved one they are always on your mind, order flowers from Ode à la Rose today!